The Rise Of Grain-Free Dog Food
For decades, grains were a staple of the dog food industry, and there was minimal to no opposition to its use. However, around twenty years ago, many smaller dog food brands started to push the idea of grain-free dog food.
They chose to use alternative carbohydrate ingredients like Peas, Lentils, and Potatoes. They suggested that this was more in line with a dog's "natural" diet and that grains were having a detrimental effect on a dog's health.
Why Some Dog Owners Disagree With Grain Free Dog Food
Many believe that Grain Free dog food is a fad and a marketing tool. There has no been conclusive evidence that grain ingredients, such as Rice or Corn, have a negative effect on a dog's health.
Some of the dog food brands promoting grain-free dog food have chosen to use vegetable by-products instead of whole vegetables as an alternative. These ingredients are widely through as poor additions to dog diet, and their inclusion is ironic. Learn more about these in our articles Peas, Pea Protein, Pea Flour, and Pea Fiber in Dog Food & Potatoes, Potato Protein & Potato Starch in Dog Food.
This extensive use of legumes, potatoes, and by-products has come to a head with the recent discovery of a link between their use in dog food and Canine Heart Disease. This link is worrying and is being investigated by the relevant authorities. Read more about this in our article Best Dog Foods Without Peas.
In addition, most of those dog owners who are firmly against grain-free dog food are users and advocates of the "big" pet food brands such as Purina, Hill's Science Diet, and Royal Canin. While these brands do offer some grain-free products, their staples ranges have and still do use a range of grain ingredients.
The Best Non-Grain Free Dog Food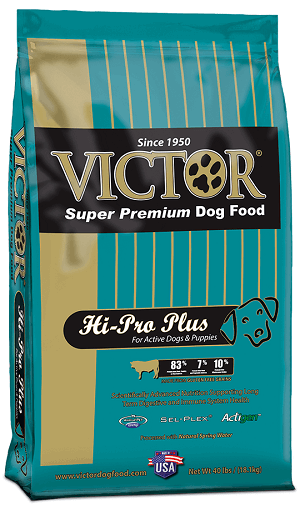 Victor is another successful brand to feature in this article and one which many of you will be familiar with. Victor is commonly found in local or large pet food stores as well as at a myriad of online retailers.
One of Victor's most significant advantages is that they sell their range is very high volumes. This approach allows Victor to make use of economies of scale, which results in them being more affordable, which may appeal to owners of large dogs or multiple dogs.
Victor produces a number of high-quality and nutritious formulas, some of which make use of grain-free ingredients like Peas and Legumes. However, there are others that include some of the more preferred grain ingredients, such as Brown Rice or Millet.
A noteworthy example of such a formula is the Hi-Pro Plus. It contains a substantial variety of meat and fish ingredients, all of which are meat meals. Many consumers find meat meals intimidating, but they are, in fact, very nutritionally dense. This density is as they have had their moisture (water) removed. As long as the meat meal is named, we consider it to be a satisfactory and high-quality inclusion. Examples of meat meals used in Hi-Pro Plus include Beef Meal, Chicken Meal, Pork Meal, and Menhaden Fish Meal.
The formula uses two sources of carbohydrates, Grain Sorghum and Millet. The sum of carbohydrates provided by the portion of these two ingredients is modest and satisfactory for the majority of dogs.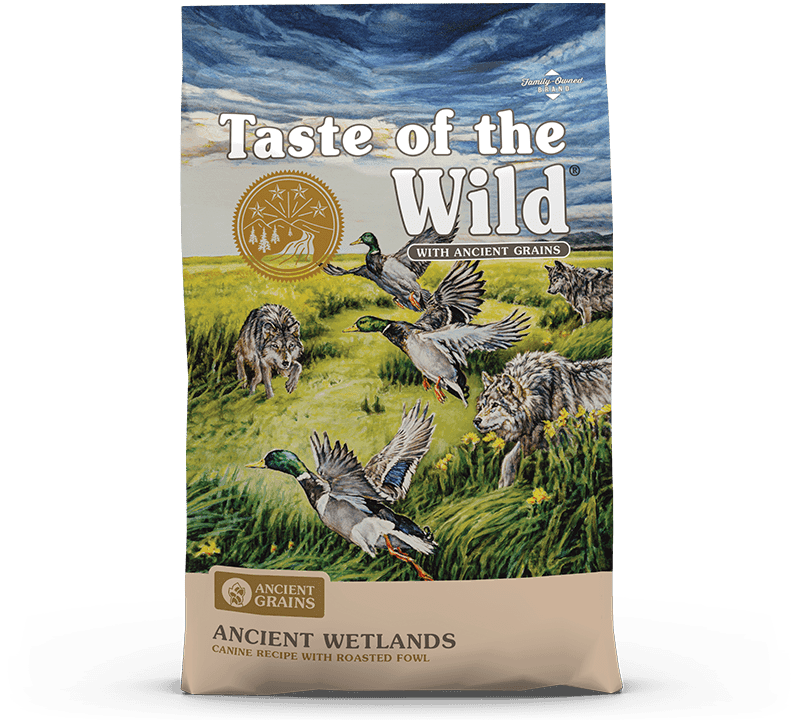 Taste of the Wild is a brand that needs no introduction. They are an established powerhouse that many North American consumers will be used to seeing in their local pet food stores and chains.
In the past, many would not believe they would see Taste of the Wild using grains in their recipes as consumers would likely have reacted poorly. However, with the recent links between legumes, like peas and lentils, and Canine Dilated Cardiomyopathy, they have intelligently responded to the changing market and knowledge.
Their new "With Ancient Grains" recipes closely mimic their traditional grain-free recipes, at least when it comes to their core meat ingredients. One of these recipes makes use of Duck as its primary ingredient. This recipe is based on the original grain-free Wetlands recipe, which you can find here. 
A combination of Duck, Duck Meal, and Chicken Meal provide an extremely healthy portion of meat ingredients, which provide a plentiful proportion of protein and fat for an active dog.
The selection of grains in Taste of the Wild's new grain-inclusive recipes is quite large when compared to other grain-inclusive ranges. It includes Millet, Sorghum, Pearled Barley, and Brown Rice. You can learn more about some of these other niche grains in our articles, Millet In Dog Food, Sorghum In Dog Food & Barley In Dog Food.
American Journey Chicken & Brown Rice Review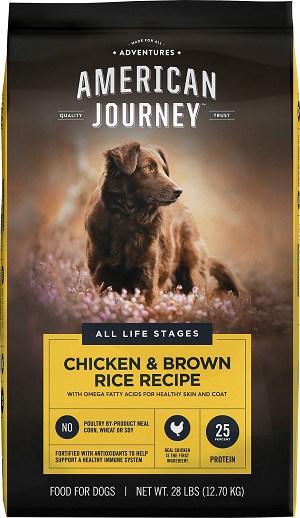 American Journey is a brand owned by the growing online pet food distributor Chewy. Until recently, American Journey products were only available on Chewy's website, but they have recently been made available in PetSmart stores after PetSmart's acquisition of Chewy.
American Journey doubles up on the low cost of shipping offered by Chewy by also making the formulas they produce very affordable, far cheaper than many of the others highlighted in this article.
The brand has a moderately sized range of products, including dry dog food, canned dog food, and limited ingredient dog food.
Their Chicken & Brown Rice recipe is one of their most popular thanks to its simplicity and reliability.
A mix of Chicken and Chicken Meal are the recipe's primary ingredients, and the combination provides a satisfactory proportion of protein and fat.
Brown Rice is the primary plant-based ingredient and can provide carbohydrates and dietary fiber. However, there is a notable portion of Peas present which provide similar nutrition to Brown Rice. The presence of Peas means that if you are looking for a recipe that only uses grain ingredients, this is not the choice for you.
Sadly, this formula makes use of both Rice Bran and Brewers Rice, which we consider to be lower-quality rice-based ingredients. We would prefer to have seen a larger portion of Brown Rice instead. However, this is the reality of lower-cost dog food.
Earthborn Holistic Unrefined – Smoked Turkey Review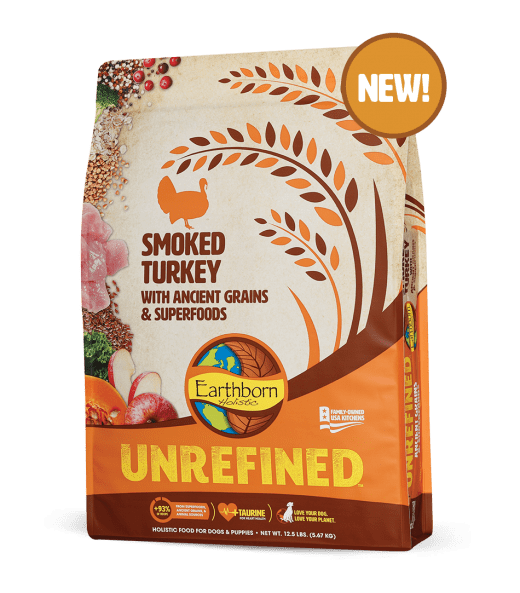 Earthborn Holistic is another staple of the premium dog food market that many will be familiar with. In the past, the brand has relied heavily on legumes as their primary carbohydrate ingredients, like most other brands. However, they recently released a new grain-inclusive range, which is called Unrefined. While they have never said it explicitly, this release was almost certainly a response to the links between legumes and Canine Heart Disease.
The above Smoked Turkey recipe is one of four available, and its core meat ingredients include Turkey, Turkey Meal, and Eggs. This mix provides a satisfactory proportion of animal-based protein and fat.
Earthborn Holistic made the decision not to use some of the more controversial grains in their new range and instead use some less common ones.
Examples include Quinoa, Buckwheat, Oatmeal, and Chia. This broad range of grain ingredients can provide a modest proportion of carbohydrates, fiber, and select micronutrients. Buckwheat is a particularly uncommon ingredient. You can learn more about Buckwheat in our article Buckwheat In Dog Food.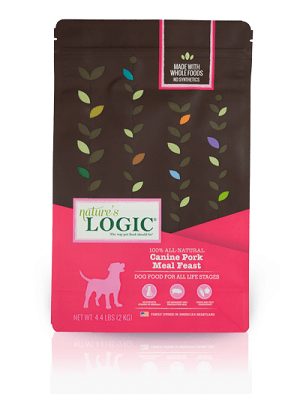 Nature's Logic is a lesser-known brand, but their recipes fill an essential niche in the premium and hypoallergenic dog food market.
Nature's Logic's dry dog food recipes make use of the grain Millet. While we don't consider Millet to be quite as advantageous as other grains, like Brown Rice and Oats, it is still far superior to low-quality and filler grains such as Wheat and Corn. Nutritionally, Millet provides carbohydrates, some fiber, and a limited range of vitamins and minerals.
The above mentioned Pork Formula contains a mix of whole Pork meat and Pork Liver. This combination provides a very satisfactory proportion of protein and fat to fuel your dog's activity. The Pork Liver can provide some minerals and vitamins that traditional meat cuts can not. The proportion of protein and fat is very satisfactory and suitable for dogs of all activity levels.
There are a number of other formulas available that use a wide range of meat and fish ingredients. Be sure to check out our reviews on their Canine Duck & Salmon Meal Feast and Canine Rabbit Meal Feast, which are some of their other recipes that we are big fans of.
Check out Nature's Logic's Brand Page for more information.
Health Extension Chicken & Brown Rice Review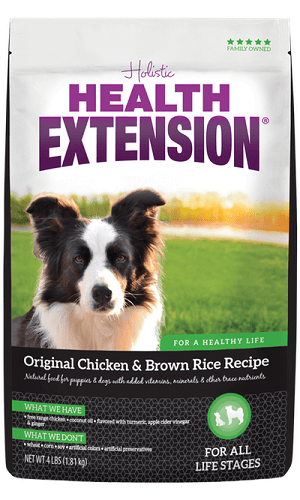 Health Extension is a family-owned company based in the United States. Health Extension has very impressive transparency about the source of its ingredients, including an interactive map for visitors to their site to explore.
This level of transparency is unprecedented in the pet food industry and is something that many brands could learn from. Health Extension has a moderately sized product range, which includes some very common recipes, like Chicken & Rice, but also some less common ones.
The Health Extensions Chicken and Rice recipe makes use of a mix of Chicken ingredients, including Chicken, Chicken Meal, and Chicken Fat. The recipe's primary plant-based ingredient is Brown Rice. Most people believe that Brown Rice is preferred to White Rice or cheaper rice-based ingredients.
However, for those willing to look further down the ingredient list, Health Extensions Chicken & Brown Rice contains some other meat and non-meat ingredients in substantial portions. Examples of these ingredients include Lamb Meal, Menhaden Fish Meal, and Oatmeal. These ingredients are welcome additions and can provide additional protein, fat, and other nutrients.