Earthborn Holistic Information
Earthborn Holistic is produced by a family-owned pet food manufacturer called Midwestern Pet Food Inc. They are based in Evansville, Indiana, and are now into their fourth generation of family ownership.
Earthborn Holistic does outsource its production, which is a rare trait. Earthborn Holistic's dry pet food is produced at a number of facilities, including Monmouth Illinois, Chickasha Oklahoma, or Waverly New York State. Their wet pet food products are produced at a human-grade facility.
Midwestern Pet Food Inc produces two other brands of pet food. These are Sportmix and Propac.
Earthborn Holistic is a strong supporter of the UPC for Trees Campaign. This campaign helps the environment by planting trees in areas affected by deforestation. To date, Earthborn Holistic has enabled the planting of over 180,000 trees.
Earthborn Holistic Product Range
Earthborn Holistic is an established brand and, as a consequence, has a large and varied product range.
While they have yet to venture into some of the more niche specialties of dog food such as freeze-dried or novel meat, they do produce a large range of dry dog food, wet dog food, dry cat food, and wet cat food.
Dog Food
Earthborn Holistic's most popular recipes are from their Grain Free range. This range contains a variety of formulas, including some specialized ones. Examples could include Small Breed, Large Breed, and Weight Control. However, the nutrition provided by these formulas varies, so it is important to pay close attention.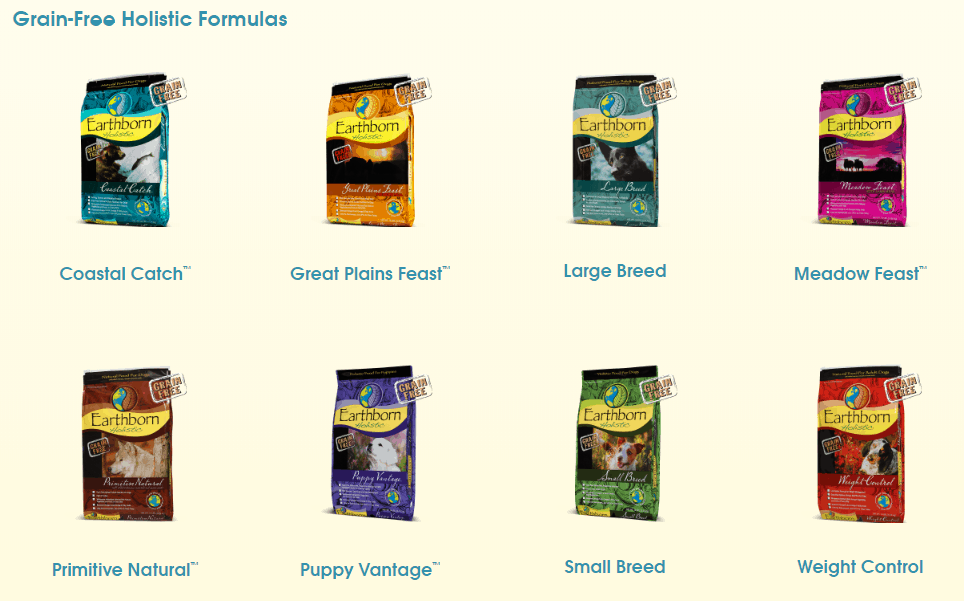 The Venture range from Earthborn Holistic is a limited ingredient range. What differentiates Venture from other limited ingredient dog food ranges is that it contains some unique and unusual meat and fish ingredients, and it has some formulas without Peas and other legumes.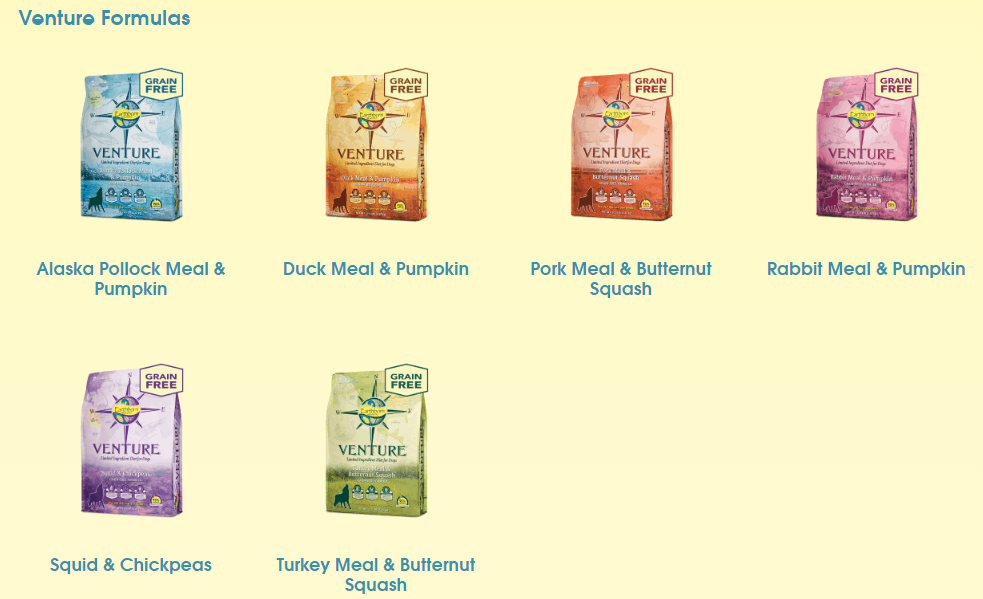 Earthborn Holistic has a small number of formulas that contain grains. These are described by Earthborn as Holistic recipes. While many brands completely avoid grains, having some grain recipes available can be beneficial as not all dogs cope well with legumes and other vegetables.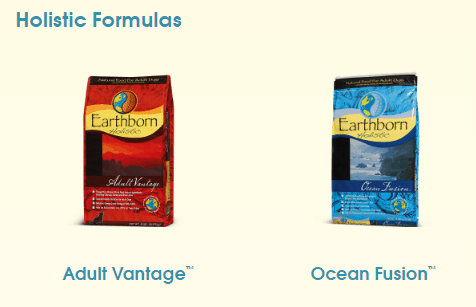 In late 2019, Earthborn Holistic released their Unrefined range. This range is almost certainly a reaction to the links between legumes in dog food and canine heart disease (which you can read about here). The unrefined range uses a variety of plant-based ingredients that aren't legumes or potatoes. Examples include Quinoa, Squash, and Oatmeal.

K95 is an Earthborn Holistic canned dog food range. While not as popular as their dry range, the formulas within this range are nutritious and make use of a variety of high-quality ingredients.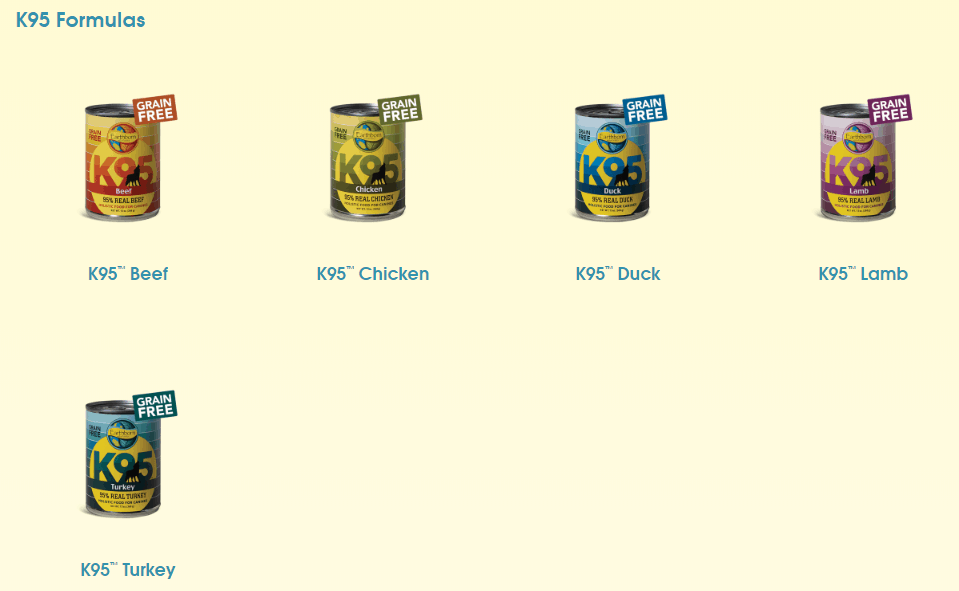 Earthborn's Moist Grain-Free products are quite different from their canned recipes. They are sold in plastic containers similar to some cat food. In addition, they retain the appearance of many of their ingredients rather than have a pate like form. While this may not make them more nutritious, it certainly makes them appear to be less processed.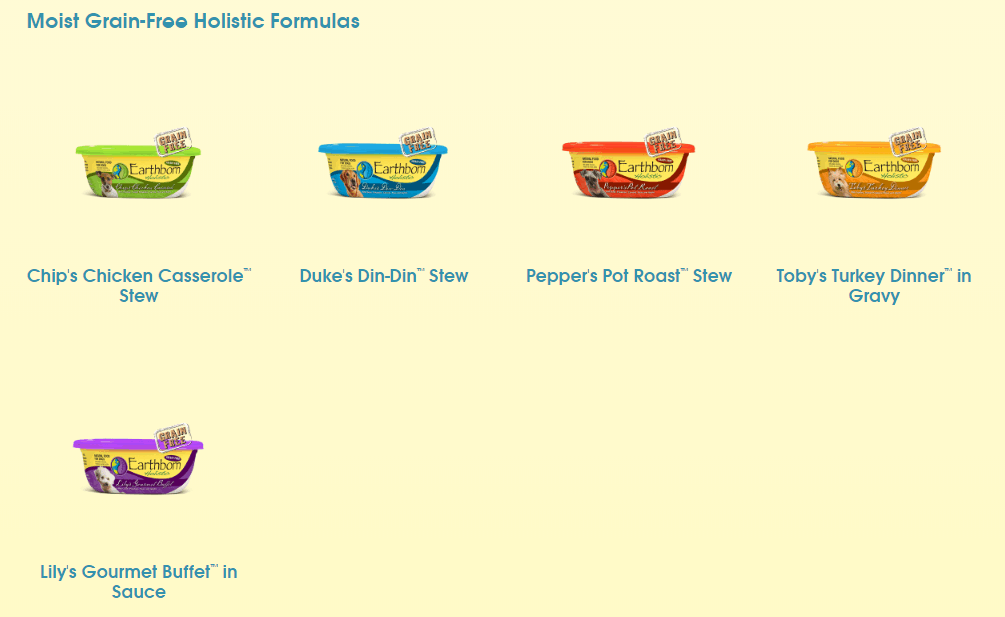 Cat Food
Earthborn Holistic has a very small range of dry cat food, which is a mix of Grain-Free & Holistic. The small size of this range may mean there isn't a formula that appeals to your cat. However, there is variety despite the small size.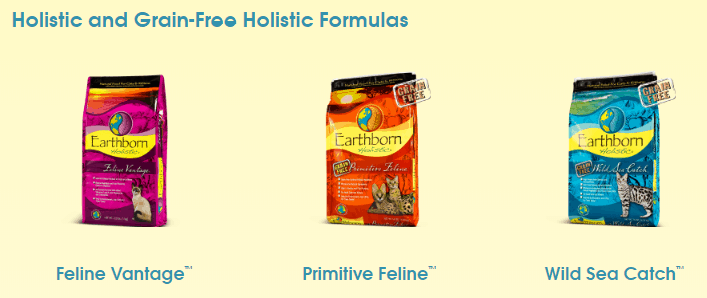 The Moist cat food range is Earthborn's largest and has a wide variety of different recipes that utilize a broad range of ingredients. These are stored in traditional cans.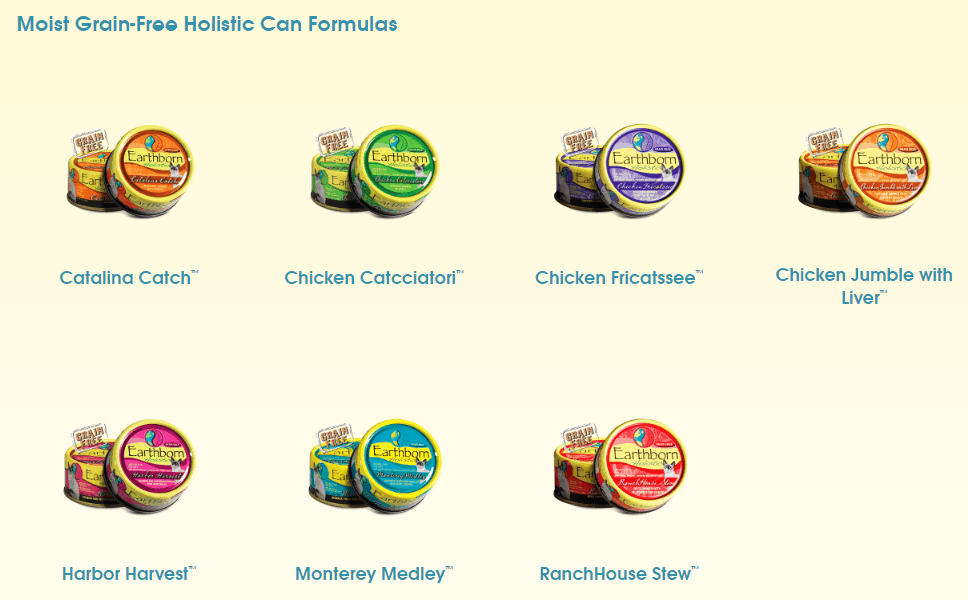 While most wet or moist cat food comes in cans or plastic containers, Earthborn does produce a range that is sold in Pouches.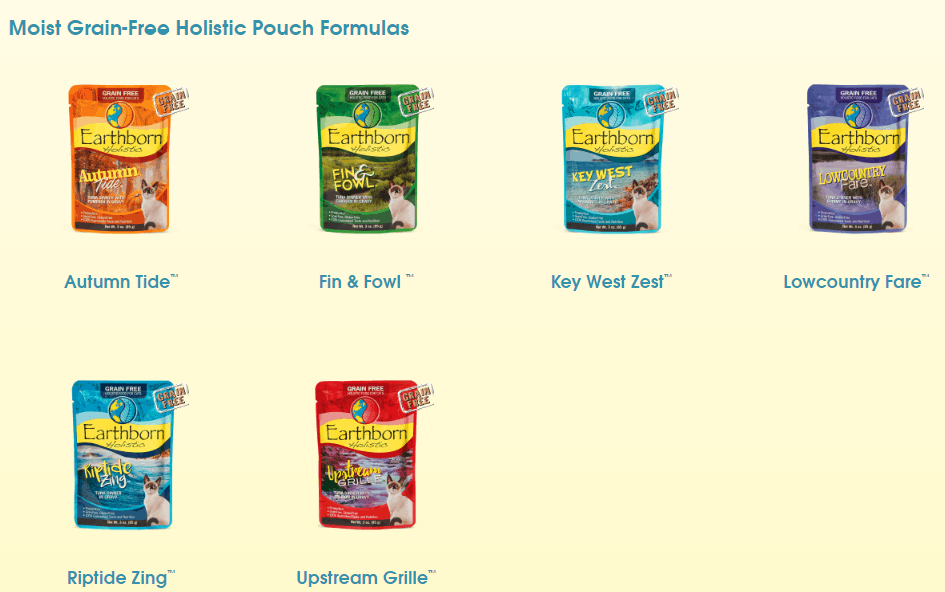 Earthborn Holistic Nutrition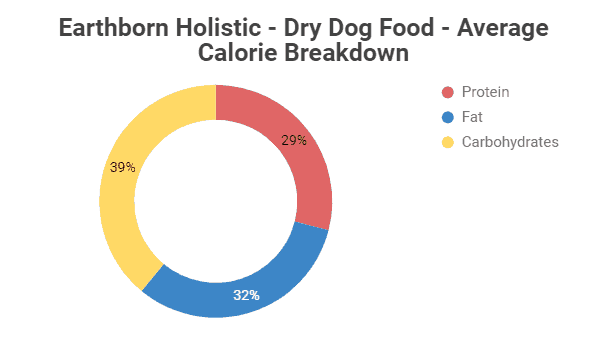 The nutrition provided by Earthborn Holistic's dry dog food range does vary quite significantly but is generally satisfactory. Extreme examples of this variance could be Primitive Natural, with 36% of its calories being provided by protein and 42% being provided by fat. However, most of Earthborn Holistic's other formulas have lower values than this.
The proportion of protein in most of Earthborn Holistic's formulas is satisfactory and suitable for most dogs, including those who are reasonably active. However, it might not be a sufficient proportion for those dogs who are extremely active.
The proportion of carbohydrates in most of Earthborn Holistic's formulas is quite high. While not as high as some other brands, we do believe it could be lower to better reflect a dog's natural diet.
Earthborn Holistic Ingredients
Earthborn Holistic recipes contain a large variety of ingredients. We would consider most of these to be high-quality, but there are some which we are not huge fans of.
Some examples of high-quality ingredients used in Earthborn Holistic formulas include the following:
High-Quality Meat & Fish Ingredients
Chicken
Tukey
Whitefish
Herring
Squid
Lamb
Bison
Rabbit
Sweet Potatoes
Pumpkin
The whole meat and fish ingredients are, in particular, great additions. These are always the core ingredients of Earthborn Holistic formulas as they should be. These provide high-quality protein and fat to fuel a dog or cat's growth, repair, and maintenance.
While some of these ingredients are common and widespread in their use, such as Turkey and Chicken, others are far less common and could be considered by some to be novel meats. Examples of these include Rabbit and Bison.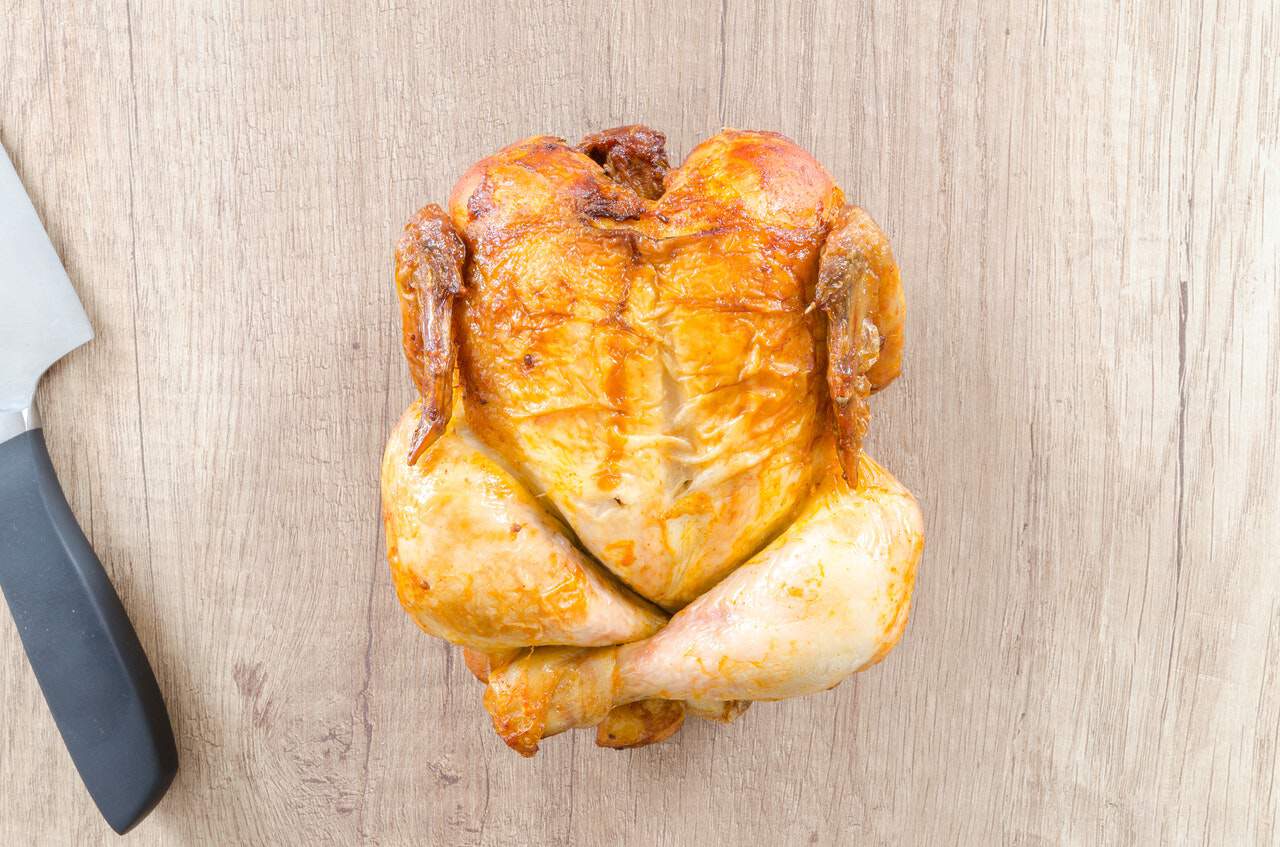 We explore the use of Rabbit and Bison in our articles Best Dog Foods With Rabbit & Best Dog Food With Bison.
However, there are other examples that are low-quality ingredients. These include the following:
Low-Quality Ingredients
Pea Protein
Pea Starch
Rye Flour
Pea Protein and Pea Starch are ingredients that we are all too familiar with. They are Pea by-products that are used for a number of purposes. Pea Protein is often used to inflate the overall proportion of protein in dog and cat food. The protein provided by Pea Protein is inferior to animal or fish-based protein.
Both Pea Protein and Pea Starch are used in a technique called Ingredient Splitting. Ingredient Splitting aims to mislead consumers and make less desirable ingredients appear further down the ingredient list. Find out more about Ingredient Splitting in Ingredient Splitting in Pet Food – Exposed.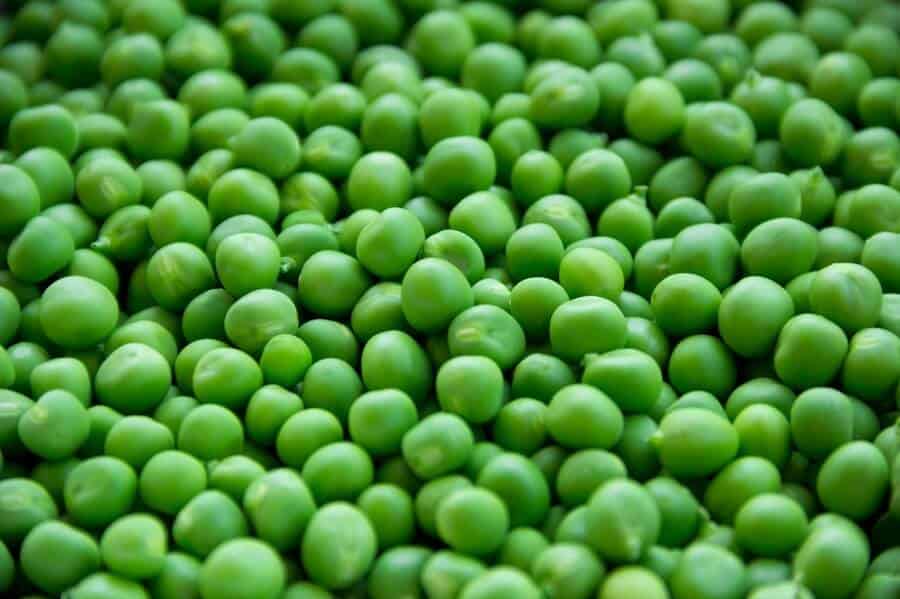 Other Notable Ingredients
Oatmeal, Buckwheat, Barley, and Quinoa are just some of the grain ingredients that Earthborn Holistic is making use of in its new Unrefined range. These grain ingredients are considered by some to be higher-quality or superior to others, such as corn and wheat. This is as they can provide additional nutrition and are less processed.
You can learn more about Buckwheat in our article Buckwheat In Dog Food.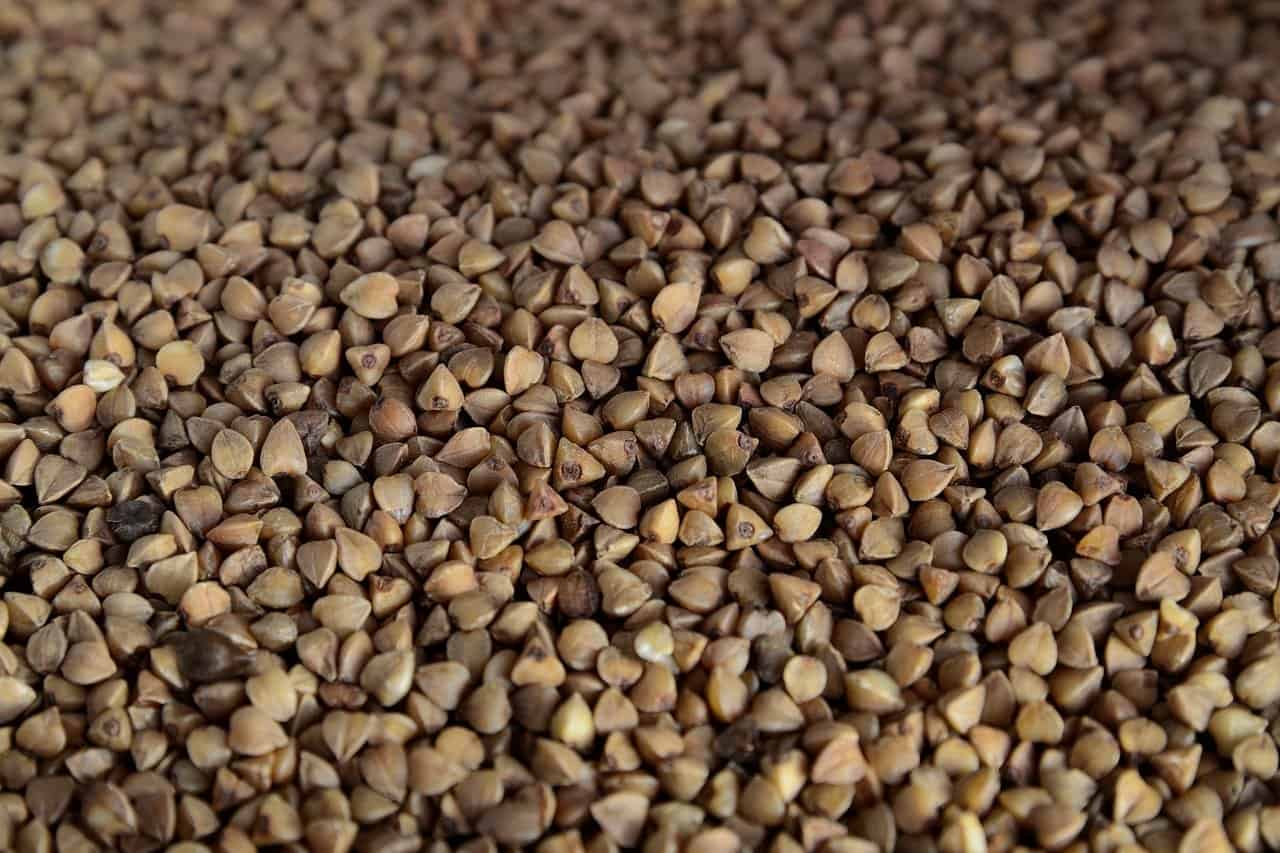 Earthborn Holistic Animal Testing
While the information on whether Earthborn Holistic takes part in Animal Testing was hard to track down, we have managed to find out some information.
Earthborn Holistic states that they do not test on animals in laboratories. Instead, when they are launching a new product line and need AAFCO feeding tests to ensure that the recipe in question is nutritionally complete and feeds well, they complete feeding trials at a farm with an "in-home" atmosphere, which is non-invasive, nonlethal and cage-free.
They state that all animals are humanely treated. Earthborn Holistic also participates in feeding trials with their own pets; as a way of showing their commitment to the humane treatment of animals.
The above information is a strong positive and notable improvement on many of their competitors who do participate in animal testing.
We strongly believe that animal testing for the purposes of testing pet food is a cruel and outdated practice. We strongly hope that other brands will adopt Earthborn Holistic's approach and ensure that it will be severely reduced or eliminated in the coming years.
Earthborn Holistic Recalls
To the best of our knowledge and research (FDA, AVMA, DogFoodAdvisor), Earthborn Holistic has no history of recalls for its dog or cat food ranges.
A lack of recalls in their history is a great sign and a strong indicator of high-quality and rigorous production standards. These ensure that products do not become contaminated or have unsafe levels of certain micronutrients.
Earthborn Holistic detail some of the steps they take to ensure their food is safe on their website. This includes checks for peroxide values and for free fatty acids in the fat.
Earthborn Holistic also completes testing for salmonella and for water activity to prevent mold. Samples of their pet food products are sent to an independent lab if there are any observations or inconsistencies on a test result. Earthborn Holistic also insists that their suppliers run tests on the ingredients they supply, which includes testing for melamine.
Last but not least, Earthborn Holistic states that their facilities are inspected multiple times per year by USDA APHIS. The facility where their branded products are manufactured is approved for sales to the European Union, Russia, Israel, Australia, and many more, all of which have strict regulations. They are HACCP approved, and FDA inspected.
Despite all the steps detailed above, we still recommend regularly checking back to see if anything changes in the future, and a recall has to take place.
Earthborn Holistic Featured Articles
Best Hypoallergenic Dog Foods Guide – Dietary allergies for dogs can be complex and confusing, but this article will give you all the facts you need to know. We discuss common allergens, symptoms, testing, and the best way to identify and counter allergies.
Best Dog Foods Without Peas – Pea-free dog food recipes are in very short supply, but Earthborn Holistic's Venture range swoops in to the rescue with multiple formulas that do not use Peas.
Best High Protein Dog Food – It will come as no surprise that Earthborn Holistic's Primitive Natural recipe features in our article showcasing high-protein dog food. Its protein proportion is significantly above average and is sourced from high-quality meat and fish ingredients.
Best Dog Food Without Chicken – Chicken is the most commonly used meat in dog food. This can make it challenging for those dogs who have a Chicken allergy. This article discusses Chicken and suggests some high-quality and nutritious Chicken free recipes.
Menhaden Fish Meal in Dog Food – One of Earthborn Holistic's Venture recipes is highlighted in this article as one that does not make use of fish meal such as Menhaden Fish Meal. Instead, they use whole fish ingredients.
Best Dog Foods With Rabbit – Earthborn Holistic is one of the few brands to produce a dog food formula with Rabbit meat. What makes this even more impressive is that it is one of the best Rabbit centric formulas available.
Best Dog Food for Rhodesian Ridgeback's – Rhodesian Ridgeback's are a distinctive breed thanks to the ridge that runs down their back. Unfortunately, they suffer from a number of health issues. However, some of these issues can be countered by diet, and this article explores that and suggests some high-quality formulas.
Best Dog Food For Dalmatians – Dalmatian's are another very recognizable breed, but they have a unique dietary problem surrounding purines. This article takes an in-depth look at purines and suggests some low-purine recipes that would be ideal for a dalmatian.
Tapioca In Dog Food – Tapioca regularly features in Earthborn Holistic formulas as a source of carbohydrates. Tapioca is an alternative to the more traditional legume or grain ingredients.
Best of Earthborn Holistic
Dry Dog Food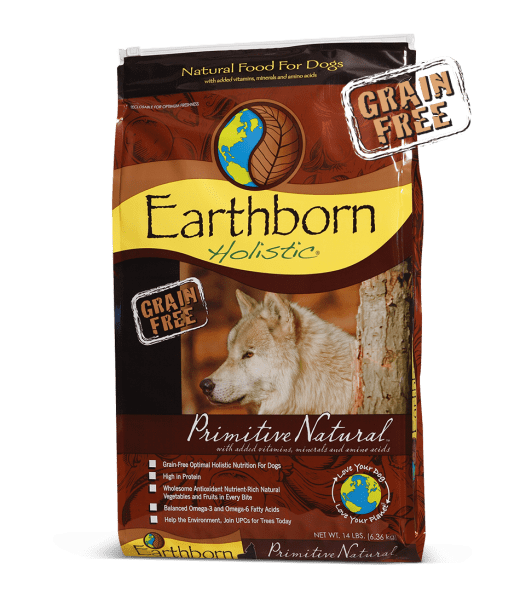 While we have given some of Earthborn Holistic's recipes mixed reviews, their Primitive Natural formula is by far the best on offer. The primary driver behind this is the fantastic proportions of protein and fat that the formula provides.
Primitive Natural contains a considerable portion of meat and fish ingredients, which provide very satisfactory levels of protein and fat. Some of these meat and fish ingredients include Chicken, Turkey, and Whitefish. The formula also makes use of Potatoes and Peas, which provide a small proportion of carbohydrates and fiber. The portion of both these ingredients is not significant enough to dilute the level of animal protein, which is crucial.
The formula is a member of Earthborn Holistic's grain-free range and so is entirely free of any grains. Another important point is that it has a surprisingly high level of the Omega 3 Fatty Acid for a formula that doesn't focus heavily on fish. Sadly, the formula does contain Pea Starch, which is used as a binding agent and is looked upon poorly by some.
Limited Ingredient Dog Food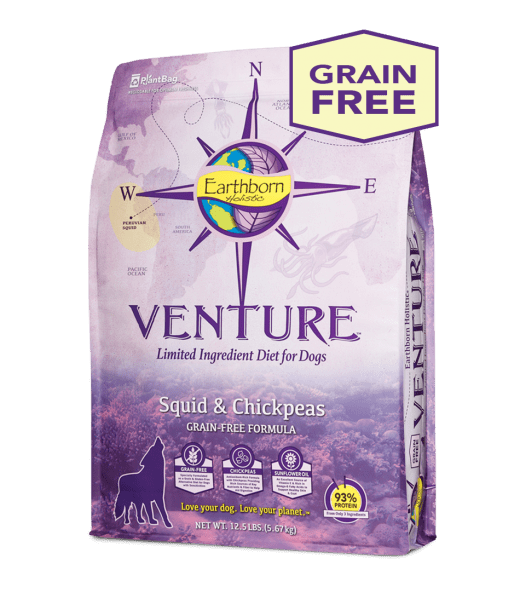 Venture by Earthborn Holistic is a high-quality Limited Ingredient range. No two formulas within the range are the same, and they utilize a variety of vegetables, meat, and fish ingredients.
While some recipes such as Rabbit Meal and Pumpkin and Pork Meal and Butternut Squash contain commonly used vegetable ingredients like Peas, others such as Squid and Chickpeas and Alaska Pollock Meal and Pumpkin still to less commonly used vegetables. This use of alternative vegetable ingredients makes this formula very appealing to those dogs with severe allergies, such as a Pea allergy.
Seafood ingredients such as Squid and Pollock aren't commonly used by many dog food brands but are extremely nutritious and could satisfy your dog's appetite. Venture formulas make use of a significant portion of Flaxseed, which is the best non-meat or fish source of the Omega 3 Fatty Acids. The Omega 3 Fatty Acids are well known to offer a range of health benefits such as preventing heart disease and helping to maintain healthy skin and coat.
Canned Dog Food
K95 Beef Review

While all of Earthborn Holistics canned dog food recipes could be classified as high-quality and nutritious, the beef recipe is by far our favorite.
This is thanks to the extremely satisfactory nutrition it provides, which is high in protein and fat and extremely low in carbohydrates. This high proportion of protein and fat is thanks to a large portion of Beef and Beef Liver.
The Beef Liver can also provide some of the less common vitamins and minerals at high levels.
There are small portions of a number of vegetables, including Carrots, Sweet Potatoes, and Green Beans, Some of these are far less common to see in dog food, but they do provide similar nutrition in fiber and carbohydrates.
Dry Cat Food
Primitive Feline Review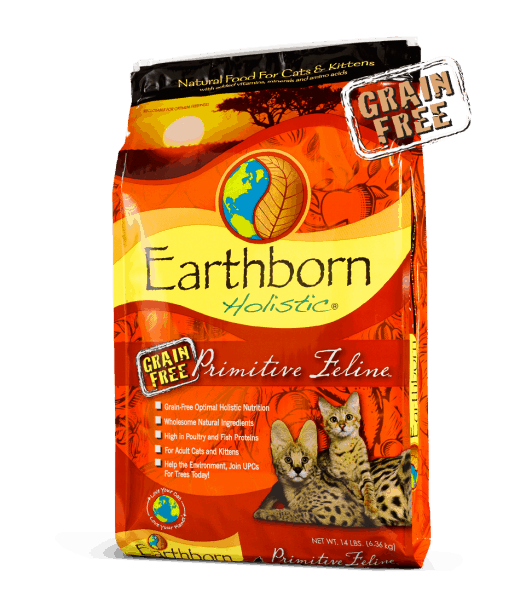 While Earthborn's range of dry cat food is very small, there is one formula that we have taken a liking to.
Primitive Feline is very similar to the dog food recipe Primitive Natural. It has a very high portion of both Chicken Meal and Turkey Meal. These meat meals will provide a very high proportion of protein and fat, which should make up the vast majority of a cat's diet.
Unfortunately, the formula does contain almost all of the Pea By-products in varying quantities. Examples include Pea Protein, Pea Starch, and Pea Fiber. If these were combined, it is likely they would be positioned higher up the ingredient list.
Canned Cat Food
Catalina Catch Review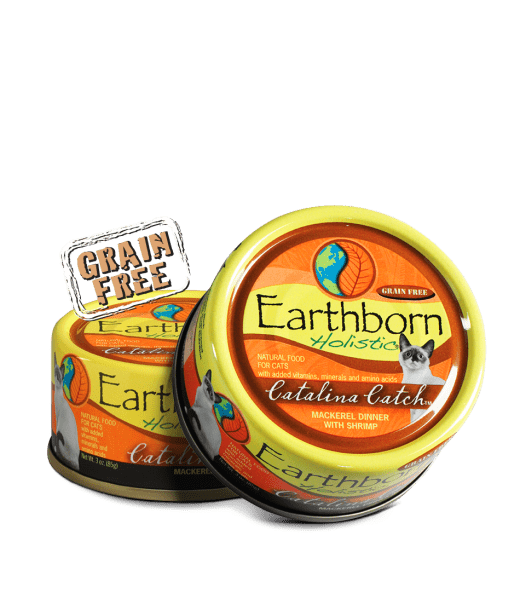 All of Earthborn Holistic's canned cat food recipes are very nutritious and do not contain high portions of low-quality or carbohydrate-heavy ingredients.
However, Catalina Catch is our favorite of them all thanks to the high-quality fish ingredients it contains. It has a mix of Mackerel and Shrimp. Mackerel, along with Salmon, is one of the best fish ingredients for both cats and dogs and is very high in the Omega Fatty Acids.
These Fatty Acids can provide a number of health benefits, including improved cognitive function and improving the condition of skin and fir.
There are very few other ingredients in this formula, but those worth mentioning are Guar Gum, which is used as a binding agent, and Sunflower Oil, which is added to boost healthy fats.
Earthborn Holistic Full Product Range
Dog Food
Unrefined Formulas
Roasted Lamb
Roasted Rabbit
Smoked Salmon
Smoked Turkey
Venture Formulas
Alaska Pollock Meal and Pumpkin
Pork Meal and Butternut Squash
Turkey Meal and Butternut Squash
K95 Formulas
K95 Beef
K95 Chicken
K95 Duck
K95 Lamb
K95 Turkey
Holistic Formulas
Grain Free Holistic Formulas
Western Feast
Moist Grain Free Holistic Formulas
Chips Chicken Casserole Stew
Dukes Din-Din Stew
Peppers Pot Roast Stew
Tobys Turkey Dinner in Gravy
Lilys Gourmet Buffet in Sauce
Cat Food
Holistic & Grain-Free Formulas
Feline Vantage
Primitive Feline
Wild Sea Catch
Moist Grain-Free Holistic Can Formulas
Catalina Catch
Chicken Catcciatori
Chicken Fricatssee
Chicken Jumble With Liver
Harbor Harvest
Monterey Medley
Ranchouse Stew
Moist Grain-Free Holistic Pouch Formulas
Autumn Tide
Fin & Fowl
Key West Zest
Lowcountry Fare
Riptide Zing
Upstream Grille