With the rise of globalization, many Americans are looking to purchase their products from US-based companies or preferably products that are made in the USA.
This trend is no different in the world of cat food, with many cat owners refusing to purchase recipes produced outside of the United States in countries like Europe or South East Asia.
US Cat Food Production
Pet food in the USA is regulated by the FDA (US Food & Drug Administration). The FDA requires that all animal foods, like human foods, be safe to eat, produced under sanitary conditions, contain no harmful substances, and be truthfully labeled.
However, it is noteworthy that the FDA does not require pre-approval of any products before they can be sold. Unless the company is using inappropriate ingredients, they are unlikely to draw much attention from the FDA.
That being said, the FDA heavily enforces these requirements and can force pet food brands to undergo recalls or pull their products from store shelves. They have done this dozens of times over the last decade and will continue to do so in the future.
Given these high standards, it is only logical that many cat owners wish to purchase US-made cat food so that they can be certain it has been thoroughly scrutinized.
Best Cat Food Made In The USA
NomNom Fish Feast Review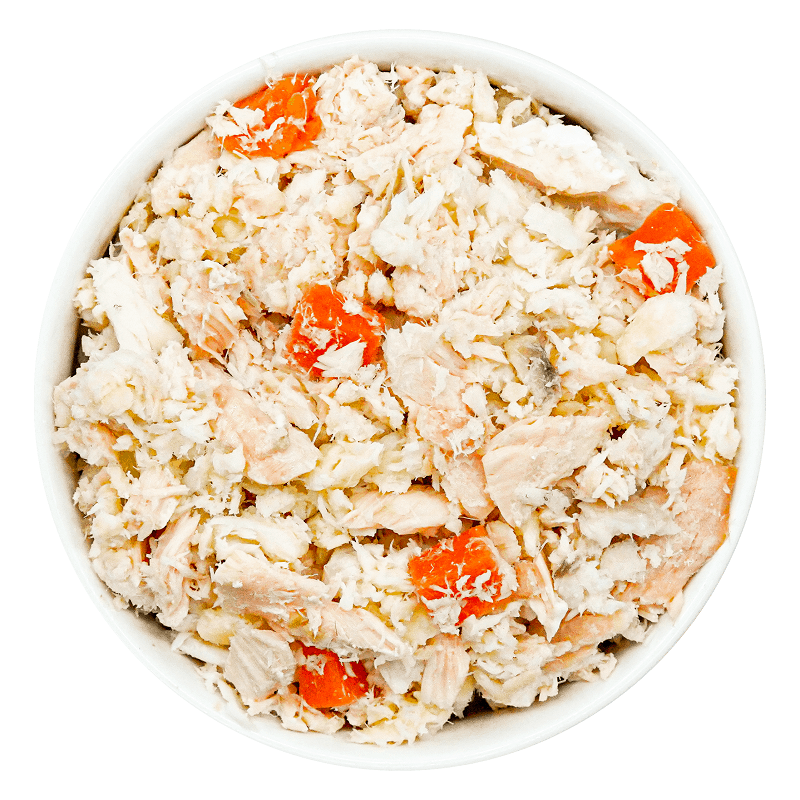 NomNom is a new pet food brand and one of the leaders in the fresh home-delivered niche. This type of pet food has exploded in popularity over the last few years, with brands like NomNom, The Farmer's Dog, and Ollie taking center stage.
This fresh pet food is produced within the United States and shipped directly to consumers.
You can read our detailed review of NomNom and explanation of how their services work here.
However, most of these fresh pet food brands have stuck to fresh dog food and haven't expanded into fresh cat food. However, NomNom bucks this trend and has two cat food recipes.
Fish Feast was crowned our favorite NomNom recipe over Chicken Cuisine. The primary driver behind this decision was the high-quality and extremely nutritious fish ingredients used in Flavorful Fish Feast.
As we regularly discuss, fish such as Salmon can provide a plentiful supply of protein and fat, but it can also provide much higher levels of the Omega 3 Fatty Acids than poultry or red meat ingredients.
These Omega 3 Fatty Acids can provide a range of health benefits such as improving the fur of a cat, as well as reducing the risk of heart disease.
The formula is rounded out with a sensible and very small-sized portion of Tapioca and Carrots, which don't overload the formula with carbohydrates.
If you'd like to learn more about Nom Nom including their full selection of ingredients, their nutritional profile, and their recall history, be sure to head on over to our Nom Nom Brand Review.
NomNowNow's website includes some reviews by users of their products. You can find these "Success Stories" here.
Taste of the Wild Rocky Mountain Feline Formula Review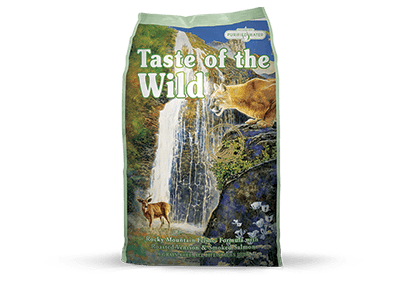 Taste of the Wild is an extremely popular pet food brand in the United States, and most pet owners will be familiar with seeing its recipes stocked on the shelves of local pet food stores. Moreover, all of Taste of the Wild's recipes are produced in the United States.
While their cat food range is smaller than their dog food range, it does include several dry cat food recipes, including the above Rocky Mountain formula.
We've chosen this formula over the others from Taste of the Wild as it has extremely satisfactory nutrition, including a minimum of 42% protein. This protein is thanks to a mix of Chicken Meal, Venison, and Salmon.
This unusual mix of meat and fish ingredients are all high-quality sources and welcome additions to a cat's diet.
As with most Taste of the Wild recipes, this recipe includes portions of Peas and Sweet Potatoes, which provide a mix of carbohydrates and fiber.
Taste of the Wild has recently released a grain-inclusive range of products; however, they have not expanded this range to cat food.
American Journey Salmon Recipe Review

American Journey is the core own brand of the pet food website Chewy. While the brand started out small, they now have a huge range of products, including dry cat food, wet cat food, limited ingredient cat food, and more.
As with all the brands in this article, Chewy produces the American Journey range of products in the United States.
The four dry cat food recipes from American Journey are incredibly similar, which made it difficult to choose between them. They all offer identical nutrition, which is high in protein as well as providing a moderate proportion of fat. The only difference between them is what meat or fish ingredients they choose to utilize.
The Turkey and Chicken Recipe is a reliable choice, with most cats enjoying its taste. As you would imagine, a mix of Chicken and Turkey ingredients are at its core, including Turkey, Turkey Meal, and Chicken Meal.
The dry cat food recipes from American Journey include a mix of minor ingredients outside of their meat content. This includes Tapioca, Peas, Menhaden Fish Meal, and Flaxseed. All of these ingredients are very regular features in dog and cat food.
Health Extension Grain-Free Turkey & Salmon Recipe Review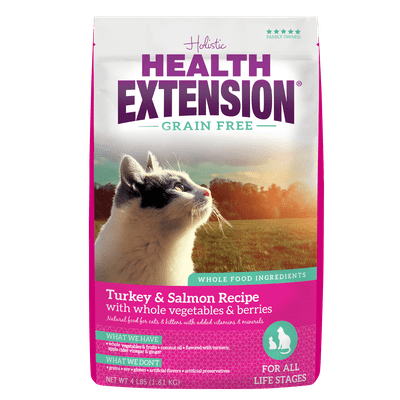 Health Extension is a family-owned pet food company based in the United States, and they have maintained all of their manufacturing in the United States at facilities in New York and New Jersey.
The brand stands out in the crowd by having very impressive transparency about the source of their ingredients, including an interactive map for visitors of their site to explore.
This level of transparency is unprecedented in the industry and is something that many larger and more successful brands could learn from.
You can learn more about Health Extension on our review page, which you can find here.
The above is Health Extensions only grain-free dry cat food recipe. Despite this lack of variety, the recipe is worthy of consideration.
It has an impressive proportion of protein, which is above-average when compared to other cat food recipes. This protein proportion is thanks to a large portion of Turkey, Salmon, and Chicken. All three of these ingredients are high-quality sources.
The recipe uses a mix of legume ingredients, starch ingredients, and pumpkin to provide carbohydrates and fiber. Examples of ingredients include Chickpeas, Lentils, Sweet Potatoes, and Pumpkin.
Salmon Pate Review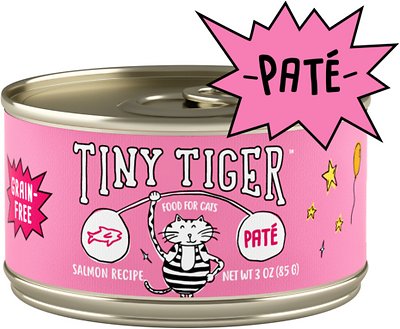 Tiny Tiger is another brand owned by the online pet food seller Chewy. However, Tiny Tiger is far more specialized and only produces wet/canned cat food.
The above Salmon recipe is our favorite Pate type formula from Tiny Tiger. Salmon is an excellent addition to cat food and provides a plentiful supply of fish-based protein and fat.
In addition, Salmon is one of the best sources of the Omega 3 Fatty Acids. Many believe that these fatty acids can provide several health benefits, including an improvement in the health of a cat's fur and skin, as well as reductions in the risk of certain diseases.
The recipe is rounded off with some other meat and fish ingredients, including Liver and Turkey. These ingredients supplement the protein and fat portions provided by the Salmon.
There are no notable plant-based ingredients in this recipe, which is excellent given cats are obligate carnivores.
Nature's Variety Instinct Original Chicken Recipe Review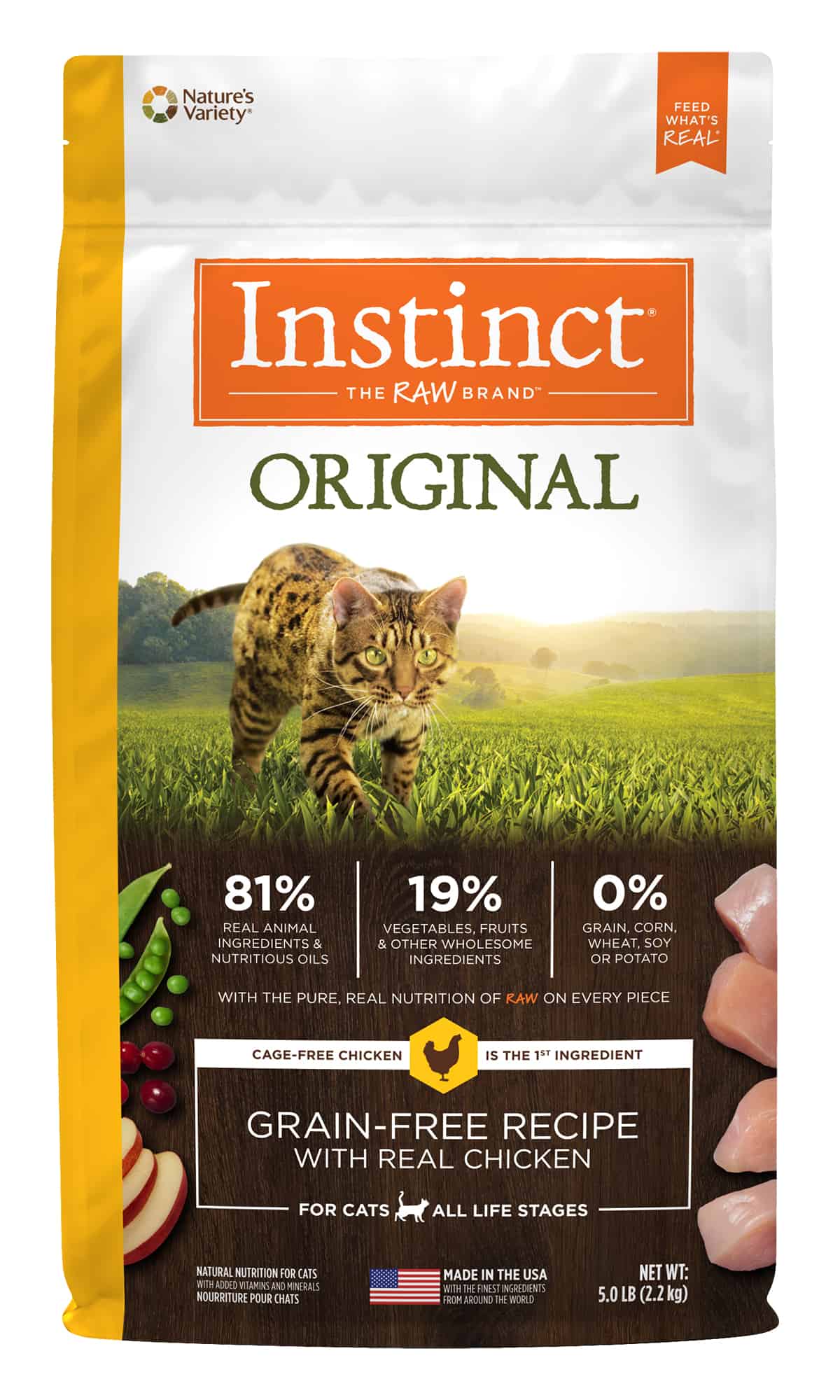 Nature's Variety Instinct dog food recipes regularly feature on our site, and their cat food recipes are also noteworthy. They are a US-based company, and all of their manufacturing takes place from within the United States at a facility in Lincoln, Nebraska.
The Original range from Instinct is extremely reliable and provides consistent nutrition from high-quality ingredients.
The above Chicken recipe is the most popular and includes an extremely large portion of Chicken and smaller portions of Chicken Meal, Turkey Meal, Menhaden Fish Meal, and Chicken Fat.
This combination of poultry ingredients makes up 81% of the formula, which is impressive and aligns closely with a cat's natural diet.
Outside of these poultry ingredients, the recipe utilizes a mix of Peas and Tapioca to provide carbohydrates and fiber.
Salmon & Chicken Meal Review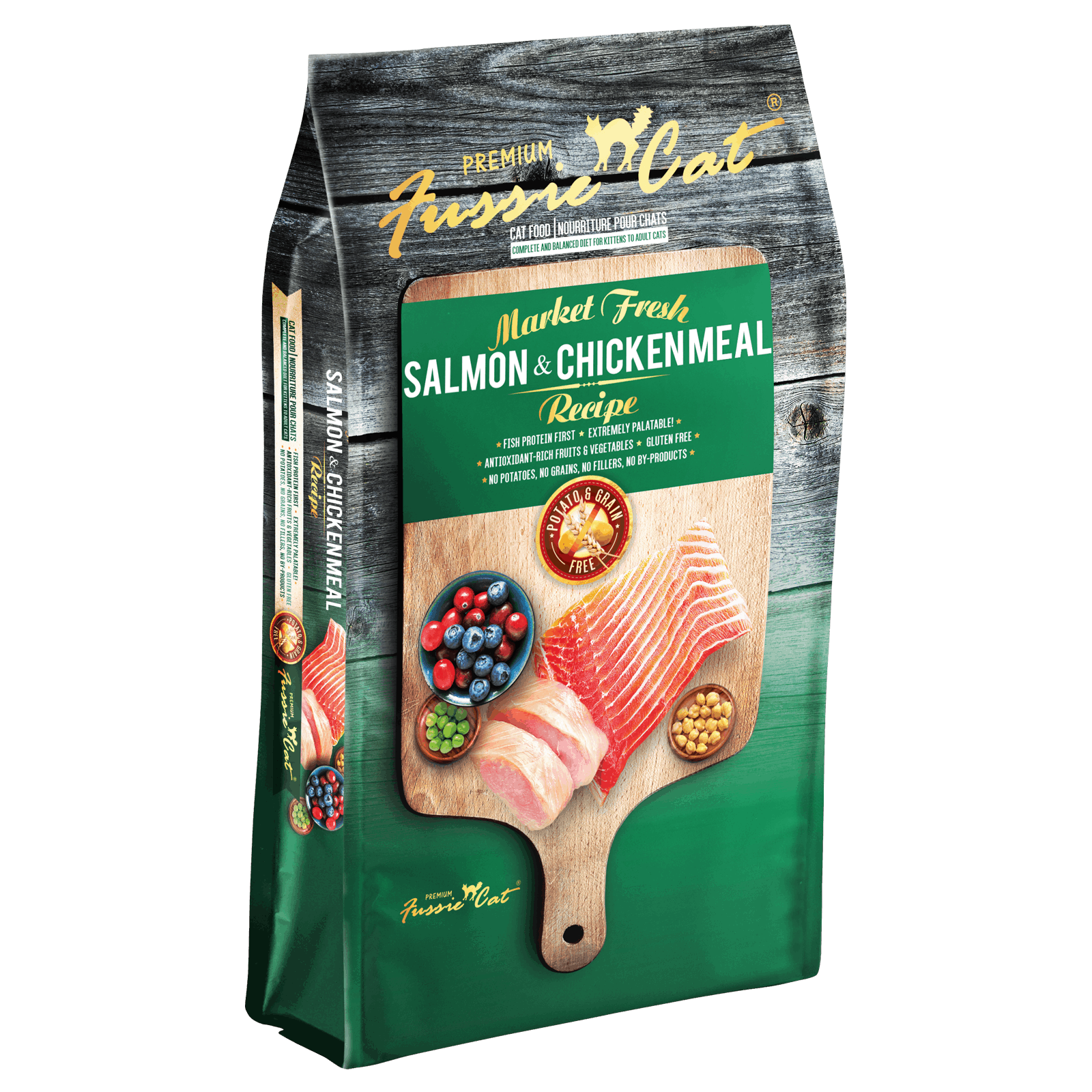 Fussie Cat is a relatively new pet food brand, and they focus on producing meat-centered cat food recipes. All of Fussie Cat's dry cat food recipes are produced at manufacturing facilities in the United States.
You can learn more about Fussie Cat here.
The above recipe is one of their best dry food recipes. It uses a mix of Salmon and Chicken ingredients, both of which are considered high-quality and nutritious. The Chicken is in meal form, which means it has already had its moisture removed and, as a consequence of this, is incredibly nutritionally dense.
This combination of Chicken and Salmon combines to provide satisfactory nutrition that is well suited to cats.
The recipe then uses a modest portion of Peas and Chickpeas to provide carbohydrates, additional protein, and fiber. While the portion of these plant-based ingredients could be smaller, it is not as large a portion as many of their competitors would use.