Fussie Cat Information
Fussie Cat is a premium cat food brand that focuses on producing meat-centered cat food recipes. The brand is relatively young in age but is quickly establishing itself as popular among cat owners.
Fussie Cat products are produced by Pets Global Inc, which is a US company based in California. It is not clear where Pets Global Inc produces the food or if they use a 3rd party manufacturing facility.
Fussie Cat recipes are widely available from physical pet food stores across the United States as well as the large online pet food websites such as Chewy and PetFlow.
Fussie Cat Product Range
Fussie Cat has a large product range of cat food recipes. This range includes both dry cat food and wet/canned cat food.
The dry cat food range from Fussie Cat is much smaller than the wet/canned range and only consists of five recipes.
Fussie Cat does not produce recipes specifically designed for kittens or senior cats, but their products are suitable for all ages.
Fussie Cat Nutrition
The nutrition offered by Fussie Cat recipes is above-average when compared to other cat food brands.
This above-average nutrition consists of above-average proportions of protein and fat and below-average proportions of carbohydrates.
A diet high in protein and fat is critical for cats as they are obligate carnivores, which means they thrive best on a diet low in plant-based ingredients.
Below is an example of the nutrition provided by a dry cat food recipe from
Fussie Cat.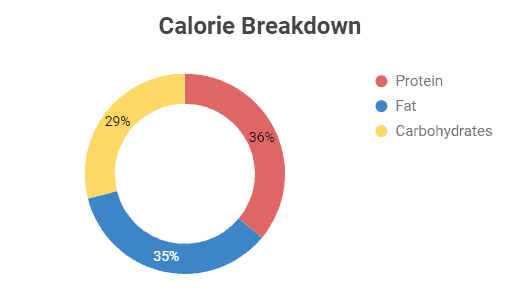 If you are interested in learning more about cat nutrition then we highly recommend you check out our Cat Food Guide.
Fussie Cat Ingredients
High-Quality Meat & Fish Ingredients
Chicken
Turkey
Duck
Beef
Salmon
Tuna
Fussie Cat uses a modest range of meat and fish ingredients in its recipes. This range includes some of the industry favorites like Chicken, Turkey, and Tuna.
These ingredients are so popular as they are easy to source, affordable, and can provide excellent nutrition that is high in protein and fat.
Fussie Cat does not use any less common or unusual ingredients at this time. Examples of these include Rabbit, Venison, and Bison and they are often used in food for pets with severe allergies.
Other Notable Ingredients
Fussie Cat makes use of legume ingredients in its dry food recipes, such as Peas and Chickpeas. These legume ingredients are extremely common in the industry due to their low cost and favorable nutrition.
Legumes can provide carbohydrates, protein, and fiber to a cat's diet. However, these legumes' protein can skew the proportion of animal protein to plant-based protein and confuse cat owners. Ideally, most protein in a cat food recipe would be from animal and fish sources instead.
Pea Flour is a vegetable by-product and is not considered a positive addition to a cat food recipe. It is an incredibly dense source of carbohydrates as it has had the bulk of its protein and fiber removed.
Ingredients such as these are often used to mislead consumers about the portion size of an ingredient in a recipe. You can read more about this tactic in Ingredient Splitting in Pet Food – Exposed.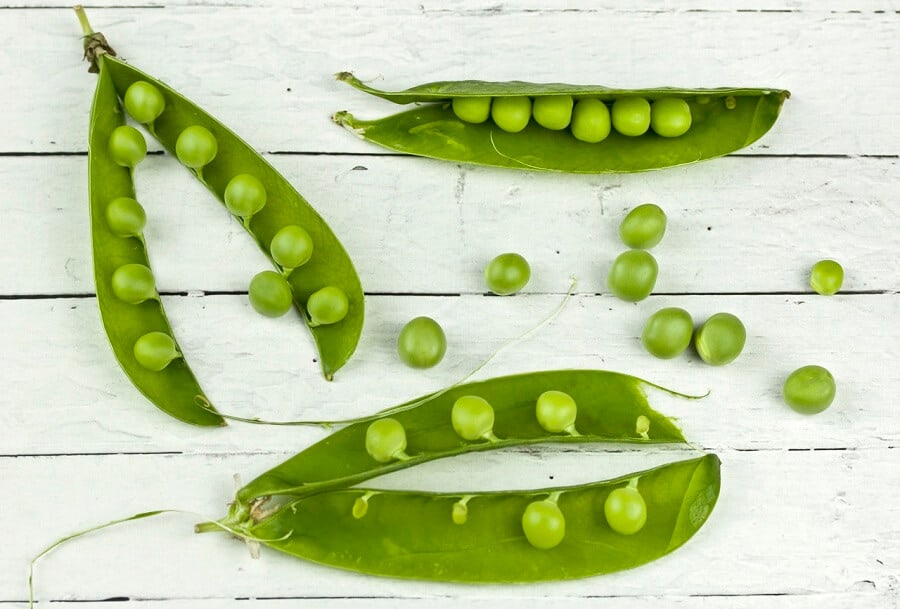 Fussie Cat makes use of Chicken Fat in its dry cat food recipes as do many brands. Chicken Fat is a regular addition to pet food and is used to improve the flavor of a recipe and boost animal fat levels. Chicken Fat is chosen over alternatives as it is low-cost and easy to source.
Learn more about Chicken Fat in Chicken Fat In Dog Food.
Some Fussie Cat recipes include a small portion of Pumpkin. Many pet owners supplement their pet's diet with Pumpkin thanks to digestive properties.
However, pumpkin doesn't just provide fiber but also contains carbohydrates and some beneficial vitamins and minerals such as Beta Carotene.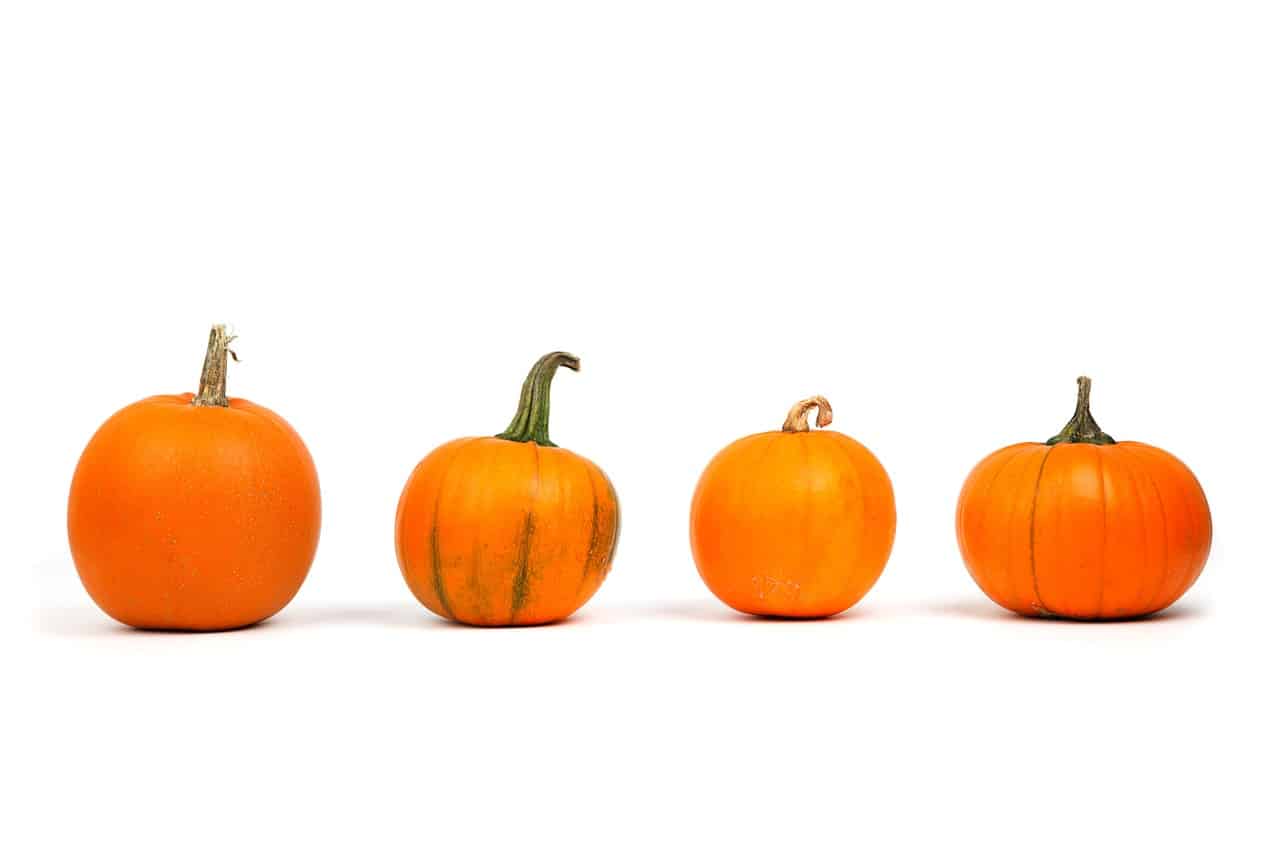 Flaxseed is an excellent plant-based source of the Omega 3 Fatty Acids and is commonly found in pet food. These fatty acids are believed to provide several health benefits, including improving a cat's skin and fur.
Read more about the benefits of Flaxseed in our article Flaxseed In Dog Food.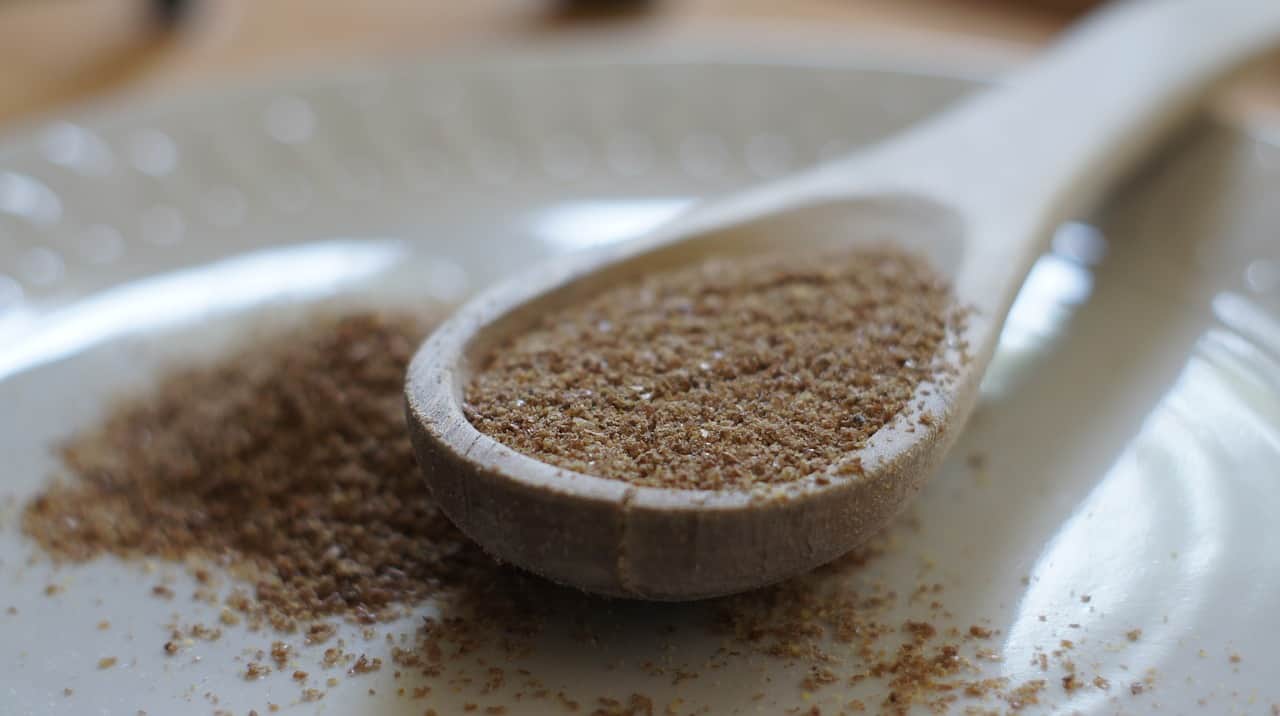 Carrageenan & Guar Gum are both used in Fussie Cat's wet cat food recipes. They act as binding agents, which means they hold the food together and keep its texture consistent. Outside of this trait, they provide little to no nutrition to a recipe
If you'd like to learn more about Carrageenan and how it is made, check out Carrageenan In Dog Food.
Fussie Cat Animal Testing
Fussie Cat provides some information on their stance on animal testing on their website.
Here they state their answer to the question – Do you perform any invasive animal testing in developing your products?
"No, and we never will. Our company was founded on the basis of providing delicious, nutritionally correct, value conscious meals for your cat. To fine-tune our recipes, we conduct trials where our food is fed to pets. This is done in a comfortable, stress-free environment for the animals."
This insight from Fussie Cat is far more than other brands provide who prefer to keep things under wraps.
We strongly believe that laboratory and invasive animal testing is a cruel and outdated practice and should be eliminated.
Fussie Cat Recalls
Based on our research (FDA, AVMA, DogFoodAdvisor), Fussie Cat has not undergone any recalls in its past which means it is, therefore, a recall-free brand.
Despite Fussie Cat being a relatively young cat food brand, this is impressive and shows that they take their quality and safety processes seriously. We hope they continue this in the coming years and remain recall-free.
Regardless, we always suggest that pet owners remain vigilant of any future recalls of Fussie Cat or any other pet food brand.
Best of Fussie Cat
Salmon & Chicken Meal Review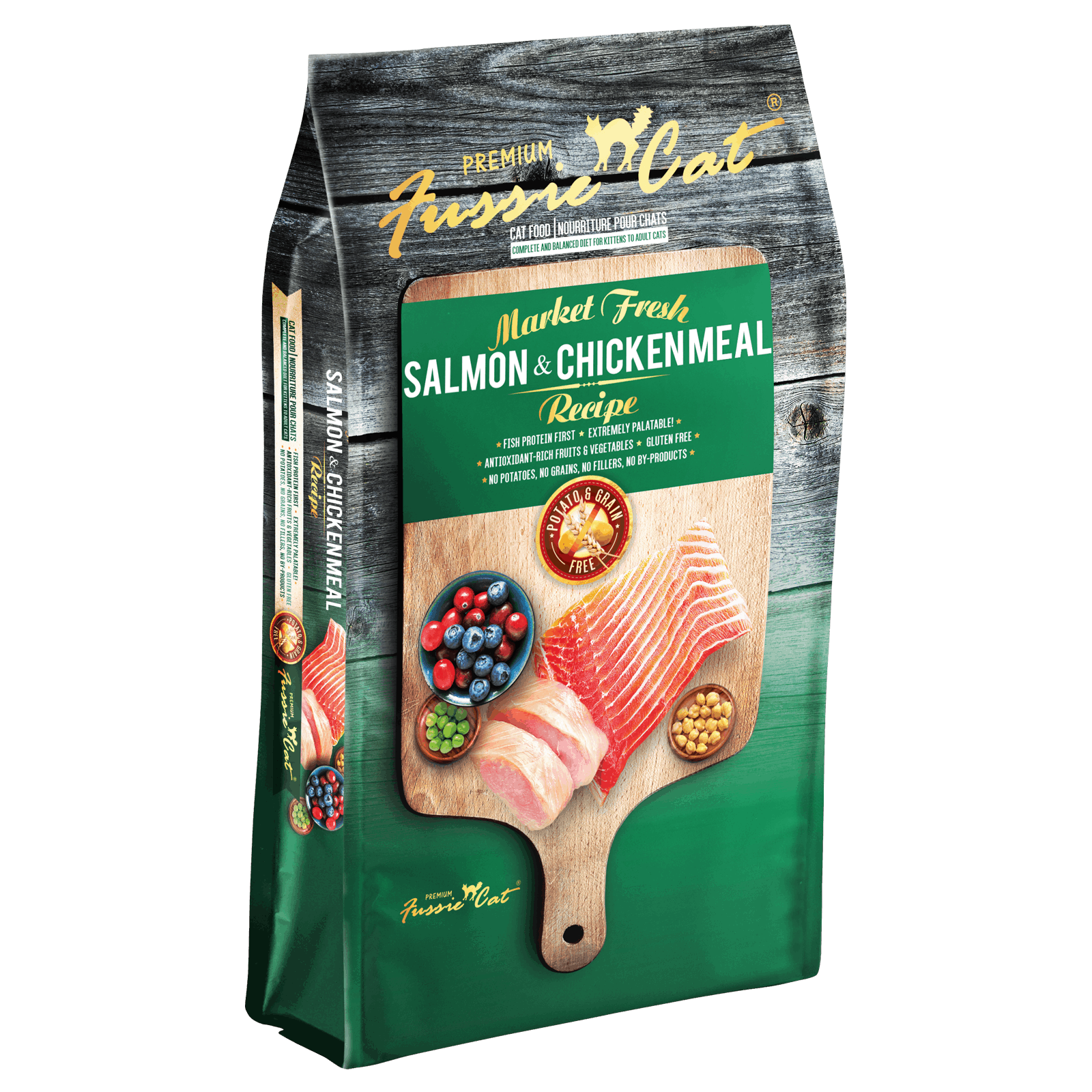 The above recipe from Fussie Cat is one of their best dry food recipes. It uses a mix of Salmon and Chicken ingredients, both of which are considered high-quality and nutritious.
The Chicken is in meal form, which means it has already had its moisture removed and, as a consequence of this, is incredibly nutritionally dense.
Many pet owners are put off by meat meals but they shouldn't be as this density results in far more protein and fat than non-meal ingredients.
The recipe then uses a modest portion of Peas and Chickpeas to provide carbohydrates, additional protein, and fiber.
While the portion of these plant-based ingredients could be smaller, it is not as large a portion as many of their competitors would use and as a result, the proportion of carbohydrates is not significant.
Chicken With Liver Review
Fussie Cat is best known for its wet/canned cat food, and the premium range includes some of their best recipes such as the above Chicken and Chicken Liver.
As you might have guessed, Chicken and Chicken Liver are two of the recipe's primary ingredients and provide an excellent proportion of protein and fat when combined. Chicken Liver also enhances the recipe's flavor and includes some vitamins and minerals that traditional meat cuts lack.
The recipe does not have a large portion of plant-based ingredients but does include a small portion of Pumpkin and Tapioca. These are likely used as binding agents to help hold the food together consistently.
Fussie Cat Featured Articles
Best Cat Food Made In The USA – Made in the USA is a widespread phenomenon in the United States and it reaches as far as cat food. In this article, we showcase some of the best US-made cat food recipes including a recipe from Fussie Cat.
Full Fussie Cat Product Range
Dry Cat Food
Salmon
Salmon & Chicken Meal
Chicken & Turkey Meal
Guineafowl & Turkey Meal
Quail & Duck Meal
Wet Cat Food
Super Premium
Chicken With Duck
Chicken With Egg
Chicken In Gravy
Chicken With Sweet Potato
Chicken And Vegetables
Chicken And Beef
Chicken With Liver
Premium
Tuna With Threadfin Bream
Tuna
Tuna With Smoked Tuna
Tuna With Anchovies
Tuna With Chicken
Tuna With Clams
Tuna With Mussels
Tuna With Ocean Fish
Tuna With Prawns
Tuna With Salmon
Tuna With Shrimp
Tuna With Chicken Liver