Tiny Tiger Information
Tiny Tiger is one of Chewy's own brand ranges, similar to American Journey. As such, the brand is only available to purchase online at Chewy's website.
However, Tiny Tiger is a cat food exclusive brand, unlike American Journey, which means it doesn't produce any dog food products.
Tiny Tiger proudly states that all of their recipes are produced in the United States or Canada. However, they do mention that they source their ingredients from all over the world, rather than just North America. No additional information is provided beyond this.
Tiny Tiger Product Range
Tiny Tiger has a moderate cat food product range that consists entirely of wet/canned cat food. They do not produce any dry cat food recipes at this time.
The wet/canned cat food is split into three sub-categories, which are Pate, Chunks In Gravy, and Chunks In Extra Gravy. These sub-varieties of cat food are very common throughout the industry, and each cat has their preference.
Tiny Tiger wet cat food can be purchased in individual cats, multi-packs, and variety packs. Many cat owners prefer these multi-packs and variety-packs in order to give their cats variation and to benefit from bulk purchasing.
Tiny Tiger also sells a small range of Cat Treats. These treats are crunchy treats and come in a large tub.
Tiny Tiger Nutrition
Tiny Tiger cat food recipes provide satisfactory nutrition that consists of high proportions of protein and fat and a small proportion of carbohydrates.
Nutrition such as this is especially important to cats when compared to dogs as they are obligate carnivores. This means that they do not need to consume plant-based content and will thrive best on a meat and fish focused diet.
Tiny Tiger Ingredients
High-Quality Meat & Fish Ingredients
Chicken
Turkey
Beef
Salmon
Whitefish
Tuna
Tiny Tiger uses all the usual suspects when it comes to meat and fish ingredients in cat food.
These ingredients are so popular because they are easy to source, provide excellent nutrition, and are relatively affordable. The nutrition offered by these ingredients is high in protein and fat, which should be at the core of every cat's diet.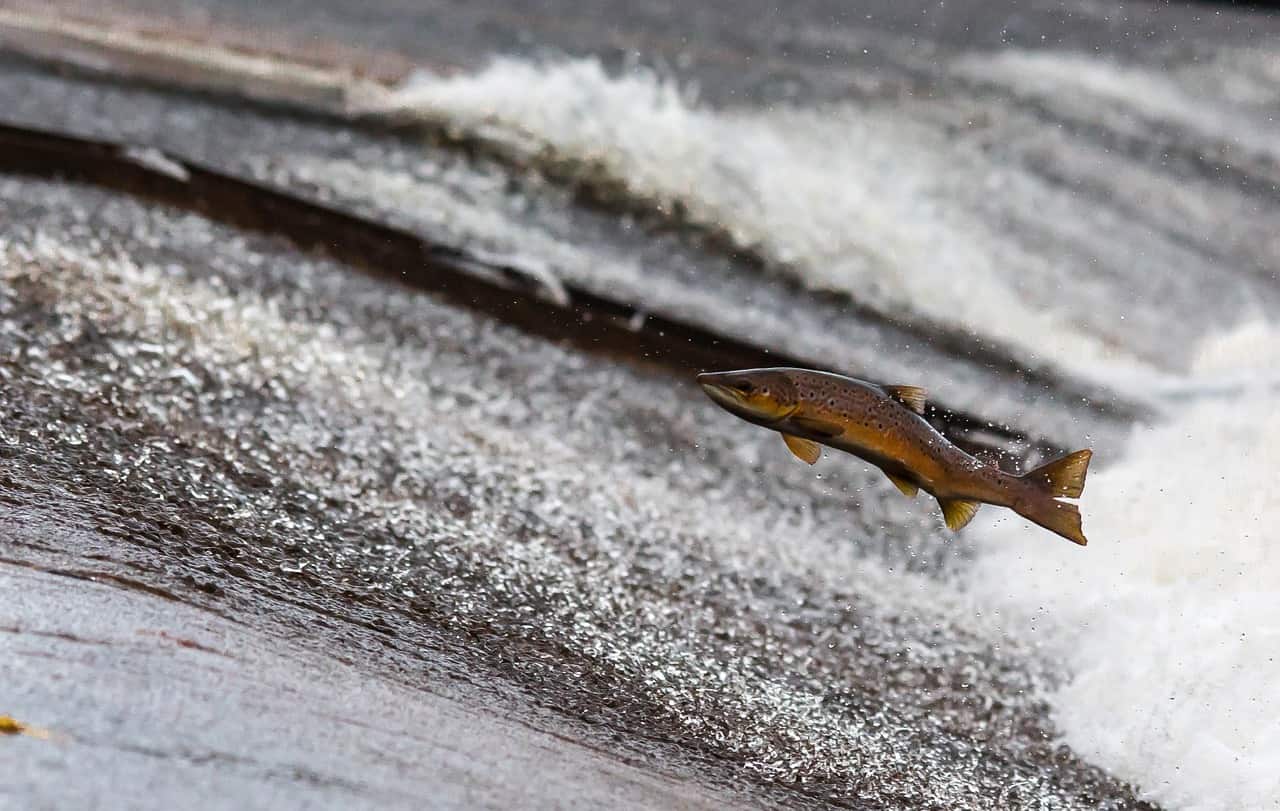 Other Notable Ingredients
Sadly, Tiny Tiger uses Meat By-products in some of its recipes. Meat By-products are considered to be a low-quality ingredient. This low-quality rating is as they are unnamed, which means there is no traceability or accountability as to what goes into it.
We would much rather Tiny Tiger named its by-products and use examples such as Chicken By-products or Turkey By-products.
Liver is an addition to select Tiny Tiger recipes. Organ meats such as Liver are welcome additions to cat food and can provide additional nutrition, especially vitamins and minerals that are not abundant in traditional meat cuts.
Also, organ meat, especially Liver, can significantly enhance the flavor and taste of a cat food recipe to make it more enjoyable for your cat.
Guar Gum is a common addition to wet cat and dog food. It is used to create a consistent texture and hold the food together. While some are against the use of Guar Gum, there is limited evidence to say it is a negative addition or could cause any unwanted effects.
Tiny Tiger Animal Testing
At this time, we have no information on what type of animal testing that Tiny Tiger or Chewy participates in.
If we discover more information in relation to other Chewy brands, it is likely it will apply to Tiny Tiger, and we will update this page accordingly.
We strongly believe that invasive and laboratory-style testing of animals is a cruel and outdated practice and one which we hope will be eliminated.
Tiny Tiger Recalls
Based on our research (FDA, AVMA, DogFoodAdvisor), we have no information that leads us to believe that any Tiny Tiger products have ever undergone a recall which makes them a recall-free brand.
However, this is not surprising given the short history and scale of the brand.
Despite this, we encourage all cat owners to be vigilant of any future recalls of Tiny Tiger or any other cat food brand.
Tiny Tiger Featured Articles
At this time, Tiny Tiger has not been featured in any of our articles.
Best of Tiny Tiger
Salmon Pate Review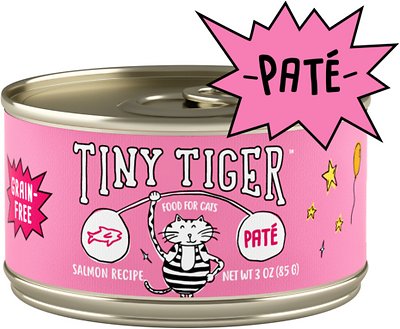 The above Salmon recipe is our favorite Pate-type formula from Tiny Tiger. Salmon is an excellent addition to cat food and provides a plentiful supply of fish-based protein and fat.
In addition, Salmon is one of the best sources of the Omega 3 Fatty Acids. Many believe that these fatty acids can provide several health benefits, including an improvement in the health of a cat's fur and skin, as well as reductions in the risk of certain diseases.
The recipe is rounded off with some other meat and fish ingredients, including Liver and Turkey. These ingredients supplement the protein and fat portions provided by the Salmon.
Beef Chunks In Extra Gravy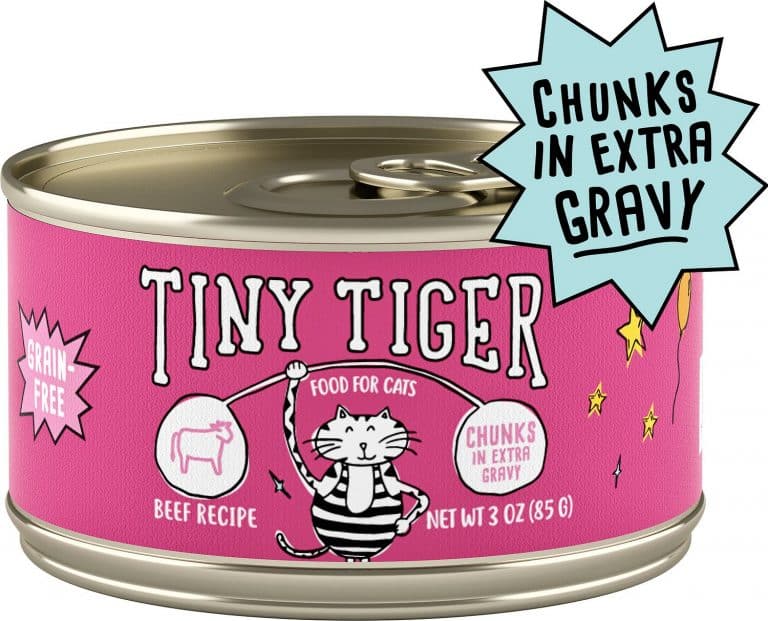 The above Beef recipe will be especially appealing to cats who enjoy gravy as it is an "Extra Gravy" type.
However, this doesn't mean that it lacks in the nutrition department. A large portion of Beef ensures that there is plenty of protein and fat for your cat's digestive needs.
As with all Tiny Tiger recipes, there are additional meat and fish ingredients beyond the primary ingredient. For this recipe, this includes Liver, Poultry, and Meat By-Products.
Tiny Tiger Full Product Range
Wet Cat Food
Chicken Pate
Turkey And Giblets Pate
Beef Pate
Salmon Pate
Whitefish And Tuna Pate
Seafood Pate
Chicken Chunks In Gravy
Turkey Chunks In Gravy
Tuna Chunks In Gravy
Salmon And Whitefish Chunks In Gravy
Seafood Chunks In Gravy
Beef Chunks In Gravy
Tuna Chunks In Extra Gravy
Salmon And Whitefish Chunks In Extra Gravy
Beef Chunks In Extra Gravy
Seafood Chunks In Extra Gravy
Chicken Chunks In Extra Gravy
Turkey Chunks In Extra Gravy
Cat Treats
Crunchy Bunch Chicken And Seafood Flavor
Crunchy Bunch Chicken Flavor
Crunchy Bunch Seafood Flavor