Sojos Information
Sojos is a premium pet food brand that specializes in dehydrated and freeze-dried raw dog food.
Sojos is owned by WellPet LLC, which owns several other pet food brands including Wellness, Holistic Select, and Eagle Pack.
Sojos products are produced in their own facility in Minnesota, USA.
Sojos is available in select local stores as well as from the massive online pet food retailers such as Chewy, Amazon, and Walmart.
Sojos Product Range
Dog Food
Sojos has a moderately sized range of dehydrated dog food. In addition to this, they also produce freeze-dried mixers, dog treats, and dog food topper products.
Sojos produces some specialty recipes in its dehydrated range, including a puppy food product and a senior dog food product. One could also argue that Sojos provides a Novel Meat recipe or a Hypoallergenic recipe, which we will discuss later.
Cat Food
Sojos cat food range is much smaller than its dog food range and only includes a single complete recipe and two treat recipes. However, Sojos will likely expand its cat food range in the coming years.
Sojos Nutrition
Dog Food
Sojos dog food recipes provide excellent nutrition. The nutritional profile of their products includes a significantly above average proportion of protein and fat and a modest proportion of carbohydrates.
Below is an example of the nutrition provided by a Sojos dehydrated dog food recipe.
Cat Food
Given that Sojos only has a single cat food recipe, there is no variety in the nutrition that it provides. However, this single recipe provides excellent nutrition that is similar to Sojos dog food products.
This includes high proportions of protein and fat and a small proportion of carbohydrates. Nutrition is especially important to cats as they are obligate carnivores and do not benefit from consuming large quantities of plant-based material.
Sojos Ingredients
High-Quality Meat & Fish Ingredients
Chicken
Turkey
Beef
Lamb
Pork
Goat
Salmon
Sojos uses a moderate range of meat and fish ingredients in its recipes. This includes many favorites like Chicken, Beef, and Salmon. These ingredients are so popular because they are relatively inexpensive and can provide excellent nutrition.
However, Sojos also uses some less common ingredients like Goat. Goat is often included in recipes that are described as Novel Meat Formulas or Hypoallergenic dog food. Learn more about why ingredients like these are used and the benefits of these diets in our article Best Hypoallergenic Dog Foods Guide.
Other Notable Ingredients
Sojos uses Eggs heavily in their dehydrated dog food recipes. Eggs are a fantastic addition to dog food and can provide extremely digestible protein and fat. They also contain a number of beneficial micronutrients.
Sweet Potatoes are the primary carbohydrate-providing ingredient in many Sojos recipes. Sweet Potatoes are a starch ingredient and an extremely dense source of carbohydrates. It is important that the portion size of Sweet Potatoes isn't too large; otherwise, the proportion of carbohydrates may be excessive.
Peas feature in small portions in some Sojos recipes. Peas are by far the most popular plant-based ingredient in premium dog food recipes. This is as they are relatively inexpensive and can provide appealing nutrition. However, there has been growing concern because of links between Peas and Canine Heart Disease. Read more about this in our article Best Dog Foods Without Peas.
Flaxseed is probably the best plant-based source of the Omega 3 Fatty Acids, which is why it is regularly included in dog food. Learn more about Flaxseed in our article Flaxseed In Dog Food.
Pumpkin is a fantastic source of fiber and micronutrients. It is included in a small portion of dog food recipes, usually those produced by premium brands. Check out some other dog food recipes that use Pumpkin in our article Best Dog Food With Pumpkin.
Sojos uses a broad selection of vegetables in its recipes that would not typically feature in dog food. Examples of these include Broccoli, Carrots, Cabbage, and Parsnips. While these ingredients may not be popular additions, they are still high-quality ingredients and can provide a mix of carbohydrates, fiber, and micronutrients.
Sojos Animal Testing
We have no information on what type of animal testing that Sojos participates in, if any.
We strongly believe that invasive or laboratory-style testing of animals is a cruel and outdated practice and one which we hope will be eliminated.
Sojos Recalls
Based on our research (FDA, AVMA, DogFoodAdvisor), we have no information that leads us to believe that Sojos's products have ever been recalled.
While the brand is still relatively young in age, this is a positive indication of their safety and manufacturing procedures.
Sojos Featured Articles
At this time, Sojos has not been featured in any of our articles.
Best of Sojos
Chicken Recipe Review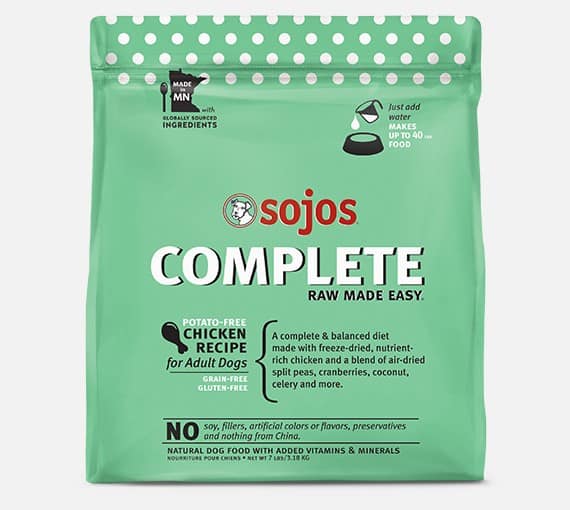 Freeze-Dried Lamb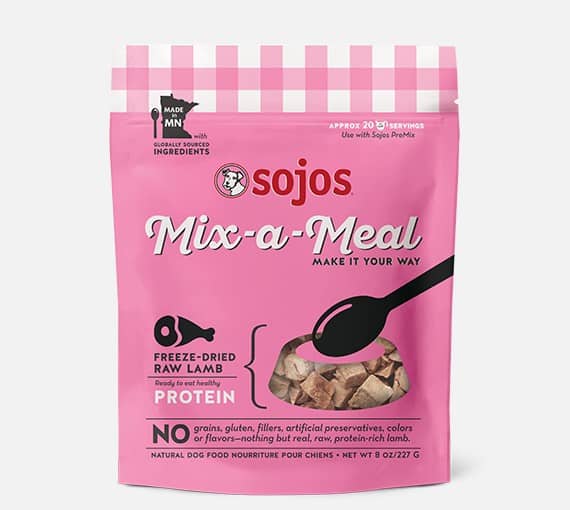 Sojos Full Product Range
Dog Food
Complete
Turkey & Salmon Puppy Recipe
Turkey Recipe
Beef Recipe
Lamb Recipe
Goat Recipe
Chicken Recipe
Pork Recipe
Turkey & Salmon Senior Recipe
Mix-A-Meal
Freeze-Dried Turkey
Freeze-Dried Beef
Freeze-Dried Lamb
Freeze-Dried Chicken
Grain-Free Fruit & Veggie Pre-Mix
Original Recipe Pre-Mix
Toppers
Lamb Plus
Beef Plus
Turkey Plus
Cat Food
Natural Turkey Liver Treats
Natural Salmon Treats
Complete – Turkey Recipe