Eagle Pack Information
Eagle Pack was founded in 1970; however, it was known as Hy-Ration at this time.
In 2007, Eagle Pack was sold from its original owners to the pet food conglomerate WellPet LLC.
WellPet LLC owns several other pet food brands that you may be familiar with. Examples include Old Mother Hubbard, Wellness, and Holistic Select.
Their headquarters are in Tewksbury, Massachusetts, and all of their food is produced in the United States.
There is no detailed information on where Eagle Pack sources its ingredients from, but it is presumed that most are sourced from North America.
Eagle Pack Product Range
Eagle Pack has a moderately sized range of dog food recipes. This range contains a mix of dry food recipes and wet/canned recipes.
There is specialization in the dry dog food recipes, including some for large and small breed dogs, a reduced-fat recipe, and high activity recipe.
Eagle Pack Nutrition
The nutrition offered by Eagle Pack recipes varies significantly. There are some recipes that provide above-average nutrition that is high in protein and fat.
However, there are other recipes that are average to below-average. These recipes have very high levels of carbohydrates and minimal meat and fish content.
Eagle Pack Ingredients
High-Quality Meat & Fish Ingredients
Eagle Pack uses a moderate range of meat ingredients, including the above. All of these ingredients are staples of the industry and are used due to their reasonable price point and excellent nutritional value.
Other Notable Ingredients
Eagle Pack makes use of select grain ingredients such as Brown Rice, Oatmeal, and Barley. These grain ingredients are considered to be some of the better ones available. This advantage is as they can provide additional nutritional value beyond their carbohydrate content.
Peas
Chicken Fat
Tomato Pomace is a regular addition to dog food. It is used as it is an easily sourceable and low-priced source of soluble fiber. Fiber is important for dogs to ensure they have regular digestion and stools. You can learn more about Tomato Pomace in our article Eagle Pack.
Brewers Yeast is added to dog food as it is believed to provide beneficial health effects as well as select vitamins and minerals. While these effects have not been conclusively proven, many dog food brands utilize the ingredient. Read more in Brewers Yeast In Dog Food.
Flaxseed
Eagle Pack Animal Testing
At this time, we have no information on what type of animal testing, if any, that Eagle Pack participates in.
We strongly believe that laboratory and invasive testing of animals is a cruel and outdated practice and one which should be eliminated.
Eagle Pack Recalls
Based on our research (FDA, AVMA, DogFoodAdvisor), Eagle Pack products have never been recalled.
However, there have been recalls of products that were produced by their manufacturing partner, Diamond. This includes the recall of Taste of the Wild recipes, which you can read about here.
We encourage all pet owners to be careful and vigilant of any future recalls of Eagle Pack or any other pet food brand.
Eagle Pack Featured Articles
At this time, Eagle Pack has not been featured in any of our articles.
Best of Eagle Pack
Power Adult Review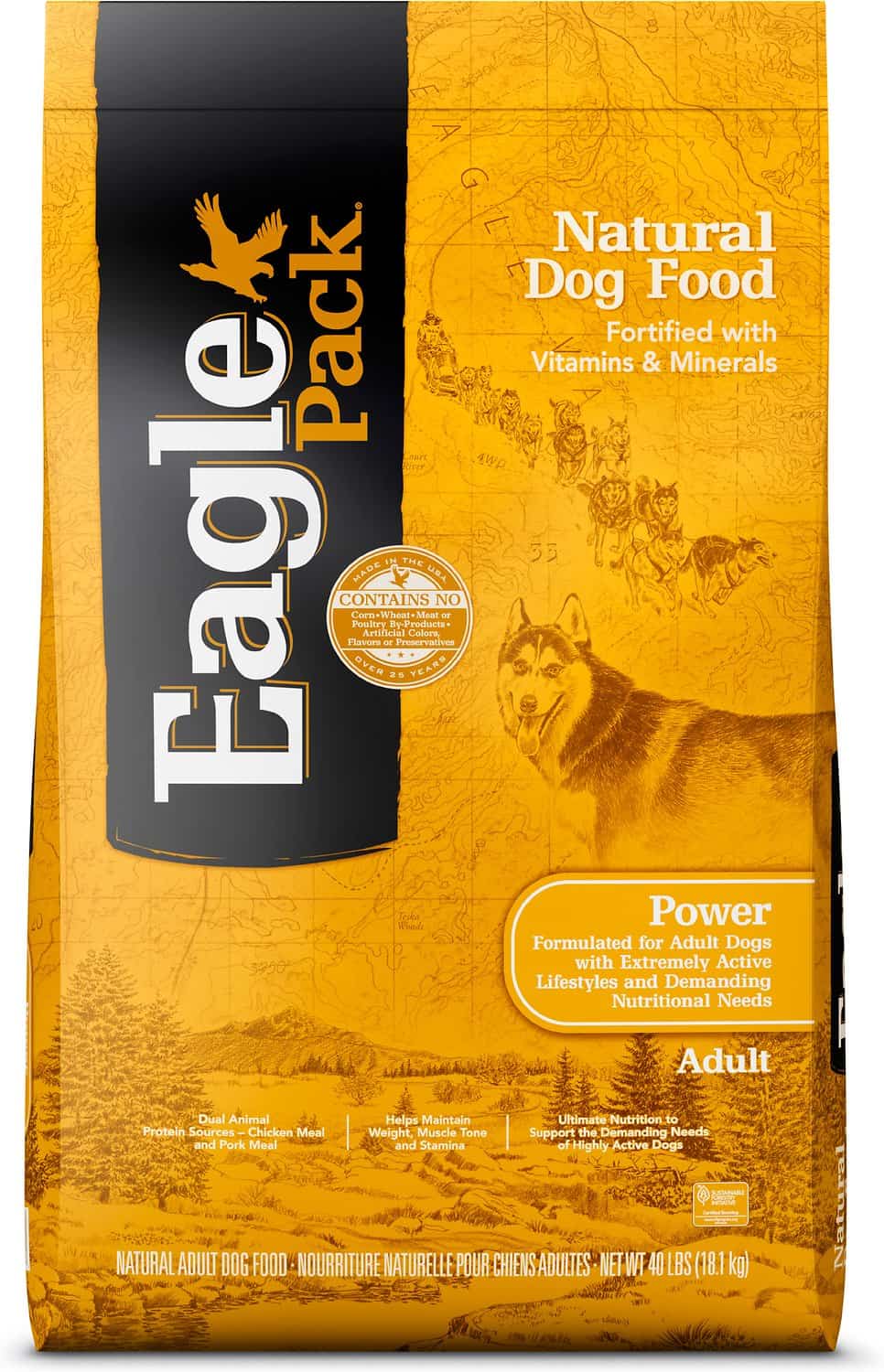 Eagle Pack Full Product Range
Dog Food
Dry Dog Food
Large & Giant Breed Puppy
Original Chicken Meal & Pork Meal
Small Breed Chicken Meal & Pork Meal
Original Adult Lamb Meal & Brown Rice
Original Chicken Meal & Pork Meal
Reduced-Fat Adult
Large & Giant Breed Adult
Small Breed Chicken Meal & Pork Meal
Power Adult
Canned Dog Food
Turkey Formula
Beef Formula
Chicken Formula
Lamb Formula