Dr. Marty Pets Information
Dr. Marty Pets was founded by Dr. Martin Goldstein, who has been a veterinarian for over 40 years. The brand's nutrition and ingredients are an extension of Dr. Marty's vision of pet nutrition.
Dr. Marty is a controversial figure that has legions of supporters but also a large group that disagrees with him. He is well known in the media and has been featured on popular TV shows with Celebrities such as Martha Stewart and Oprah Winfrey.
You can find a clip of Dr. Marty with Martha Stewart on her show below.
Dr. Marty also has a website where you can find more information about himself, his seminars, as well as a blog section that discusses a variety of topics. You can find this website here.
However, it appears that this blog has seen limited updates in recent years. The reason for this lack of new content and discussion is unknown, but Dr. Marty is likely busy with other ventures.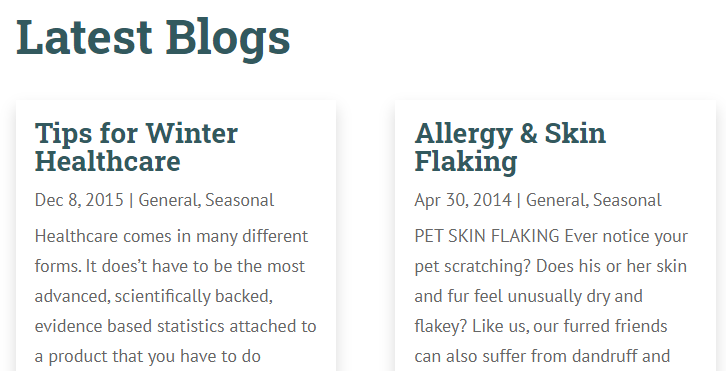 However, while Dr. Marty's primary blog is dormant, there is also a blog on Dr. Marty's pet food website. This blog is updated weekly and discusses a variety of pet-related topics such as grooming, health issues, and nutrition. It isn't clear whether Dr. Marty maintains this blog himself, or it is maintained on his behalf. You can find this pet food blog here.
Lastly, Dr. Marty also has a popular book that discusses various pet-related topics, including nutrition, ailments, and alternative medicine. While some of the points discussed in this book may have merit, others could be thought of as questionable, and many would disagree. Based on a recent update on his blog, it appears that Dr. Marty is writing a second book to follow up on this first book.
Some critics of Dr. Marty argue that the creation of his pet food brand is to take advantage of his fame and popularity to make money. Dr. Marty isn't the only famous Veterinarian to go down this avenue, and other examples include Dr. Tim's, Dr. Pol's, and Dr. Chris Brown (Optimum).
Dr. Marty Pets Product Range
Dog Food
Dr. Marty Pets dog food product range is moderate in size and consists of a freeze-dried product, two dog treats, and four dog supplements. The freeze-dried product is also a raw recipe and has not been cooked in any way.
This product range used to be notably smaller, but it has expanded in 2020 with the addition of new treat and supplement products. This increase in the size of Dr. Marty's product range is almost certainly due to the massive success of the brand.
The Dog Treats are one of the new additions to Dr. Marty's product range. They are made from 100% Beef Liver or Salmon and complement the freeze-dried food recipe.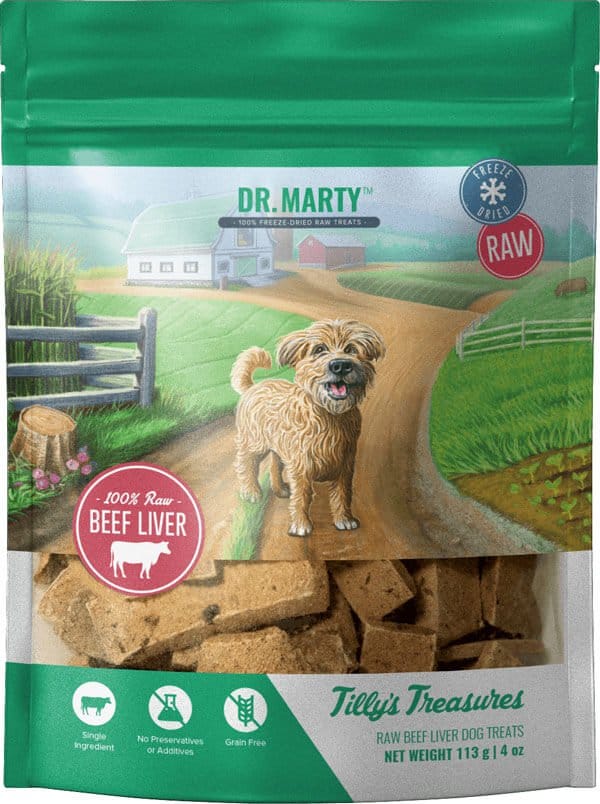 While freeze-dried food and dog treats are a viable addition to a dog's diet, dog supplements provide questionable and often unquantifiable benefits. This situation could easily be compared to many human supplements, which also have limited proven benefits.
However, Dr. Marty Pet's is one of the leading providers in dog supplements along with other brands like Ultimate Pet Nutrition, which sells the "Nutra Thrive" product. You can check them out here.
Dr. Marty Pets does not produce or sell any traditional kibble or canned dog food products. This lack of traditional dog food products aligns with Dr. Marty's vision and beliefs surrounding dog food.
Cat Food
Dr. Marty Pets cat food product range is also moderate in size and used to only consist of a single freeze-dried recipe. This recipe is very similar to the freeze-dried dog food recipe.
However, in 2020, they have expanded their cat range significantly, and it now includes a treat recipe and a supplement (Feline Prime).
As we discussed above, the benefits of supplements for cats are mostly unproven, but it is clear that Dr. Marty is one of the leading promoters and producers of supplements.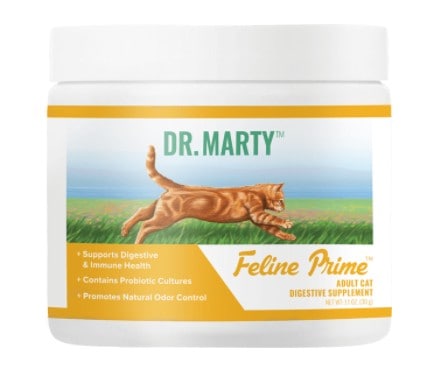 While Dr. Marty's dog treats are designed for dogs, they could be fed to cats. This is possible because they are 100% Beef Liver or Salmon, which cats are more than capable of consuming.
Once again, Dr. Marty Pets does not produce or sell any traditional kibble or canned cat food products.
While Dr. Marty may not produce wet/canned cat food, we recommend you consider it for your cat as it can be highly beneficial. You can check out some of the wet cat food brands we've reviewed here.
Dr. Marty Pets Nutrition
Dog Food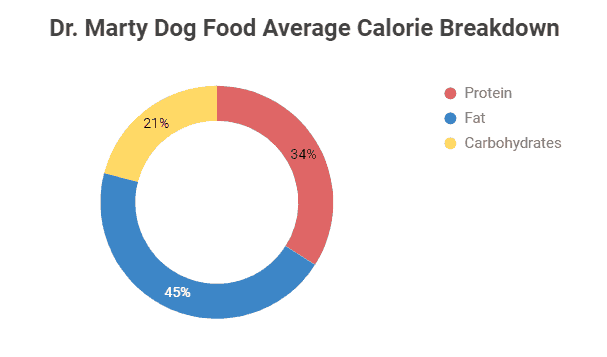 As you can see above, the nutrition offered by Dr. Marty Pets dog food is very satisfactory and is significantly above-average. This satisfactory nutritional profile is thanks to a generous proportion of protein and fat, which can be used to fuel a dog's growth, maintenance, and activity.
While the nutrition offered by Dr. Marty is not quite as impressive as some other freeze-dried brands, such as Ziwi Peak or Orijen, the proportion of carbohydrates found in the recipe is still modest. While dogs do not need a high proportion of carbohydrates in their diet, they can consume a moderate proportion without negative consequences.
Cat Food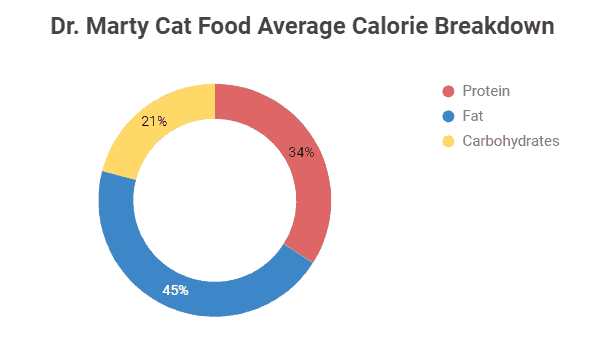 As displayed above, the nutrition offered by Dr. Marty Pets cat food is satisfactory and is a significant improvement when compared to most traditional dry cat food.
However, the nutritional profile is not quite as impressive when compared to other freeze-dried cat food recipes. This poor comparison is as the carbohydrate proportion present in this recipe is still notable at over 20%.
Cats do not need to consume any carbohydrates in their diet. The reason cats do not need to consume carbohydrates because they are obligate carnivores, and they are suited to eating meat and fish ingredients rather than plant-based ingredients.
Dr. Marty Pets Ingredients
We are happy to state that Dr. Marty Pets only uses fresh ingredients from across the United States and Canada.
While one could argue that there are many other countries where high-quality and safe ingredients can be sourced, many consumers in North America are wary of ingredients from other continents. This fear of outside sources is especially true of anything that is sourced from China.
High-Quality Meat & Fish Ingredients
Turkey
Beef
Salmon
Duck
Eggs
Beef Liver
Some of the high-quality meat and fish ingredients used in Dr. Marty Pets' products are listed above. All of these ingredients are high in protein and fat, which is a critical part of dogs' and cat's diets. Named meat and fish ingredients such as these should be at the core of every dog or cat's diet.
In particular, ingredients such as Salmon are incredibly nutritious. Salmon is considered to be one of the best sources of the Omega 3 Fatty Acids, which have been proven to provide a range of health benefits. Examples of these include improving cognitive health, reducing the risk of certain diseases, and an improvement in the health of dogs or cats' skin and fur.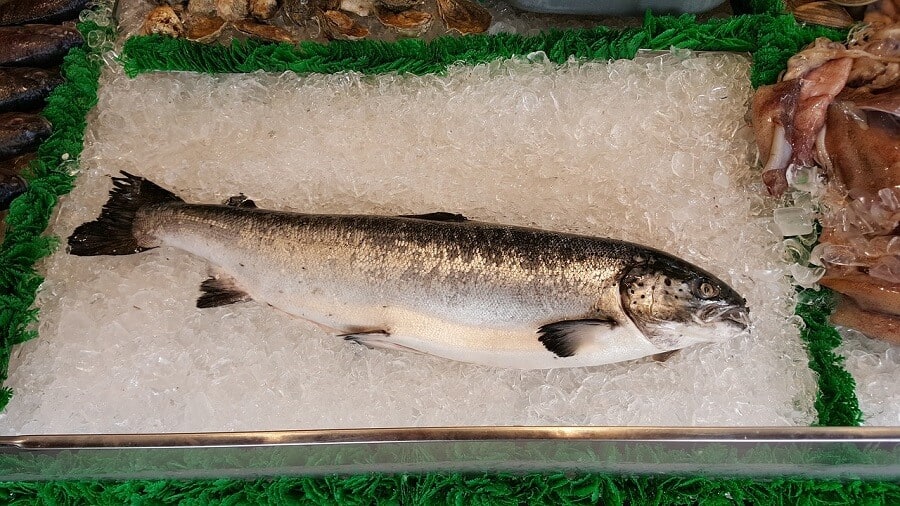 Beef Liver is found in Dr. Marty Pets' recipes in small quantities. Beef Liver is a very dense source of protein and fat, as well as select vitamins and minerals that are often lacking in traditional meat cuts. This nutritional density is why ingredients like Beef Liver and Chicken Liver are so regularly used in pet food.
Also, organ meat is often more flavorful than other meat cuts, making a recipe more appealing to dogs and cats.
Eggs are also present in Dr. Marty Pets' recipes in a small portion size. Eggs are a great addition to pet food and are one of the most bioavailable sources of protein and fat. This means that they are effortless to digest and absorb, which means that their nutrition is seldom wasted.
Also, Eggs contain many beneficial vitamins and minerals at high levels that could improve dogs' or cats' health and well-being.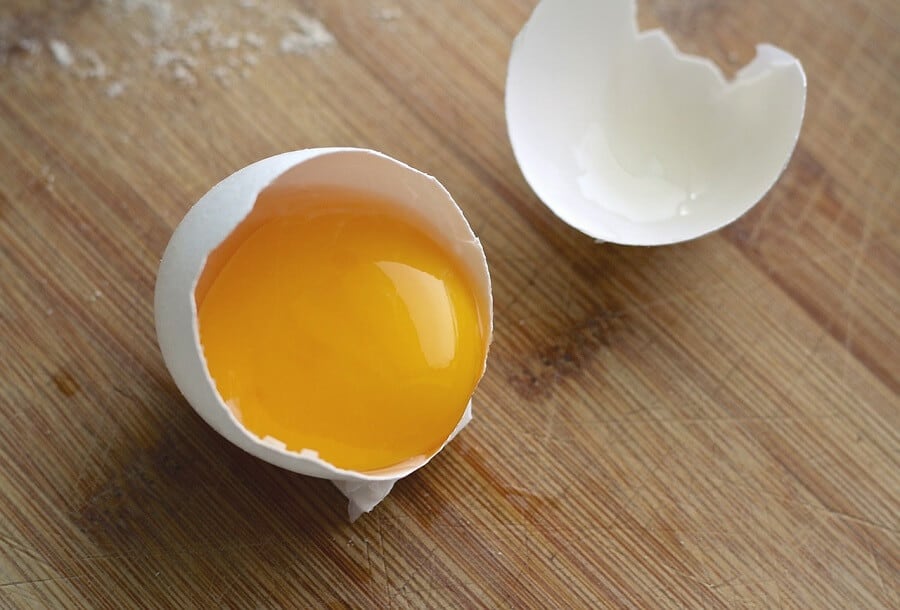 Other Notable Ingredients
Dr. Marty Pets products contain a small portion of Pea Flour. Pea Flour is a dense source of carbohydrates and contains only minor nutrition outside of this.
We consider Pea Flour to be a lower-quality ingredient that is often used in a technique known as Ingredient Splitting. However, the portion of Pea Flour in Dr. Marty Pet's recipes is tiny, and so isn't worthy of grave concern or critique.
You can find out more about Pea Flour in our article Peas, Pea Protein, Pea Flour, and Pea Fiber in Dog Food.
Also, I highly recommend you read our discussion on Ingredient Splitting, which is called Ingredient Splitting in Pet Food – Exposed.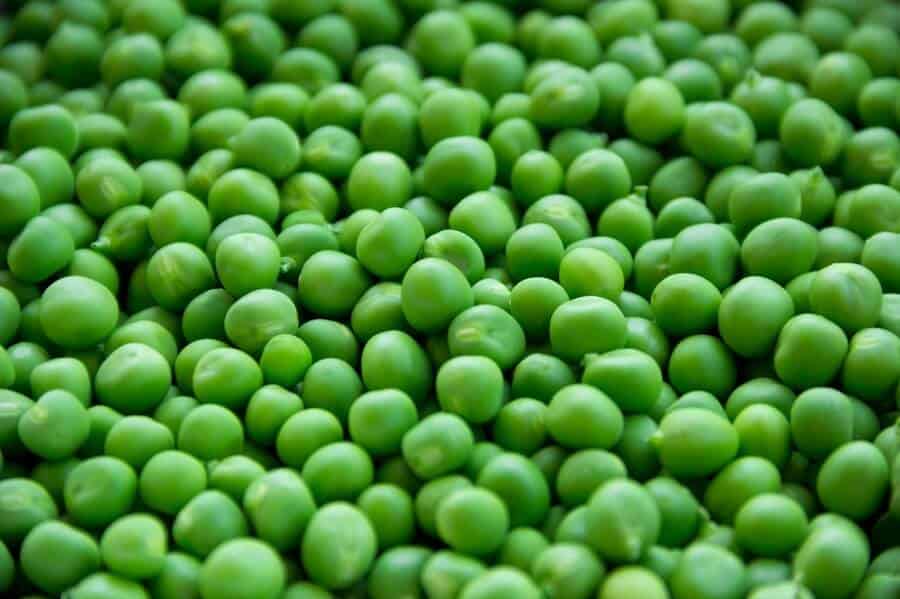 Dr. Marty makes use of Flaxseed in his freeze-dried recipes. Flaxseed is an extremely popular addition to pet food recipes throughout the industry. It is included as it is an excellent source of the Omega 3 Fatty Acids.
As we mentioned earlier, when discussing Salmon, these fatty acids are believed to provide a range of health benefits to humans and pets alike. Read more about Flaxseed in Flaxseed In Dog Food.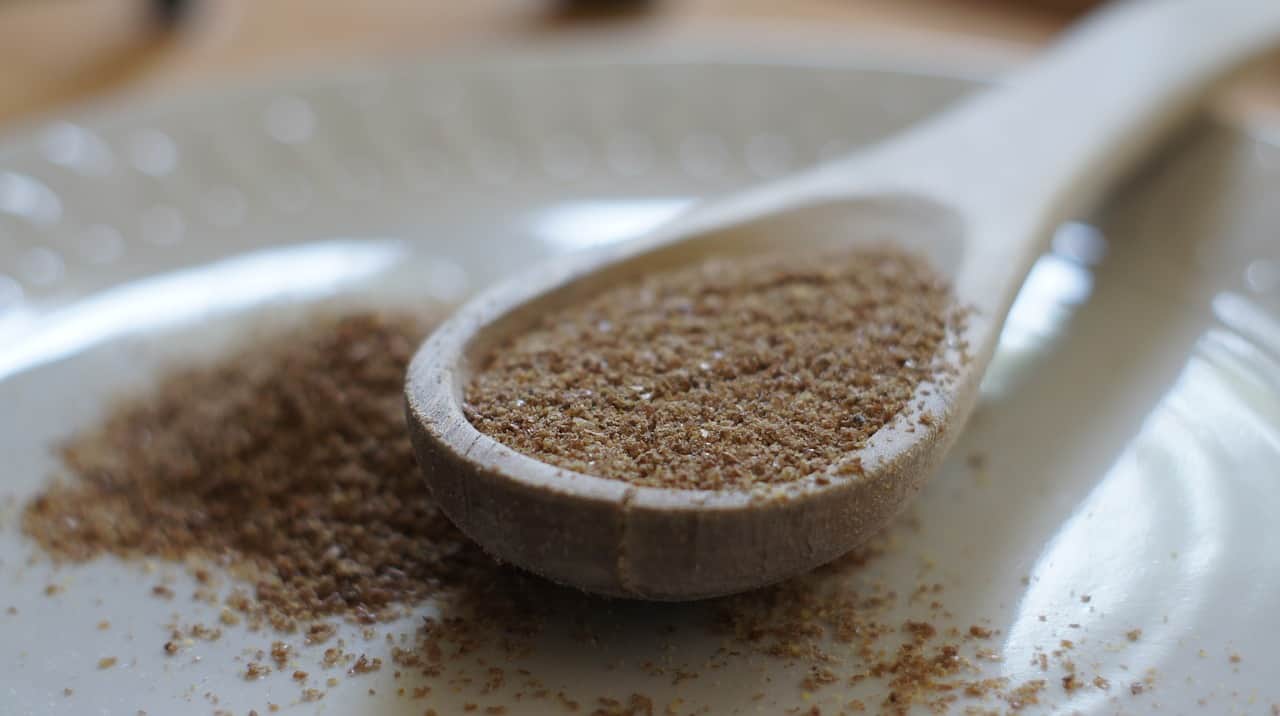 There is a small portion of Sweet Potato included in Dr. Marty's recipes. Sweet Potatoes are an extremely dense source of carbohydrates, which means their portion size needs to be tightly controlled. Thankfully the portion used by Dr. Marty is tiny and won't skew the recipe's overall nutrition.
The last ingredient we'll discuss is Mixed Tocopherols. Most pet owners won't understand this ingredient, but it is a natural preservative that is used to ensure that food remains safe to consume. The majority of the industry prefers natural preservatives such as Mixed Tocopherols to artificial preservatives.
You can read more about Tocopherols here.
Dr. Marty Pets Animal Testing
At this time, we have no information on what kind of testing Dr. Marty Pets takes part in. However, given the small size of the brand and its limited product range, they are likely to not partake in any significant testing or feeding trials.
Supporters of the large pet food brands (Purina, Royal Canin, Hill's, etc.) argue that feeding trials are a crucial part of the formulation process. You can read more about these brand's opinions on testing in our article on the WSAVA Guidelines.
We firmly believe that testing on animals in an invasive manner or laboratory setting is a cruel and outdated. We hope it will be severely reduced or eliminated in the coming years.
Dr. Marty Pets Recalls
At this time, despite significant research (FDA, AVMA, DogFoodAdvisor), we have no information that leads us to believe that any products by Dr. Marty Pets have ever been recalled.
While this is a positive trait, the brand is still relatively young and small in size. We hope that the brand can maintain this recall-free record over the coming years by carrying out safe manufacturing processes.
We recommend that all pet owners remain vigilant of any future recalls of Dr. Marty Pets products or products from any other brand.
Dr. Marty Pets Featured Articles
Until recently, Dr. Marty Pets had not been featured in any of our articles. However, recently we found the perfect opportunity to discuss it.
Best Freeze-Dried Dog Food – This article goes in-depth on the topic of freeze-dried dog food and showcases some of the world's best brands such as Ziwi Peak, Orijen, K9 Natural, and Dr. Marty Pets. If you want to expose your dog to freeze-dried food, this discussion will point you in the right direction.
Best of Dr. Marty Pets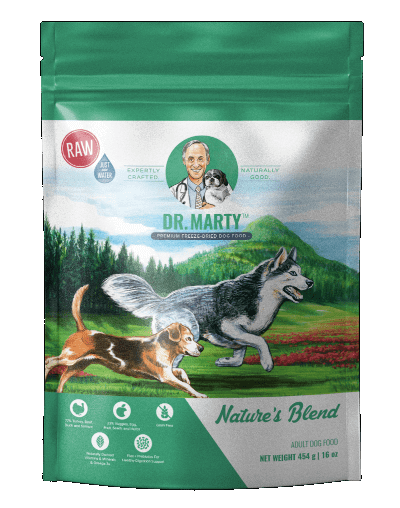 Even though Nature's Blend is Dr. Marty's only dog food recipe, we want to discuss it further and highlight that it is high-quality and nutritious.
The proportions of protein and fat in the recipe are very satisfactory and would be suitable for most dogs, including those that are more active. Moreover, the protein and fat in the recipe are provided by whole meat and fish ingredients, such as Beef, Turkey, and Salmon. These ingredients are highly digestible and very suited to a dog's digestive system.
The recipe also includes a small portion of flaxseed, which can boost the overall level of the Omega 3 Fatty Acids, which many believe can provide several health benefits.
While some might be concerned by the inclusion of Pea Flour by Dr. Marty, the portion present is very small and is not worthy of serious concern. The addition of other minor fruit and vegetable ingredients could also prove advantageous thanks to the vitamins and minerals they can provide.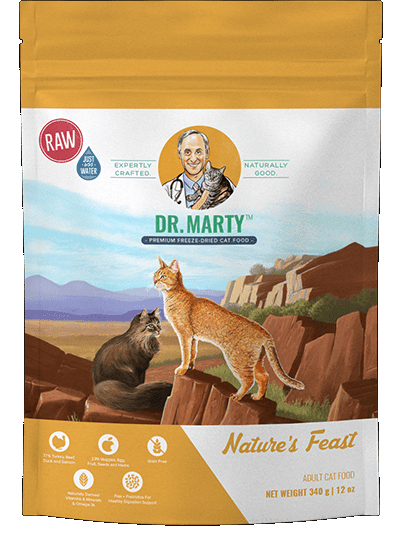 While Dr. Marty's dog food recipe may be the more popular of the two, his cat food recipe should not be neglected and is leaps and bounds above most commercial recipes.
The recipe uses similar meat and fish ingredients as the dog food recipe, which includes Turkey, Beef, and Duck. It also includes some organ meat, such as Beef Liver and Turkey Heart.
Organ meat can be a fantastic addition to a cat's diet as it can improve the flavor of the recipe and is a very dense source of vitamins and minerals that are often lacking in whole meat cuts.
While cats do not need to consume plant-based material or a notable portion of carbohydrates, the portion present in this recipe is far below most cat food, so you should not mark it down.
Dr. Marty Pets Full Product Range
Freeze-Dried Dog Food
Dog Treats
Tilly's Treasures
Joey's Favorite
Dog Supplements
Propower Plus
Free & Active
Shine & Luster
Canine Renew
Freeze-Dried Cat Food
Cat Supplements
Feline Prime
Cat Treats
Squeeki's Delights