Ultimate Pet Nutrition Information
Ultimate Pet Nutrition is a pet supplement company associated with popular veterinary, Dr. Gary Richter. Dr. Gary Richter has won numerous awards, including "America's Favorite Veterinarian" and is the author of the popular book, "The Ultimate Pet Health Guide: Breakthrough Nutrition and Integrative Care for Dogs and Cats".
While Ultimate Pet Nutrition has a moderate range of products, its best-known supplement is "Nutra Thrive," which is a nutritional supplement for dogs and cats.
Ultimate Pet Nutrition claims that their supplements contain powerful probiotics, easy to absorb vitamins, minerals, and antioxidants.
Many pet supplements have quite a small customer base, and it can be challenging to find reliable information on their effects. However, Nutra Thrive has a vast customer base in the tens to hundreds of thousands, which correlates to much more widely available information.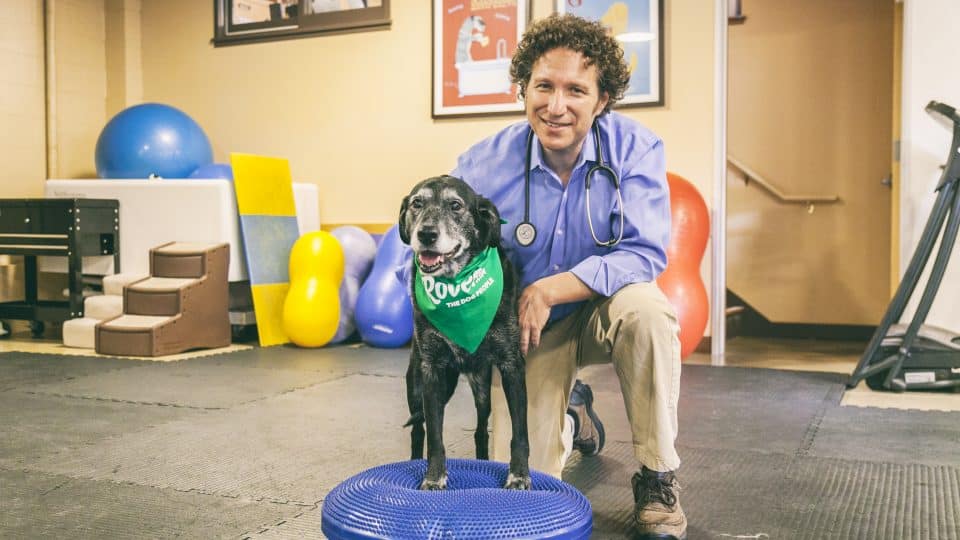 Ultimate Pet Nutrition believes that their Nutra Thrive supplement can improve a dog's or cat's overall health, including immune function, joint health, and the quality of their fur and coat.
However, the benefits of supplements are tough to prove, especially in pets.
This lack of evidence has led many consumers to be skeptical of Ultimate Pet Nutrition's products. These skeptics of Ultimate Pet Nutrition are reinforced by the fact that a single jar of Nutra Thrive for dogs costs $70 (see below). Many consider this pricing to be extremely high, and more than most pet owners spend on food.

Outside of their retail offerings, Ultimate Pet Nutrition and Dr. Gary Richter sponsor and promote the charity Pets For Vets. This organization helps to match pets in shelters with veterans, especially those who are struggling to transition back into civilian life.
You can learn more about the Pets For Vets charity on their website, which you can find here.
Ultimate Pet Nutrition Product Range
Dogs
Ultimate Pet Nutrition's core product is Nutra Thrive, which is a dog supplement. Nutra Thrive is a dog supplement that is in powder form and can be added to traditional dry dog with water. The dosage recommendations of Nutra Thrive depend on the size of your dog and range between a scoop a day and two scoops a day.
Ultimate Pet Nutrition also produces a dog treat product, which is of the freeze-dried variety. While freeze-dried dog treats tend to be expensive, they are very nutritionally dense and extremely enjoyable. This excellent nutrition is as they are made up entirely of meat ingredients with the moisture removed.
However, recently, Ultimate Pet Nutrition has released three more supplements focusing on joints, the liver, and on providing the high levels of the Omega 3 Fatty Acids. Some of these new supplements come in tablet form to make them easy to provide to your dog.
Due to their young age and the smaller number of dogs who have used these supplements, their effects, in particular, their benefits are yet to be proven. You can see them listed below.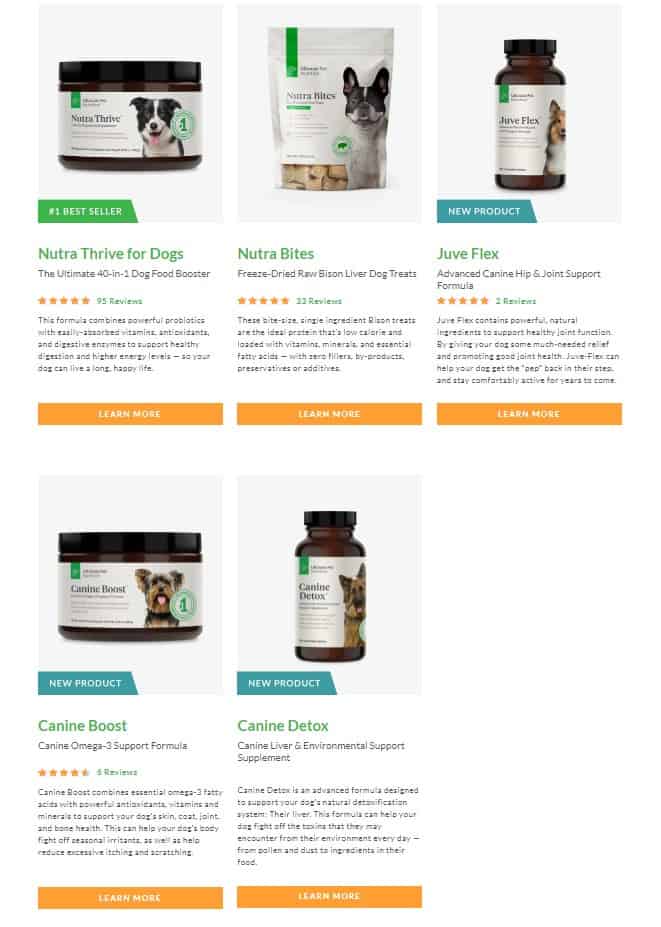 Cats
Ultimate Pet Nutrition has an equivalent version of Nutra Thrive, which is designed for cats. The cat version of Nutra Thrive is also in powder form and can be added and mixed with dry or wet cat food. Given that cats tend to be significantly smaller than dogs, the recommended dosage is smaller.
At this time, Ultimate Pet Nutrition does not produce any cat treats or other cat supplements at this time. However, if the brand sees success with its new dog offerings, it may create cat equivalents and further expand its product range.
Ultimate Pet Nutrition Nutrition
Given that Ultimate Pet Nutrition's main products are supplements, it will come as no surprise that they do not provide any appreciable quantities of the core macronutrients of Protein, Fat, and Carbohydrates.
You can learn about the importance of these core macro-nutrients in our Dog Food Guide, and Cat Food Guide, which go into significant detail about all aspects of pet food, including types, nutrition, ingredients, and more.
However, they can provide a variety of vitamins and minerals. These vitamins and minerals could improve the health of pets if their diet was lacking in these previously.
There are so many micronutrients in Nutri Thrive that it would be difficult to list them all and all of their corresponding benefits. However, some examples include Vitamin A, B Vitamins, Vitamin D, Copper, and Chromium.
Vitamin A is essential for cell growth, immune function, and vision. B Vitamins have a huge number of potential benefits and are important to many of the body's cells and functions.
Vitamin D is particularly important in large breed dogs as it helps regulate the absorption of Calcium and Phosphorus. Copper is crucial for blood cells, and Chromium is vital for absorbing nutrition.
Ultimate Pet Nutrition Ingredients
Ultimate Pet Nutrition products, specifically Nutra Thrive, contain an extensive range of ingredients, many in extremely minimal quantities. See below for the full list of ingredients.

The bulk of the Nutra Thrive product is made from Carrots and Mushrooms. These two ingredients are safe for dogs to consume and can provide carbohydrates, fiber, and a variety of vitamins and minerals.
Examples include Vitamin A, B Vitamins, Vitamin K, Potassium, and Copper.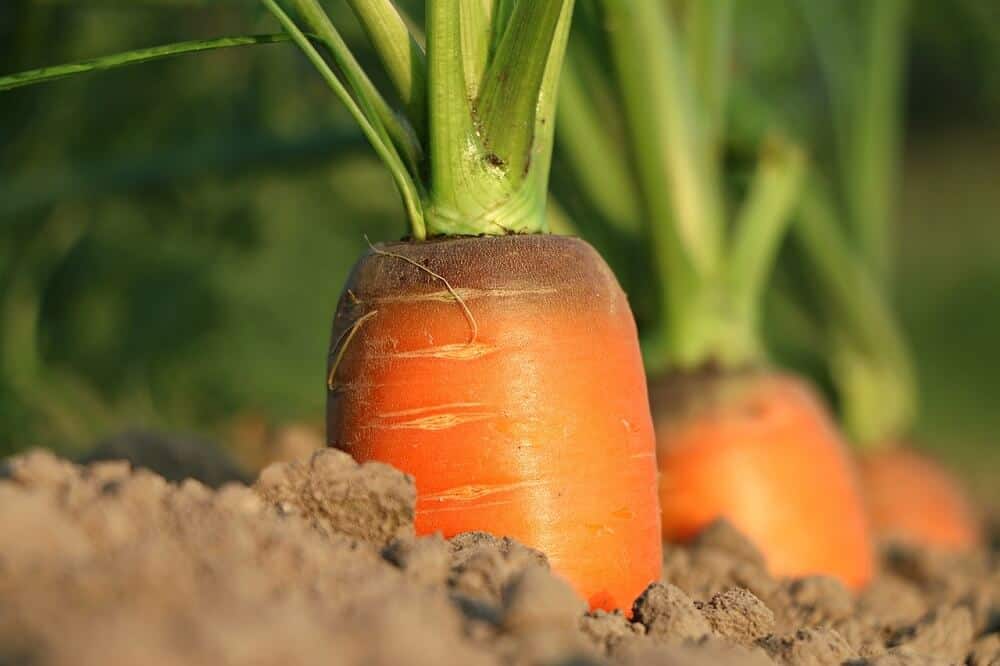 Ultimate Pet Nutrition also contains a small portion of Beef Liver. Beef Liver is a great addition to dog food and can provide protein, fat, and less common vitamins and minerals. Sadly, the portion here is somewhat insignificant.
Nutra Thrive includes a number of probiotics. Probiotics are microorganisms that are alive, and believers in the claim that they can provide health benefits when consumed. These benefits are derived from improving or restoring gut flora.
Ultimate Pet Nutrition Animal Testing
At this time, we have no information on what kind of testing Ultimate Pet Nutrition performed to test Nutra Thrive or any of its other products.
We hope that Ultimate Pet Nutrition has carried out sufficient ethical testing to ensure that their products do not have any adverse long time side effects.
Many pet supplements do not carry out any significant testing of their products, which is extremely concerning.
We strongly believe that Invasive or Laboratory style testing of animals is a cruel and outdated practice and one which we hope will cease in the future.
Ultimate Pet Nutrition Recalls
Based on our research (FDA, AVMA, DogFoodAdvisor), Ultimate Pet Nutrition products have never been recalled.
However, given that Ultimate Pet Nutrition is a supplement company, this is not quite comparable with pet food brands. Pet food supplements, to date, have very rarely been recalled.
Despite this, we always request that pet owners remain vigilant of any future recalls of Ultimate Pet Nutrition products or products from any other pet food or supplement brand.
By being vigilant, pet owners can ensure their pets do not suffer ill-effects of contamination, nutritional mis-balances, and more.
Ultimate Pet Nutrition Features Articles
To date, Ultimate Pet Nutrition has not featured in any of our articles. However, if we decide to produce an article discussing the best popular pet supplements, then it is likely to feature.
Best of Ultimate Pet Nutrition
Nutra Thrive For Dogs Review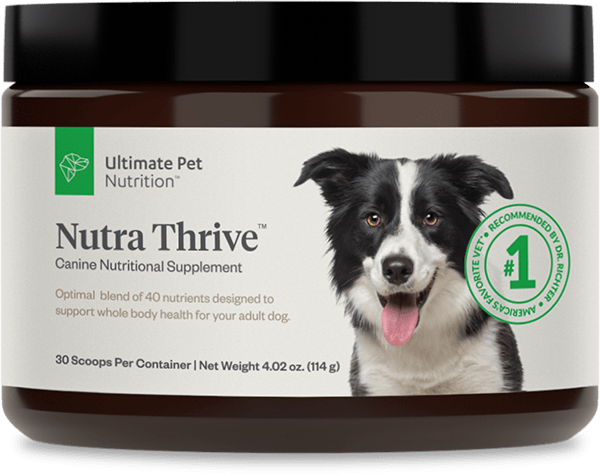 It will come as no surprise that the best product from Ultimate Pet Nutrition is its core product – Nutra Thrive. If their claims are to be believed, it can provide a significant number of benefits to dogs that consume it.
The vast array of micronutrients that it contains could span the gaps that traditional dry or wet dog food miss.
Another reason that Ultimate Pet Nutrition's Nutra Thrive is so popular is that it is straightforward to mix it with dry dog food. It is as simple as pouring a scoop of the powder over the dog's food. Some owners also choose to add a little water to the mix.
This fact and it's bacon taste can make it very easy to integrate into a dog's diet. This ease of use can not be compared to some other dog supplements which many dogs will refuse to eat or avoid.
Nutra Thrive For Cats Review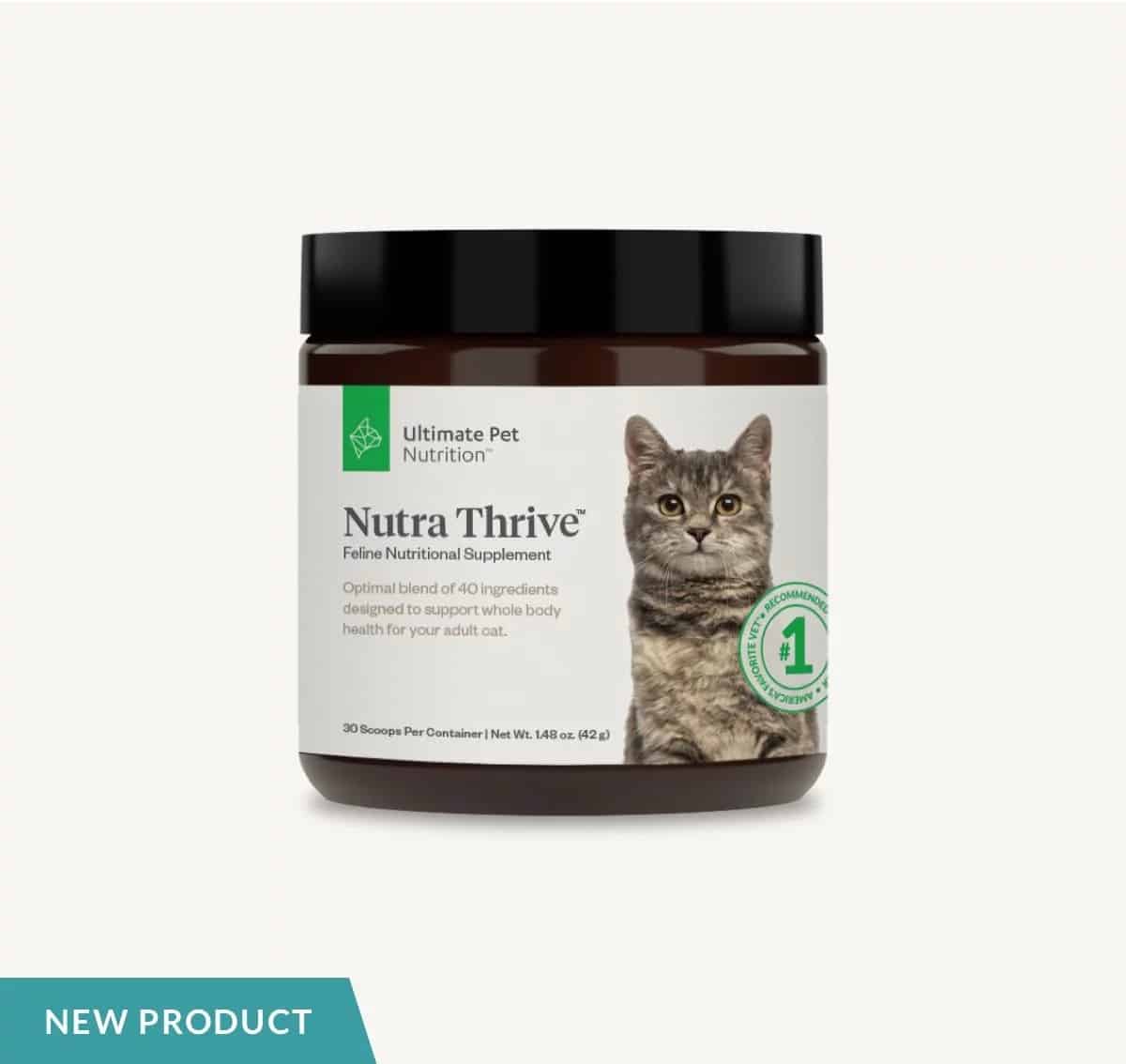 While the Nutra Thrive for Dogs product may be the most popular, the cat equivalent should not be discounted.
It contains the same mix of ingredients that pack a colossal micronutrient punch. While it's likely that most cat food recipes, especially premium cat food, provide most of these micronutrients, products like Nutra Thrive can supplement and enhance this.
Also, many of the micronutrients found in Nutra Thrive are sourced from plants. Providing them in supplement form could allow cat owners to switch to a more meat and fish focused food. This transition of their traditional diet could be advantageous as cats are obligate carnivores and do not thrive on diets high in plant matter.
Ultimate Pet Nutrition Full Product Range
Dog Products
Nutra Thrive For Dogs
Nutra Bites
Juve Flex
Canine Boost
Canine Detox
Cat Products
Nutra Thrive For Cats