Dinovite Information
Dinovite is a company that focuses on pet supplements for dogs, cats, and horses. The brand was founded in 2000 by Ed & Cindy Lukacevic.
Dinovite is seen by some as a less controversial pet supplement company and doesn't resort to predatory or questionable practices that some other brands do.
Despite this, pet supplements are not well researched or understood, and some in the industry question their value.
For the first six years of Dinovite's existence, their products were developed, produced, and sold from the Lukeacevic family farm in Kentucky.
However, in 2007, Dinovite moved into a 52,000 square foot manufacturing facility in Crittenden, Kentucky, and has been producing and distributing their products from that location ever since.
Dinovite isn't available from any of the large retail or online pet food and supplement providers such as Amazon, Chewy, Petsmart, or PetCo. Instead, Dinvote products can be exclusively be purchased from Dinovite's site.
Dinovite is moderately priced in comparison to some other pet supplements, with a 90 day supply costing roughly 60 USD for a medium-sized dog and as much as 120 USD for giant dogs.
While we will not discuss them in-depth here, Dinovite also produces non-food pet products such as grooming products and pet toys.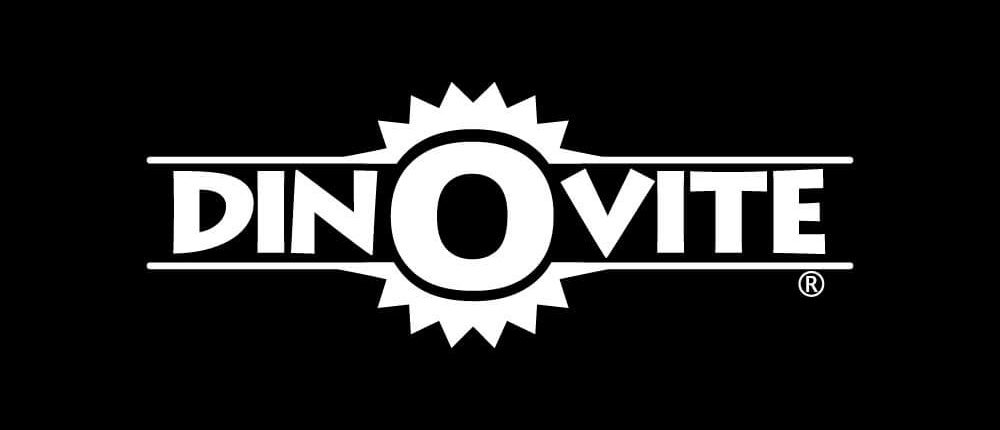 Dinovite Product Range
Dinovite has a growing product range and produces its core Dinovite supplement product for Dogs, Cats, and Horses. Their growth in their product range has come from additional supplements outside of Dinvoite, some meal toppers, and treats.
Dogs
For dogs, they sell the Dinovite supplement depending on the dog's size. This means they have versions for small dogs, medium dogs, large dogs, and even huge dogs as you can see below.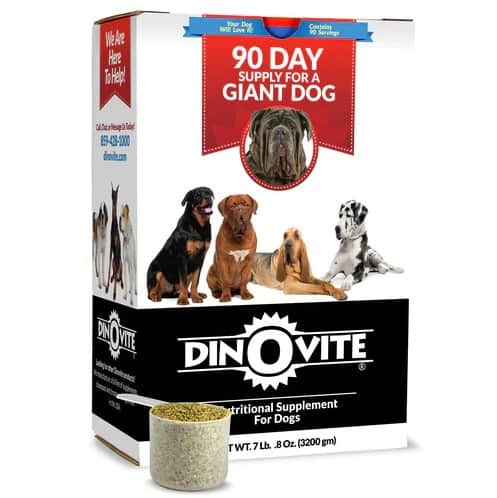 While Dinovite does not have unique or specialized supplements for puppies or senior dogs, they do state on their website that they are suitable for those age groups.
Dinovite's meal toppers are an interesting topic to discuss and are closely linked to their supplements. Meal toppers are a cost-effective way to add additional flavor and nutrition to dog food recipes.
While this may sound identical to Dinovite, it is not, and these toppers can provide additional protein and fat, whereas Dinovite adds micronutrients like vitamins and minerals.
Lastly, Dinovite sells several dog treat products, including typical small dog treats as well as chew style treats and freeze-dried treats.
Cats
As you may imagine, the primary product sold by Dinovite for cats is their supplement product. However, one notable different is that Dinovite for cats is only sold in a single size, given that cats tend not to vary in size as much as dogs.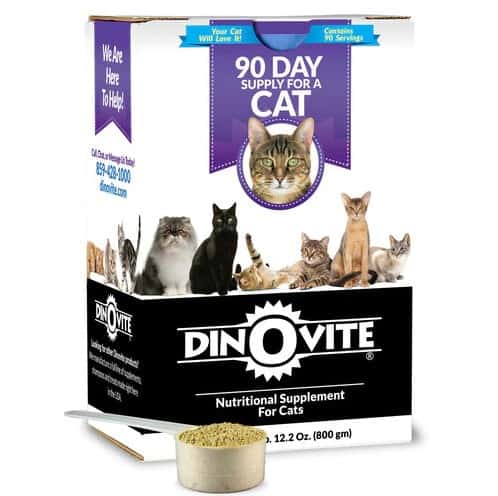 Dinovite also states that their supplement is suitable for Kittens which means there is no need for different types of products.
Dinovite does produce the same toppers for cats that it produces for dogs, but there is currently only a single recipe available compared to two for dogs.
Lastly, Dinovite also produces some treats for cats that are very similar to their dog offering. One of these treats is produced with Rabbit meat which is interesting and quite uncommon.
Dinovite Nutrition
Overall, Dinovite supplements do not provide a significant portion of the core three macronutrients for dogs and cats, which are – Protein, Fat, and Carbohydrates. However, this lack of nutrition is not surprising given that Dinovite is a supplement and not dog food.
However, one type of nutrition that Dinovite does provide is a high level of the Omega Fatty Acids. These fatty acids are considered to be a beneficial component of a dog or cat's diet.
Many traditional dry dog food recipes are low in the Omega 3 Fatty Acids. This lack of these Omega Fatty Acids is as they rely upon meat ingredients like Chicken and Turkey, which are naturally low in the Omega 3 Fatty Acids.
However, this isn't the case for all dry or wet/canned pet food, with some brands and recipes having high levels, especially those that utilize oily fish like Salmon or Herring.
Dinovite's source of these fatty acids will be discussed in the ingredient section of our review.
While Dinovite's supplements may not provide notable nutrition, their topper products do. These toppers can provide excellent nutrition that is high in animal-based protein and fat.
You can see an example of this nutrition that is provided by the Turkey-based topper below.
Thanks to this impressive nutrition, this topper could be used to greatly enhance the nutritional value of some lower-cost dry dog food recipes from other brands.
If you'd like to learn more about canine or feline nutrition, including some more detailed information on the Omega 3 Fatty acids, be sure to check out our Dog Food Guide and our Cat Food Guide.
Dinovite Ingredients
Flaxseed is the most abundant ingredient in Dinovite's core supplement range. Flaxseed is a regular addition to traditional dog food recipes, especially in premium and luxury brands.
It is added to pet food as it is probably the best plant-based source of the Omega 3 Fatty Acids. These fatty acids can provide a number of health benefits to dogs and cats.
One example of a benefit is an improvement in the condition of a dog's skin and coat. There are many more benefits of Flaxseed from these Omega Fatty acids and other micronutrients they contain.
You can learn more about these benefits in our article Flaxseed In Dog Food.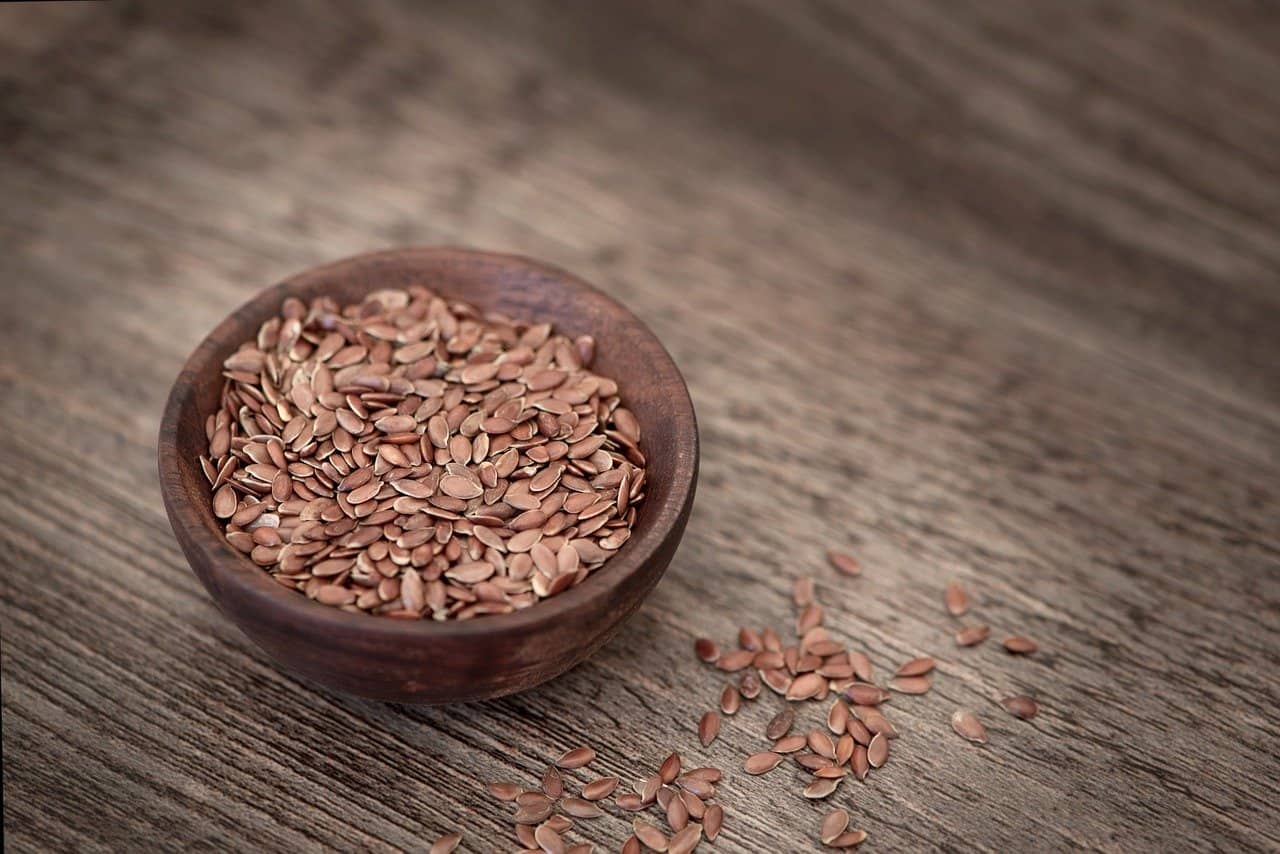 Kelp is not a common feature of traditional dog food, but it does see some popularity in human supplements. It is a great source of iodine and other vitamins and minerals.
Iodine is best known for avoiding or preventing health issues related to the thyroid. While thyroid issues are not widespread among pets, some do suffer from them.
Dinovite contains a small quantity of Alfalfa. Alfalfa, which is sometimes known as lucerne, is a common addition to premium dog food recipes thanks to the health benefits and nutrition many believe it can provide.
While these benefits are far from conclusive, the extensive use of Alfalfa shows that many believe in them. You can learn more about Alfalfa and its supposed benefits in our article Alfalfa In Dog Food.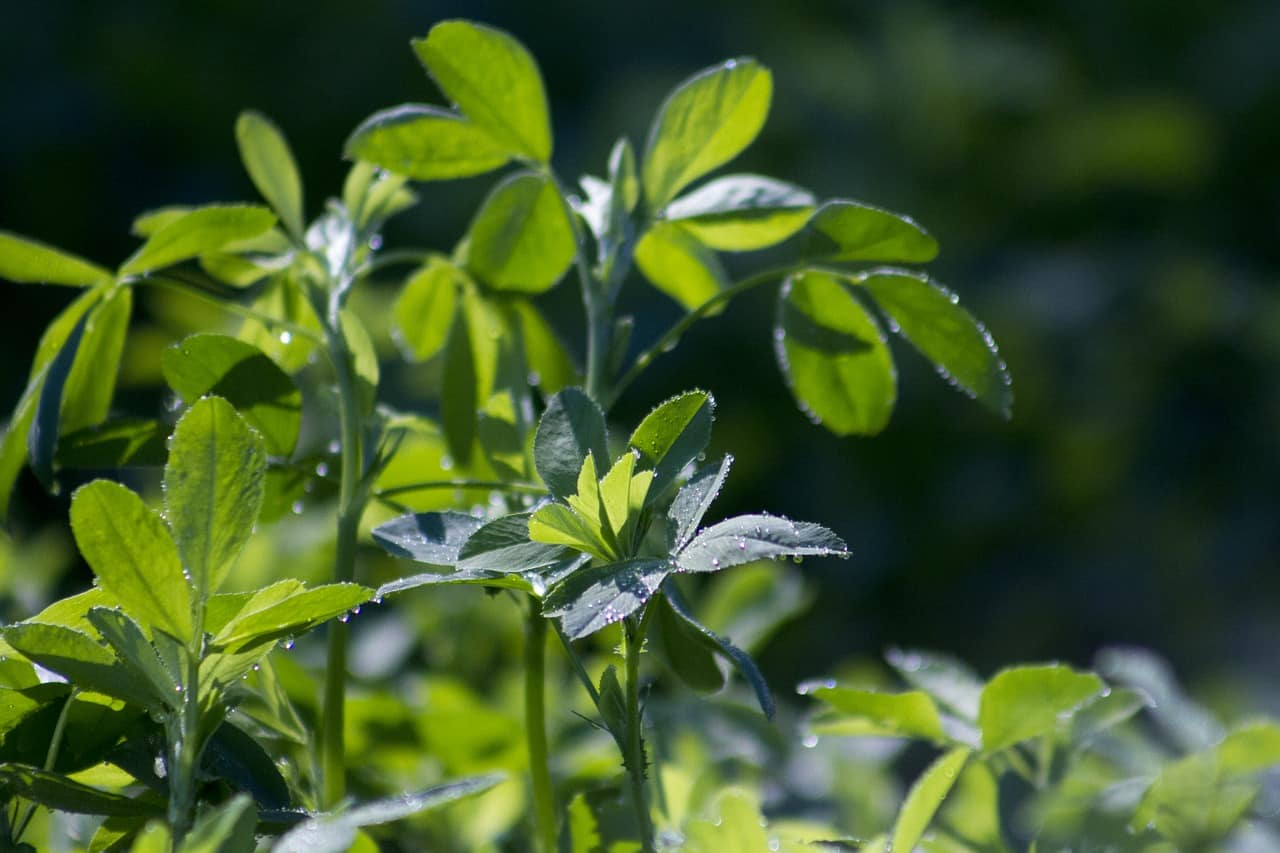 Dried Yeast and Yeast Culture provide a mix between live and non-live Yeast. Yeast can provide digestive enzymes, Vitamins, and certain Amino Acids to dogs and cats.
While some pet owners are concerned these yeast ingredients could cause yeast infections, this is not the case, and they can be best compared to yeast found in human foods like Yogurt.
These yeast ingredients should not be confused with Brewers Yeast which is a common addition to many dry dog food recipes. You can read about this ingredient in our article Brewers Yeast In Dog Food.
While the canine version of Dinovite's supplement does not contain any meat or fish ingredients, the cat version contains a small portion of Chicken Liver and Fish Meal.
Both of these ingredients are regular additions to traditional pet food recipes and can provide animal-based protein and fat.
In addition, organ meat ingredients such as Chicken Liver are looked upon favorably as they can provide vitamins and minerals that traditional meat cuts lack as well as noticeably enhance the palatability and taste of food.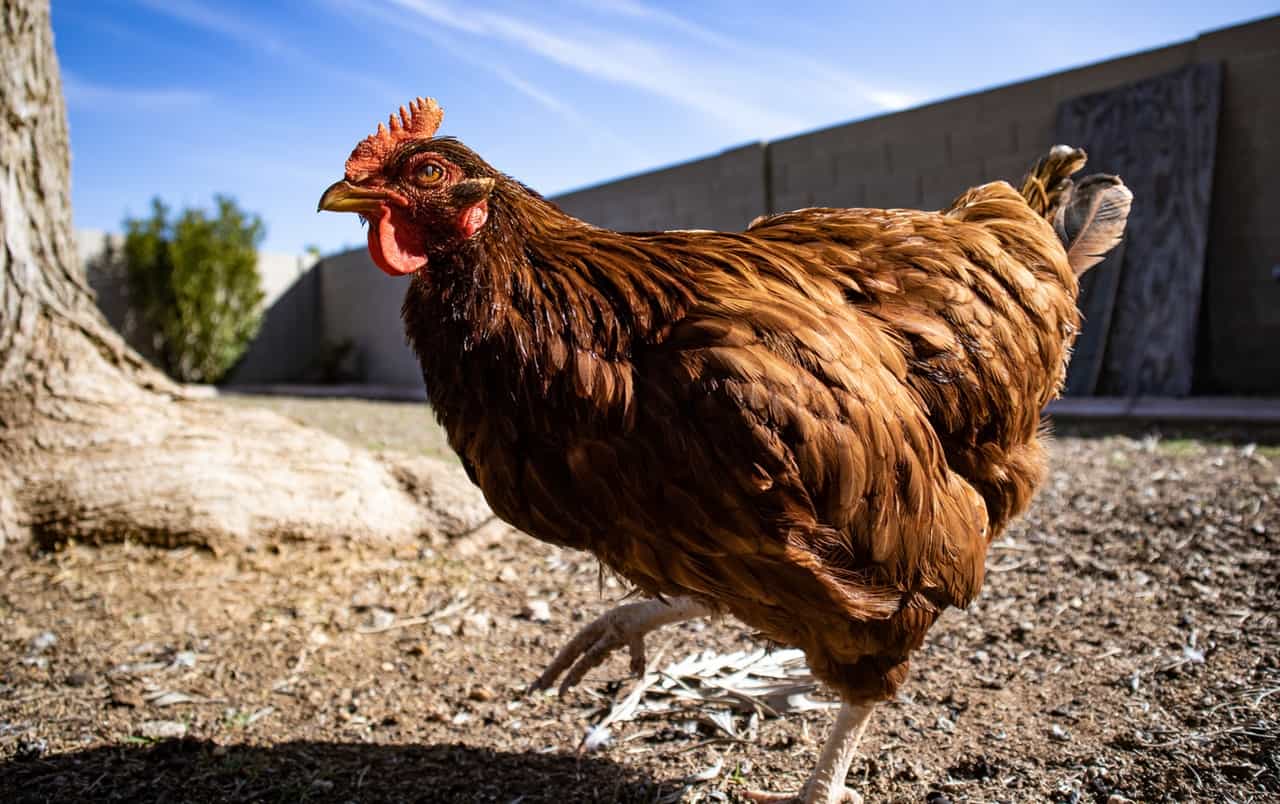 Dinovite Animal Testing
At this time, we have no information on what type of animal testing Dinovite participates in to test its products.
Many pet food brands avoid disclosing detailed information on how their products are tested and formulated as they fear customer backlash.
Many skeptics of supplements like Dinovite would suggest that their products are not tested in detail, and their benefits are therefore not conclusive.
We strongly believe that invasive or laboratory-style testing of animals is a cruel and outdated practice and one which should be eliminated.
Dinovite Recalls
Based on our research (FDA, AVMA, DogFoodAdvisor), Dinovite products have never been recalled, which makes Dinovite a recall-free brand.
However, given that Dinovite is a supplement company and not a seller of traditional dog food products, this lack of past recalls is not entirely surprising.
Pet supplements are very rarely recalled in the United States, or other countries for that matter, and they are rarely scrutinized in the same way that commercial dog food is.
Regardless, we hope that Dinovite continues to take the safety and quality of their products seriously to maintain this recall-free record.
However, despite Dinovite's recall-free record, we always encourage pet owners to be vigilant of any future recalls of Dinovite products or any products from any other brands to ensure their pets remain healthy and safe.
Best of Dinovite
Dinovite For Dogs Review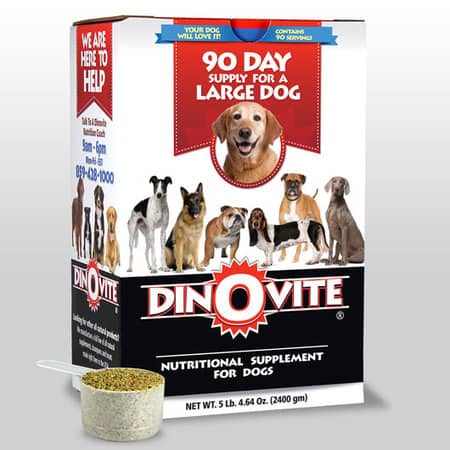 ㅤ
It goes without saying that Dinovites main supplement product is their best. Many dog owners stick by it religiously and believe it has provided countless health benefits to their canine friends since introducing it to their diet.
While there are different versions of Dinovite for different dog sizes, the only real difference is the quantity of the product within the packaging, so if you feel confident, you can buy a larger supply, such as the medium or large version, for your smaller dog.
As we discussed earlier, Dinovite utilizes a mix of minor plant ingredients like Flaxseed, Kelp, Alfalfa, and more to provide a range of micronutrients.
While some of these ingredients do not have consistent benefits, as a whole, they would be considered a beneficial addition to the diet of many dogs.
In particular, we want to put focus on Flaxseed and Kelp. Flaxseed is used by hundreds of pet food brands as a minor ingredient as well as food for human consumption, which makes it far more reliable.
While Kelp is not as popular as Flaxseed, it is used by some premium brands such as Ziwi Peak, which does help build some confidence in its benefits.
Dinovite For Cats Review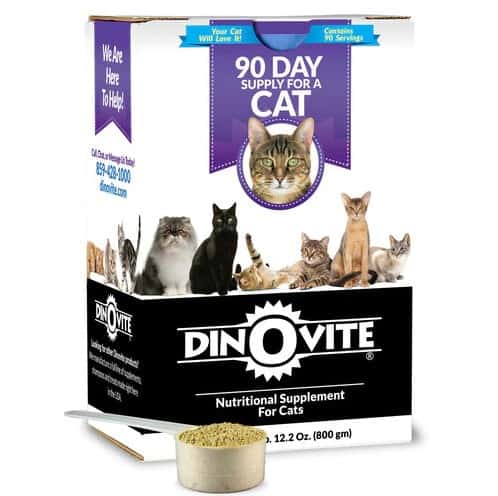 ㅤ
While nowhere near as popular as Dinovite for dogs, Dinovite for cats is still widely used, with many believing it has several benefits.
While many would expect Dinovite for Cats to be extremely similar to the dog equivalent, it is not and has several unique ingredients.
This includes some animal-based ingredients such as Fish Meal and Chicken Liver which give the product a surprisingly high proportion of protein for a supplement.
However, this product does share some similarities and contains small portions of Yeast Culture, Alfalfa, and Kelp, just as the dog version does.
These minor plant-based ingredients provide similar benefits and vitamins and minerals as is provided in the dog product.
Dinovite Features Articles
At this time, Dinovite has not been featured in any of our articles.
Dinovite Full Product Range
Dogs
Supplements
Dinovite For Small Dogs
Dinovite For Medium Dogs
Dinovite For Large Dogs
Dinovite For Giant Dogs
Dinovite For Multi Dog Homes
Dinovite Liquid
Lickochops With Omega 3, 6 & E
Wild Alaskan Salmon Oil
Supromega Fish Oil
Supromega Fish Oil Gel Caps
Fidocal
Toppers
NubOnubs Meal Booster – Irresistible Surf & Turf
NubOnubs Meal Booster – Tasty Tom Turkey
Treats
Beef Flavor
Beef Tripe Flavor
All Natural Himalayan Yak Chew
Beef Treats
100% Beef Tripe
Birthday Cake Kit
Cats
Supplements
Dinovite For Cats
Dinovite Feline Liquid
Toppers
Yummy Chick N' Doodle
Treats
Rabbit Flavor
Salmon Flavor
Birthday Cake Kit – Turkey Flavor
Horses
Dinovite For Horses