A Pup Above Information
A Pup Above is a quickly-growing dog food brand that provides home-delivered fresh dog food. They offer their premium products in a subscription model, which is the industry standard for fresh home-delivered dog food.
By signing up for a subscription, dog owners can save up to 25% on their orders, which is a significant saving. You can calculate the possible savings by subscribing here.
However, A Pup Above does allow you to purchase their recipes individually, which is a unique trait and not one offered by many of their competitors. Many dog owners prefer this initially as it allows them to trial food without signing up for a subscription.
The home-delivered dog food market that A Pup Above is attempting to gain a foothold in has grown significantly in recent years, with some of A Pup Above's competitors like Nom Nom, Ollie, Pet Plate, and The Farmer's Dog, seeing growth as high as 500% year on year.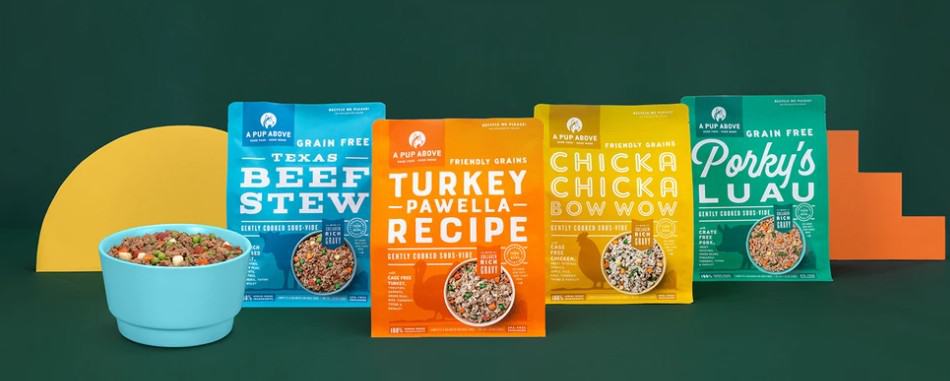 A Pup Above cooks all of their recipes via a method known as Sous-Vide. The aim of Sous-Vide is to avoid losing nutritional value to the cooking water and to enable food to remain moist and become tender.
This method is popular in high-end restaurants but has now spilled over into premium dog food. For the full rundown on Sous-Vide and why A Pup Above uses this technique, check out their information page here.
Once prepared, A Pup Above recipes are delivered to customers frozen to ensure they remain fresh and do not spoil. A Pup Above uses insulation and dry ice to ensure their recipes remain frozen even if you are not home at the time of delivery. Once customers get their hands on their recipes, they should be stored in the freezer and defrosted when required.
All of A Pup Above's recipes are produced in the United States at a human-grade facility in Texas. This is extremely important to many pet owners who are skeptical of pet food produced outside of the country.
Lastly, as you may imagine, you can not purchase A Pup Above recipes from traditional pet food stores like PetSmart or Petco or from the large online pet food websites like Chewy. Instead, the recipes are sold exclusively on their website.
For additional information, we'd recommend checking our A Pup Above's website, which you can find here.
A Pup Above Product Range
Dog Food
A Pup Above has a modest product range consisting of four fresh dog food recipes. While this may seem very small, it is not too dissimilar to their competitor's product ranges, which also tend to consist of three to four recipes.
A Pup Above does not produce any recipes for specific age-ranges like Puppies or Senior dogs. In addition, A Pup Above does not recommend that you exclusively feed their recipes to puppies. Instead, they suggest you can use them as a topper in combination with traditional dry kibble.
Some fresh dog food brands are beginning to experiment with fresh dry dog food. However, A Pup Above has yet to explore this space.
Cat Food
At this time, A Pup Above does not produce any fresh cat products but is a market that we suspect it may enter in the future. Some of A Pup Above's competitors like NomNom are present in this space.
A Pup Above Nutrition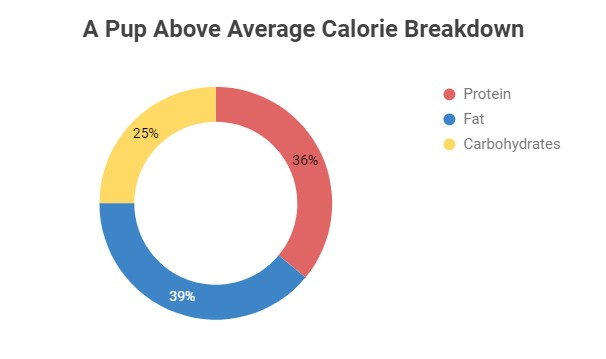 Please note, the above chart is based on A Pup Above's Guaranteed Analysis. This is an estimate, and the true values are likely to include a slightly higher proportion of protein and fat.
As highlighted above, A Pup Above recipes provide significantly above average nutrition when compared to other dog food brands. The nutritional profile of their recipes includes significantly above average proportions of protein and fat and a significantly below-average proportion of carbohydrates.
A Pup Above proudly displays the below table on their website, which shows that they have significantly more protein in their recipes than some of their fresh dog food competitors.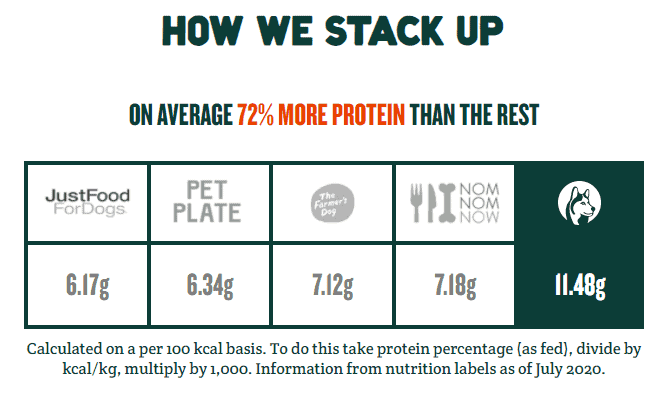 The nutritional profile of A Pup Above recipes should be suitable for the vast majority of dogs, including those that are very active. In addition, the pre-portioning provided by A Pup Above should prevent aid dogs that are susceptible to weight gain by limiting their calorie intake.
A Pup Above Ingredients
All of A Pup Above's ingredients are sourced from within the United States and are Human-Grade, GMO-Free, and Pesticide Free. A Pup Above also does not process its ingredients to increase its shelf life.
For the full list of ingredients used in A Pup Above formulas, we recommend checking out their product pages, which can be found here.
High-Quality Meat Ingredients
Beef
Beef Liver
Turkey
Turkey Liver
Pork
Chicken
Chicken Liver
A Pup Above uses a variety of meat ingredients across its four recipes. All of these meat ingredients would be considered high-quality and can provide dogs with much-needed animal protein and fat.
Most of these are industry favorites that are used by the majority of pet food brands. Examples of these would include Chicken and Beef. These ingredients are so popular because they are affordable and easy to source.
In addition, A Pup Above recipes makes use of Liver. Organ meat ingredients such as Liver can be particularly advantageous to dogs as they contain much higher densities of some minerals and vitamins than traditional meat cuts. Also, they are known to enhance flavor and make recipes more appealing.
Other Notable Ingredients
A Pup Above utilizes Peas and Green Beans, which are both Legumes. Peas are an extremely common ingredient in dog food and have become the standard for grain-free food. This popularity is as they are an affordable and easy to acquire source of carbohydrates, fiber, and plant-based protein.
Green Beans are much more uncommon but provide similar nutrition to Peas.

However, there is concern about the overuse of Peas and other legumes in dog food and potential negative health effects, including an increased risk of Canine Heart Disease.
You can learn more about these links in the below articles:
Peas, Pea Protein, Pea Flour, and Pea Fiber in Dog Food
A Pup Above also makes use of the two most popular starch ingredients in dog food, which are Potatoes & Sweet Potatoes. Starches like these are extremely dense sources of carbohydrates.
They can be a positive addition to dog food in moderation, but large portions can provide excessive levels of carbohydrates, which is why their portion size must be tightly controlled.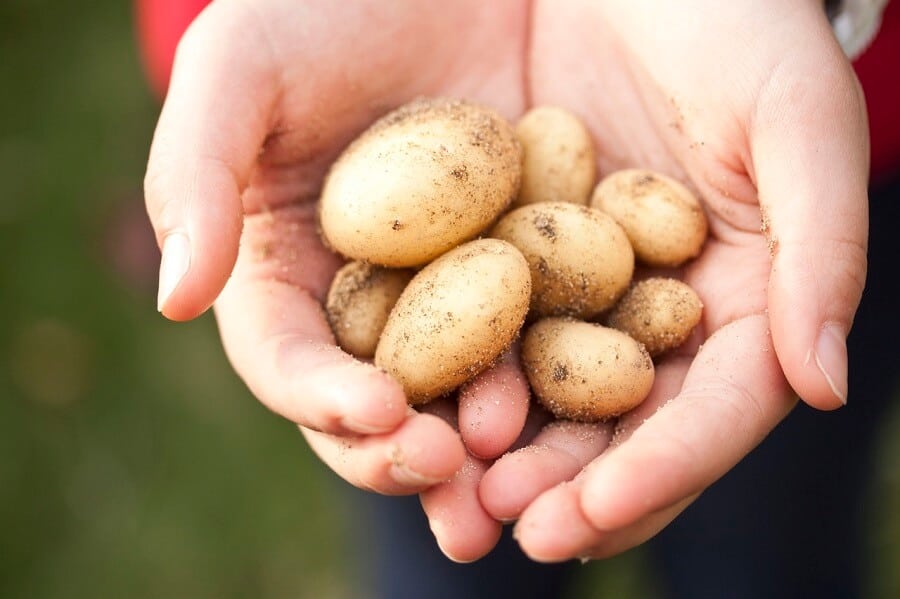 Rice is found in three of A Pup Above's four recipes. Grain ingredients such as Rice can be controversial, with some pet owners being strong supporters are others being strongly against their use. Regardless of your opinion, Rice is a reliable source of carbohydrates, fiber, and select micronutrients.
Generally, Brown Rice is preferred to White Rice as it can provide additional nutrition in the form of fiber, vitamins, and minerals. However, A Pup Above only labels their Rice as "Rice," which means it is unclear if it is White or Brown.
In addition to some of the common ingredients listed above, A Pup Above also utilizes some unique ingredients, including Carrots, Tomato, and Pineapple.
While these vegetables and fruit ingredients are often only a small portion of the recipe, they can provide some additional nutrition and a unique flavor.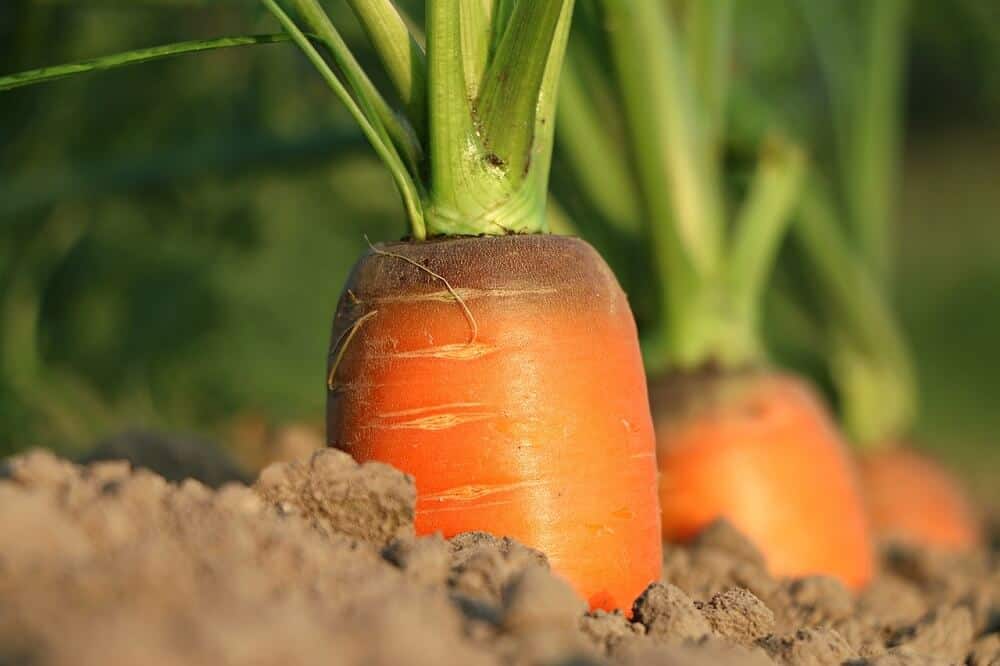 A Pup Above Animal Testing
Most pet food brands provide very little information about what kind of testing they perform for their products.
However, A Pup Above has provided us with some critical information. They state, "A Pup Above conducts feeding and palatability trials using a variety of methods most often working with the pets of our staff and family friends in relaxed home conditions. A Pup Above does not undertake any invasive animal testing. This is against our policy."
We strongly believe that invasive or laboratory testing of animals is a cruel and outdated practice and one which we hope will see a serious decline.
A Pup Above Expertise
Many fresh dog food companies employ the services of veterinary nutritionists. This is important to ensure that their recipes can provide dogs with complete nutrition and avoid issues.
A Pup Above works with Drs. Rebecca Remillard (Ph.D., DVM, DACVN) and Sarah Abood (Ph.D., DVM). Both Rebecca and Sarah are extremely qualified individuals with sufficient education and experience. They ensure that A Pup Above's recipes are formulated to meet the nutrition pets need to optimize their health and longevity.
A Pup Above's transparency on this topic is important as many other dog food brands do not share this information, which leads to concern about their product's formulation and benefits.
A Pup Above Recalls
Based on our research (FDA, AVMA, DogFoodAdvisor), we do not believe that A Pup Above products have ever been recalled.
Given the young age of the brand, this is no surprise, but we hope that A Pup Above can maintain its safety and quality processes in the years to come.
However, it is worth noting that many in the industry consider fresh food to garner a higher risk of contamination or other health concerns. This is as it must be stored and cooled appropriately, whereas traditional dry kibble has far fewer restrictions.
As a consequence, we encourage you to be vigilant of any future recalls of A Pup Above or any other fresh dog food products to ensure your dog remains safe and healthy.
A Pup Above Featured Articles
Best Fresh Home Delivered Dog Food – Given the explosion in the popularity of fresh home-delivered dog food, we felt it necessary to produce an article that discusses all the major brands currently competing within the space.
We discuss each brand in-depth, including topics like their ingredient choices, product range, and nutrition. It will come as no surprise that A Pup Above features in this article.
Best of A Pup Above
Texas Beef Stew Review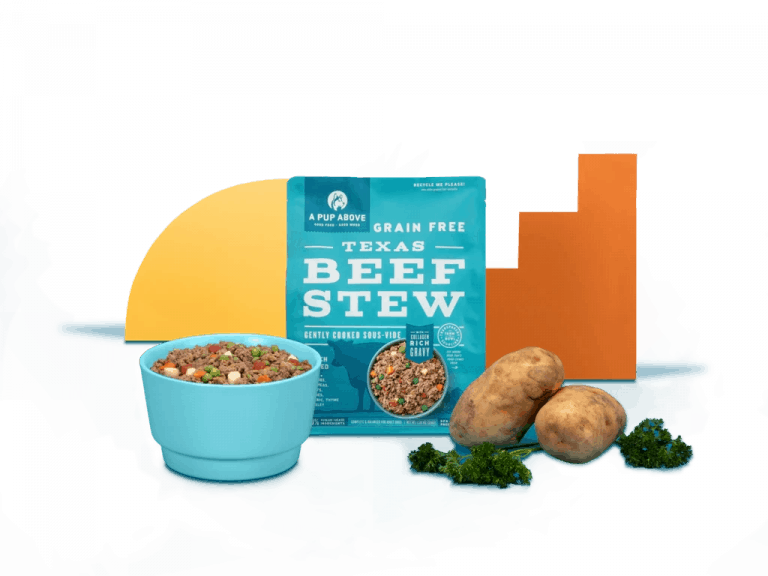 Don't Forget To Use Code HAPPINESS25 For 25% Off
While we'd recommend all four of A Pup Above's recipes, we had to choose a favorite, and Texas Beef Stew came out as the clear winner.
The recipe's primary two ingredients are Beef and Beef Liver. This combination provides a satisfactory proportion of high-quality animal protein and fat. This protein and fat proportion will be more than sufficient for the vast majority of dogs, including those that are more active.
As we mentioned earlier, the unique vitamins and minerals from the Beef Liver will also enhance this pairing.
The recipe then uses smaller portions of Peas, Tomatoes, Potatoes, and Carrots to provide a modest portion of carbohydrates and dietary fiber. Most of these ingredients are considered to be staples of the industry and should not be classified as low-quality additions.
If you would like to see Texas Beef Stew's full ingredient list and guaranteed analysis, you can find it here.
A Pup Above Full Product Range
Texas Beef Stew
Turkey Pawella
Porky's Luau
Chicka Chicka Bow Wow