I And Love And You Information
I And Love And You is a well-known pet food brand based in the United States. Many recognize them thanks to their quirky name, but the recipes also give them a stellar reputation. They are one of the slim number of pet food brands that produce human-grade or raw dog food.
All of I And Love And You's is headquartered in Boulder, Colorado, and all of their recipes are manufactured in the United States. However, some of their ingredients are sourced from outside of the United States and Canada from countries such as Australia and New Zealand.
The quality of I And Love You's recipes combined with their nutritional value can make some of their recipes expensive. Some of their premium dry dog food recipes can top out at over $100 a bag, which is comparable to other brands like Orijen.
I And Love And You recipes are widely available for purchase at thousands of retail stores across the United States. The brand is also available to buy from a myriad of online sellers such as Chewy, Amazon, and Petflow.
I And Love And You Product Range
Dog Food
I And Love And You have an expansive range of dog food products. This range includes dry dog food, wet/canned dog food, raw dog food, human-grade dog food, and dog treats.
While dry and wet/canned dog food is widespread in the industry, raw and human-grade dog food is not and makes I And Love And You quite unique.
However, I And Love You do not produce many specialty recipes such as those for large breed dogs or senior dogs. They do, however, have a recipe aimed at puppies.
Cat Food
I And Love And You's cat food range is not as expansive as their dog food range. It only contains a mix of dry cat food and wet/canned cat food with a noticeable absence of raw or human-grade food.
Despite this, there is variety within this range, both in the use of meat and fish ingredients as well as plant-based ingredients.
I And Love And You Nutrition
Dog Food
The nutrition provided by I And Love And You's dog food recipes varies significantly.
Some of their lower-cost recipes provide average nutrition, which is sometimes high in plant-based protein. In contrast, some of their more premium recipes provide excellent nutrition that is high in animal-based protein and fat.
We'd recommend their Naked Essentials and Nude ranges as they provide the most consistent nutrition.
Below is an example of the nutrition provided by a recipe from the Naked Essentials range.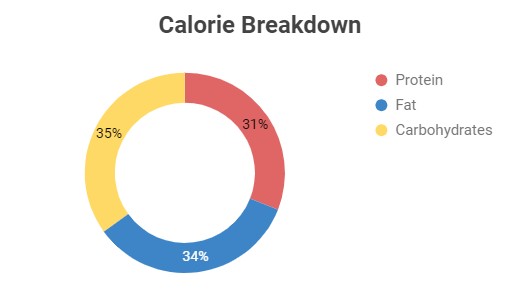 Cat Food
The nutrition provided by I And Love And You's cat food recipes also varies but is generally above-average.
Some recipes within I And Love And You's range contain high proportions of carbohydrates while others have levels that are in line with other premium brands.
It is critical that cats do not consume a diet that is too high in plant-based material. This is as they are obligate carnivores and thrive best on a diet of animal and fish ingredients.
I And Love And You Ingredients
High-Quality Meat & Fish Ingredients
Beef
Lamb
Venison
Chicken
Turkey
Whitefish
Salmon
Trout
I And Love And You use a large variety of high-quality meat and fish ingredients in its pet food recipes.
Many of these ingredients are industry favorites thanks to their low-cost and high nutritional value. Examples of these include Chicken, Turkey, Beef, and Salmon.
However, I And Love And You do make use of some less common ingredients such as Venison and Trout. Some brands use these ingredients in recipes aimed at pets with severe allergies.
You can learn more about food for dogs with allergies and the use of unique ingredients in the below articles.
Best Hypoallergenic Dog Foods Guide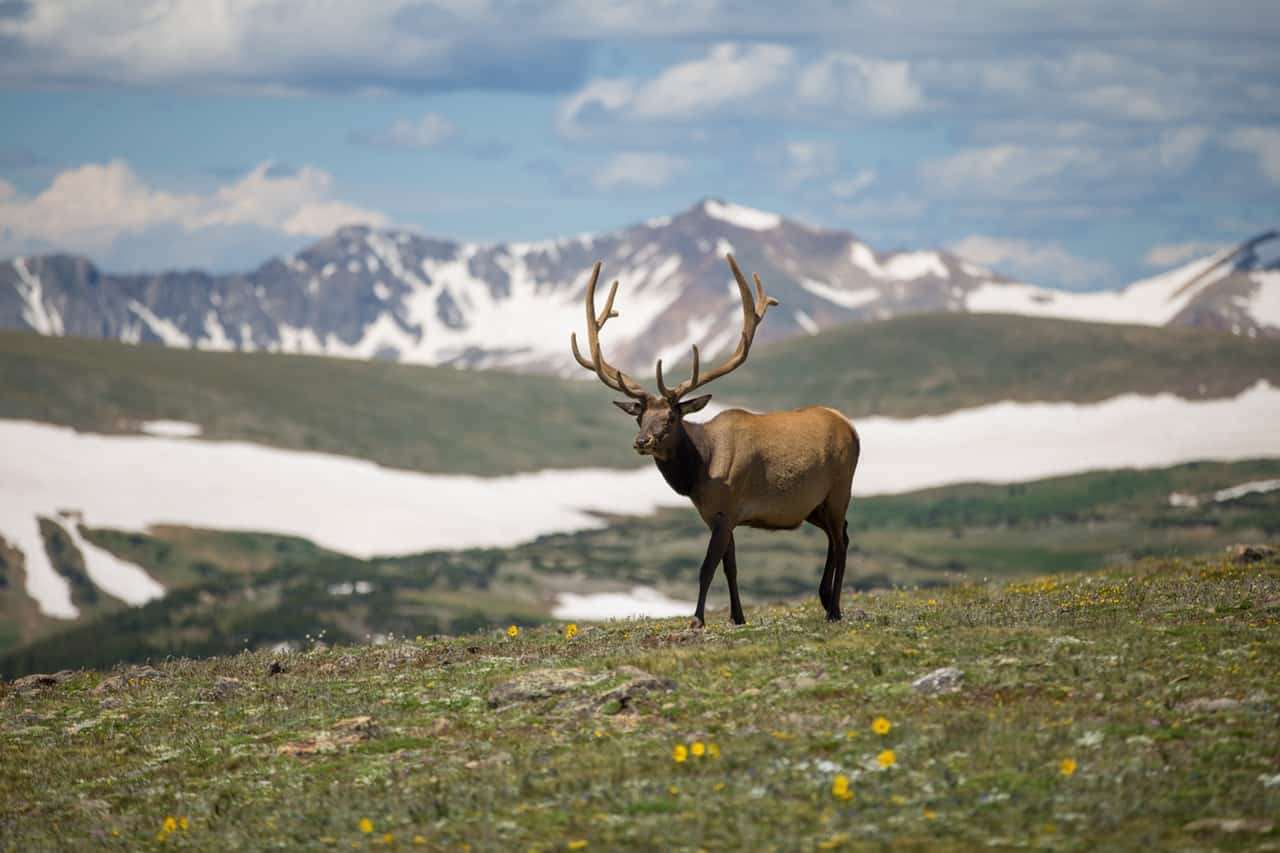 Other Notable Ingredients
Some of I And Love And You's recipes make use of whole legume ingredients like Chickpeas, Lentils, and Peas. These ingredients are popular additions to pet food as they are relatively low cost but can provide important nutrition in the form of carbohydrates and protein.
However, there are links between the high use of legumes and an increase in Canine Heart Disease. If you'd like to learn more about this link, we'd recommend you check out our article Best Dog Foods Without Peas.
Sadly, I And Love And You use multiple pea by-products such as Pea Flour, Pea Starch, and Pea Protein. These by-products are not usually considered to be high-quality additions to pet food and are often used by manufacturers in a technique known as Ingredient Splitting.
You can learn more about Ingredient Splitting here.
Despite this, they do provide nutrition in the form of carbohydrates or protein.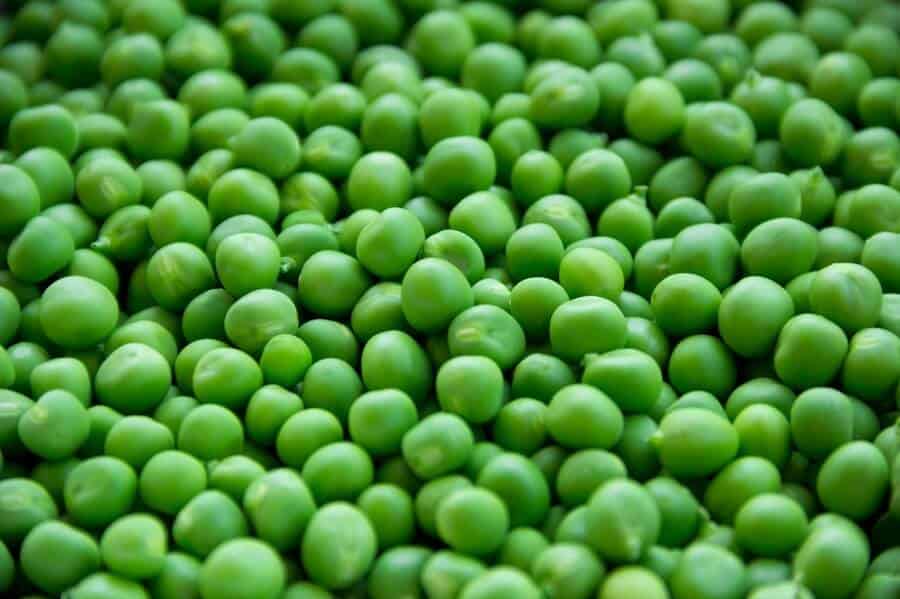 I And Love You has a small range of grain-inclusive recipes. These recipes make use of ingredients like Sorghum, Oatmeal, and Millet. These grains are popular among premium pet food providers and are preferred to others like Corn or Wheat. They are sources of carbohydrates, fiber, and select micronutrients.
You can read more about some of these ingredients in the below articles.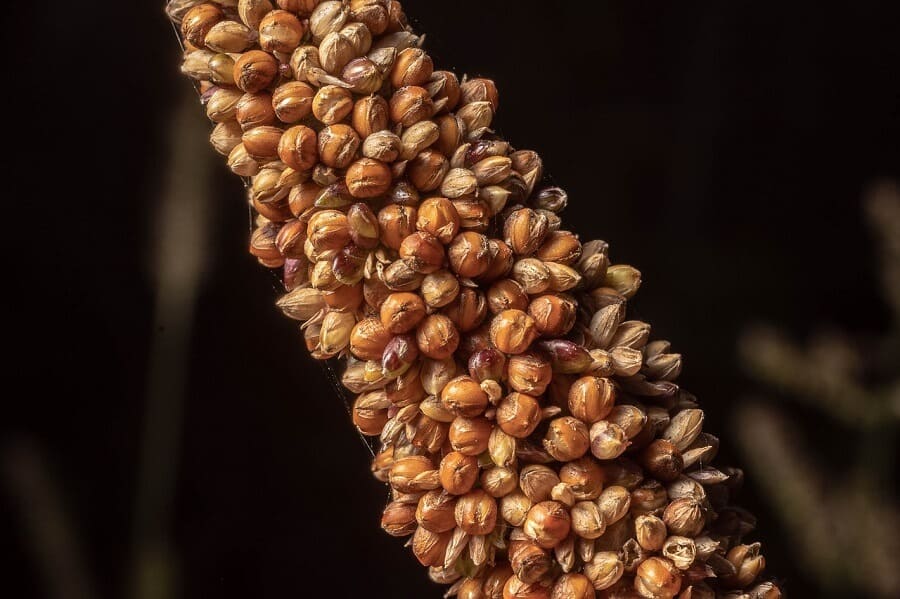 Sweet Potatoes are a starch ingredient and feature in some I And Love You recipes. Starch ingredients must be treated with care as they are incredibly dense sources of carbohydrates. This means that their portion size can not be too large, or the overall proportion of carbohydrates will be excessive.
Menhaden Fish Meal is seen in some premium pet food recipes as a supplementary source of nutrition. Menhaden Fish are harvested from the oceans for their oil, and once this has been removed, a nutritious fish meal remains, which is then sold on to pet food manufacturers as a source of protein and fat.
You can learn more about Menhaden Fish Meal in Menhaden Fish Meal in Dog Food.
Some I And Love You recipes make use of Chicken Fat as a source of animal-based fat. Chicken Fat is popular as it is a simple addition to improve a recipe's flavor without shelling out on more expensive ingredients. Y
ou can read more about Chicken Fat in Chicken Fat In Dog Food.
Flaxseed is best known for being the best plant-based source of the Omega 3 Fatty Acids. These fatty acids are believed by many to provide several health benefits to dogs and cats. This includes an improvement in the health of a dog's skin and coat as well as a reduction in the risk of certain health problems.
Read more about Flaxseed in Flaxseed In Dog Food.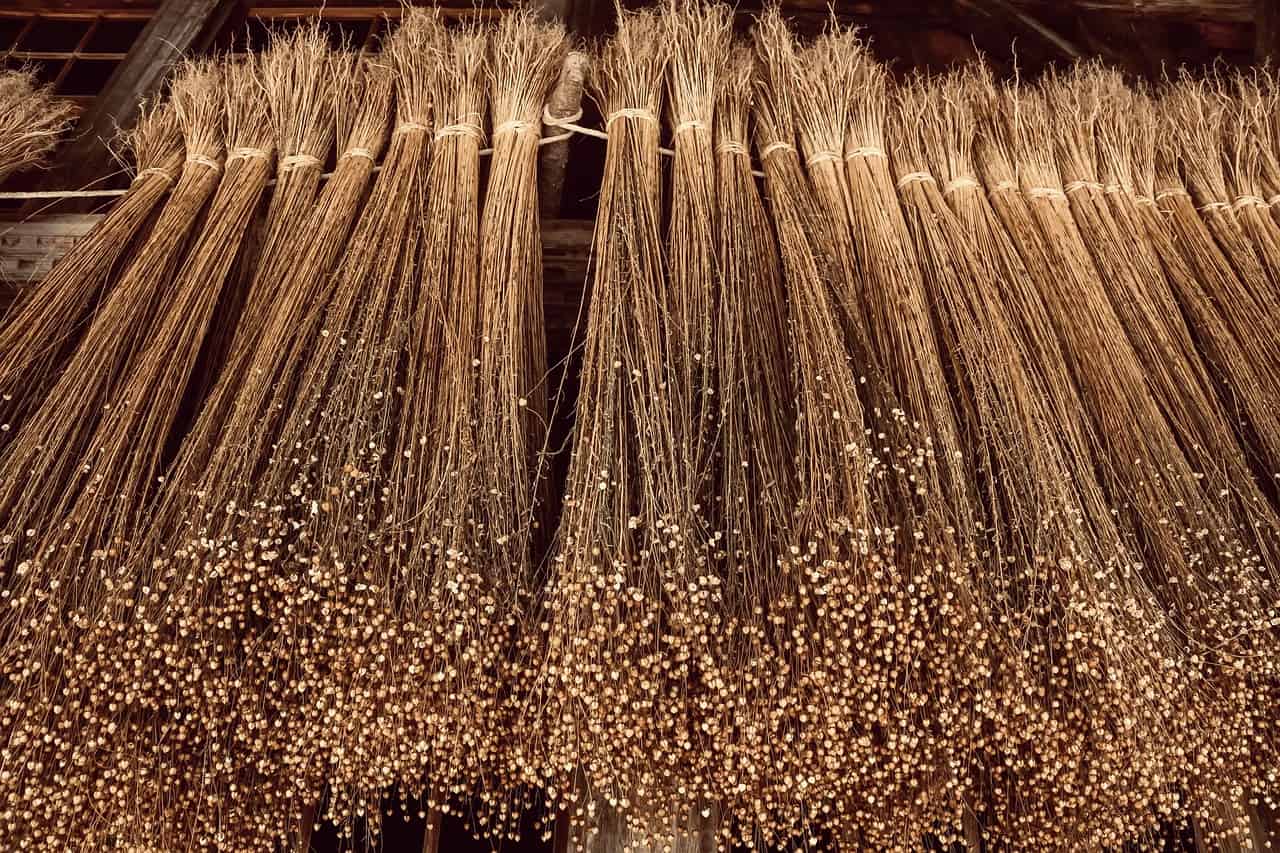 Tomato Pomace is regularly seen as a minor ingredient in pet food recipes. Its purpose is to provide soluble fiber to recipes where it might otherwise be lacking. Soluble fiber can be critical to some dogs to ensure they keep regular digestion and stools. Outside of its fiber content, Tomato Pomace provides little nutrition.
If you want to learn more about Tomato Pomace, check out our article Tomato Pomace as a Pet Food Ingredient?.
I And Love And You Animal Testing
At this time, we have no information on whether I And Love And You participates in invasive or laboratory testing of animals.
We strongly believe that laboratory or invasive testing of animals is a cruel and outdated practice. We hope that in the future, it will be eliminated.
I And Love And You Recalls
Based on our research (FDA, AVMA, DogFoodAdvisor), I And Love And You is not a recall-free brand.
The brand issued a voluntary recall of certain dog treats in July 2015. This recall was due to potential Salmonella contamination. Salmonella is a serious risk for dogs and humans and is a cause of many recalls in the industry.
While this does taint I And Love And You's perfect record, it is important to note that it was a voluntary recall and only affected a small batch of treats.
Despite this, we always suggest that pet owners remain vigilant of any future recalls of I And Love And You or any other pet food brand.
Best of I And Love And You
Ancient Grains Beef + Lamb Review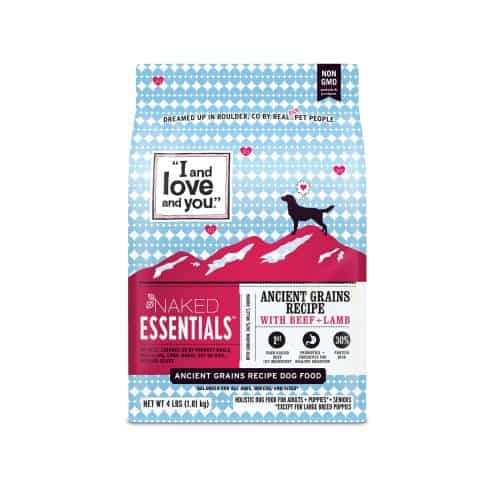 While many dog owners shy away from grain ingredients, I And Love And You's grain inclusive recipes are worth a second chance.
The above Beef + Lamb recipe contains a significant portion of Beef and Beef Meal. When this is combined with a small portion of Lamb and Menhaden Fish Meal, the overall proportion of animal or fish-based ingredients is large.
This results in a proportion of protein and fat that is significantly above-average and suitable for the majority of dogs, including those that are more active.
The recipe then uses a mix of Sorghum, Oatmeal, and Millet to provide a modest proportion of carbohydrates and fiber.
The inclusion of some minor ingredients such as Flaxseed and Tomato Pomace help boost the levels of fiber and the Omega 3 Fatty Acids.
Cluckin' Good Stew Review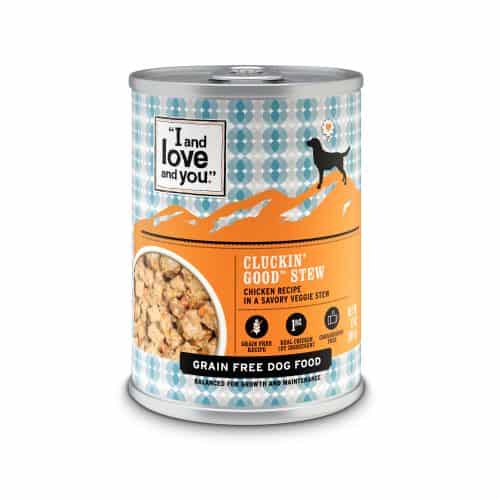 While I And Love You's wet dog food offering might be quite small, there are some noteworthy recipes, including the above Cluckin' Good Stew.
The recipe has a focus on Chicken and utilizes a mix of Chicken and Chicken Liver. The Chicken Liver is an excellent addition as Chicken Liver can enhance the recipe's flavor and provide beneficial vitamins and minerals.
The combination of these two Chicken ingredients provides a satisfactory proportion of protein and fat, which is suitable for most dogs.
Outside of this, the recipe contains some vegetable and fruit ingredients in small quantities. This includes Carrots, Cranberries, Peas, Spinach, and Sweet Potatoes. These ingredients provide a small portion of carbohydrates and some unique flavors.
I And Love And You Featured Articles
At this time, I And Love And You has not been featured in any of our articles.
I And Love And You Full Product Range
Dog Food
Dry Dog Food
Baked & Saucy Beef + Sweet Potato
Baked & Saucy Chicken + Sweet Potato
Lovingly Simple Lamb + Sweet Potato
Lovingly Simple Whitefish + Sweet Potato
Ancient Grains Beef + Lamb
Ancient Grains Chicken + Turkey
Naked Essentials Chicken + Duck
Naked Essentials Lamb + Bison
Naked Essentials Salmon + Trout
Naked Essentials Puppy Recipe Chicken + Lentil
Nude Food Poultry Palooza
Nude Food Red Meat Medley
Nude Food Simply Sea
Wet Dog Food
Beef Booyah Stew
Cluckin' Good Stew
Gobble It Up Stew
Lamb-A-Rama Stew
Moo Moo Venison Stew
Raw Dog Food
Raw Raw Beef Boom Ba
Raw Raw Chick Boom Ba
Raw Raw Lamb Boom Ba
Raw Raw Turk Boom Ba
Human Grade Dog Food
Stir-Mix-A-Little Beef And Bone Broth
Stir-Mix-A-Little Chicken And Bone Broth
Stir-Mix-A-Little Turkey And Bone Broth
Cat Food
Dry Cat Food
Lovingly Simple Salmon + Sweet Potato
Naked Essentials Digestive Support
Naked Essentials Chicken + Duck
Naked Essentials Salmon + Trout
Naked Essentials Indoor Health
Nude Food Poultry A Plenty
Nude Food Surf 'N Chick
Wet Cat Food
Beef, Right Meow! Pate
Chicken Me Out Pate
Chicky Da Lish Stew
Oh My Cod! Pate
Purrky Turkey Pate
Salmon Chanted Evening Stew
Savory Salmon Pate
Tuna Fintastic Stew
Whascally Wabbit Pate