The Honest Kitchen Information
The Honest Kitchen is well known and established premium pet food brand best known for its dehydrated dog food. The brand was founded in 2002 by Charles and Lucy Postins.
Their recipes are made from human-grade ingredients in a human-grade facility. This facility is in Illinois, but the brand itself is run from California.
The Honest Kitchen is widely available from physical stores across the United States and the world. You can also purchase The Honest Kitchen from some of the popular online retailers of pet food such as Chewy, Amazon, and Petflow.
The Honest Kitchen Product Range
Dog Food
The Honest Kitchen has a large range of dog food products. This range includes traditional dry dog food, dehydrated dog food, and wet dog food.
The dehydrated range from The Honest Kitchen is their core and offers both grain-free and grain-inclusive recipes. The dry food range and the wet food range are smaller but still have variety.
The Honest Kitchen does not produce recipes specifically aimed at certain types of dogs, such as puppies, senior dogs, or large breed dogs. Instead, they would say that their recipes are suitable for all ages and sizes.
Cat Food
The Honest Kitchen's cat food range is tiny when compared to its dog food range.
It consists of two dehydrated recipes, both of which are grain-free. As of yet, the Honest Kitchen has chosen not to produce any wet/dry cat food recipes.
The Honest Kitchen Nutrition
Dog Food
The Honest Kitchen dog food recipes usually provide excellent nutrition that is above-average to significantly above-average. This nutritional profile consists of high proportions of protein and fat from animal and fish sources and modest proportions of carbohydrates.
The Honest Kitchen dehydrated recipes can often be confusing to consumers from a nutritional perspective. This is as they are designed to be re-hydrated, which will drastically alter their nutritional proportions. We'd suggest performing some math on these values based on how much water you intend to add.
Cat Food
The nutrition offered by The Honest Kitchen's small cat food range is similar to their dog food range and is above-average. This above-average nutritional profile consists of above-average proportions of protein and fat, and below-average proportions of carbohydrates.
A nutritional profile like this is more important to cats than dogs as they are obligate carnivores and will not thrive on a diet high in plant matter.
The Honest Kitchen Ingredients
High-Quality Meat & Fish Ingredients
Chicken
Turkey
Duck
Beef
Salmon
The Honest Kitchen uses a relatively small range of meat and fish ingredients in its recipes with a strong focus on poultry ingredients. All of the above ingredients are high-quality additions to a dog food recipe and can provide a plentiful supply of protein and fat.
Select The Honest Kitchen recipes make use of organ meat ingredients such as Beef Liver. These ingredients are welcome additions to dog food and can provide additional protein and fat along with vitamins and minerals that are not abundant in traditional meat cuts.
Other Notable Ingredients
The Honest Kitchen uses a selection of grain ingredients in their grain-inclusive recipes. Examples of these grain ingredients include Brown Rice, Barley, and Oats. These grain ingredients can provide carbohydrates, fiber, and select vitamins and minerals.
Besides, the grains chosen by The Honest Kitchen are preferred by many to others such as Wheat and Corn, which some consider too processed or fillers.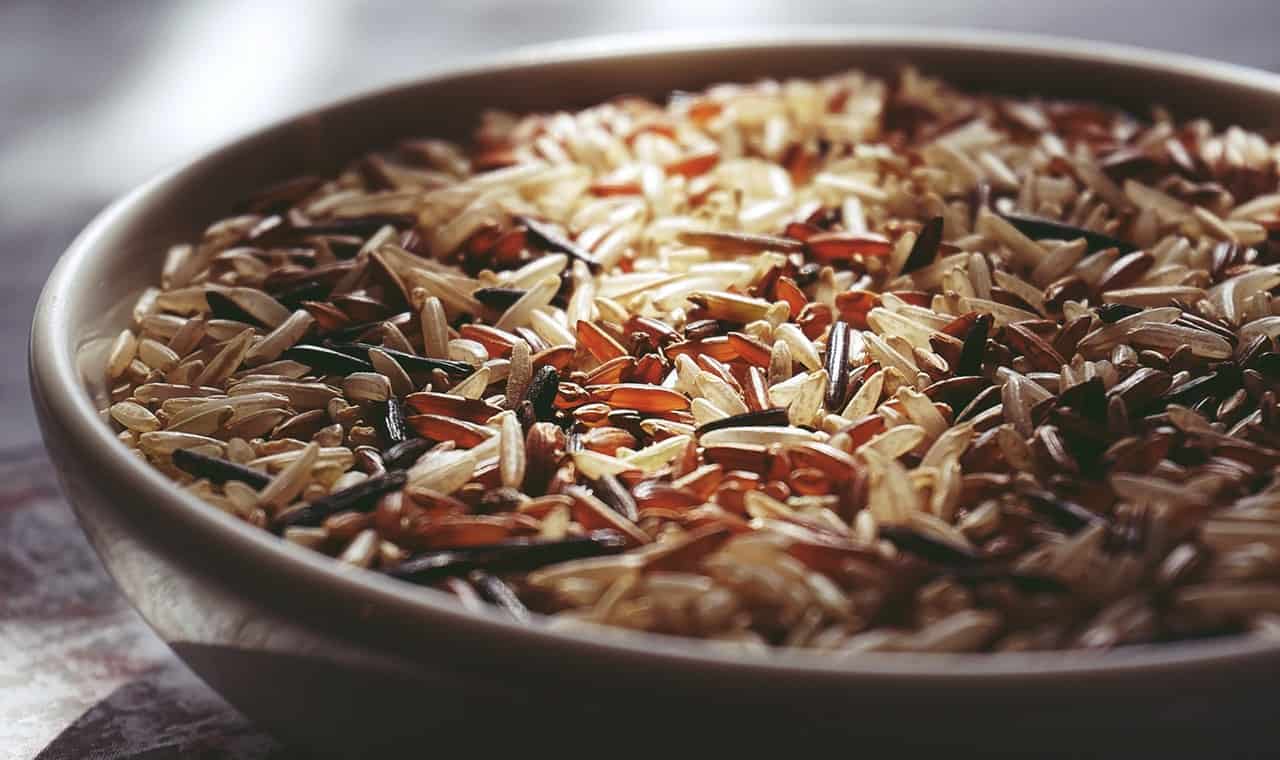 The Honest Kitchen also uses a range of starch ingredients in its recipes such as Tapioca, Potatoes, and Sweet Potatoes. These three starch ingredients are the most common in dog food. These ingredients are incredibly dense sources of carbohydrates, which means that their portion size needs to be tightly controlled.
Peas and Lentils are both legume ingredients and are some of the most common plant-based ingredients found in dog food. They are so popular thanks to their low cost, easy availability, and favorable nutrition.
However, there have been developments in recent years that link the high use of legumes in dog food with Canine Heart Disease. You can read more about this here.
Eggs are not utilized in dog food as often as we'd like, which is odd considering how nutritionally dense they are. They can provide protein, fat, and other nutrients in a highly digestible form and a comparable on cost with meat and fish ingredients. The Honest Kitchen uses Eggs in some of its recipes but not most.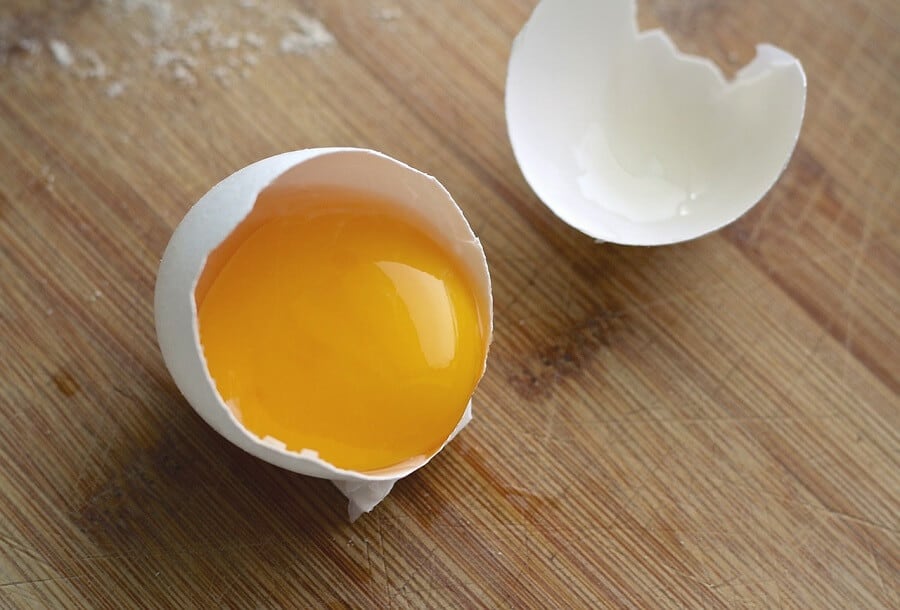 Pumpkin can be found in select The Honest Kitchen recipes and is a welcome addition. Pumpkin is best known for aiding digestion because of its high fiber content, but it can also provide carbohydrates and beneficial vitamins and minerals such as Beta Carotene.
You can learn more about Pumpkin and some of the best Pumpkin recipes in our article Best Dog Food With Pumpkin.
One of the best plant-based sources of the Omega 3 Fatty Acids is Flaxseed, which is why it is found in many dog food recipes. These fatty acids are believed to provide several health benefits to dogs, such as improving the health of a dog's skin and coat.
You can read more about Flaxseed in Flaxseed In Dog Food.
The Honest Kitchen Animal Testing
At this time, we have no information on what type of animal testing, if any, that The Honest Kitchen participates in.
We strongly believe that laboratory and invasive animal testing is a cruel and outdated practice and one that should be eliminated.
The Honest Kitchen Recalls
Based on our research (FDA, AVMA, DogFoodAdvisor), The Honest Kitchen has never issued any recalls in it past and is, therefore, a recall-free brand.
Despite this, we always suggest that pet owners remain vigilant of any future recalls of The Honest Kitchen or any other pet food brand.
Best Of The Honest Kitchen
Whole Food Clusters Grain Free Beef Recipe Review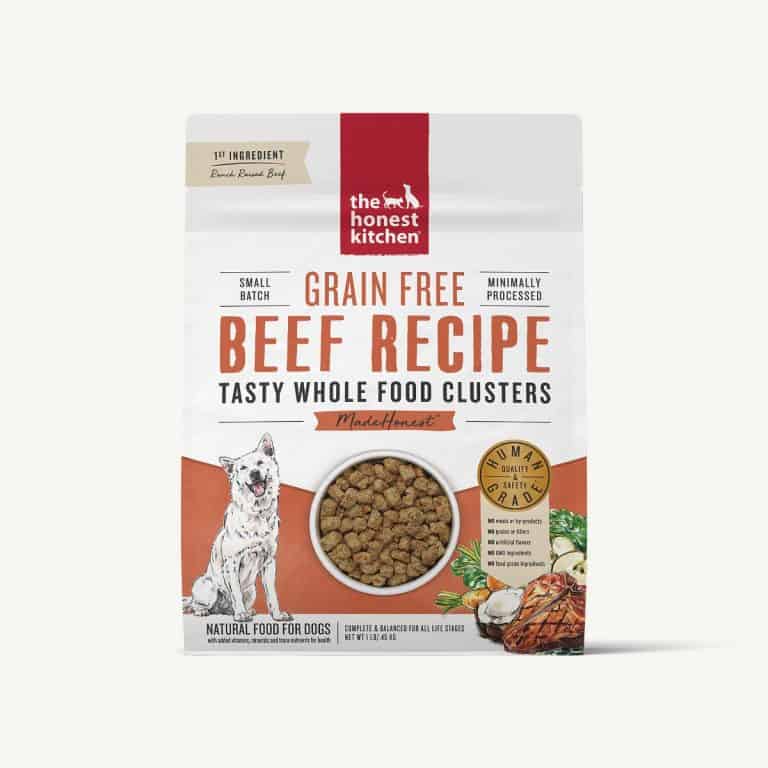 While The Honest Kitchen may not be best known for its dry dog food recipes, they are respectable and worth consideration.
The above Beef Recipe has a large portion of Beef at its center, which is accompanied by a smaller portion of Beef Liver. This combination, along with a small portion of Eggs, provides a reasonable proportion of protein and fat, which would be suitable for most dogs.
These meat ingredients are combined with a portion of Potatoes, Peas, Lentils, Carrots, and more, which provide carbohydrates, fiber, and select vitamins and minerals. This is a large range of vegetable ingredients, which means dogs with sensitive stomachs may need to be cautious, but otherwise they are perfectly acceptable additions.
Whole Grain Chicken Recipe (Revel) Review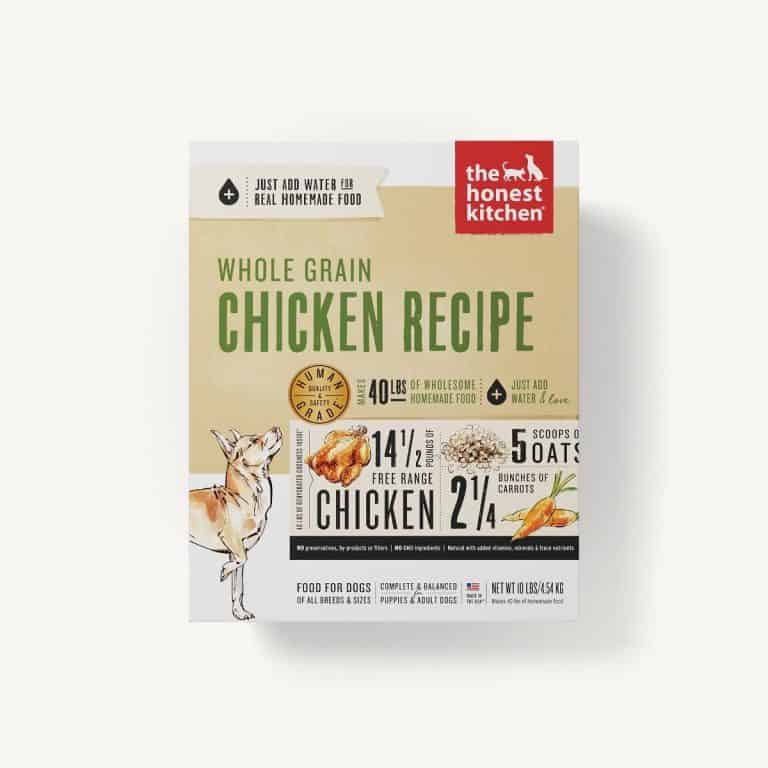 Dehydrated dog food is The Honest Kitchen's bread and butter, and they've almost perfected the subject. There are both grain-free and grain-inclusive dehydrated recipes available from The Honest Kitchen, but we've chosen to highlight one of their grain-inclusive recipes – Chicken.
The recipe's primary ingredient is a large portion of dehydrated Chicken. This dehydrated Chicken has had the bulk of its moisture removed, which means it's an incredibly dense source of animal-based protein and fat.
This Chicken is joined by a mix of Barley, Potatoes, Flaxseed, Oats, Peas, and more, which are the recipes plant-based ingredients. It is unusual for grain-inclusive recipes to include legume and starch ingredients, but The Honest Kitchen has no issue pulling it off.
One Pot Stews – Simmered Salmon & Chicken Stew With Brown Rice & Broccoli Review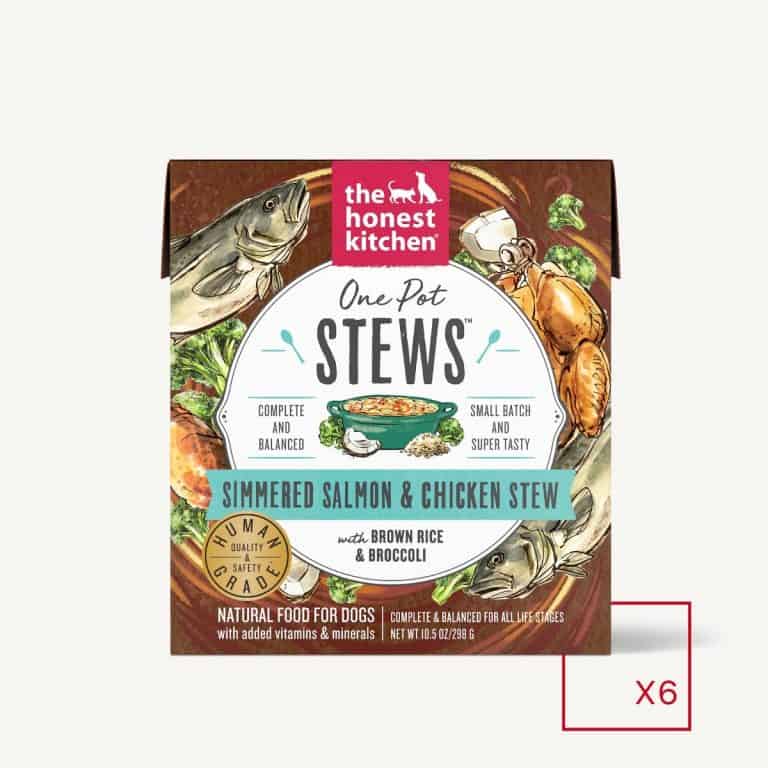 Most consumers aren't aware that The Honest Kitchen produces wet dog food recipes, and while it is a recent addition to their range, they offer some enticing recipes.
The above recipe focuses on Salmon, which is one of our favorite additions to dog food recipes. This is as Salmon is an excellent source of the Omega Fatty Acids, which can provide dogs with several health benefits. However, Salmon isn't the only meat ingredient present, and there is also a notable portion of Chicken.
Salmon and Chicken are joined by a much smaller portion of Brown Rice, Broccoli, Tapioca, and Peas. This mix of grains, legumes, and starches provide a modest portion of carbohydrates and fiber.
The Honest Kitchen Featured Articles
The 10 Most Expensive Dog Foods
The Honest Kitchen Full Products Range
Dog Food
Dry Dog Food (Whole Food Clusters)
Grain Free Chicken Recipe
Grain Free Beef Recipe
Grain Free Turkey Recipe
For Small Breeds – Grain Free Chicken Recipe
For Puppies – Grain Free Chicken Recipe
Grain Free Chicken & Oat Recipe
Grain Free Beef & Oat Recipe
For Small Breeds – Grain Free Chicken & Oat Recipe
For Puppies – Grain Free Chicken & Oat Recipe
Dehydrated Dog Food
Grain Free Chicken Recipe (Force)
Grain Free Turkey Recipe (Embark)
Grain Free Beef Recipe (Love)
Grain Free Fish Recipe (Zeal)
Whole Grain Chicken Recipe (Revel)
Whole Grain Turkey Recipe (Keen)
Whole Grain Beef Recipe (Verve)
Limited Ingredient Chicken Recipe (Thrive)
Limited Ingredient Fish Recipe (Brave)
Limited Ingredient Turkey Recipe (Marvel)
Limited Ingredient Beef Recipe (Hope)
Limited Ingredient Duck Recipe (Spruce)
Grain Free Fruit & Veggie Base Mix (Preference)
Grain Free Veggie, Nut & Seed Base Mix (Kindly)
Wet Dog Food
One Pot Stew – Slow Cooked Chicken With Sweet Potato, Spinach & Apples
One Pot Stew – Roasted Beef Stew With Kale, Sweet Potatoes & Carrots
Butcher Block Pate – Chicken & Super Greens
One Pot Stews – Simmered Salmon & Chicken Stew With Brown Rice & Broccoli
Butcher Block Pate – Turkey & Autumn Veggies
Butcher Block Pate – Beef, Cheddar & Farm Veggies
Cat Food
Dehydrated Cat Food
Grain Free Turkey Recipe (Grace)
Grain Free Chicken Recipe (Prowl)