Paleo Ridge Information
Paleo Ridge is a family-owned dog food company based in the United Kingdom. They were founded in 2014 by Sharon Daly who is the current chairman.
Paleo Ridge specializes in providing raw dog food. However, compared to some other raw food providers, Paleo Ridge takes things to the extreme and sell raw organ meat and mince instead of semi-processed products.
All of Paleo Ridge's recipes are produced in the United Kingdom in their own dedicated facilities. Given that they are a smaller raw food brand, their food is produced in smaller batches than traditional dry dog food or canned dog food.
You can purchase Paleo Ridge recipes directly from their website or through a local store that stocks their recipes. You can not purchase Paleo Ridge from any of the large online pet food sellers like Chewy or Amazon.
Paleo Ridge Product Range
Dog Food
Paleo Ridge's product range is varied and is a mix of "complete" dog food and raw meat and organ meat ingredients.
The Paleo Plus range is their "complete" dog food range and is the closest product to traditional dog food. These recipes are not just made up of meat and fish ingredients and also contain some plant-matter.
Many of the raw meat and organ meat food available from Paleo Ridge is not designed to be the base of a dog's diet but instead a component or supplement to another diet.
Paleo Ridge does not produce any age-specific food such as those for puppies or senior dogs. Instead, they would argue that much of their food is suitable for all ages.
Cat Food
While Paleo Ridge does not produce any cat-specific food, many of their raw products could be eaten by cats. This is as they are made up of raw meat and fish ingredients which are perfectly acceptable additions to a cats diet.
Paleo Ridge Nutrition
The nutrition provided by Paleo Ridge dog food is excellent and well suited to a dog's digestive system.
Their recipes include significantly above-average proportions of protein and fat, which are always sourced from animal and fish ingredients.
The proportion of carbohydrates present is low in all their formulas, which is a fair reflection of a dog's natural diet.
Below is an example of the nutrition provided by one of their "complete" recipes.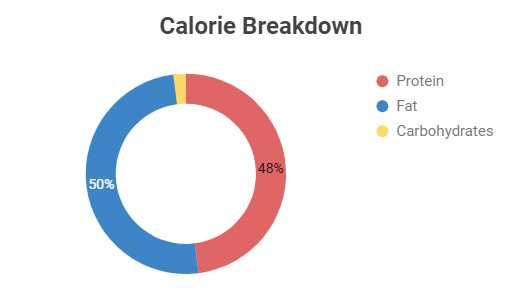 Paleo Ridge Ingredients
High-Quality Meat & Fish Ingredients
Turkey
Chicken
Duck
Pork
Lamb
Beef
Rabbit
Goat
Venison
Paleo Ridge uses all of the most common meat ingredients found in dog food, including Chicken, Turkey, and Beef.
These ingredients are so commonly found in dog food recipes because they are both affordable and highly nutritious. They can provide high-quality protein and fat, which is crucial to a dog's health.
However, they also use some less common meat ingredients like Rabbit. Meats like Rabbit are often used in recipes for dogs with allergies or sensitivities. You can learn more about these recipes and why they are formulated this way in the below articles
Best Hypoallergenic Dog Foods Guide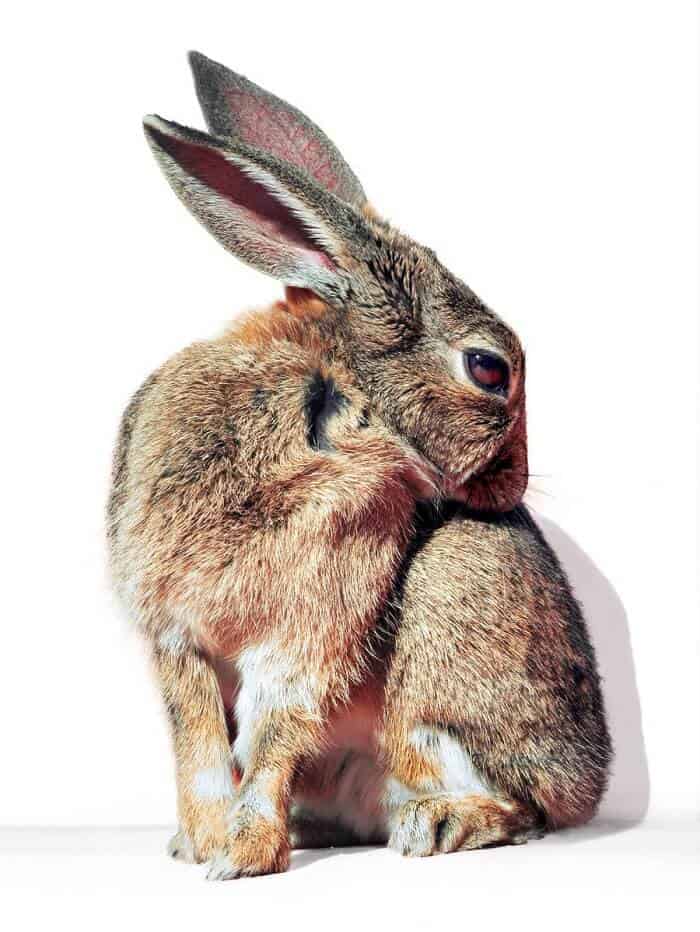 Paleo Ridge also makes heavy use of organ meat, such as the Heart and the Liver. The extent to which they use these organ meats and the sheer variety is second to none and they should be considered a leader in this space.
These organ ingredients are positive additions and are high in vitamins and minerals that normal meat cuts lack. On top of this, organ meat ingredients can also boost the overall proportion of animal-based protein and fat in a recipe.
Other Notable Ingredients
Paleo Ridge uses uncommon and unusual vegetable ingredients in its recipes, such as Carrot, Kale & Broccoli. These ingredients provide a minor portion of carbohydrates, along with some fiber, vitamins, and minerals. They may also give the recipe a unique taste that is appealing to some dogs.
Blackberries & Blueberries are two fruit ingredients found in some Paleo Ridge recipes. These are not included for their carbohydrate content as their portion size is very small. Instead, they are included for their vitamins, minerals, and antioxidants.
Paleo Ridge Animal Testing
At this time, we have no information on what type of animal testing, if any, that Paleo Ridge participates in.
We strongly believe that invasive or laboratory-style testing of animals is a cruel and outdated practice and one which we hope will be eliminated in the near future.
Paleo Ridge Recalls
Based on our research (FDA, AVMA, DogFoodAdvisor), Paleo Ridge is in a very select club of pet food brands that have yet to be recalled.
Despite this, we always recommend that pet owners are watchful for any future recalls of Paleo Ridge or any other pet food brand.
Paleo Ridge Featured Articles
At this time, Paleo Ridge has not been featured in any of our articles.
Best of Paleo Ridge
Paleo Plus Pork & Apple Review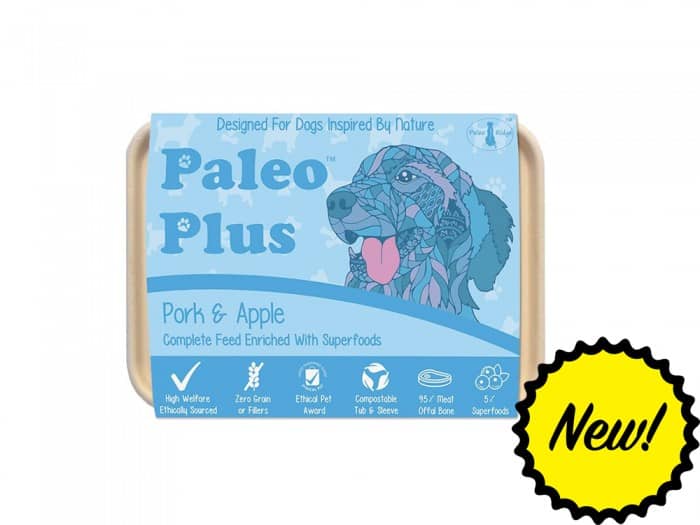 Paleo Plus is Paleo Ridge's complete dog food range which means a dog can use the recipe as its primary diet.
The above Pork & Apple recipe uses a large range of Pork ingredients including Pork, Pork Heart, Pork Lung, Pork Liver, and more. This mix of traditional Pork cuts and Organ meat provides an appealing and unique flavor along with ample portions of protein and fat.
Outside of these Pork ingredients, the recipe uses a small portion of Apple, Kale, Broccoli along with other fruits and vegetables. Even when combined these ingredients only make up a small portion of the recipe and provide a modest proportion of carbohydrates and fiber.
Ready Raw Lamb Breast & Heart Complete Review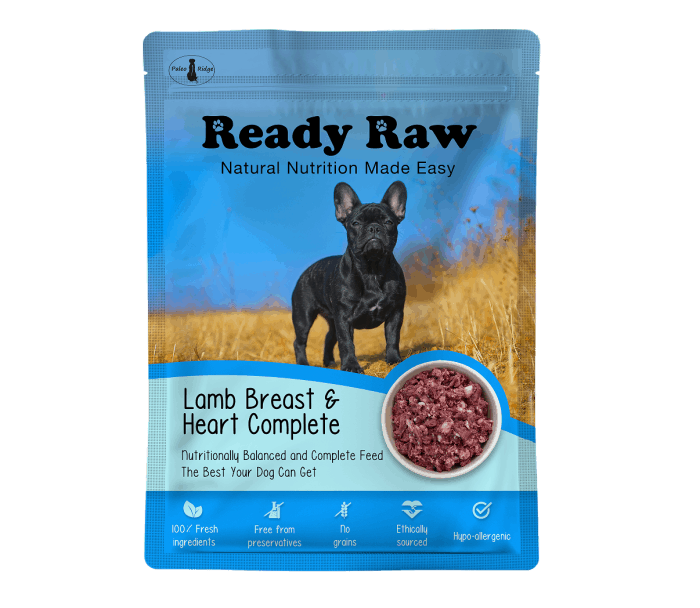 The above is one of Paleo Ridge's raw dog food products. Because the food is raw it must be stored in a much more strict manner just as you would store raw meat ingredients for human consumption.
There are only four ingredients found in the above Lamb recipe which are Lamb Heart, Lamb Breast Bones, Lamb Liver, and Lamb Kidney. The huge focus on raw organ meat could make this recipe extremely appealing to dogs as well as providing excellent nutrition high in protein and fat.
Paleo Ridge Full Product Range
Paleo Plus
Special Diet
Turkey & Fish
Surf & Turf
Totally Chicken
Totally Duck
Pork & Apple
Lamb & Mint
Classic Range
Classic Beef And Duck
Classic Beef Heart, Tripe, and Chicken
Classic Beef Tripe And Chicken
Classic Beef Tripe And Duck
Classic Beef, Rabbit, and Duck
Classic Christmas Pheasant
Classic Fish
Classic Goat
Classic Kangaroo, Lamb Tripe, and Chicken
Classic Lamb Breast And Heart
Classic Lamb Tripe And Chicken
Classic Lamb Tripe And Duck
Classic Lamb Tripe And Turkey
Classic Pork And Chicken
Classic Puppy Weaning Paste
Classic Turkey
Classic Venison, Beef Tripe, And Duck
Classic Wild Venison And Duck
Ready Raw
Beef Tripe & Chicken Complete
Lamb Tripe and Duck Complete
Turkey Complete
Beef, Rabbit, and Duck Complete
Lamb Breast & Heart Complete