Akela Wholeprey Information
Akela Wholeprey is a pet food company based in the United Kingdom. They specialize in premium dog food, in particular those for working dogs such as military dogs, police dogs, and sheepdogs.
Akela Wholeprey sources its ingredients from local suppliers, the majority of which are in the United Kingdom.
Akela Wholeprey Product Range
Dog Food
Akela Wholeprey is a moderately sized range of dog food products.
This range includes Raw Frozen dog food, traditional dry dog food (kibble), and wet/canned dog food. The wet/canned range is the largest with ten recipes, and the Raw Frozen and Dry ranges have five and four, respectively.
However, the variety of ingredients used in Akela Wholeprey recipes is wide. They make use of a large number of meat and fish ingredients, which will be discussed later.
Cat Food
Akela Wholeprey's cat food range is small in size and consists of just three recipes. This includes one dry food recipe and two wet cat food recipes.
The recipes mirror dog food recipes offered by Akela Wholeprey, and it is likely that they may create cat equivalents of more of their dog food recipes in the future.
Akela Wholeprey Nutrition
Dog Food
Both Akela Wholeprey's raw frozen dog food range and their dry and wet ranges provide excellent nutrition.
Their nutritional profile includes significantly above-average proportions of protein and fat and significantly below-average proportions of carbohydrates.
Below is an example of the nutritional profile of one of their dry food recipes.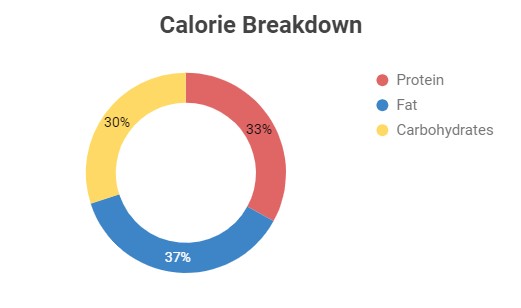 Cat Food
The nutrition offered by Akela Wholeprey's cat food products is very similar to their dog food products.
It, too, includes significantly above-average proportions of protein and fat and significantly below-average proportions of carbohydrates.
This nutritional balance is particularly important for cats as they are obligate carnivores and should not consume high levels of plant-based food.
Akela Wholeprey Ingredients
High-Quality Meat & Fish Ingredients
Chicken
Turkey
Duck
Lamb
Beef
Salmon
Kangaroo
Venison
Akela uses a large range of high-quality meat and fish ingredients. These are ideal for use in dog food and can provide high-quality and easily digestive protein and fat. Akela many of the most common meat and fish ingredients, such as Chicken, Beef, and Salmon.
Akela Wholeprey also makes use of some less common meat ingredients such as Kangaroo and Venison. These are known by some as "Novel Meats" and are often used in food for dogs with severe allergies or sensitivities. Learn more about Novel Meats and the use of Kangaroo and Venison in dog food in our articles below.
Best Hypoallergenic Dog Foods Guide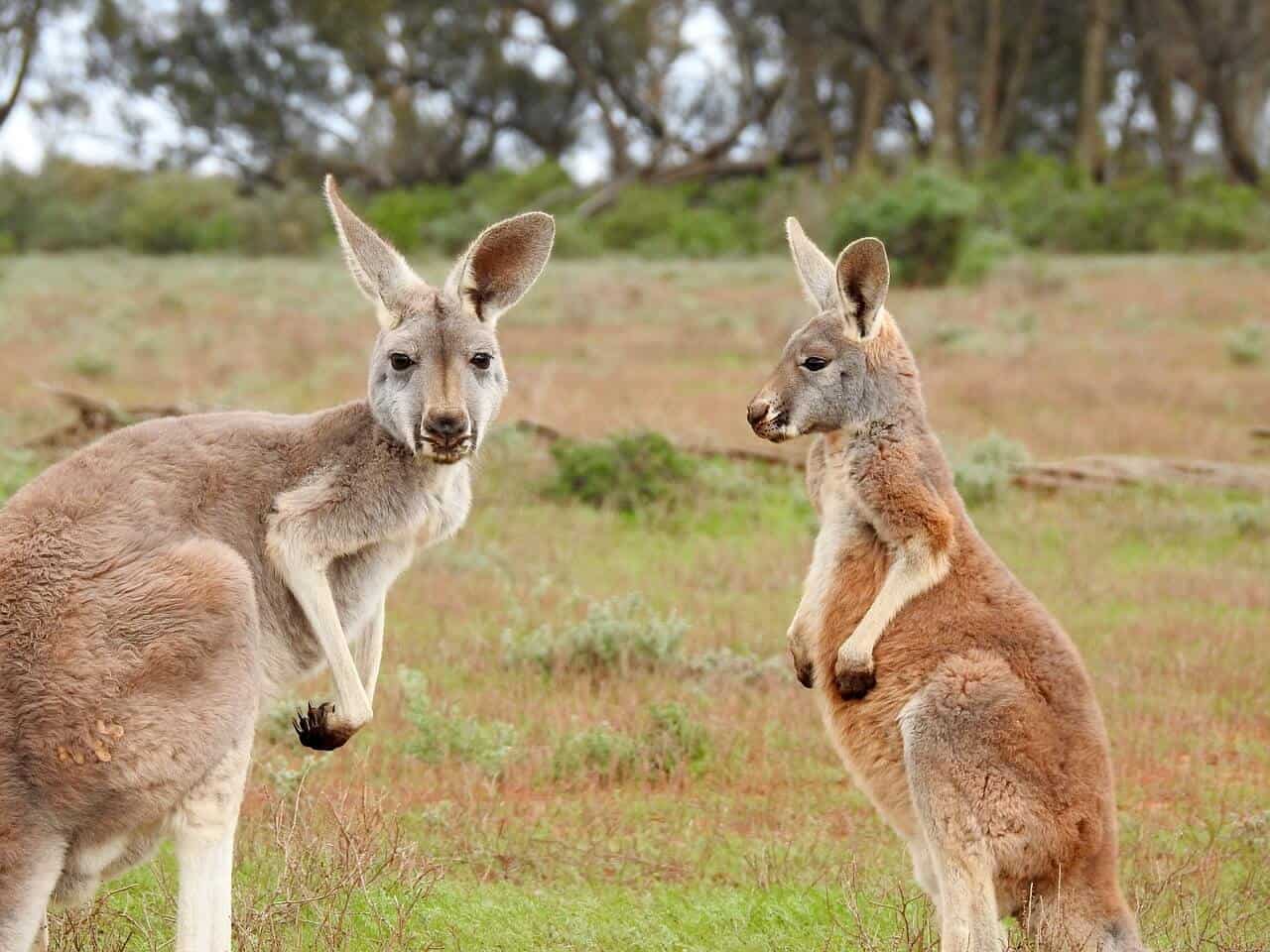 Some Akela Wholeprey recipes include Liver. Liver used to be a very common ingredient in dog food, and many brands are bringing it back into the fold. This is as it provides many vitamins and minerals that traditional meat cuts are not dense in. It can also be very enjoyable and appetizing for many dogs.
Other Notable Ingredients
Tapioca is used in some of Akela Wholeprey's recipes. Tapioca is a starch similar to Potatoes or Sweet Potatoes. It provides carbohydrates and some other nutrients. Learn more about Tapioca and its use in dog food in our article Tapioca In Dog Food.
Alfalfa is added to dog food to provide health benefits as well as some vitamins and minerals. Its popularity has increased dramatically, and it now features in many of the premium brands recipes. Learn more about Alfalfa in our article Alfalfa In Dog Food.
Akela Wholeprey Animal Testing
At this time, we have no information on what type of animal testing, if any, that Akela Wholeprey participates in.
However, we strongly believe that invasive or laboratory-style testing of animals is a cruel and outdated practice and one which we hope will be eliminated.
Akela Wholeprey Recalls
Based on our research (FDA, AVMA, DogFoodAdvisor), Akela Wholeprey is in a very select club of pet food brands that have yet to be recalled.
However, we always encourage pet owners to be vigilant of any future recalls of Akela Wholeprey or any other pet food brand.
Akela Wholeprey Featured Articles
At this time, Akela Wholeprey has not been featured in any of our articles.
Best of Akela Wholeprey
British Beef Review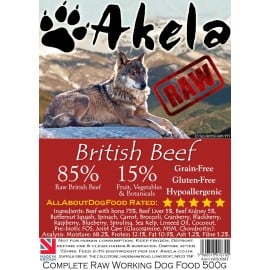 Over 85% of Akela Wholeprey's Raw Frozen recipes contents are meat, and in the case of the above British Beef recipe, this meat content is made up of multiple Beef ingredients. This includes Beef With Bone, Beef Liver, and Beef Kidney.
This huge portion of Beef provides an immense portion of animal-based protein and fat, which combine to provide excellent nutrition.
There are some other minor ingredients present, but all of these are in very small quantities. Examples include Butternut Squash, Spinach, and Carrots. These provide a small portion of carbohydrates, fiber, and select vitamins and minerals.
Grain-Free Scottish Salmon Review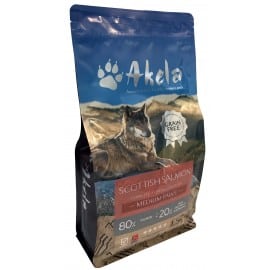 Akela Wholeprey's dry food recipes don't contain quite as much meat content as their raw frozen recipes, but for the majority of dogs, the difference is negligible.
Scottish Salmon uses a mix of Fresh and Dehydrated Salmon as its core fish ingredients. Salmon is an excellent source of protein and fat like most meat and fish ingredients, but it also can provide higher than average levels of the Omega 3 Fatty Acids. These fatty acids are believed to provide a number of health benefits if consumed consistently.
The dry food recipe also makes use of starch ingredients like Tapioca and Sweet Potato. These ingredient's primary purpose is to provide a small portion of carbohydrates and dietary fiber. However, Sweet Potato can provide some additional vitamins and minerals in higher quantities than traditional White Potatoes.
Grain-Free Chicken With Goose Review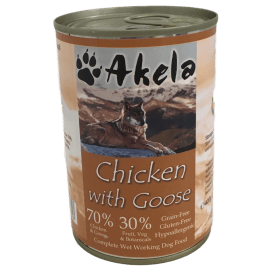 Goose is a very unique and unusual addition to dog food and one which very few other dog food brands include. Akela Wholeprey combines it with Chicken in the above-wet dog food recipe.
The combination of Chicken and Goose makes up 70% of the overall contents of the recipe. The remaining 30% is mostly moisture but also consists of some minor fruit and vegetable ingredients. Examples include Cranberries, Blueberries, Coconut, and Asparagus.
Akela Wholeprey Full Product Range
Dog Food
85:15 Raw Frozen Working Dog Food
British Turkey
British Beef
British Lamb
British Duck
British Chicken
Akela 80:20 Dry Dog Food
Grain Free Scottish Salmon
Grain Free Original
Grain Free Fish Feast
Grain Free Suffolk Duck
Akela 70:30 Wet Dog Food
Grain Free Veal With Venison
Grain Free Chicken With Goose
Grain Free Angus Beef
Grain Free Kangaroo
Grain Free Wild Game
Grain Free Duck & Turkey
Grain Free Spring Lamb
Grain Free Fish Feast
Grain Free Original Meat & Fish
Digestive Aid Pumpkin Mix
Cat Food
Dry Cat Food
Grain Free Original
Wet Cat Food
Grain Free Fish Feast
Grain Free Original Meat & Fish