Ava Information
Ava is a hypoallergenic pet food brand based in the United Kingdom. Ava is sold exclusively by Pets At Home, which was founded in 1991 in Chester and now has 440 stores, most of which are in the UK.
Some of these stores used to be PetSmart UK stores. This brand was bought out by Pets At Home at the stores and rebranded.
This exclusivity means that Ava recipes are not available at online retailers like Amazon or Zooplus. However, Pets At Home does have its own online store where Ava recipes can be purchased.
Pets at Home's website offers a subscription-style service for Ava products, which gives consumers a discount if they commit to purchasing the products on a regular basis.
This is a growing trend among pet food sellers following the success of sites like Chewy.
It is not clear where Ava or Pets At Home manufactures its products. While we presume that the food is produced in the United Kingdom or Europe, we could find no clear evidence to support this.
Ava claims that its formulas are veterinary approved; however, it's not clear what this is based upon. We could not find any information or explanation on this topic during our research.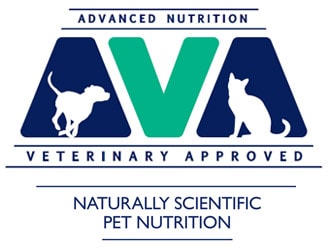 Ava Product Range
Dog Food
Ava has a broad range of dog food products, including both dry and canned dog food.
In addition, they have several niches and specialty recipes, including recipes for senior dogs, puppies, and those with sensitivities.
However, they do lack variety in the meat and fish ingredients that their recipes focus on, with the vast majority of the dry food recipes being Chicken centered.
Ava is one of the few UK brands to offer products for specific breeds of dogs, such as chihuahuas and Yorkshire Terriers.
Cat Food
Ava's cat food range is not quite as broad as its dog food range but is still substantial and once again includes both dry and canned recipes.
The cat food range also includes speciality recipes such as recipes for mature and senior cats.
Similar to the dog food range, Ava does not have much depth in the variety of meat and fish ingredients used, which may be troublesome if your cat does not like Chicken.
Ava Nutrition
Dog Food
The nutrition provided by Ava dry dog food is satisfactory and consists of an appropriate portion of protein and fat with a moderate proportion of carbohydrates. While this nutritional profile could be improved, it is suitable for the majority of dogs.
Below is an example of the nutrition provided by an Ava recipe.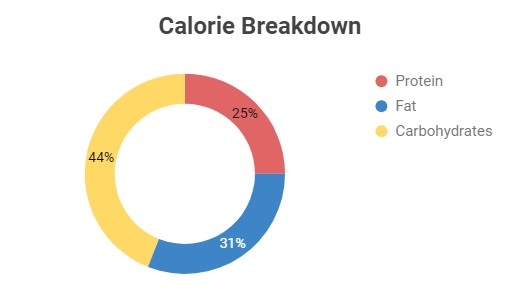 Ava wet dog food provides a more satisfactory nutritional profile, which includes a higher proportion of protein and fat than dry recipes. However, this is the norm, so it makes it less impressive.
Cat Food
The nutrition provided by Ava cat food is mixed. Ava dry cat food has a notable portion of carbohydrates, which is not in line with a cat's natural diet.
However, Ava's wet cat food has a satisfactory nutrition profile, which consists of a very high portion of protein and fat and minimal carbohydrates.
Ava Ingredients
High-Quality Meat & Fish Ingredients
Chicken
Salmon
Lamb
Whitefish
Meat and fish ingredients such as Chicken and Salmon are staples of the dog and cat food world and feature in recipes by almost every brand on sale.
These ingredients are affordable but can provide high proportions of protein and fat, which should be at the core of every dog's and cat's diet.
Ingredients like Lamb and Whitefish are less common than Chicken and Salmon but are not overly rare. While the nutrition offered by these ingredients differs slightly, it is not necessarily inferior.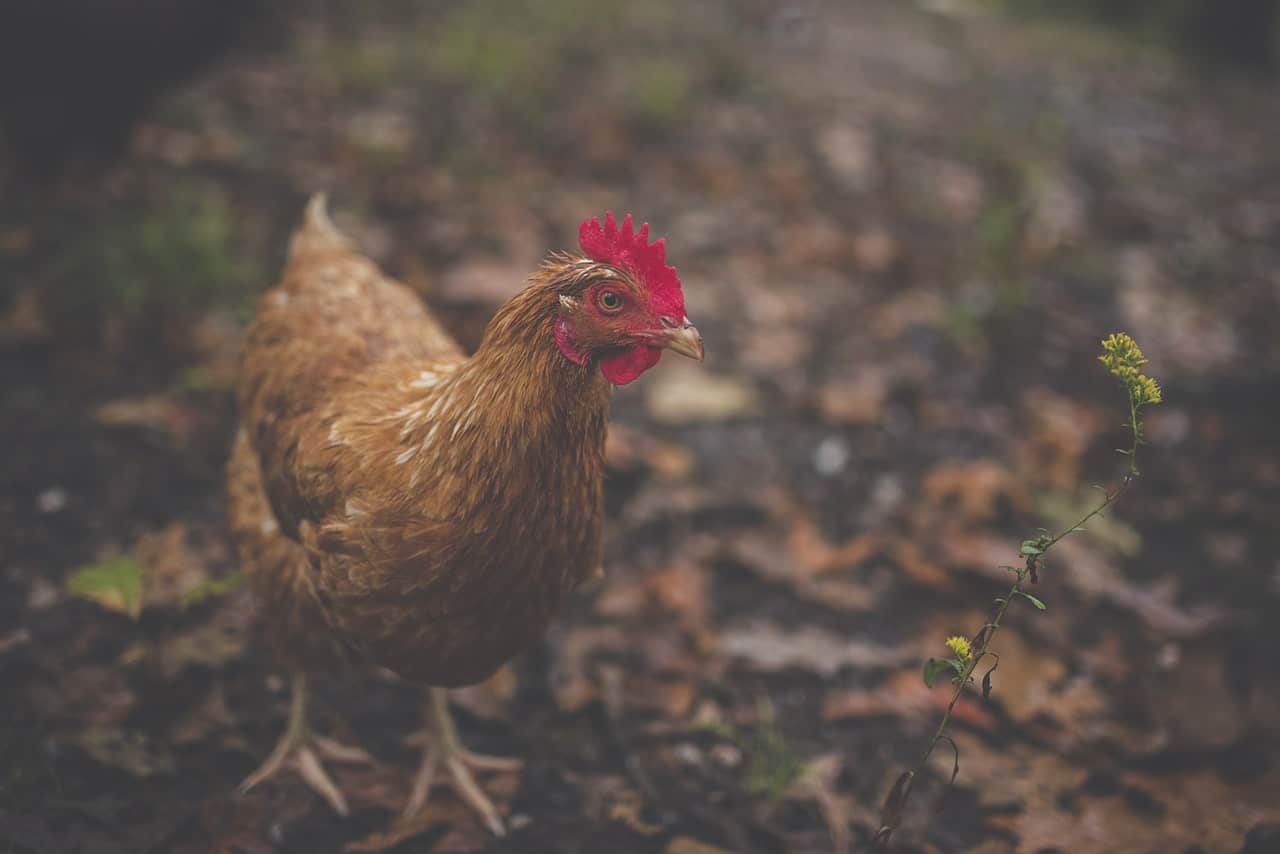 Ava does not have any recipes that use very uncommon meat and fish ingredients such as Rabbit or Venison. This absence is almost certainly because they wish to keep their products price competitive. To learn more about these ingredients and why they are used in dog food, check out the below articles.
Best Hypoallergenic Dog Foods Guide
Other Notable Ingredients
Brown Rice and Maize are both grain ingredients, and they feature in select Ava recipes. These ingredients provide carbohydrates, fiber, and some vitamins and minerals. Many believe that grains do not belong in dog food and that they are used as cheap fillers.
However, in moderation, grains can be acceptable, especially superior grains such as Brown Rice and Oatmeal.
Grains such as these are preferred to others as they can more consistently provide additional nutrition beyond their carbohydrate content, and they are less processed.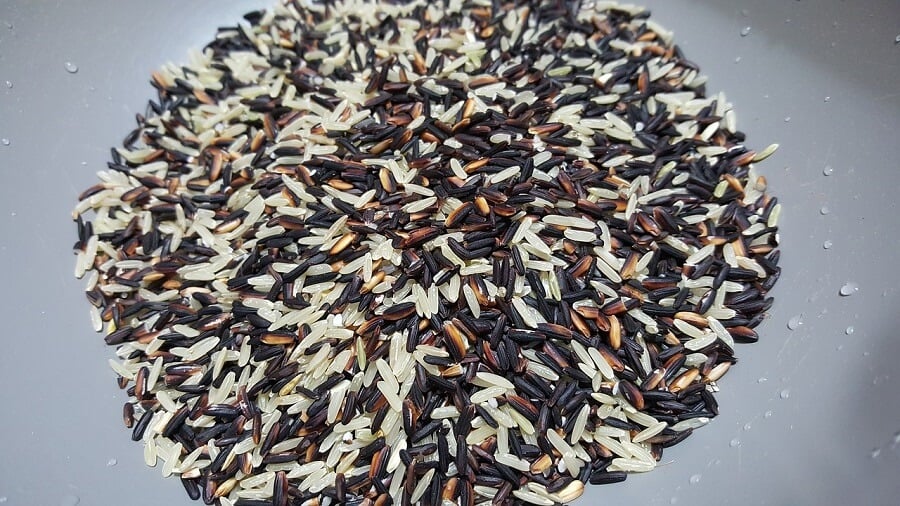 Beet Pulp is found in some Ava recipes, and its primary purpose in dog food is as a source of soluble fiber. However, beyond its fiber content, it adds very little nutrition.
Many believe that Beet Pulp is not a positive addition if it is in high proportions, but it appears to be used in quite small portions in Ava recipes.
Learn more about Beet Pulp in our article Dried Beet Pulp In Dog Food.
Chicken Fat is found in some Ava recipes. Chicken Fat is regularly added to pet food recipes, even if the main ingredient isn't Chicken.
This is because Chicken Fat is an affordable ingredient and can easily enhance the flavor of a recipe and boost its overall levels of animal-based fat.
Read more about Chicken Fat in our article, Chicken Fat In Dog Food.
Some Ava recipes contain the starch ingredient Tapioca. Tapioca is not well known in the western world but is popular in areas of the world like South America. It provides very similar nutrition to other starches like Potatoes.
We recommend you read our article Tapioca In Dog Food for more information.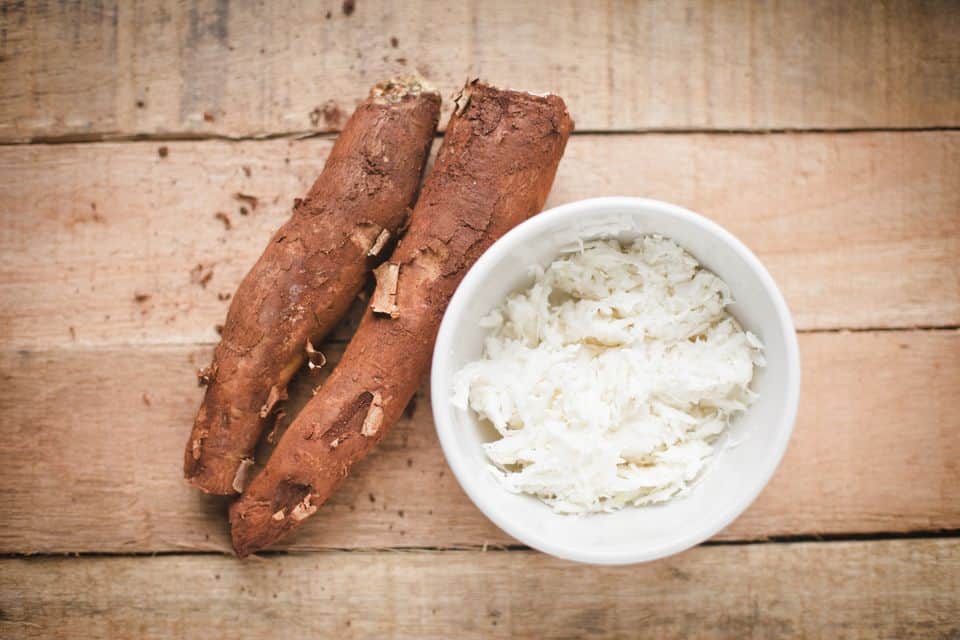 Salmon Oil is a regular addition to dog food and is used to add beneficial fatty acids, such as the Omega Fatty Acids.
Many believe that these fatty acids can provide several health benefits, such as improved cognitive function and an improvement in the health of a dog/cat's skin, fir, or coat.
Salmon Oil is an easy way to provide this nutrient, and so it is used by many brands.
Brewer's Yeast is a by-product of the brewing industry. It is a regular addition to many dog food recipes as it is believed it can have positive health benefits as well as provide some vitamins and minerals.
Learn more about Brewer's Yeast in our article Brewers Yeast In Dog Food.
Ava Animal Testing
We have no information on what type of testing Ava participates in and whether any of this testing is invasive or laboratory-style.
We strongly believe that laboratory or invasive testing of animals for pet food is a cruel and outdated practice and one that should be eliminated or severely reduced.
Ava Recalls
Sadly, based on our research (FDA, AVMA, DogFoodAdvisor),  Ava is not a recall-free brand pet food brand and has undergone several recalls in the past.
We are aware of the following recalls that affected Ava products.
In June 2021, several dry cat food recipes from Ava were recalled due to an increased rate of the bone marrow condition Pancytopenia. However, this recall was precautionary, and there is not a definitive link between the food and the disease.
Pancytopenia is a serious risk and can cause a cat's blood cell count to drop in a short space of time, which can then lead to illness or even death. At least 40 to 50 cats that ate the suspected food were found to have been affected and experienced health issues.
However, the actual number is likely to be much larger, as many pet owners are unaware of health issues or blame other causes.
This recall didn't just affect recipes from Ava but also others produced by Fold Hill Foods, which includes recipes from Applaws and Sainsbury's.
The specific Ava recipes that were a part of this recall are shown below.
Ava Kitten Chicken 300g and 2kg
Ava Adult Chicken 300g, 2kg and 4kg
Ava Adult Fish 2kg
Ava Mature Chicken 7+ 2kg and 4kg
Ava Senior Chicken 12+ 2kg
Ava Sensitive Skin & Stomach 1.5kg
Ava Weight Management 1.5kg
Ava Hairball 1.5kg
Ava Oral Care 1.5kg
Ava British Shorthair 1.5kg
Ava Persian 1.5kg
Ava Maine Coon 1.5kg
In February 2017, Four Ava cat food recipes (AVA Mature Cat Chicken (2kg), AVA Mature Cat Chicken (4kg), AVA Senior Cat Chicken 2kg, and AVA Adult Cat Neutered Indoor (1.5kg)) were recalled after some cats exhibited symptoms of sudden collapse, fitting, widespread twitching, and general unsteadiness.
After further testing and investigation of the products that these cats were consuming, it was found that the level of the Vitamin B1 was too low. However, the symptoms experienced by the affected cats are not atypical of a Vitamin B1 deficiency.
Thankfully all the cats that were affected or became unwell because of this issue recovered and had no long-term adverse effects.
The above recall showcases how a small imbalance or inaccuracy can have serious effects. We hope that Ava and Pets At Home are more vigilant and careful of issues such as this in the future.
We always recommend that pet owners remain vigilant of any future recalls from Ava or any other pet food brand to help ensure that their pets remain safe and healthy.
Best of Ava
Dog Food
Veterinary Approved Medium Breed Adult Chicken Recipe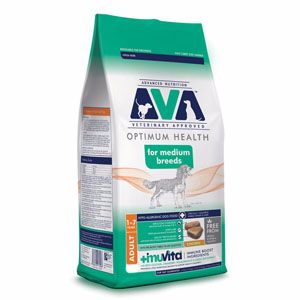 We selected Ava's Adult Chicken recipe as our favorite, thanks to the very high proportion of Chicken it contains. This is a mix of Chicken Meal, Fresh Chicken, Chicken Fat, and Chicken Gravy.
These Chicken ingredients contribute to a high proportion of animal-based protein and fat, which should be at the core of every dog food recipe. These nutrients are crucial to enable a dog to repair, build, and maintain its body and muscles.
The recipe's other core ingredients are Brown Rice and Maze. These grain ingredients provide carbohydrates and some dietary fiber.
While some dog owners may not be a fan of grains, these grains are considered by some to be superior to others, like White Rice, Wheat, or Corn.
Finally, the recipe contains some minor ingredients such as Beet Pulp, Salmon Oil, and Brewers Yeast.
These ingredients are included to provide additional nutrition such as Fiber, Vitamins, and Minerals. All three of these ingredients are commonly found in dog food and should not be feared.
Cat Food
Veterinary-Approved Adult Fish Recipe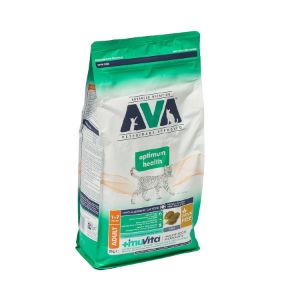 The primary motivation behind our selection of Ava's Adult Fish recipe is the substantial proportion of both fish and Chicken that it contains. When combined, they make up over 58% of the recipe's total contents, which is far above average.
The fish used in the recipe is Salmon, which is a regular feature in many cats and dog food recipes.
Salmon is known to provide a larger than average quantity of the Omega 3 Fatty Acids. These fatty acids are believed to offer many health benefits.
The bulk of the remaining contents of the recipe are Tapioca and Potatoes. These two starch ingredients provide carbohydrates and a limited amount of other nutrients, such as fiber, vitamins, and minerals.
While in an ideal world, cats would not consume such ingredients, the overall proportion of these is relatively low, especially when compared to competitors' recipes.
Ava Featured Articles
Ava is not currently featured in any of our articles.
Ava Full Product Range
Dry Dog Food
Medium Breed Puppy Chicken Recipe
Small Breed Adult Chicken Recipe
Small Breed Senior Chicken Recipe
Medium Breed Adult Chicken Recipe
Medium Breed Senior Chicken Recipe
Large Breed Adult Chicken Recipe
Large Breed Senior Chicken Recipe
Small Breed Puppy & Adult Chicken Recipe
Medium Breed Puppy & Adult Chicken Recipe
Large Breed Puppy & Adult Chicken Recipe
Large Breed Junior Chicken Recipe
Sensitive Skin & Stomach Adult Recipe
Weight Management Medium Breed Chicken Recipe
Wet/Canned Dog Food
Veterinary Approved Adult With Chicken and Lamb
Veterinary Approved Adult With Chicken
Veterinary Approved Mature With Chicken
Veterinary Approved Mature With Chicken and Lamb
Veterinary Approved Sensitive Skin and Stomach Adult With Whitefish
Veterinary Approved Sensitive Skin and Stomach Adult With Whitefish and Salmon
Veterinary Approved Weight Management Adult With Chicken
Veterinary Approved Weight Management Adult With Chicken and Whitefish
Veterinary Approved Puppy With Chicken
Veterinary Approved Puppy With Chicken and Lamb
Breed Health Chicken – Yorkshire Terrier
Breed Health Fish – Shih Tzu
Breed Health Chicken – Cavalier King Charles Spaniel
Breed Health Chicken – Chihuahua
Breed Health Fish – Pug
Breed Health Fish – Border Terrier
Dry Cat food
Hairball Grain Free Adult Recipe
Indoor/Neutered Grain Free Adult Recipe
Oral Health Grain Free Adult Recipe
Grain Free Senior Recipe
Grain Free Mature Recipe
Grain Free Adult Chicken Recipe
Grain Free Adult Fish Recipe
Sensitive Skin & Stomach Grain Free Adult Recipe
Weight Management Grain Free Adult Recipe
Wet/Canned Cat Food
Veterinary Approved Mature Chicken Recipe
Veterinary Approved Kitten Chicken Recipe
Veterinary Approved Adult Chicken Recipe
Veterinary Approved Senior Chicken Recipe
Veterinary Approved Sensitive Skin and Stomach Fish Recipe