Friskies Information
Friskies is an extremely popular and well-known cat food brand that is owned by the huge pet food conglomerate Purina. 
Not only is it one of the most popular brands, but it is also one of the oldest, and its roots date back to 1934. In the following decades, the brand evolved and was eventually bought out by Nestle (the owner of Purina) in 1985.
Given that Friskies is a Purina brand, its recipes are produced at dedicated Purina facilities or partner facilities in the United States, and to the best of our knowledge, no Friskies recipes are produced outside of the United States.
Friskies is most commonly found at large retail pet food and grocery stores such as Walmart, PetSmart, PetCo, Tractor Supply, and more.
This is not surprising given that Friskies is aimed at a lower price point than most other cat food brands.
However, you can also purchase Friskies online at several of the large online pet food websites such as Chewy and Amazon.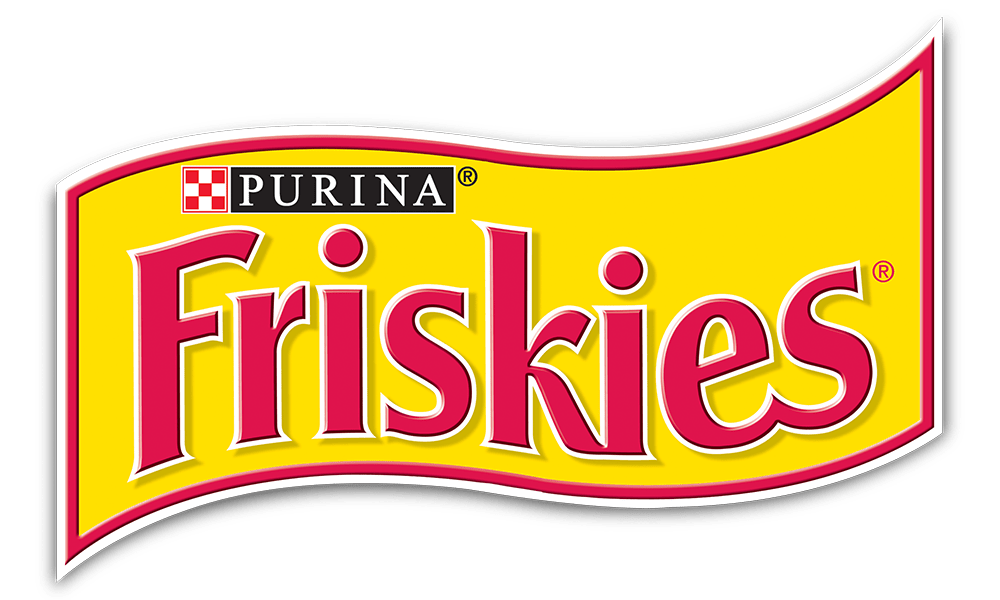 Friskies Product Range
Friskies has a sizeable product range, especially when compared to most cat food brands. The bulk of their recipes are wet/canned cat food, but they also produce some dry cat food, cat food toppers, and cat treats.
The wet/canned cat food range from Friskies comes in various forms that standard throughout the industry, including 'in gravy' recipes, flaked recipes, and pate recipes.
Given the size of their product range, Friskies does not produce many specialized recipes. However, they do have a single recipe aimed at senior cats and another aimed at indoor cats.
Friskies Nutrition
Given that the bulk of Friskies recipes are wet/canned cat food, the nutrition they offer is satisfactory and contains a sufficient proportion of protein and fat along with moderate proportions of carbohydrates.
However, compared to more premium wet/canned cat food recipes from other brands, the nutrition offered by Friskies is not usually as impressive.
Below is an example of the nutrition provided by a Friskies wet cat food recipe.
As for Friskies dry cat food, the nutrition it offers is poor and is below-average compared to most other cat food brands. The recipes contain a high proportion of carbohydrates and relatively low proportions of protein and fat.
If you are interested in learning more about feline nutrition and what it means to be an obligate carnivore, head on over to our Cat Food Guide.
Friskies Ingredients
High-Quality Meat & Fish Ingredients
Chicken
Turkey
Beef
Tuna
Crab
Whitefish
Salmon
Given the size of Friskies product range, they use a surprisingly small range of high-quality meat and fish ingredients, including the above.
All of these ingredients are high-quality sources of animal or fish-based protein and fat, which should be at the center of every cat's diet.
Many of the meat ingredients used by Friskies are industry favorites and are used by almost all brands. Prime examples of these include Chicken, Turkey, Tuna, and Salmon.
These ingredients are so popular among pet food manufacturers as they are relatively affordable, easy to source, and can provide high-quality nutrition.
Select Friskies recipes make use of organ meat in the form of Liver. Organ meat ingredients such as the liver can be excellent additions to cat food recipes by enhancing the flavor and supplementing beneficial vitamins and minerals.
Other Notable Ingredients
Sadly, Friskies makes extensive use of unnamed or vague-sounding meat and fish ingredients such as Meat By-Products, Fish, Poultry, Poultry By-Products, Meat, and Bone Meal.
While it is true that these ingredients can provide valuable nutrition to cats, they are extremely unaccountable and lack transparency. It is not clear to cat owners what these ingredients are made up of, and the manufacturer could easily change their constituents without consultation or notice. 
Ingredients like Poultry or Poultry By-Products are not quite as vague as others and are likely sourced from Chicken or Turkey, but the fact that Friskies still names them as such is concerning.
Friskies makes extensive use of grain ingredients and has one of the largest range of grain ingredients we've seen to date. This includes Wheat Gluten, Soy Flour, Corn Starch Modified, Brown Rice, Rice, Corn, Corn Gluten Meal, Soybean Meal, and Ground Wheat, to name a few.
Grain ingredients like these can be extremely controversial additions to any pet food recipe, with many being strongly against their use.
However, there are strong supporters of grains, especially from pet owners that have always fed Purina recipes.
These grain ingredients are dense sources of nutrition that come in the form of carbohydrates, plant-based protein, fiber, and more.
Several of the grain ingredients used by Friskies are even more controversial than others, including Wheat and Soy-based ingredients. Many in the industry, including leading brands, do not believe these should be used in pet food, especially cat food.
Several of Friskies dry cat food recipes utilize Beef Fat which is also known as Beef Tallow. Beef Fat is not as common of an addition to cat food as Chicken Fat but still sees some use in the industry.
Beef Fat can greatly increase the flavor and palatability of a cat food recipe as well as boost the levels of animal-based fat.
Lastly, some of Friskies' wet/canned cat food recipes utilize binding agents such as Guar Gum. Binding agents are used throughout the industry to help bind the ingredients of a recipe together in a consistent texture and appearance.
Outside of this binding property, Guar Gum provides little to no nutrition to cats. 
Friskies Animal Testing
At this time, we have no information on whether Friskies participates in invasive or laboratory testing of animals.
However, given that Friskies is a Purina brand, they likely follow the same testing procedures and feed trials as other Purina brands perform.
We strongly believe that laboratory or invasive testing of animals is a cruel and outdated practice. We hope that in the future, it will be eliminated.
Friskies Recalls
Based on our research (FDA, AVMA, DogFoodAdvisor), Friskies has issued recalls in its past and is, therefore, not a recall-free cat food brand.
In June 2011, Friskies issued a recall due to Potential Salmonella Contamination. Salmonella Contamination is a regular cause of recalls in the pet food industry, and for good reason.
Salmonella can affect both humans and animals, which means it is crucial that the risks of any contamination are quickly addressed.
However, this recall only affected a small range of Friskies products, specifically the Friskies Grillers Blend dry cat food recipe in 3.15lb and 16lb bags with best-by dates of August 2012.
Since 2011, Friskies has remained recall-free, which is somewhat impressive given the sheer size of the brand and the volume of cat food they produce and sell.
Despite this, we always suggest that pet owners remain vigilant of any future recalls of Friskies or any other pet food brand.
Best of Friskies
Farm Favorites Chicken, Carrots & Spinach Review
ㅤ
As we mentioned earlier, Friskies has a relatively limited range of dry cat food recipes, but from this range, the Farm Favorites Chicken recipe is by far our favorite.
While most of Friskies recipes utilize unnamed meat ingredients like Meat By-Products, this recipe utilizes a large portion of Chicken By-Product Meal with a smaller portion of Chicken.
These named Chicken ingredients can act as dense sources of nutrition for cats and provide them with animal-based protein and fat.
Outside of these Chicken ingredients, the recipe includes a portion of several grain ingredients, including Corn, Corn Gluten Meal, Soybean Meal, and Ground Wheat.
These grain ingredients provide a sizable portion of carbohydrates along with some plant-based protein, fiber, and other micronutrients. 
Salmon Dinner Pate Review
ㅤ
However, there is no shortage of wet/canned cat food recipes from Friskies, which makes choosing a recipe to recommend very difficult.
We've gone with one of their Pate recipes thanks to its impressive nutrition and above-average ingredient list.
For starters, most Friskies recipes contain very little named meat ingredients and often use alternatives. However, this Salmon Dinner recipe has a sizable portion of Salmon which is an improvement from the rest.
Salmon is one of the best fish ingredients to find in cat food and can provide high-quality protein and fat along with high levels of the Omega 3 Fatty Acids.
This Salmon is joined by a portion of Meat By-Products, Poultry By-Products, and Fish to provide a very satisfactory proportion of meat and fish-based protein and fat, coming in at a minimum of 10% and 5%, respectively.
Outside of this meat and fish content, the recipe includes a small portion of Rice which provides some carbohydrates and fiber.
Friskies Featured Articles
The 8 Worst Cat Foods – In this article, we discuss some of the worst cat food brands available in the United States.
Sadly for Friskies, they feature in this article, and for a good reason.
Check this article out if you'd like to know what other brands we've chosen to highlight as some of the worst in the industry.
Friskies Full Product Range
Dry Cat Food
Farm Favorites Chicken, Carrots & Spinach
Gravy Swirlers
Indoor Delights
Ocean Favorites
Seafood Sensations
Surfin & Turfin Favorites
Tender & Crunchy Combo
Wet/Canned Cat Food
Wild Favorites Mini Bites With Natural Wild Caught Tuna and Sweet Potato In Sauce
Wild Favorites Mini Bites With Natural Wild Caught Sardines and Kale In Sauce
Wid Favorites Mini Bites With Natural Wild Caught Cod and Kale In Sauce
Wild Favorites Mini Bites With Natural Wild Caught Haddock and Sweet Potato In Sauce
Warm'd & Serv'd Grill'd Bites With Shrimp In Gravy
Warm'd & Serv'd Grill'd Bites With Tuna In Gravy
Warm'd & Serv'd Grill'd Bites With Salmon In Gravy
Warm'd & Serv'd Grill'd Bites With Chicken In Gravy
Farm Favorites Meaty Bits Turkey & Carrots In Gravy
Farm Favorites Meaty Bits Whitefish & Spinach In Gravy
Farm Favorites Pate Chicken & Carrots
Farm Favorites Pate Salmon & Spinach
Extra Gravy Chunky With Beef In Savory Gravy
Extra Gravy Chunky With Chicken In Savory Gravy
Extra Gravy Chunky With Salmon In Savory Gravy
Extra Gravy Chunky With Turkey In Savory Gravy
Extra Gravy Pate With Salmon IN Savory Gravy
Extra Gravy Pate With Tuna In Savory Gravy
Extra Gravy Pate With Turkey In Savory Gravy
Extra Gravy Pate With Chicken In Savory Gravy
Flaked With Tuna & Egg
Flaked With Tuna
Gravy Sensations With Tuna In Gravy
Gravy Sensations With Turkey & giblets In gravy
Gravy Sensations With Beef & Chicken In Gravy
Gravy Sensations With Chicken In Gravy
Gravy Sensations With Ocean Whitefish & Tuna In Gravy
Gravy Sensations With Salmon In Gravy
Indoor Chunky Chicken & Turkey Casserole With Garden Greens In Gravy
Indoor Flaked Ocean Whitefish Dinner With Garden Greens In Sauce
Indoor Homestyle Turkey Dinner With Garden Greens In Gravy
Indoor Pate Chicken Dinner With Garden Greens
Indoor Pate Salmon Dinner With Garden Greens
Indoor Saucy Seafood Bake With Garden Greens
Meaty Bits Chicken Dinner In Gravy
Meaty Bits Gourmet Grill In Gravy
Meaty Bits With Beef In Gravy
Ocean Favorites Meaty bits Salmon, Shrimp & Brown Rice In Sauce
Ocean Favorites Meaty Bits Tuna, Crab & Brown Rice In Sauce
Ocean Favorites Salmon, Brown Rice & Peas Pate
Ocean Favorites Tuna, Brown Rice & Peas Pate
Pate Chicken & Tuna Dinner
Pate Country Style Dinner
Pate Liver & Chicken Dinner
Pate Mariner's Catch
Pate Mixed Grill
Pate Ocean Whitefish & Tuna Dinner
Pate Poultry Platter
Pate Salmon Dinner
Pate Sea Captain's Choice
Pate Seafood Entree
Pate Supreme Supper
Pate Turkey & Giblets Dinner
Prime Filets Chicken & Tuna Dinner In gravy
Prime Filets Turkey Dinner In Gravy
Prime Filets With Beef In Gravy
Prime Filets With Chicken In Gravy
Prime Filets With Ocean Whitefish & Tuna In Sauce
Prime filets With Salmon & Beef In Sauce
Shreds Chicken & Salmon Dinner In Gravy
Shreds Turkey & Cheese Dinner In Gravy
Shreds With Beef In Gravy
Shreds With Chicken In Gravy
Shreds With Ocean Whitefish & Tuna In Sauce
Shreds With Salmon In Sauce
Shreds With Turkey & Giblets In Gravy
Shreds With Whitefish & Sardines In Sauce
Stuf'd & Sauc'd Blast'n With Tuna & Simmer'd In Sauce
Stuf'd & Sauc'd Jamm'n With Salmon & Shrimp & Simmer'd In Sauce
Stuf'd & Sauc'd Jump'n With Turkey & Dripp'n In Gravy
Stuf'd & Sauc'd Kick'n With Chicken & Dripp'n In Gravy
Tasty Treasures Accented With Real Bacon Turkey Dinner
Tasty Treasures Accented With Real Bacon Ocean Fish
Tasty Treasures Accented With Real Bacon Chicken & Tuna Dinner
Tasty Treasures Accented With Real Bacon Chicken Dinner
Tasty Treasures Pate With turkey & Chicken With Liver
Tasty Treasures Pate With Ocean Fish And Scallop Flavor
Tasty Treasures Pate With Chicken & Ocean Fish And Scallop Flavor
Tasty Treasures Pate With Beef With Liver
Tasty Treasures Prime Filets With Turkey In Gravy With Liver
Tasty Treasures Prime Filets With Ocean Fish & Tuna In Sauce And Scallop Flavor
Tasty Treasures Prime Filets With Chicken & Tuna In Gravy And Scallop Flavor
Tasty Treasures Prime Filets With Chicken In Gravy With Liver
Cat Toppers
Lil' Gravies Roast Beef Flavor
Lil' Gravies Roasted Chicken Flavor
Lil' Gravies Roasted Turkey Flavor
Lil' Gravies Savory Salmon Flavor
Lil' Grillers Seared Cuts With Chicken In Gravy
Lil' Grillers Seared Cuts With Ocean Fish In Gravy
Lil' Grillers Seared Cuts With Tuna In Gravy
Lil' Grillers Seared Cuts With Turkey In Gravy
Lil' Slurprises With Flaked Tuna In A Dreamy Sauce
Lil' Slurprises With Surimi Whitefish In A Dreamy Sauce
Lil' Slurprises With Saltwater Shrimp In A Dreamy Sauce
Lil' Slurprises With Shredded Chicken In A Dreamy Sauce
Lil' Soups Senior Formula With Skipjack Tuna In A velvety Tuna Broth
Lil' Soups With Chicken & Butternut Squash In A Velvety Broth
Lil' Soups With Flaked Chicken In A Velvety Tuna Broth
Lil' Soups With Shrimp In A Velvety Chicken Broth
Lil' Soups With Sockeye Salmon In A Velvety Chicken Broth
Lil' Soups With Tuna In A Velvety Chicken Broth
Cat Treats
Party Mix Beachside Crunch
Party Mix California Crunch
Party Mix Cheezy Craze Crunch
Party Mix Chicken Lovers Crunch
Party Mix Chicken Waffle Crunch
Party Mix Gravy-Licious Turkey & Gravy Crunch
Party Mix Lobster & Mac 'N' Cheese Crunch
Party Mix Meow Luau Crunch
Party Mix Morning Munch Crunch With Egg, Bacon & Cheese Flavors
Party Mix Natural Yums Catnip
Party Mix Natural Yums With Real Pumpkin
Party Mix Natural Yums With Real Tuna
Party Mix Natural Yums With Real Chicken
Party Mix Natural Yums With Real Salmon
Party Mix Original Crunch
Party Mix Picnic Crunch
Party Mix Seafood Lovers Crunch
Party Mix Treasure Crunch
Party Mix Wild West Crunch