Montego Information
Montego is a large South African pet food brand. Montego has been in operation for over twenty years and has grown significantly over this time period to be one of the largest pet food brands in South Africa.
They have a number of sub-brands, including Monty & Me, Wuma!, Classic, Karoo, Field And Forest, Bag O Wags, and Sauce.
This page discusses Monty & Me, Wuma!, Montego Classic, and Karoo.
Field And Forest is covered on its own separate page, which you can find here.
Montego Product Range
Dog Food
Between the Montego sub-brands, there is a moderate range of products available. 
However, all the Montego brands seem to follow the same template and offer a mix of puppy recipes, adult recipes, and senior recipes.
This offers some advantages as it may make it easier to transition a puppy to the adult version of the recipe as they age up.
Cat Food
The range of cat food products available from Montego is significantly smaller than the dog food range.
Despite this, there is still some variety, and Montego offers both Kitten and Senior cat food recipes.
Montego Nutrition
Dog Food
The nutrition offered by Montego recipes tends to be quite poor and ranges from below-average to slightly above-average.
This includes moderate proportions of protein and fat and an excessive proportion of carbohydrates.
However, the Field and Forest brand from Montego does offer a better nutritional profile. You can check the brand here.
Cat Food
The nutrition offered by Montego cat food is similar to their dog food in that it is poor. It is usually below-average to average and includes moderate proportions of protein and fat and a very excessive proportion of carbohydrates.
It is important that cats do not consume too high a proportion of carbohydrates as they are obligate carnivores. Obligate carnivore means that they do not need to consume plant-based material and should consume meat and fish.
Montego Ingredients
High-Quality Meat & Fish Ingredients
Chicken
Pork
Lamb
Kangaroo
Montego uses a relatively small range of high-quality meat and fish ingredients, which includes the above. These ingredients are often in meat meal form, which means they have had their moisture removed in advance.
While some consumers are afraid of meat meals, they shouldn't be. They can be an incredibly dense source of nutrition.
Other Notable Ingredients
Some Montego recipes make use of an ingredient described as Meat and Animal Derivatives. This is particularly concerning as this ingredient is incredibly vague and untraceable. Un-named meat and fish ingredients are widely considered to be low-quality ingredients by almost all in the industry.
Select Montego recipes also contain Vegetable Protein Extracts. These are by-products of some vegetables that can provide a high level of protein. Named versions of these ingredients are usually considered to be low-quality, and the un-named version such as these may cause even more worry.
Montego uses a small range of grain ingredients in its recipes. Examples of these include Corn, Wheat Bran, Rice, and Cereals. Most of these ingredients are not considered to be the ideal or best grain ingredients available. This is as they are very dense sources of carbohydrates and provide little additional nutrition. 
Canola Meal
Chicken Fat is a common addition to pet food. It is used to boost the level of animal fat in a recipe as well as enhance flavor. Chicken Fat is chosen over other fats as it is relatively inexpensive. Read more about Chicken Fat in our article, Chicken Fat In Dog Food.
Beet Pulp
Brewers Yeast
Montego Animal Testing
We have no information on what type of animal testing, if any, that Montego participates in.
We strongly believe that invasive or laboratory-style testing of animals is a cruel and outdated practice and one which we hope will be eliminated.
Montego Recalls
Based on our research (FDA, AVMA, DogFoodAdvisor), it seems that Montego has issued recalls in the past and is not a recall-free brand.
Montego issued a recall in 2019 related to the presence of mold in select recipes. They stated that as much as 3% of the food they had produced during a select period was more susceptible to mold than normal.
You can read Montego's full statement here.
This incident caused heated discussion and was mentioned on multiple online news sites and on tv news.
Montego Featured Articles
At this time, Montego has not featured in any of our articles.
Best of Montego
Karoo All Breed Adult Review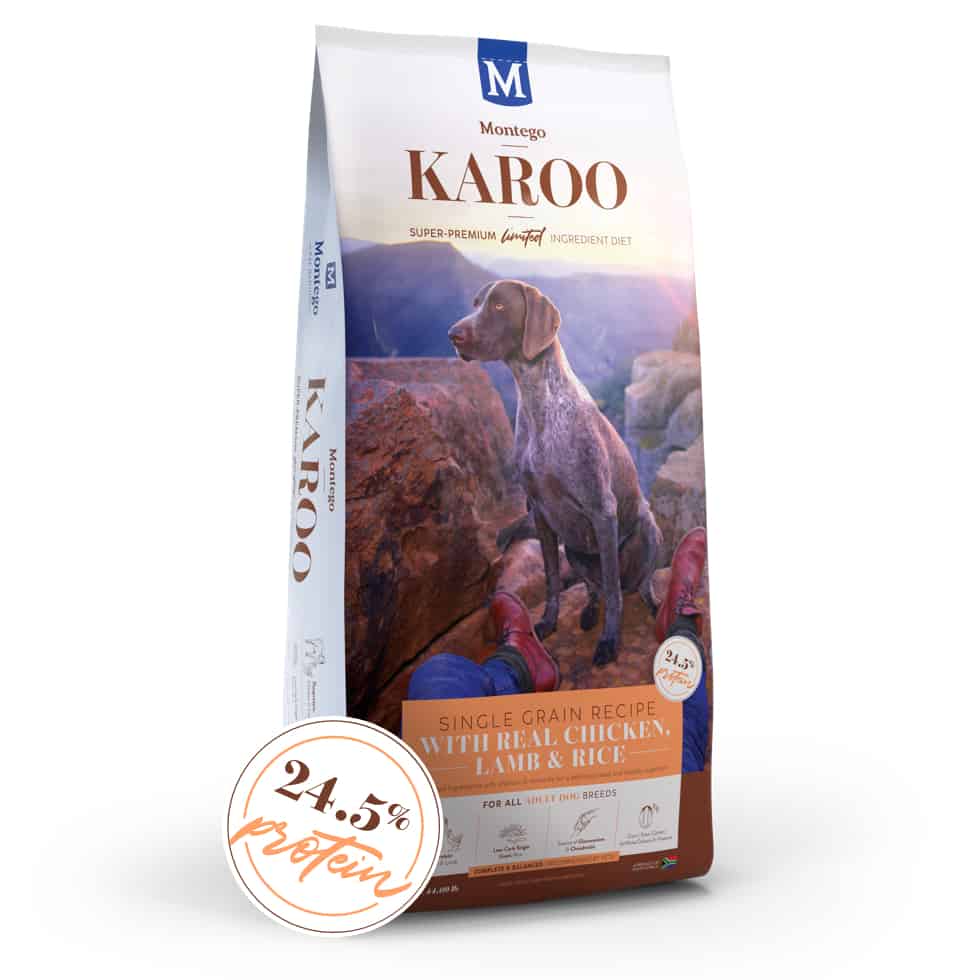 Montego Full Product Range
Monty & Me
Dog Food
All Breed Puppy
All Breed Adult
Essential All Breed Adult
Cat Food
All Breed Adult Cat
Wuma!
Dog Food
Wuma! Puppy
Wuma! Adult
Wuma! Plus
Montego Classic
Dog Food
Small To Medium Breed Puppy
Large To Giant Breed Puppy
All Breed Adult
All Breed Senior
All Breed Puppy Wet
All Breed Adult Wet
Cat Food
All Breed Kitten
All Breed Adult
All Breed Kitten Wet
All Breed Adult Wet
Karoo
Dog Food
Small To Medium Breed Puppy
Large To Giant Breed Puppy
All Breed Adult
All Breed Senior