Open Nature Information
Open Nature is a pet food brand owned and sold by Safeway stores in the United States. Open Nature was announced in 2011 and was made available to shoppers soon after.
Since then, Open Nature's product range has remained stable and hasn't seen much change or expansion.
Given that Open Nature is a store brand, it is not available for purchase from other retail pet food stores or the large online pet food websites like Chewy or Amazon.
It is not clear where Open Nature dog food is produced or if a 3rd party manufacturer produces the recipes. Many other grocery stores have their products produced by a 3rd party as they do not have their own facilities to produce pet food.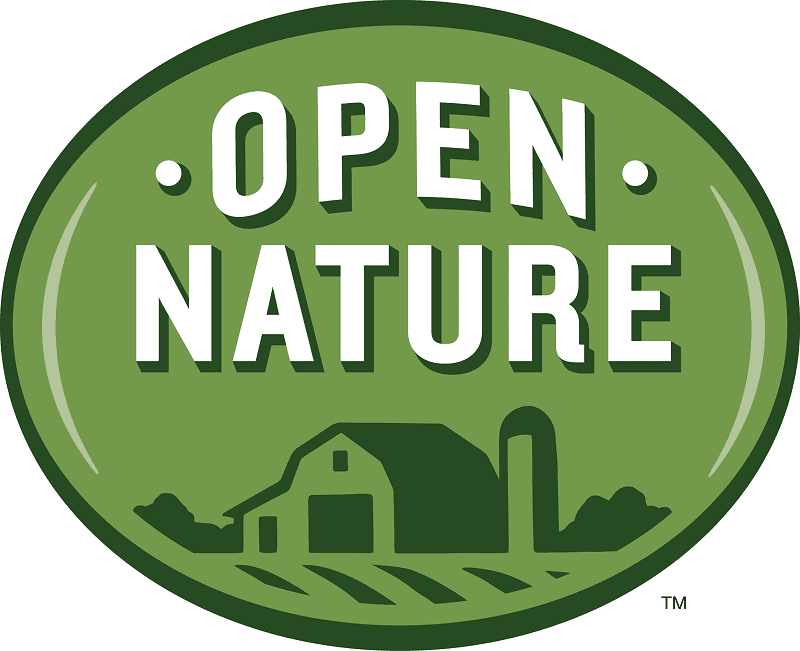 Open Nature Product Range
Dog Food
Open Nature has a modest dog food range. This range includes a mix of dry dog food and canned dog food.
The dry dog food range contains some specialty recipes, such as grain-free food, grain-inclusive food, and puppy food. Open Nature does not produce any breed-specific or size-specific dog food.
Cat Food
Open Nature's cat food range is similar to their dog food range and consists of three dry cat food recipes and six wet/canned cat food recipes.
Like the dog food range, this includes some specialty recipes, such as a recipe for kittens.
Open Nature Nutrition
Dog Food
The nutritional profile of most Open Nature recipes is not available to view on their website, which is frustrating to dog owners looking to research Open Nature dog food.
However, based on our research, the nutrition offered by Open Nature's dry dog food is sadly average at best. It includes average proportions of protein and fat and proportions of carbohydrates that are significant.
Most dogs would be better suited to a nutritional profile with higher protein and fat proportions, especially from animal sources.
However, some of Open Nature's wet dog foods offer more satisfactory nutrition that is low in carbohydrates.
Cat Food
The nutritional profile of Open Nature's dry cat food recipes is similar to their dog food recipes. They contain modest proportions of protein and fat and overly large proportions of carbohydrates.
However, Open Nature's wet/canned cat food is more promising and contains a much higher protein and fat proportion. This higher proportion is especially important for cats who are obligate carnivores.
Open Nature Ingredients
High-Quality Meat & Fish Ingredients 
Open Nature uses some of the most common meat and fish ingredients in pet food. Ingredients like Chicken and Beef are used because of their relatively low cost and high nutritional value.
Despite their low cost, pet owners should not turn their nose up at these ingredients as they are very suitable components of a dog or cat's diet.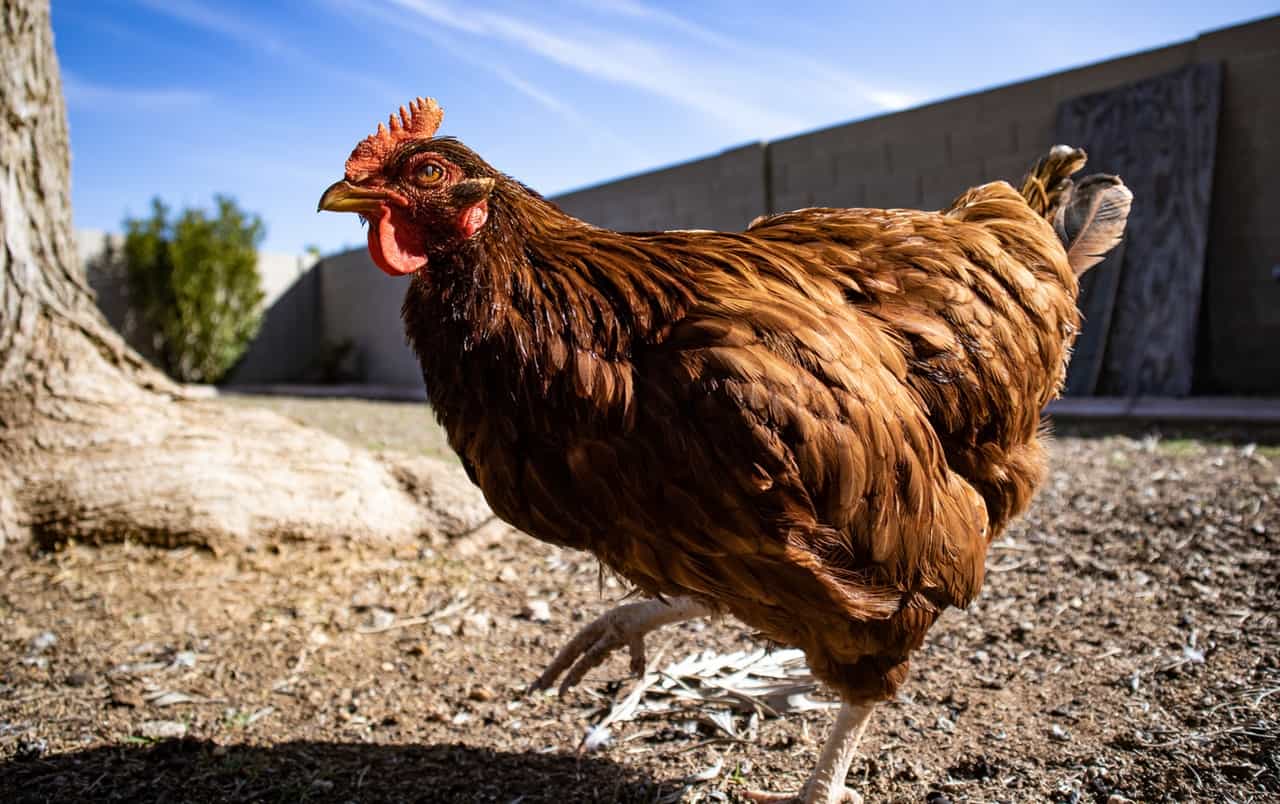 Open Nature does not use any of the less common meat and fish ingredients that are becoming popular among premium brands. Examples include Rabbit, Venison, and Kangaroo. You can learn more about these in our article Best Hypoallergenic Dog Foods Guide.
Other Notable Ingredients
Open Nature makes use of the grain Brown Rice. Grain ingredients are often controversial additions to pet food recipes, as many consider them to be processed or fillers. However, Brown Rice is considered one of the best grain ingredients that can be used in dog food.
This is thanks to the fiber and micronutrients it can provide in addition to its carbohydrate content. White Rice and other grains lack these nutrients and are therefore considered by many to be inferior.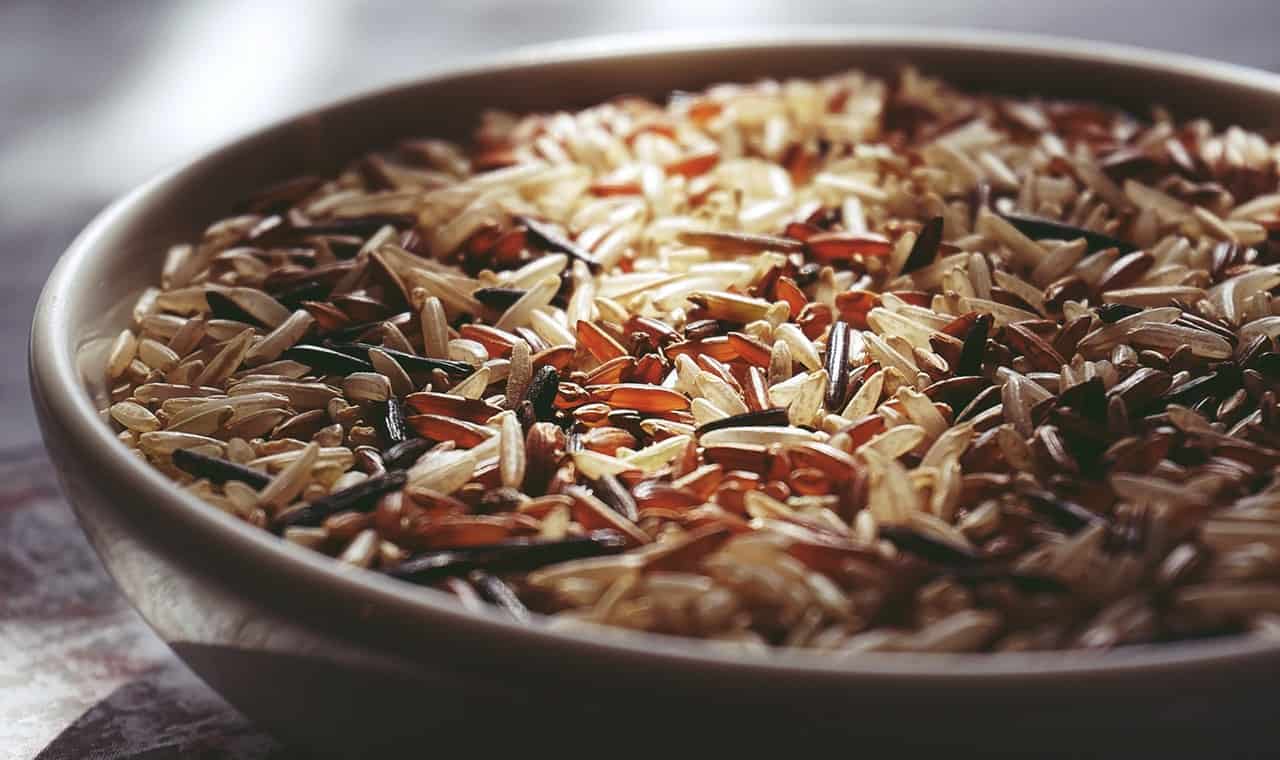 Sadly, Open Nature also makes use of some grain by-products such as Brewers Rice and Rice Bran. These grain ingredients are left over after processing and not considered to be high-quality ingredients. If they are not sold to pet food companies, they are often used in industrial animal feed.
You can learn more about these two ingredients in the following articles: Brewers Rice In Dog Food & Rice Bran In Dog Food.
Chickpeas are a legume and are a prevalent plant-based ingredient in dog food along with Lentils and Peas. They are so popular because they are relatively inexpensive and are high in plant-based protein.
However, there are some concerns about using legumes in dog food and if they can cause canine heart disease. If you want to learn more about this topic, we recommend you check our discussion here.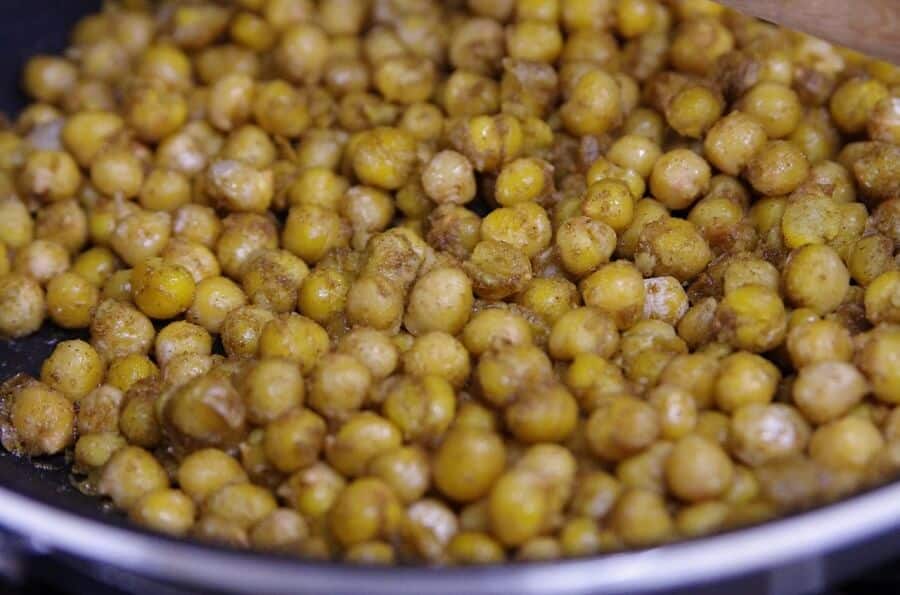 Sweet Potatoes and Potatoes are another carbohydrate-providing ingredient that features in select Open Nature recipes. Starch ingredients like these are incredibly dense sources of carbohydrates, and their portion size must be tightly controlled. Sadly, the portion size of these ingredients in some Open Nature recipes is quite significant.
Menhaden Fish Meal is found in many pet food brands' recipes, including some of the more premium brands. Menhaden Fish are caught and processed for their oils, but the fish meal leftover from this process is very nutritionally dense.
It is therefore used to boost the animal-based protein and fat content of pet food recipes. Read more about Menhaden Fish Meal in our article Menhaden Fish Meal in Dog Food.
Chicken Fat is added to pet food to boost animal-based fat levels and improve a recipe's palatability and taste. Chicken Fat is chosen for this as it is easy to source and affordable. Learn more in Chicken Fat In Dog Food.
Dried Beet Pulp is used industry-wide as a source of soluble fiber. Soluble fiber can be important to some dogs to ensure they keep regular and consistent digestion.
Outside of its fiber content, Beet Pulp provides little nutrition. Read more about Beet Pulp in Dried Beet Pulp In Dog Food.
Open Nature Animal Testing
We have no information on what type of testing Open Nature or Safeway does to test its dog food products.
We strongly believe that invasive or laboratory-style testing of animals is a cruel and outdated practice and one which we hope will be eliminated.
Open Nature Recalls
Based on our research (FDA, AVMA, DogFoodAdvisor), Open Nature products have never been recalled.
Given that Open Nature is now far from a new brand, it shows that their manufacturing processes take quality and safety seriously.
Despite this, we encourage consumers to be vigilant for any future recalls of Open Nature or any other brand.
Open Nature Features Articles
At this time, Open Nature has not been featured in any of our articles.
Best of Open Nature
Salmon & Chickpea Recipe Review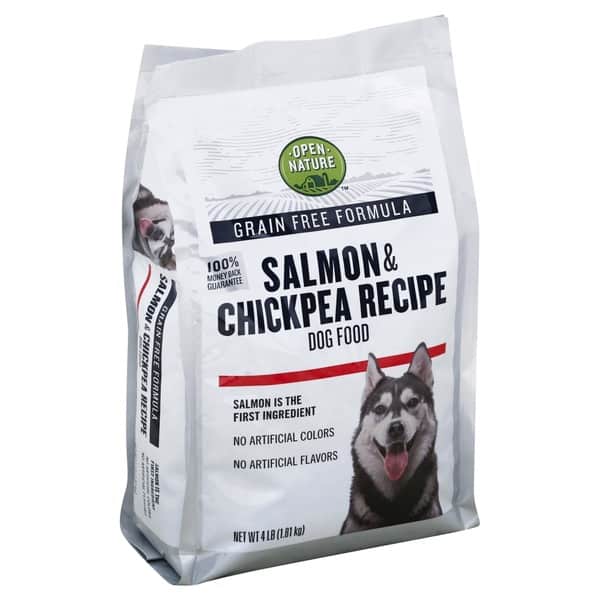 The above recipe from Open Nature is our favorite of their dry dog food range. This is as they utilize Salmon as its primary ingredient. Salmon is an excellent choice for dog food and can provide high-quality protein and fat.
It is also one of the best sources of the Omega 3 Fatty Acids, which are believed to provide several health benefits.
This Salmon is joined by a portion of Menhaden Fish Meal, which means that the overall proportion of the recipe that is fish-based is quite high.
Chickpeas, Potatoes, and Peas make up the bulk of the recipes plant-based content and provide carbohydrates, fiber, and select vitamins and minerals.
Beef & Chicken Review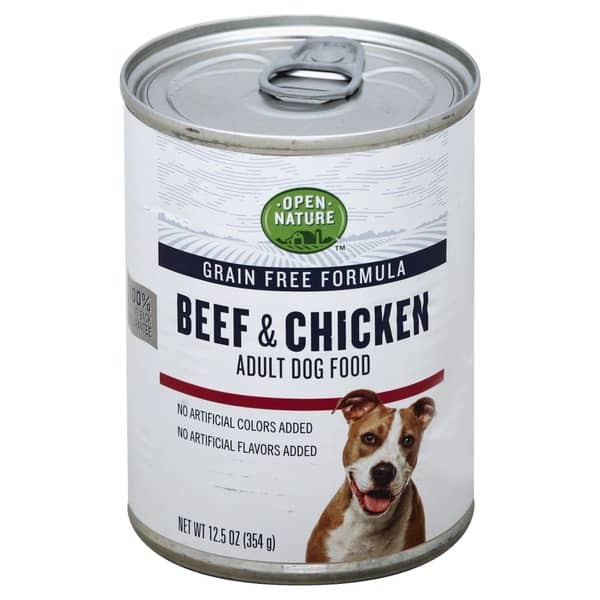 As we mentioned earlier, Open Nature's wet dog food recipes offer more satisfactory nutrition than their dry dog food recipes. The above Beef & Chicken recipe is a stellar example of this.
The vast majority of the recipe is made up of two ingredients – Beef and Chicken. This combination provides an excellent proportion of protein and fat that is suitable for the majority of dogs.
The recipe then includes a small portion of Beef Liver, which can improve the recipe's flavor and provide vitamins and minerals that are not abundant in traditional meat cuts.
The only other notable ingredients are Cassie Gum, Carrageenan, and Guar Gum, which are all binding agents and do not provide noticeable nutrition.
Adult Chicken & Chickpea Recipe Review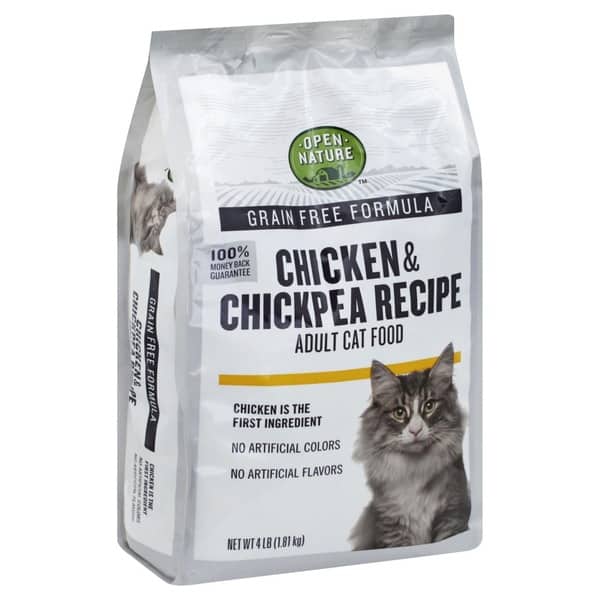 The best recipe from Open Nature's limited cat food range is the above Chicken & Chickpea recipe.
Its primary ingredients are Chicken and Chicken Meal. Many consumers are cautious about Meat Meals like Chicken Meal, but they shouldn't be. They have simply had their moisture removed, which means they are a more dense source of nutrition. This combination provides a reasonable proportion of protein and fat.
The recipe then uses a mix of Potatoes, Chickpeas, and Peas to provide carbohydrates and fiber. Cats do not need a proportion of carbohydrates this high, but it is a necessary evil to ensure that the price of cat food is not high.
Chicken & Whitefish Dinner Review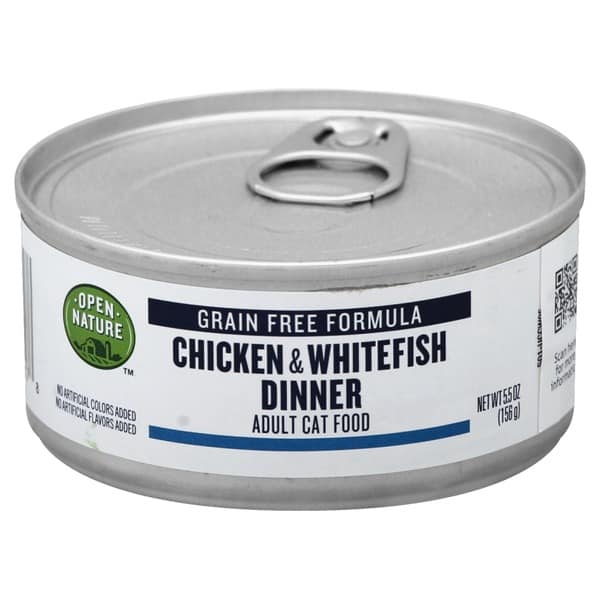 Wet cat food is an excellent choice for most cats' diets as it not only provides nutrition but much-needed moisture, which many cats struggle to take on.
The above recipe uses a mix of Chicken, Whitefish, and Egg to provide the bulk of its nutrition. This combination is high in protein and fat, which is critical for a cat's diet.
There are no significant plant-based ingredients present outside of this, which strongly aligns with a cat's natural diet.
Open Nature Full Product Range
Dry Dog Food
Salmon & Chickpea Recipe
Chicken & Chickpea Recipe
Lamb & Brown Rice Recipe
Chicken & Brown Rice Recipe
Puppy Chicken & Brown Rice Recipe
Canned Dog Food
Lamb Dinner
Beef & Chicken
Chicken
Beef & Vegetables
Dry Cat Food
Adult Chicken & Chickpea Recipe
Kitten Chicken & Chickpea Recipe
Adult Salmon & Chickpea Recipe
Wet/Canned Cat Food
Shredded Chicken Dinner
Shredded Salmon Dinner
Turkey & Salmon Dinner
Chicken & Beef Dinner
Chicken & Whitefish Dinner
Turkey & Giblets Dinner