Simply Nourish Information
Simply Nourish is an elusive brand, and there is minimal information available on them. They were founded in 1972 and are owned by American Nutrition.
Simply Nourish is only available from PetSmart and Chewy (which is owned by PetSmart. However, only a limited selection is available on Chewy, which doesn't include wet/canned dog food. The brand has occasionally been available on Amazon, but we believe this to be from unauthorized resellers.
Simply Nourish products are produced at three facilities in the United States. These facilities are in Woodland WA, Ogden UT, and Hazelton, PA.
Simply Nourish Product Range
Dog Food
Simply Nourish has a large range of dog food recipes. This range includes dry dog food and wet/canned dog food
Within this range of dry food recipes, there is some variety. There are niche recipes for puppies, large breed dogs, small breed dogs, and recipes for those with allergies or sensitivities.
Cat Food
Simply Nourish's cat food range is smaller than its dog food range but is nonetheless similar.
Simply Nourish's cat food range includes both dry cat food and wet/canned cat food.
They do produce some niche recipes but not as many as the dog food range. To date, they have products for adult cats, kittens, and senior cats.
Simply Nourish Nutrition
Dog Food
The nutrition offered by Simply Nourish dog food recipes varies significantly. Some of their recipes provide significantly above-average nutrition that is high in protein and fat, while others are loaded up with high proportions of carbohydrates.
The "Source" range is the best offered by Simply Nourish and has the most consistent nutrition.
Cat Food
The nutrition offered by Simply Nourish cat food is similar to its dog food range in that it is varied. There are some cat food recipes that offer excellent nutrition that is far above their competitors, but there are other recipes that have far too much carbohydrate content for a cat.
Simply Nourish Ingredients
High-Quality Meat & Fish Ingredients
Chicken
Turkey
Duck
Salmon
Trout
Lamb
Rabbit
Venison
Simply Nourish has a moderate range of meat and fish ingredients in its recipes. This range includes industry favorites such as Chicken, Turkey, and Salmon.
These ingredients are so popular because they are easy to source, affordable, and highly nutritious.
However, Simply Nourish does include some less common ingredients such as Rabbit and Lamb.
You can learn more about Rabbit's use in dog food in our article Best Dog Foods With Rabbit.
Other Notable Ingredients
Simply Nourish uses multiple grain ingredients in its recipes, such as Brown Rice and Oatmeal. These grain ingredients are considered to be some of the better available as they can provide additional nutrition beyond their carbohydrate content and are not processed.
Peas are the most common legume ingredient found in dog food. They are so abundant as they are easy to source, affordable, and offer appealing nutrition. However, there are links developing between the heavy use of legumes in dog food and Canine Heart Disease. Read more about this link here.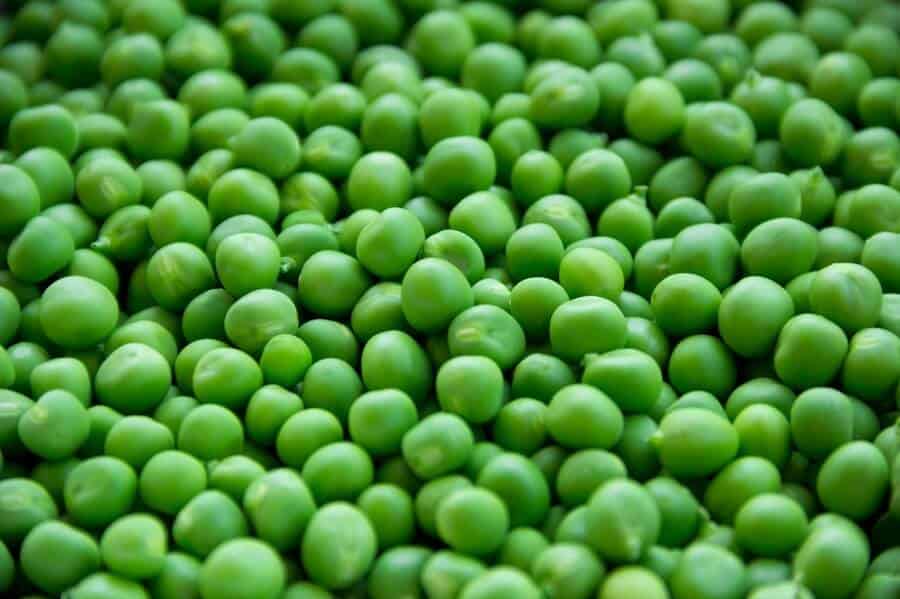 Sweet Potatoes are a starch ingredient and are very similar to traditional White Potatoes. They are an extremely dense source of carbohydrates, which means their portion size needs to be controlled. However, they offer slightly better nutrition than White Potatoes, including select vitamins and minerals.
Tomato Pomace is a common addition to dog food and is used to add soluble fiber. Soluble Fiber can be important to some dogs in order for them to maintain regular digestion and stools. You can learn more about Tomato Pomace in our article Tomato Pomace as a Pet Food Ingredient?.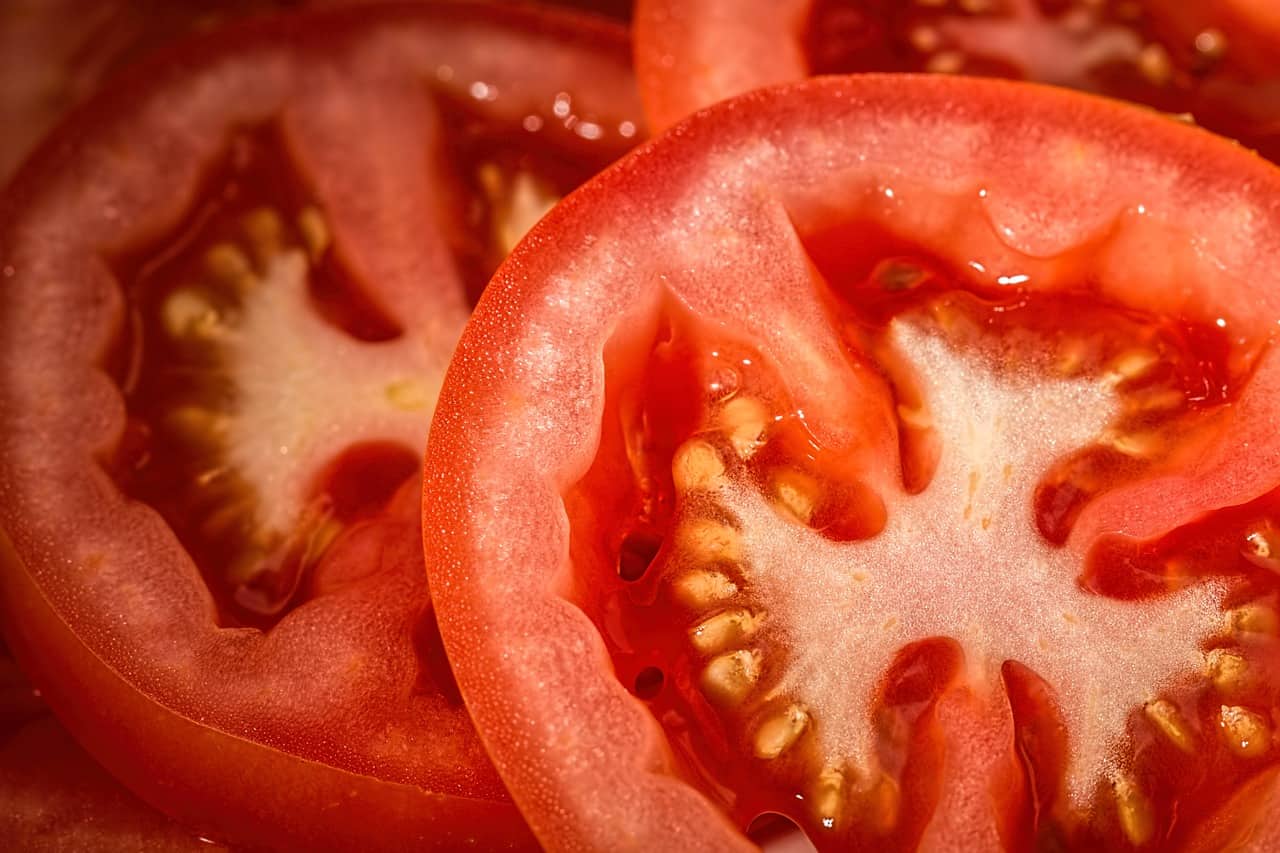 Canola Oil is a vegetable oil that is commonly used in processed human foods; however, it is sometimes found in pet food. It is added to increase the proportion of fat in a recipe while keeping costs low. Learn more about Canola Oil in our article Canola Oil In Dog Food.
Chicken Fat is another regular addition to dog food. It is added to enhance the flavor of recipes as well as increase the proportion of animal fat present. Read more about Chicken Fat in our article Chicken Fat In Dog Food.
Simply Nourish Animal Testing
At this time, we have no information on what type of animal testing, if any, that Simply Nourish participates in.
We strongly believe that laboratory and invasive testing of animals is a cruel and outdated practice and one which should be eliminated.
Simply Nourish Recalls
Based on our research (FDA, AVMA, DogFoodAdvisor), Simply Nourish is a recall-free brand.
Despite this, we always suggest that pet owners remain vigilant of any future recalls of Simply Nourish or any other pet food brand.
Simply Nourish Featured Articles
Best Cheap Dog Food – Simply Nourish is an extremely affordable dog food considering the nutrition it can provide. In addition, while its ingredients aren't perfect, they tend to be high-quality and in satisfactory proportions. These factors earn Simply Nourish a place in our article on affordable dog food.
Best of Simply Nourish
Grain-Free High Protein Source Salmon Recipe Adult Review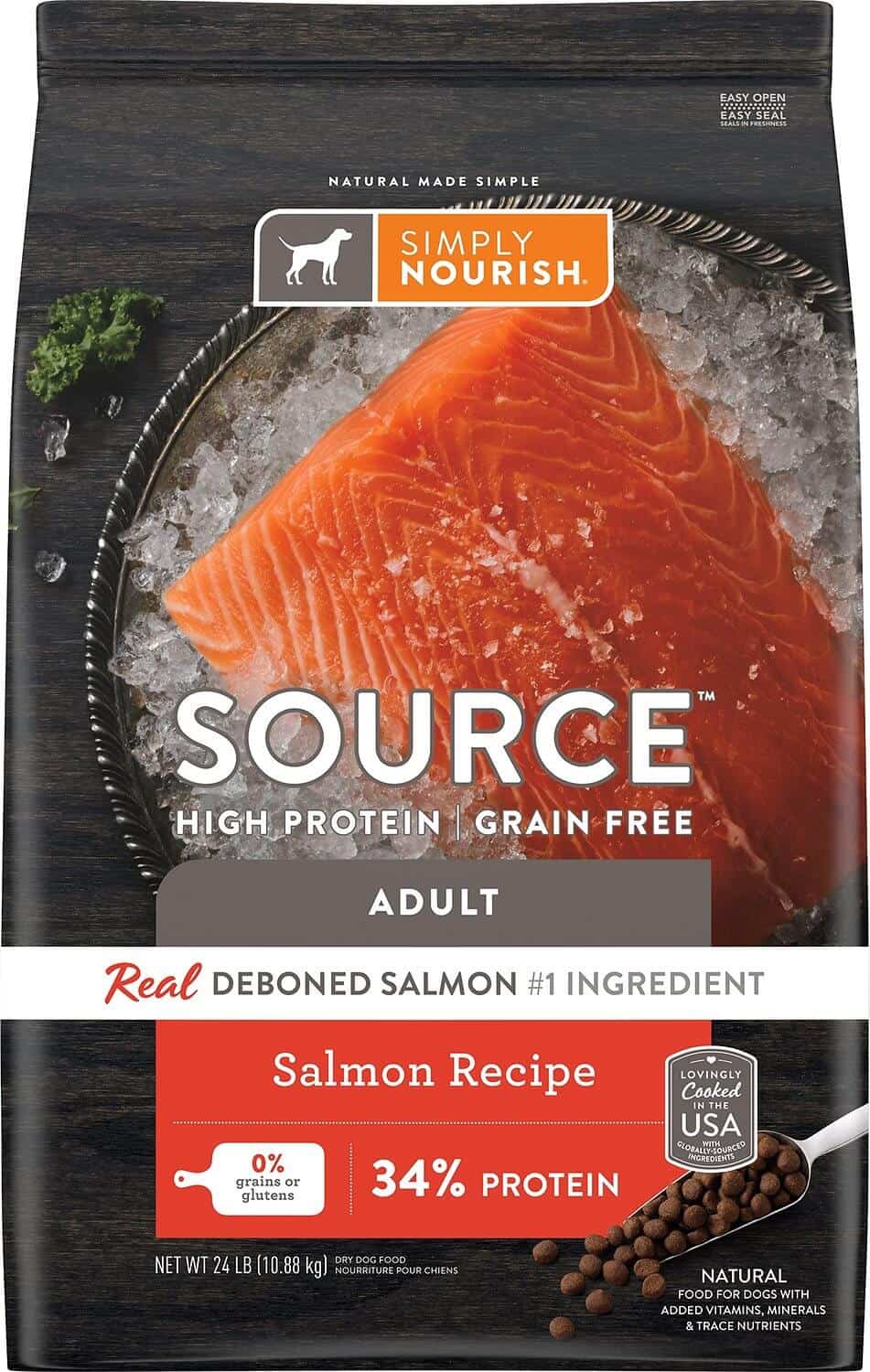 The Source range from Simply Nourish is the obvious choice when it comes to picking a favorite. This is due to the excellent nutrition the recipes within this range offer, with the above Salmon recipe providing 34% protein.
This nutritional profile is in line with brands that are considered premium and much more costly than Simply Nourish.
This protein proportion is thanks to a generous portion of Salmon, Salmon Meal, and Chicken Meal. These three ingredients are high-quality sources that can be relied upon.
The recipe then uses a mix of Peas and Potatoes to provide a modest proportion of carbohydrates and fiber.
Source Beef & Lamb Stew Adult Review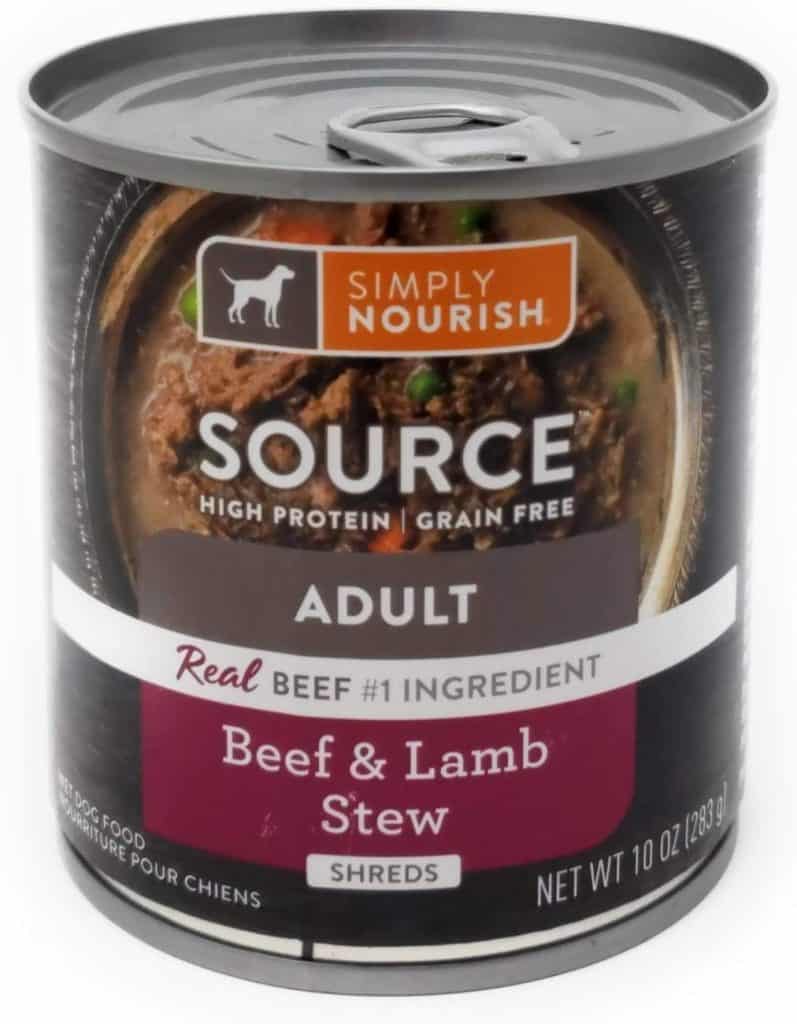 Simply Nourish's Source wet dog food recipes are also worth mentioning. They share the trait of including a large portion of meat and fish ingredients that result in an impressive proportion of protein and fat.
As the recipe above's name gives away, the primary meat ingredients present are Beef and Lamb. These red meat ingredients are dense sources of protein and fat and are appealing to many dogs.
Grain-Free High Protein Source Rabbit & Chicken Adult Cat Review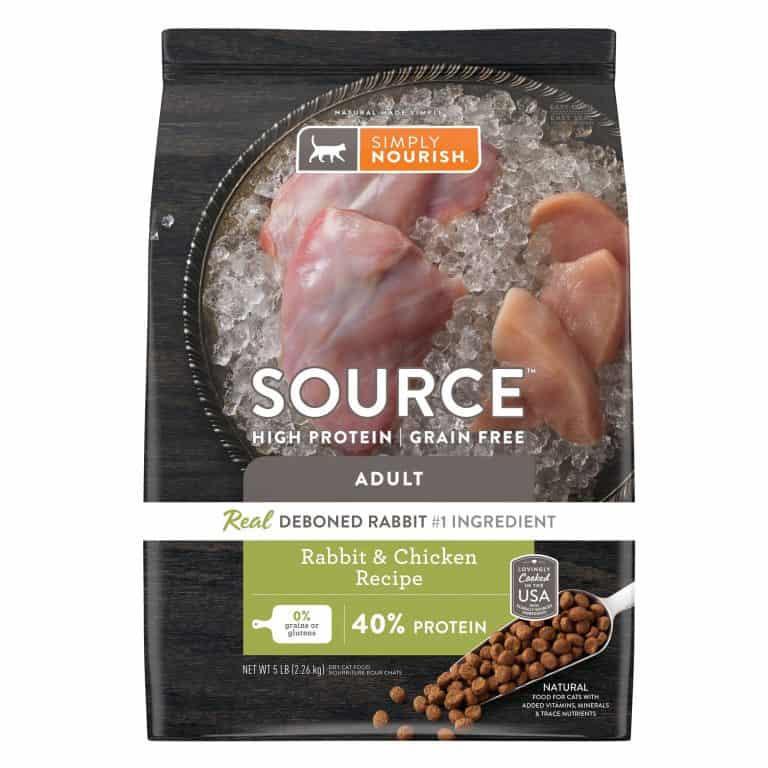 Source Trout Recipe Adult Cat Review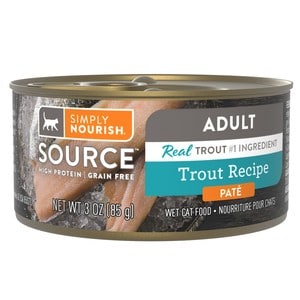 Simply Nourish Full Product Range
Dry Dog Food
Limited Ingredient Diet Salmon & Sweet Potato Recipe Adult
Limited Ingredient Diet Salmon & Sweet Potato Recipe Small Breed Adult
Limited Ingredient Diet Salmon & Sweet Potato Recipe Large Breed Adult
Limited Ingredient Diet Salmon & Sweet Potato Recipe Puppy
Limited Ingredient Diet Salmon & Sweet Potato Recipe Senior
Limited Ingredient Diet Lamb & Pea Recipe Adult
Limited Ingredient Diet Duck & Green Pea Recipe Adult
Limited Ingredient Diet Turkey & Pea Recipe Adult
Grain-Free High Protein Source Salmon Recipe Adult
Grain-Free High Protein Source Beef Recipe Adult
Grain-Free High Protein Source Chicken Recipe Adult
Grain-Free High Protein Source Hunter's Harvest Recipe Adult
Grain-Free High Protein Source Beef & Bison Recipe Adult
Grain-Free High Protein Source Game Bird Feast Recipe Adult
Grain-Free High Protein Source Chicken Recipe Large Breed Adult
Grain-Free High Protein Source Chicken Recipe Puppy
Grain-Free High Protein Source Fisherman's Finest Recipe Adult
Grain-Free High Protein Source Chicken Recipe Small Breed Adult
Grain-Free High Protein Source Chicken Recipe Senior
Grain-Free High Protein Source Duck Recipe Adult
Grain-Free High Protein Source Chicken & Turkey Recipe Adult
Grain-Free Chicken With Peas & Potatoes Recipe Adult
Grain-Free Chicken With Peas & Potatoes Recipe Small Breed Adult
Grain-Free Chicken With Peas & Potatoes Recipe Puppy
Grain-Free Chicken With Peas & Potatoes Recipe Large Breed Adult
Healthy Weight Turkey & Brown Rice Recipe Large Breed Adult
Healthy Weight Turkey & Brown Rice Recipe Adult
Healthy Weight Turkey & Brown Rice Recipe Small Breed Adult
Lamb & Oatmeal Recipe Adult
Fish & Brown Rice Recipe Adult
Chicken & Brown Rice Recipe Adult
Chicken & Brown Rice Recipe Small Breed Adult
Chicken & Brown Rice Recipe Small Breed Puppy
Chicken & Brown Rice Recipe Small Breed Senior
Chicken & Brown Rice Recipe Large Breed Puppy
Chicken & Brown Rice Recipe Large Breed Adult
Chicken & Brown Rice Recipe Large Breed Senior
Lamb & Brown Rice Recipe Small Breed Adult
Natural Solutions Hip & Joint Adult
Natural Solutions Skin & Coat Adult
Natural Solutions Adult Gut Health
Wet/Canned Dog Food
Grain-Free Chicken & Beef Stew Adult
Grain-Free Chicken & Vegetable Stew Small Breed Adult
Chicken & Rice Stew Adult
Turkey Recipe Adult
Chicken Recipe Senior
Chicken & Rice Stew Puppy
Chicken Recipe Puppy
Chicken & Pasta Stew Small Breed Adult
Chicken Recipe Small Breed Adult
Chicken & Rice Stew Small Breed Puppy
Source Beef & Lamb Stew Adult
Source Pork & Beef Adult
Source Beef Stew Small Breed Adult
Limited Turkey & Sweet Potato Recipe Adult
Grain Free Venison & Sweet Potato Recipe
Dry Cat Food
Grain-Free High Protein Source Fish & Chicken Recipe Adult Indoor Cat
Grain-Free High Protein Source Chicken & Turkey Recipe Kitten
Grain-Free High Protein Source Chicken & Turkey Recipe Adult Cat
Grain-Free High Protein Source Rabbit & Chicken Adult Cat
Grain-Free High Protein Source Salmon Adult Indoor Cat
Grain-Free High Protein Source Chicken Recipe Adult Indoor Cat
Grain-Free High Protein Source Fisherman's Feast Adult Cat
Grain-Free High Protein Source Poultry Platter Adult Cat
Grain-Free Chicken Recipe Adult Cat
Grain-Free Chicken & Pea Recipe Adult Cat
Grain-Free Chicken & Pea Recipe Kitten
Grain-Free Salmon & Pea Recipe Adult Cat
Indoor Turkey & Oatmeal Recipe Adult Cat
Indoor Chicken & Oatmeal Recipe Adult Cat
Indoor Chicken & Oatmeal Recipe Hairball Adult Cat
Indoor Salmon & Oatmeal Recipe Adult Cat
Chicken & Rice Recipe Kitten
Chicken & Rice Recipe Senior Cat
Healthy Weight Turkey & Rice Recipe Adult Cat
Wet/Canned Cat Food
Source Chicken & Turkey Stew Adult Cat
Source Chicken Recipe Kitten
Source Chicken Recipe Adult Cat
Source Duck Recipe Adult Cat
Source Trout Recipe Adult Cat
Source Venison Recipe Adult Cat
Source Chicken Recipe Adult Cat
Grain-Free Chicken & Salmon Stew Adult Cat
Grain-Free Tuna & Chicken Stew Adult Cat
Grain-Free Chicken Stew Kitten
Grain-Free Seafood Stew Adult Cat
Grain-Free Limited Ingredient Ocean Whitefish & Potato Recipe Adult Cat
Grain-Free Limited Ingredient Duck & Pea Recipe Adult Cat
Chicken Recipe Adult Cat
Salmon Recipe Adult Cat
Indoor Chicken Recipe Adult Cat
Salmon Recipe Adult Cat
Chicken Recipe Kitten
Turkey & Pumpkin Recipe Adult Cat
Tuna & Shrimp Stew Adult Cat
Chicken Recipe Senior Cat
Chicken Recipe Kitten
Essentials Indoor Tuna Recipe Adult Cat
Essentials Indoor Chicken Recipe Adult Cat
Essentials Tuna Recipe Adult Cat
Essentials Tender Chicken Recipe Kitten
Essentials Chicken Recipe Kitten
Essentials Salmon Recipe Adult Cat
Essentials Chicken Recipe Adult Cat
Essentials Salmon Recipe Adult Cat
Essentials Chicken Recipe Adult Cat
Essentials Tuna Recipe Adult Cat