Vibrant Life Information
Vibrant Life is a pet brand owned and exclusively sold by Walmart. Vibrant Life sells dog food, alongside other pet products like dog treats and accessories.  The brand first landed on shelves in early 2018 and as of yet still has a fairly limited product range.
There is currently very limited information on Vibrant Life including where it is produced and where it sources its ingredients from. Given that it is a low-cost brand, production and ingredient sourcing may be from outside the United States but we can not confirm that at this time.
Other pet food brands owned by Walmart are outsourced to third-party manufacturers and we believe that Vibrant Life also follows this practice.
As we mentioned earlier, Vibrant Life is a Walmart exclusive which means that you can purchase it from thousands of retail Walmart stores across the United States. Vibrant Life is also regularly available online from Walmart's growing online business.
For more information on the dog food available at Walmart and which of these are our favorites, check out our Best Dog Food At Walmart article.

Vibrant Life Product Range
Vibrant Life has a very small product range of dog food when compared to other brands. This small product range originally included two recipes for adult dogs, one recipe for small breed dogs, and finally a recipe for puppies.
While extremely limited, this range offered recipes aimed at puppies and small breed dogs which fills two of the important niches.
In 2020, Vibrant Life expanded its range to include some wet dog food recipes. So far there are only three recipes available but this range may grow in the future. You can see one of these new recipes below.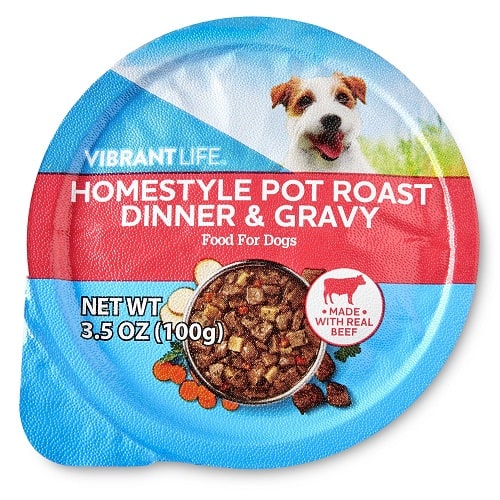 Vibrant Life has a modest range of dog treats. These treats come in a variety of forms including soft treats, crunchy treats, jerky, and more.
Vibrant Life Nutrition
Based on the below, one would think that the nutrition provided by Vibrant Life's formulas is notably above average.
Technically this is true for both the protein content and the fat content of their formulas as the level of carbohydrates is below average and the level of fat is significantly above average.
However, while the protein level may look impressive, a large portion of this protein is from the low-quality plant-based material which will be discussed later.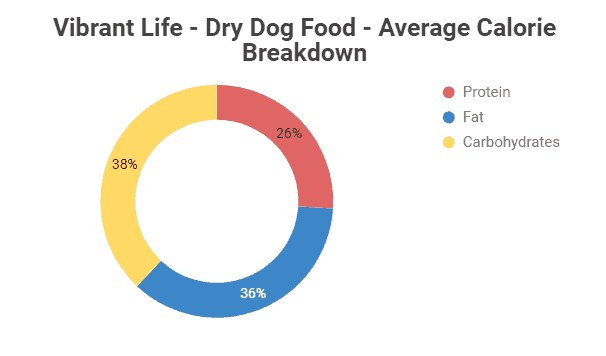 Plant-based protein such as this is less digestible and bioavailable than protein from meat and fish ingredients and is consequently considered inferior.
Nevertheless, the nutrition provided by Vibrant life formulas are a step up from the poor nutrition provided by other low-cost grocery store brands, especially those sold at Walmart.
If you'd like to learn more about canine nutrition, including the importance of animal-based protein and fat, we'd recommend checking out our Dog Food Guide.
Vibrant Life Ingredients
Vibrant Life displays on its packaging that it does not contain any of the following:
Corn
Meat Byproduct Meals
Artificial Colours
Artificial Preservatives
While we would prefer that the list of ingredients Vibrant Life chooses not to use would be far more expansive, all these ingredients are negative additions to any dog food and to exclude these is a positive.
High-Quality Meat & Fish Ingredients
Beef
Chicken
Chicken Meal
All three of these ingredients listed above can provide high-quality animal-based protein and fat which is extremely suitable for a dog's diet.
Both Beef and Chicken are industry favorites and are used by the vast majority of dog food brands. This popularity is due to their low-cost and the fact that they are easy to source.
While some frown upon them you should not be afraid of meat meal ingredients like Chicken Meal. They can, in fact, be advantageous to many dogs thanks to their nutritional value.
Meat Meal like Chicken Meal has had its moisture removed in advance of production which makes it a more dense source of protein and fat on a gram for gram basis.
Lastly, some of Vibrant Life's new wet dog food recipes include portions of organ meat ingredients like Chicken Liver. These organ meat ingredients are excellent additions to pet food recipes and can provide additional protein and fat, as well as beneficial vitamins and minerals.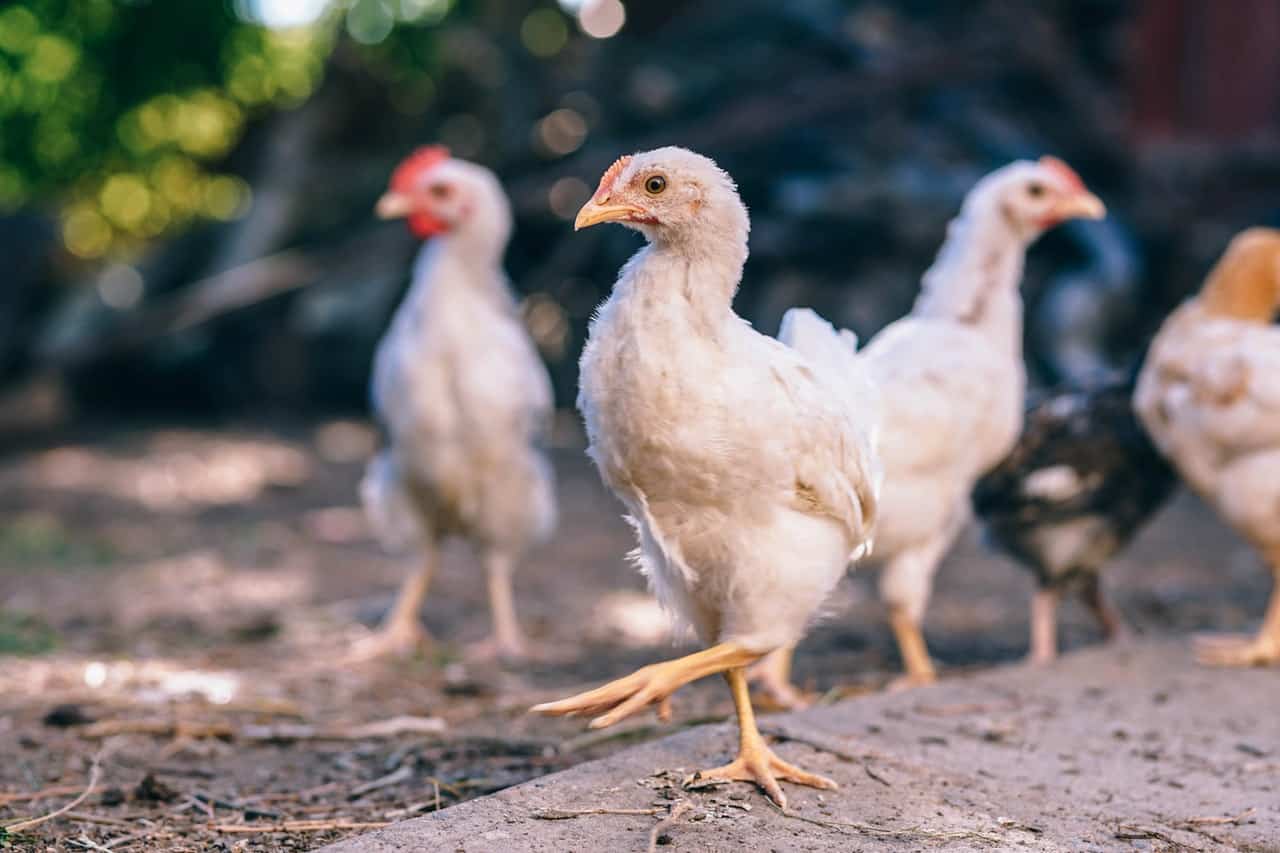 Other Notable Ingredients
Brewers Rice consists of smaller fragments of rice kernels that have been separated from larger kernels during the milling process.
Brewers Rice is considered to be of poorer quality than Whole Brown Rice by many. Despite this, Brewers Rice can still provide some nutrition in the form of carbohydrates.
Learn more about Brewers Rice and why it is so controversial in our article Brewers Rice In Dog Food.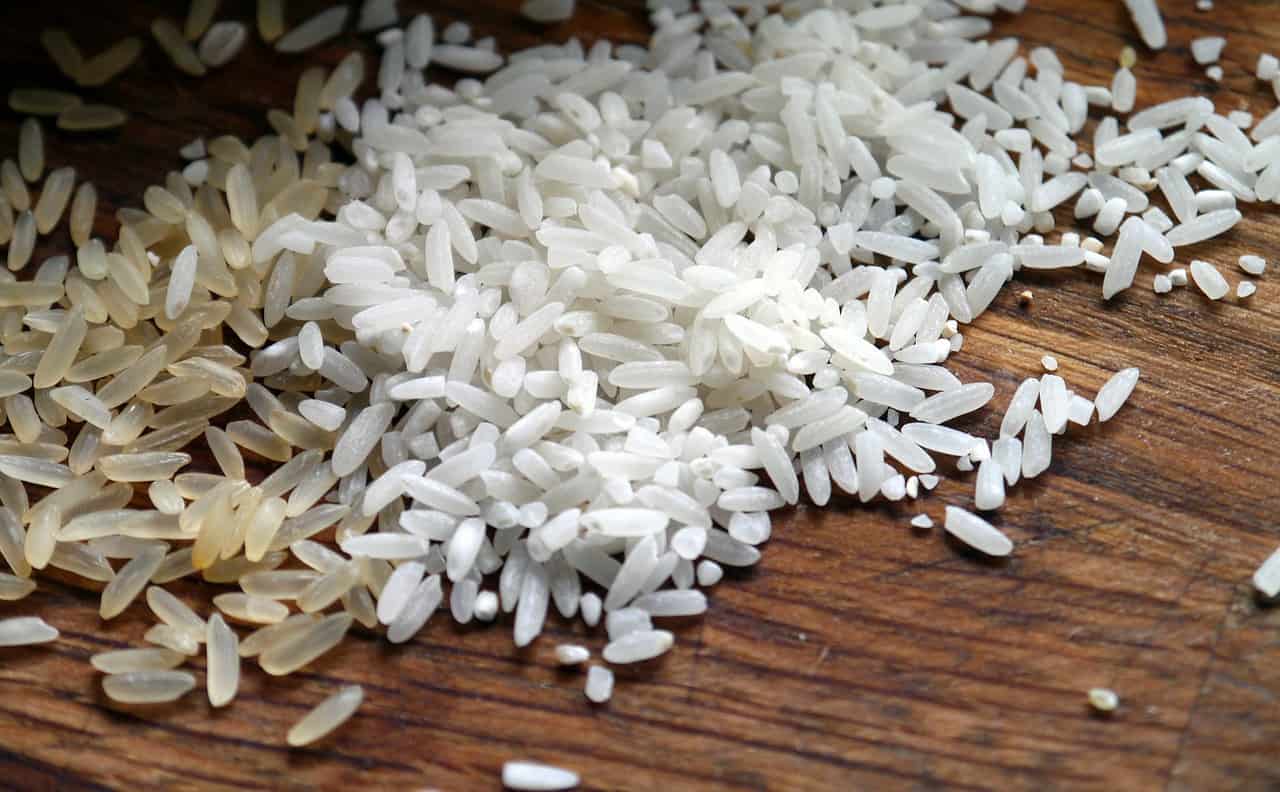 Soybean Meal is a By-product of Soy and is a dense source of plant-based protein but can also provide some carbohydrates, fiber, and other nutrition.
Soy, especially Soybean Meal is considered a low-quality addition to dog food recipes by many and is often included as it is very low-cost.
Wheat Mill Run is an extremely controversial ingredient that is described by some as floor-sweeping. It is considered a low-quality ingredient and negative addition to any dog food recipe.
Wheat Mill Run consists of the hulls and other by-products expelled by the milling process which are then collected and sold as an ingredient to cheap low-quality dog food manufacturers.
Flaxseed is an extremely common addition to pet food recipes including some from Vibrant Life. Flaxseed is best known for being an excellent plant-based source of the Omega 3 Fatty Acids. These fatty acids are thought to provide dogs with several health benefits.
However, Flaxseed has more benefits that are less well-known among dog owners. If you'd like to learn more about these benefits, check out our article Flaxseed In Dog Food.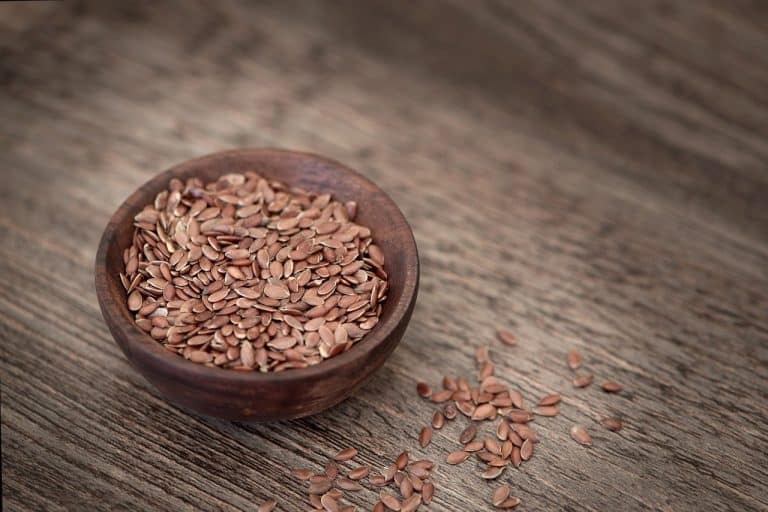 Some of Vibrant Life's wet dog food recipes include small portions of vegetable ingredients like Peas, Potatoes, and Carrots.
These vegetable ingredients are common in grain-free dog food and can provide a mix of carbohydrates, plant-based protein, and fiber.
There are some concerns around the use of legumes, like Peas, in dog food recipes as brands who heavily utilize them have seen increased risks of Canine Heart Disease among their customers.
You can read more about this concerning link here.
However, the portion size of legumes like Peas in Vibrant Life recipes is extremely small and not worthy of concern.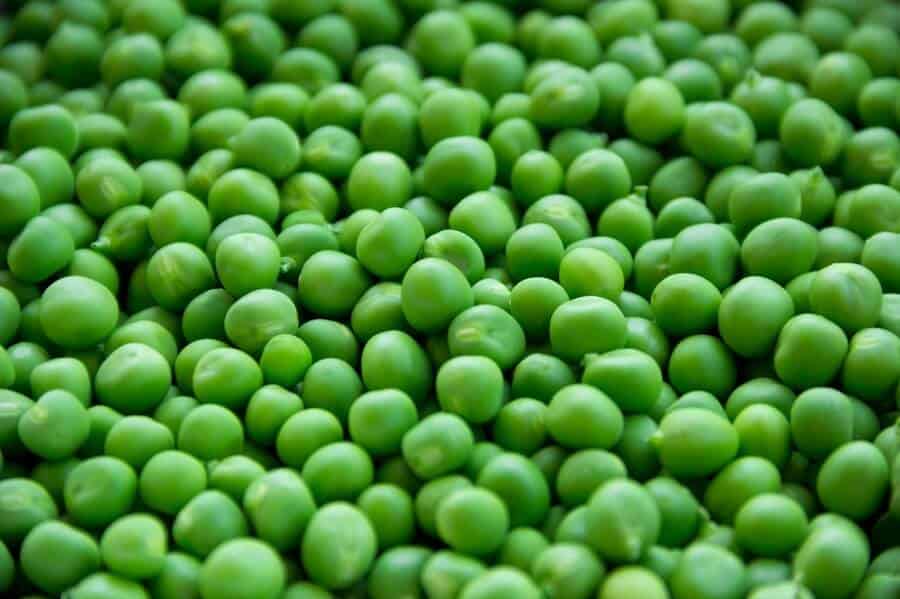 Dried Beet Pulp is another common addition to pet food recipes and is used as a reliable source of soluble fiber. Soluble fiber can be critical to some dogs to ensure they keep regular digestion and stools.
However, outside of this fiber content, Dried Beet Pulp provides very little valuable nutrition to dogs. You can learn more about how Dried Beet Pulp is made and its nutrition in our article Dried Beet Pulp In Dog Food.
Lastly, Vibrant Life's wet dog food recipes utilize some poorly understand ingredients like Guar Gum. Guar Gum is found in wet dog food recipes from many brands and is used as a binding agent.
This means that its purpose is to hold the ingredients of a dog food together in a constant texture and appearance. However, outside of this trait, Guar Gum provides very little nutrition.
Vibrant Life Animal Testing
At this point in time, we have no information on whether Vibrant Life performs testing on animals and whether this testing is laboratory or invasive.
However, other dog food brands owned by Walmart have been proven to test on animals so it is likely that Vibrant Life may follow in their footsteps.
Many smaller pet food brands avoid disclosing information on their animal testing or feeding trials as they fear customer backlash.
Laboratory or invasive animal testing is cruel and distressing for the animals involved and we hope that over the coming years animal testing for the purposes of trialing dog food is eliminated or heavily reduced.
Vibrant Life Recalls
At this point in time, we have no evidence (FDA, AVMA, DogFoodAdvisor) that Vibrant Life products have ever been recalled which makes them a recall-free dog food brand.
However, in a similar circumstance to the above discussion, many other Walmart dog food brands have been recalled in the past.
One prime example of this is Ol' Roy which has had several recalls in its past. You can read more about Ol' Roy and its recalls in our Ol' Roy Brand Review.
That being said, Walmart is very conscious of the safety of its product, and rest assured any product that has been recalled will no longer be available for purchase at their stores.
We always encourage consumers to be vigilant of any future recalls of Vibrant Life, Walmart products, or any other pet food brand to ensure their dogs remain safe and healthy.
Best of Vibrant Life Dog Food
Chicken, Oatmeal & Egg Puppy Recipe Review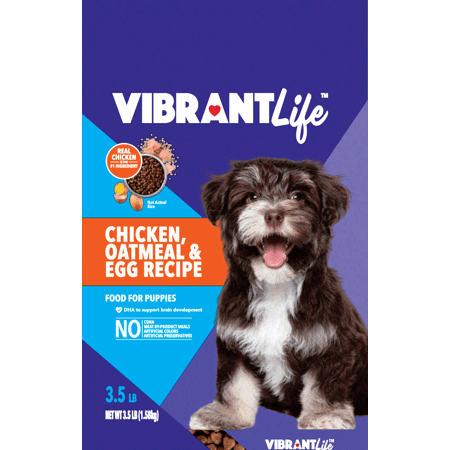 We consider the above puppy formula to be the best of Vibrant Life's small collection. The primary motivation behind this is that it has slightly superior nutrition by providing slightly higher levels of protein and slightly smaller portions of carbohydrates.
In addition to this, the formula has superior ingredients as it contains Oatmeal, which is considered one of the better grain ingredients, and egg product which is a very digestible and nutritious ingredient.
However, despite the inclusion of Oatmeal and Egg Product, the formula still contains Brewers Rice, Soybean Meal, and Wheat Mill Run, which are all considered very low-quality fillers and have no place in dog food.
Homestyle Pot Roast Dinner & Gravy Review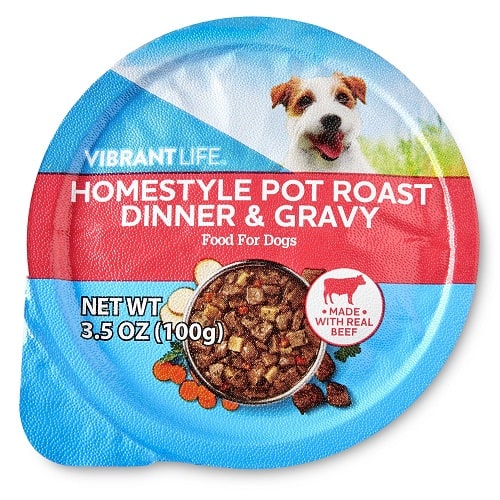 The above Homestyle Pot Roast Dinner & Gravy is one of Vibrant Life's new wet dog food recipes. While many cheaper and lower-cost wet dog food recipes utilize unnamed meat ingredients, all three of the recipe's primary ingredients are named.
This includes a mix of Chicken, Beef, and Chicken Liver. These three ingredients combine to provide an impressive proportion of protein and fat.
The Chicken Liver is notable and is an excellent addition. Organ meat ingredients like Chicken Liver can greatly enhance the flavor of dog food and provide some beneficial vitamins and minerals.
Outside of this meat content, there are smaller portions of plant-based ingredients like Wheat Gluten, Dried Potatoes, Wheat Flour, and more. These ingredients are not the most favored among dog owners but provide some carbohydrates and fiber.
Vibrant Life Featured Articles
At this time, Vibrant Life has not been featured in any of our articles or guides.
Vibrant Life Full Product Range
Dog Food
Dry Dog Food
Beef & Rice Recipe
Chicken & Rice Recipe
Chicken, Brown Rice & Sweet Potato Recipe
Chicken, Oatmeal & Egg Puppy Recipe
Wet/Canned Dog Food
Country Chicken & Vegetable Stew
Homestyle Pot Roast Dinner & Gravy
Turkey & Vegetable Stew
Dog Treats
Small Biscuits Wrapped With Chicken
Smoked Chicken Jerky
Freeze-Dried Chicken Breast
Pigs In Blankets
Marbled Meaty Bites
Crunchy Chicken
Griller's Mark With Real Chicken
Griller's Mark With Real Beef
Soft Baked Bites With Real Cheese & Bacon
NutriBark Dog Treat Bar – Peanut Butter Bacon Apple Flavor
NutriBark Dog Treat Bar – Chicken & Cranberry
Water Buffalo
Chicken & Pumpkin Twist