Authority Information
Authority is a brand owned and sold by PetSmart. Authority was founded in 1995 and has remained a relatively staple of PetSmart stores since. For those of you who are not familiar with PetSmart, it is probably the largest pet retailer in North America with over 1300 stores.
However, Authority has also been recently made available from PetSmart's partner company Chewy.
To the best of our knowledge, Authority pet food products can not be purchased outside of these two sources. However, it appears some resellers are attempting to sell Authority products on Amazon.
It is not abundantly clear where Authority produces its food; however, its packaging state that the products are produced in the United States. PetSmart likely subcontracts out the production of Authority to one of the largest pet food manufacturers.
We could not find any information on where Authority ingredients are sourced from. Given that Authority recipes are produced in the United States, it is likely that a large number of the ingredients are also sourced from the United States. However, there is no guarantee of this assumption, and some ingredients could have been sourced from less reliable countries.
Authority Product Range
Dog Food
Authority has an extensive dog food range, which consists of a mix of dry food and wet/canned food.
Authority produces specialized recipes for almost all the popular niches. This range of niche recipes includes puppy food, senior dog food, large and small breed food, and food for dogs with sensitive stomachs or coats.
While recipes for puppies and senior dogs are commonplace in the industry, those that boost immunity or help remedy sensitive stomachs are less common.
Cat Food
Authority's cat food range is also huge, although not as large as the dog food range. It also consists of a mix of dry and wet/canned food.
Authority's cat food range has fewer niche products but still has the core offering, including kitten and senior cat food.
Authority Nutrition
Dog Food
The nutrition offered by Authority dog food is unimpressive and would be considered average. It consists of modest proportions of protein and fat and a significant portion of carbohydrates.
Most dogs would benefit from higher proportions of protein and fat, which would better mimic their natural diet.
Below is an example of the nutritional profile offered by an authority dry dog food recipe.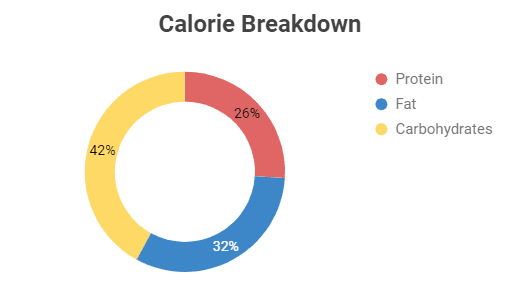 Cat Food
The nutrition offered by Authority cat food is poor and not a fair reflection of a cat's natural diet.
The recipes often have a moderate proportion of protein and fat and an excessive proportion of carbohydrates.
Cats are obligate carnivores, which means they need to consume meat and fish and do not require a significant portion of plant-based material.
Authority Ingredients
High-Quality Meat & Fish Ingredients
Given the vast size of Authority's product range, the range of meat and fish ingredients they use is relatively small. They tend to stick to the reliable staples of the industry, such as Chicken and Beef. Despite this lack of variety, these ingredients can provide high-quality animal-based protein and fat.
Authority does not sell any products that include less common meat and fish ingredients like those discussed in our Best Hypoallergenic Dog Foods Guide and our articles Best Dog Foods With Venison & Best Dog Foods With Rabbit.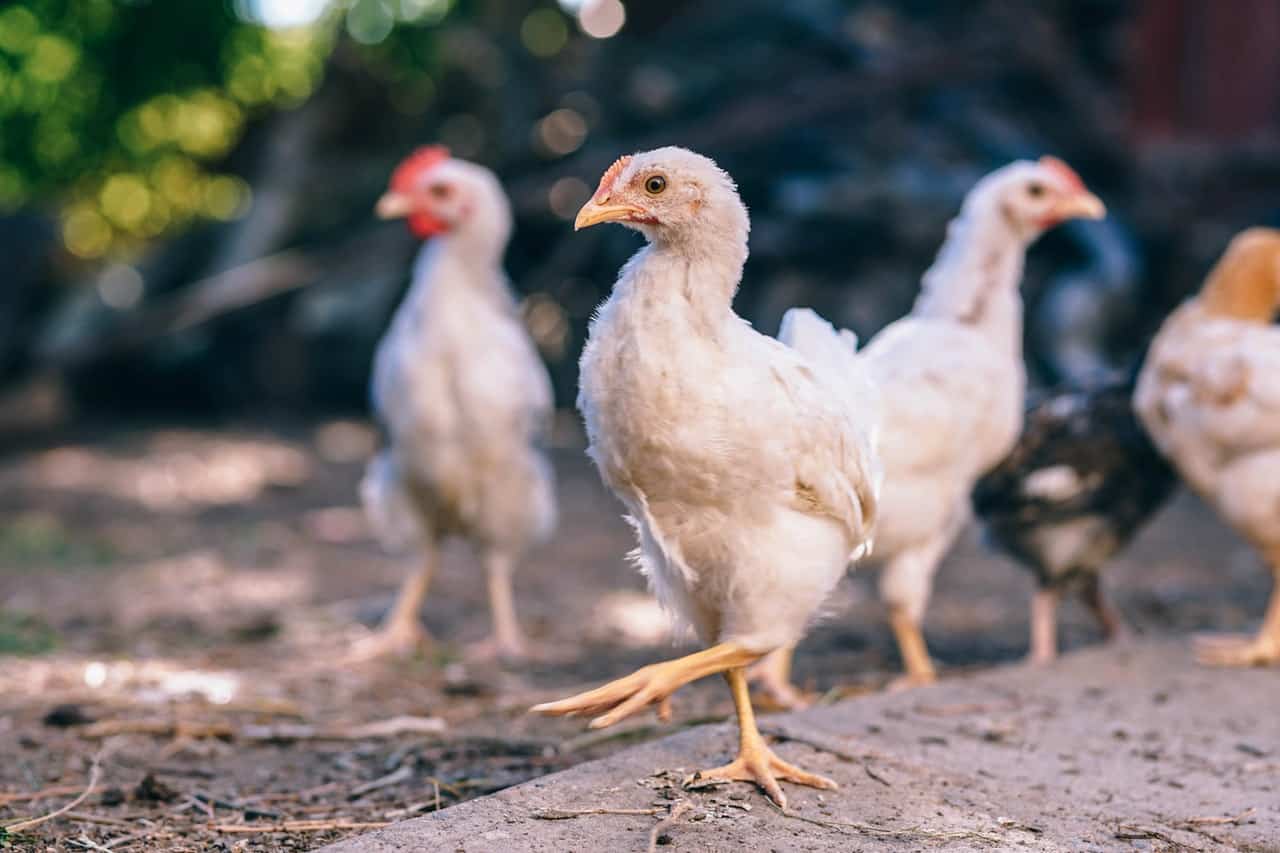 Other Notable Ingredients
Authority makes use of Corn and Corn Gluten Meal. These are very controversial ingredients that many consumers refuse to purchase. Despite this, supporters of Corn say it is very nutritious.
Authority also uses other grain ingredients in their recipes, including Brown Rice and Oat Groats. These are considered by most to be superior grain ingredients when compared to Corn or wheat.
Some authority recipes include Dried Beet Pulp. Dried Beet Pulp is used in pet food to provide soluble fiber. Soluble fiber can be important to some dogs to enable reliable and consistent digestion. Learn more about Dried Beet Pulp in our article Dried Beet Pulp In Dog Food.
Canola Oil is found in some authority recipes. Canola Oil is a vegetable oil that contains high levels of the Omega 6 Fatty Acids. Learn more about Canola Oil in our article Canola Oil In Dog Food.
Authority Animal Testing
We have no information at this time concerning what type of animal testing that Authority participates in.
We strongly believe that invasive or laboratory testing of animals is a cruel and outdated practice. We hope that in the future, it will be eliminated or severely reduced.
Authority Recalls
Sadly, Authority is not a recall-free brand and has a single recall in its history.
However, this recall was over a decade ago, and since then, they have been recall-free. This lack of recent recalls shows that Authority has taken its safety and quality processes seriously. This perfect recent record is not surprising given that the brand is owned by PetSmart, who would take these matters very seriously.
See the below details of the recall in question.
2007 – Melamine Contamination – a large number of recipes had to be recalled as it was found that vegetable proteins within the recipes were contaminated with Melamine. Melamine is an industrial chemical and is not suitable for consumption.
The investigation into this matter found that fourteen animals had died due to Melamine contamination. The Melamine had been consumed by livestock, which was then used to produce pet food.
However, it is essential to note that this recall affected many brands and not just Authority.
Authority Featured Articles
At this time, Authority has not been featured in any of our articles.
Best of Authority
Adult Chicken & Rice Review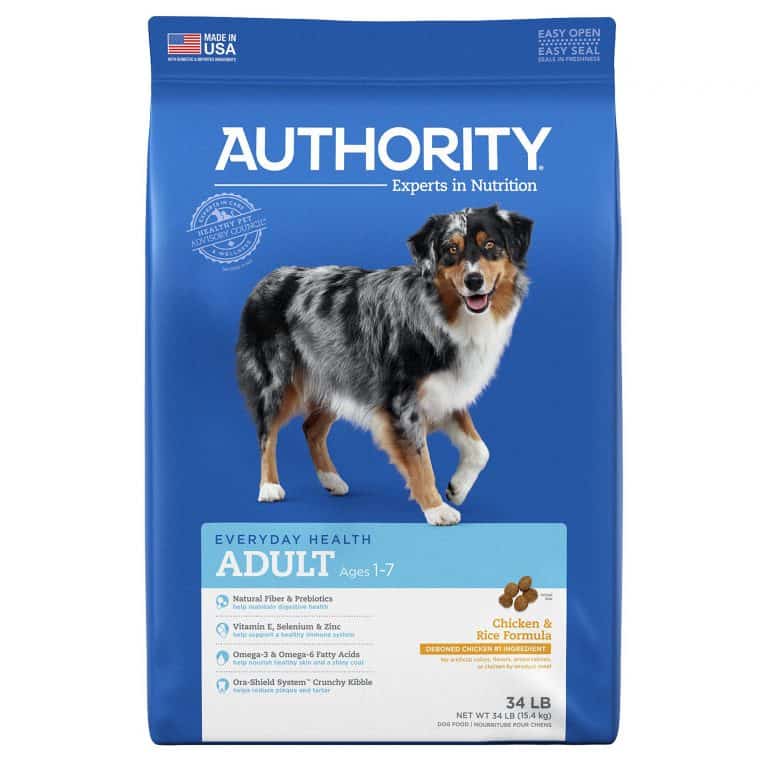 Authority's Chicken & Rice recipes are their staples. They usually use a mix of Chicken and Chicken Meal as their primary ingredients. This mix ensures there is a sufficient portion of Chicken present, which can provide protein and fat.
The recipe also uses a range of plant-based ingredients, including Brown Rice, Corn, Oats Groats, and Corn Gluten Meal. While there is much debate around the use of Corn in dog food, Brown Rice is a reliable and beneficial ingredient that can provide carbohydrates and fiber.
Tender Blends Stew Adult Chicken, Carrot & Spinach Review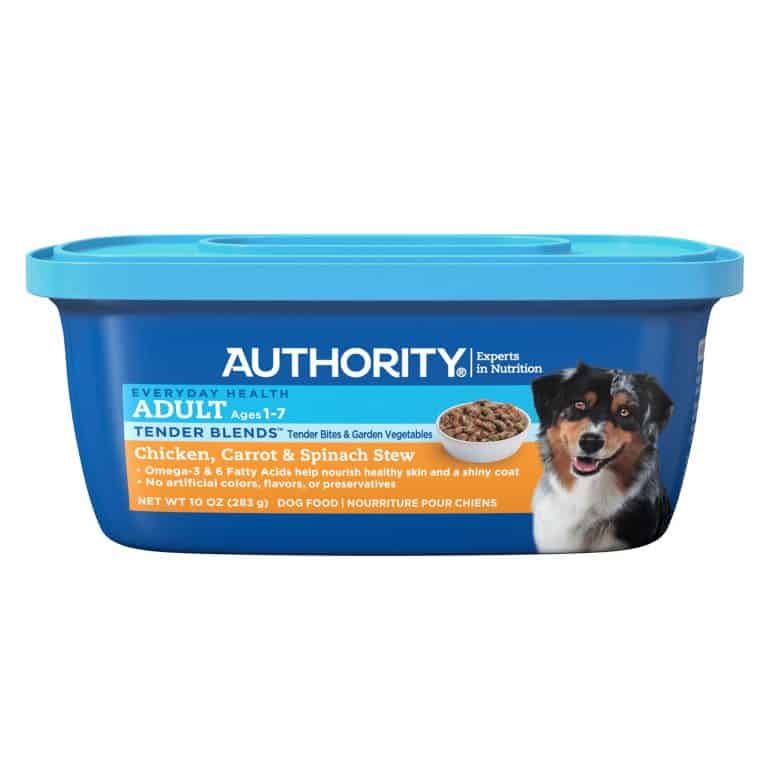 While there are some controversial ingredients in Authority's dry food recipes, their wet food recipes tend to contain more satisfactory ingredients.
For example, the above recipe uses a mix of Chicken and Chicken Liver to provide its protein and fat. Liver is a beneficial addition to many dog food recipes as it can enhance flavor and provide much-needed vitamins and minerals.
The recipe then uses a mix of Carrots, Peas, Spinach, and other minor ingredients to round off the recipe and provide carbohydrates, fiber, and micronutrients.
Authority Full Product Range
Dog Food
Dry Dog Food
Large Breed Adult Chicken & Rice
Large Breed Adult Grain Free Chicken & Pea
Small Bites All Life Stages Chicken & Rice
Skin, Coat + Digestive Health Support Grain Free Fish & Potato
Grain Free Adult Chicken & Pea
Adult Chicken & Rice
Large Breed Mature Chicken & Rice
Adult Lamb & Rice
Small Breed Adult Grain Free Chicken & Pea
High Performance All Life Stages Grain Free Turkey, Pea, Duck & Salmon
Large Breed Puppy Chicken & Rice
Healthy Weight + Joint Support Large Breed Adult Turkey & Chickpea
Large Breed Adult Lamb & Rice
Small Breed Adult Chicken & Rice
Tender Blends Adult Beef & Rice
Small Breed Adult Lamb & Rice
Tender Blends Large Breed Adult Chicken & Rice
Tender Blends Small Breed Adult Chicken & Rice
Mature Adult Chicken & Rice
Skin, Coat + Digestive Health Small Breed Adult Grain Free Fish & Potato
Tender Blends Adult Chicken & Rice
Healthy Weight + Joint Support Adult Turkey & Chickpea
Immunity + Joint Support Mature Adult Chicken & Brown Rice
Small Breed Mature Adult Chicken & Rice
Puppy Food Grain Free Chicken & Pea
Tender Blends Mature Adult Chicken & Rice
Tender Blends Puppy Food Chicken & Rice
Puppy Food Chicken & Rice
Tender Blends Puppy Food Beef & Rice
Immunity + Digestive Health Support Puppy Food Turkey, Oatmeal & Pumpkin
Small Breed Puppy Food Chicken & Rice
Advanced Wellness Sensitive Systems Digestions Adult Lamb & Rice
Advanced Wellness Large Breed Weight Loss Adult Chicken & Brown Rice
Advanced Wellness Weight Loss Adult Chicken & Brown Rice
Canned/Wet Dog Food
Ground Entree Adult Chicken & Rice
Cuts In Gravy Adult Chicken & Rice
Ground Entree Mature Adult Lamb & Rice
Small Breed Adult Stew In Gravy Beef & Vegetable
Tender Blends Stew Adult Chicken, Carrot & Spinach
Immunity + Joint Support Mature Adult Chicken & Brown Rice
Ground Entree Puppy Chicken & Rice
Ground Entree Adult Grain Free Chicken & Carrot
Ground Entree Mature Adult Grain Free Chicken & Vegetable
Skin, Coat + Digestive Healthy Support Ground Entree Adult Grain Free Fish & Potato
Digestive Support Supplement – Pumpkin Puree
Digestive Soothing Support Chicken & Rice
Tender Blends Stew Mature Adult Chicken, Carrot, & Spinach
Weight Management Ground Entree Adult Chicken
Small Breed Stew Puppy Chicken & Vegetable Stew
Tender Blends Stew Puppy Chicken, Carrot & Spinach
Advanced Wellness Weight Loss Shredded Chicken & Green Bean
Immunity + Digestive Healthy Support Ground Entree Puppy Turkey
Advanced Wellness Skin & Coat Shredded Duck
Ground Entree Puppy Grain Free Chicken & Carrot
Small Breed Stew Mature Adult Chicken & Vegetable Stew
Advanced Wellness Sensitive Systems Digestion Shredded Lamb
Advanced Wellness Joint Health Shredded Chicken
Advanced Wellness Cognition & Immunity Shredded Beef & Chicken
Ground Entree Puppy Lamb & Rice
Cat Food
Dry Cat Food
Indoor Adult – Chicken & Rice
Hairball Control & Weight Management Indoor Adult – Chicken & Rice
All Life Stages – Chicken, Rice & Turkey
Indoor Kitten – Chicken & Rice
Indoor Adult – Salmon & Rice
Hairball & Weight Management + Joint Support Mature Adult – Chicken
Adult – Chicken & Rice
Advanced Wellness Sensitive Systems & Digestion – Ocean Fish & Sweet Potato
Hairball Control Adult – Chicken & Rice
Indoor Mature Adult – Chicken & Rice
Sensitive Support Adult – Turkey & Rice
Kitten – Chicken & Rice
Mature Adult – Chicken & Rice
Indoor Adult – Tuna & Rice
Everyday Health Indoor Kitten – Salmon & Rice
Advanced Wellness Weight Loss Adult – Chicken & Brown Rice
Everyday Health Savory Blends Adult – Chicken
Everyday Health Savory Blends Adult – Turkey
Advanced Wellness Gastrointestinal Microbiome Adult
Everyday Health Indoor Adult – Chicken & Rice
Hairball Control + Weight Management Adult – Chicken & Rice
Canned/Wet Dog Food
Flaked Entree In Gravy Adult – Chicken
Pate Entree Adult – Beef
Pate Entree Kitten – Chicken
Everyday Health Indoor Kitten Pate – Tuna
Shredded In Gravy Adult – Chicken & Liver
Sensitive Support Pate Entree Adult – Chicken & Turkey
Pate Entree Mature Adult – Chicken
Advanced Wellness Sensitive Systems & Digestion Flaked – Tuna
Weight Control Pate Adult – Chicken
Hairball Control Pate Entree Adult – Chicken
Indoor Pate Entree – Chicken#
Advanced Wellness Skin & Coat Adult – Mackerel
Advanced Wellness Cognition & Immunity – Chicken
Advanced Wellness Weight Loss Shredded – Chicken
Indoor Pate Entree Mature Adult – Chicken
Grain-Free Adult – Salmon
Grain-Free Pate Entree Mature Adult – Chicken