Wuffes Information
Wuffes is a relatively new pet supplement company that has seen significant growth since its founding. 
Despite this, we have very limited information on its origins or founders at this time. While many new brands like this proudly show and state names and faces, Wuffes has not yet chosen to do so.
The pet supplement space has seen dozens of brands enter in the last few years, and there is now fierce competition to take a slice of a rapidly growing market.
For those of you wondering where Wuffes produces its supplements, they state in the FAQ section of their website that all of their products are made in the USA.
While many of these newer pet food and supplement brands only sell their products directly from their website, it appears that Wuffes is available on Amazon, which is a bonus for those who regularly purchase from the website or have a Prime membership.
Wuffes Product Range
As we mentioned above, Wuffes focuses on pet supplements and has a modest range of products available.
They cover most of the major supplement types, including one to improve joint health, a multivitamin, a probiotic, and a supplement to aid dental health.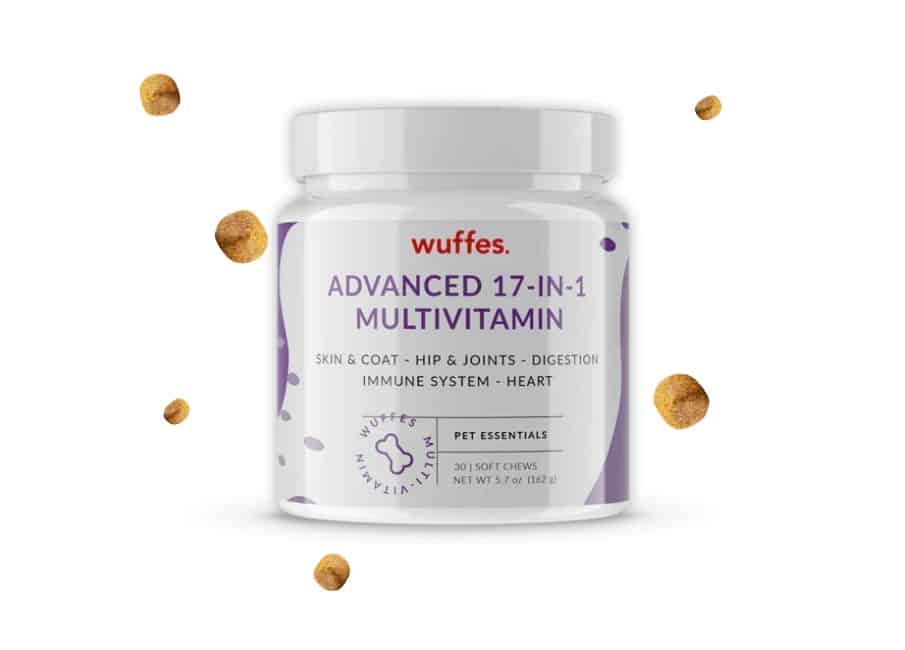 While there are other supplements sold by other companies, this range covers most of the industry demand. We anticipate that Wuffes will expand its offering over time.
Wuffes Nutrition
Given that Wuffes is a supplement company, the nutrition provided by their products is far less critical than if they were a dog food producer.
This means that you should not focus on the protein or fat proportions in their products or whether they are from animal-based sources.
However, while protein and fat may take a backseat, the vitamins and minerals found in their supplements come to the forefront.
For example, their Multivitamin product contains a range of beneficial vitamins and minerals, including Vitamin B12, Vitamin D3, Vitamin A, Manganese, and Iron.
While not the case for all dogs, some will struggle to take in sufficient levels of some vitamins and minerals from just their normal dog food.
Wuffes Ingredients
High-Quality Meat & Fish Ingredients
Given that Wuffes is a dog supplement company, the presence of high-quality meat and fish ingredients is far less critical than if they were a dog food producer.
Despite this, one of their supplements does contain a small portion of Duck Liver which is a high-quality organ meat ingredient.
Organ meat ingredients such as the liver can provide supplementary protein and fat, along with several beneficial vitamins and minerals that are less abundant in typical meat cuts.
Other Notable Ingredients
One of Wuffes supplements contains a small portion of Yucca Extract, which is a semi-common ingredient in dog food recipes.
Yucca Extract is typically added to dog food recipes in tiny quantities to reduce the odor of their stools, but Wuffes utilize it in their Joint Chews and claim that it improves mobility.
You can learn more about Yucca Extract, including its origins, in our article Yucca Extract In Pet Food.
Flaxseed Oil is probably the most recognizable ingredient found in Wuffes supplements. While most brands use Flaxseed rather than Flaxseed Oil, they are very similar, and it is extremely common to find one in dog food recipes thanks to its potential health benefits.
Flaxseed is a dense source of the beneficial Omega Fatty Acids, which many believe can provide dogs with health benefits such as improvements in the condition of their skin and coat.
However, there are several other health benefits associated with Flaxseed; you can learn more about these in our article Flaxseed In Dog Food.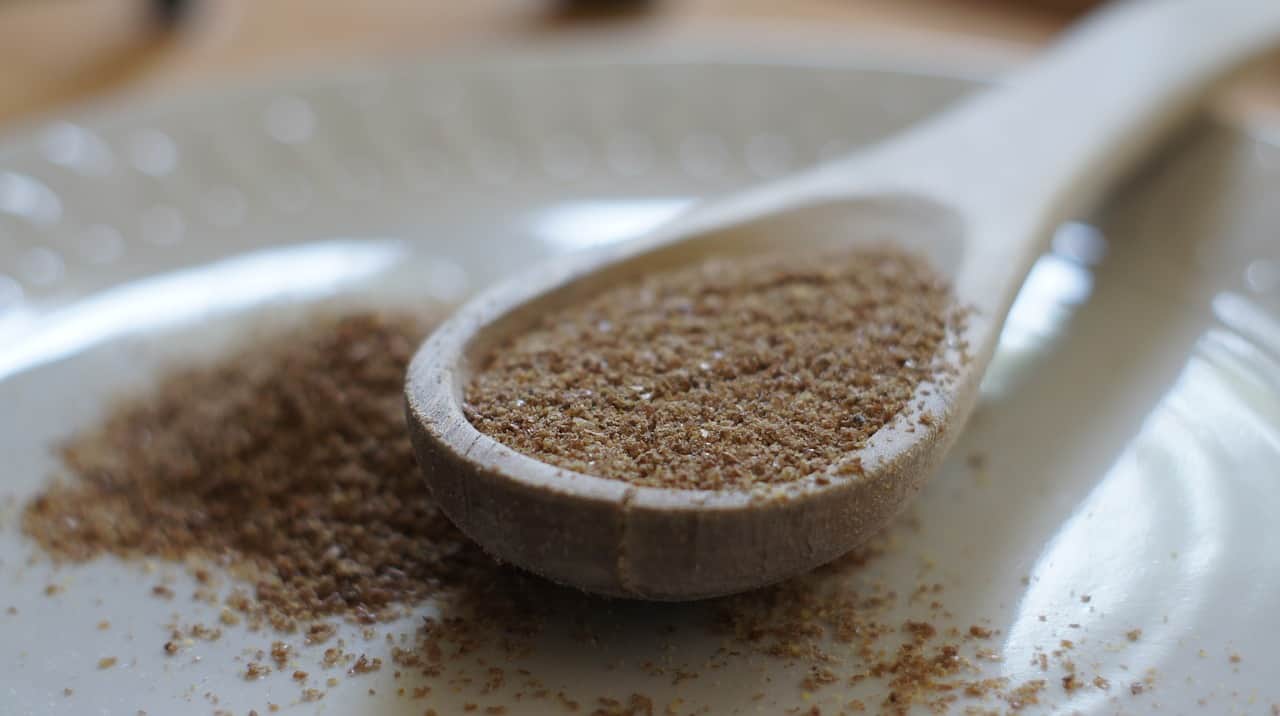 Wuffes Animal Testing
At this time, we have no information on what type of testing or trials that Wuffes carries out for their supplement products.
It is extremely rare for supplement companies such as Wuffes to provide this, so this does not come as a great surprise.
While it is speculation, we imagine that Wuffes carries out small-scale trials on volunteer animals, such as those owned by company employees.
We strongly believe that invasive or laboratory-style testing of animals is a cruel and outdated practice and one which should be eliminated.
Wuffes Recalls
Based on our research (FDA, AVMA, DogFoodAdvisor), we can find no evidence that Wuffes has ever issued a recall for any of its products which makes it a recall-free brand.
However, given that Wuffes is a supplement brand, this recall-free record is not a huge surprise. It is very unusual for a pet supplement to be recalled, and there are very few examples.
Regardless, we will always encourage pet owners to be vigilant of any future recalls from Wuffes or any other pet food or supplement brands to ensure their pets remain healthy and safe.
Best of Wuffes
Multivitamin Review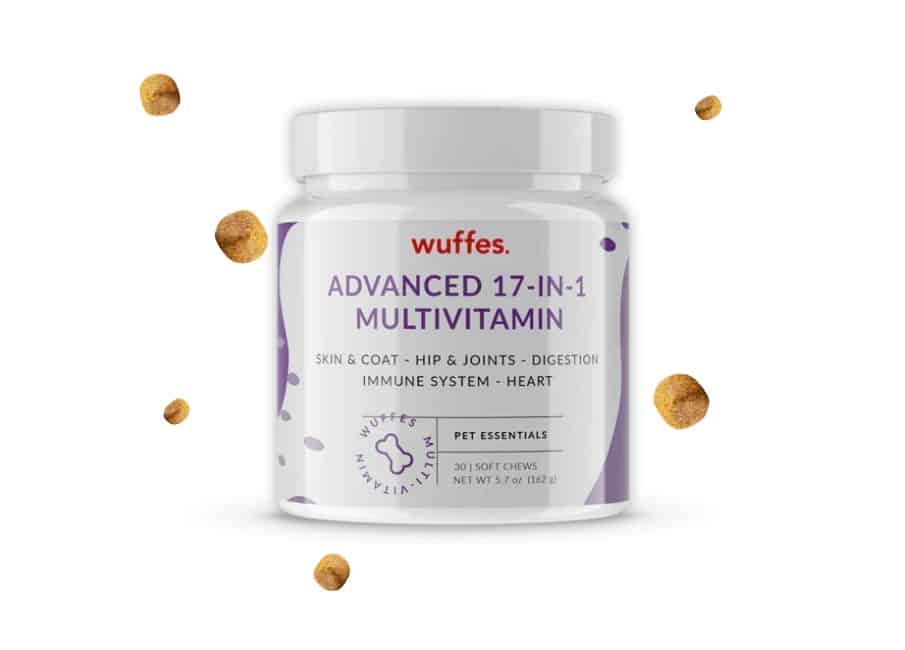 Tens of millions of dog owners take multivitamin supplements every day, and they are now becoming increasingly popular for dogs.
While humans may have varied diets to let them consume a wide range of vitamins and minerals, dogs often have far more repetitive or restrictive diets, and multivitamins like the above from Wuffes help to bridge this gap.
Overall the multivitamin provides 17 different vitamins and minerals, including Vitamin B12, Vitamin D3, Vitamin A, Manganese, and Iron.
These can provide health benefits such as improving a dog's nervous system, helping bone formulation, improving vision, and improved metabolism.
Joint Chews Review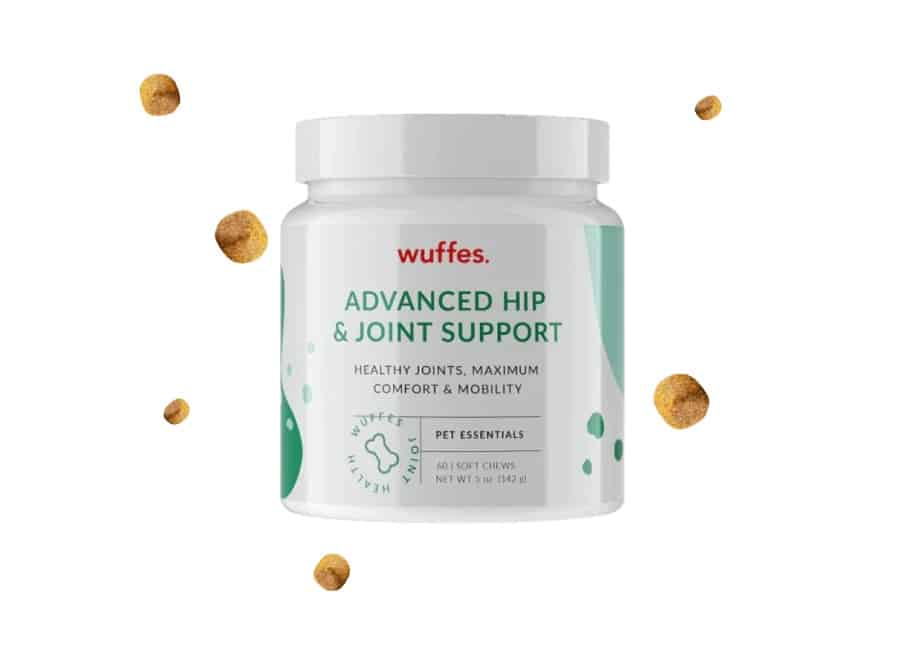 Another common issue for dogs, especially those who are large breed dogs or older dogs, is hip and joint issues.
This can lead to drastically reduced activity and severe pain for some dogs, which is why so many dog owners are on the lookout for solutions.
The above supplement from Wuffes aims to combat joint issues by including Glucosamine, Chondroitin, and MSM, among others.
These are proven to help alleviate joint issues and reduce inflammation and pain for many dogs.
Wuffes Featured Articles
At this time, Wuffes has not been featured in any of our articles.
Wuffes Full Product Range
Supplements
Hip & Joint Support
17-in-1 Multivitamin
Daily Probiotic+
Premium Joint Liquid
Dental Rinse