Wag Information
Wag is a dog food brand owned and distributed by the popular online retailer Amazon. While Amazon has distributed other dog food brands for a number of years, they have only recently moved to produce and sell their own products.
Amazon, via Wag, is attempting to fill the niche of affordable dog food that provides satisfactory nutrition. This could be easily compared to other recently launched brands like Crave, American Journey, and Pure Balance.
There is still very limited information available about the Wag brand, including where it is produced and where its ingredients are sourced from.
Amazon has two other dog food brands that we are aware of, and they are Solimo and Simply Perfection. Solimo focuses on dry dog food, much like Wag, and Simply Perfection focuses on canned dog food.
Wag Product Range
Initially, Wag's product range was very small and was limited to four adult recipes and one puppy recipe, all of which were very similar.

However, it was suspected that Amazon would significantly expand its brands offering as they attempt to gain a foothold into the dog food market. It wasn't clear which niche Amazon would attempt to gain a foothold in next.
This hunch was proved right in 2019 when Wag expanded its product range to include canned dog food and canned cat food.
Both the canned ranges for cats and dogs include eight unique recipes. These are split between a number of subcategories of canned food such as Stews, Pate's, and "In Gravy" recipes.
It is very likely that over the coming months and years that Wag and Amazon expand their offerings to include more niche products such as limited ingredient dog food, senior dog food, or recipes for weight loss.
Wag Nutrition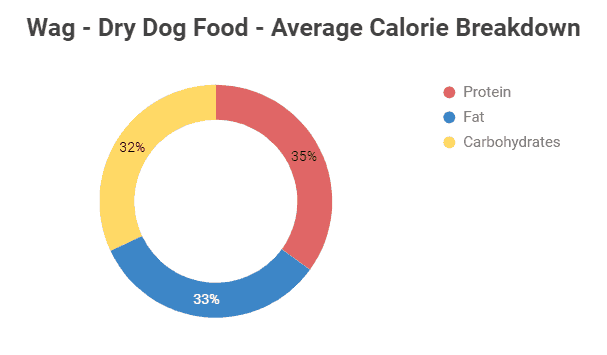 Wag offers very appealing and satisfactory nutrition, given its low price point. The proportion of protein is suitable for dogs of all activity levels, including those that are more active. The proportion of fat is also satisfactory and could be used by an active dog as a concentrated source of energy.
However, it is worth noting that a notable minority of the protein found in Wag recipes is from vegetable products like Pea Protein, which are a lesser-quality source.
Wag Ingredients
High-Quality Ingredients
Beef
Chicken
Salmon
Tuna
Turkey
Lamb
Beef & Chicken Liver
Wag makes use of a number of high-quality meat and fish ingredients, some of which are listed above. These are a source of high-quality protein and fat that dogs and cats will be able to digest with ease.
Wag also makes use of Beef and Chicken Liver. Liver can provide a mix of vitamins and minerals that traditional meat cuts lack. These can be beneficial to a dog or cat's health. In addition, they can provide protein and fat.
Chicken Fat features in all of Wag's recipes. Chicken Fat is added to pet food to enhance its flavor and provide additional animal-based fat. You can learn more about Chicken Fat and its use in dog food in our article Chicken Fat In Dog Food.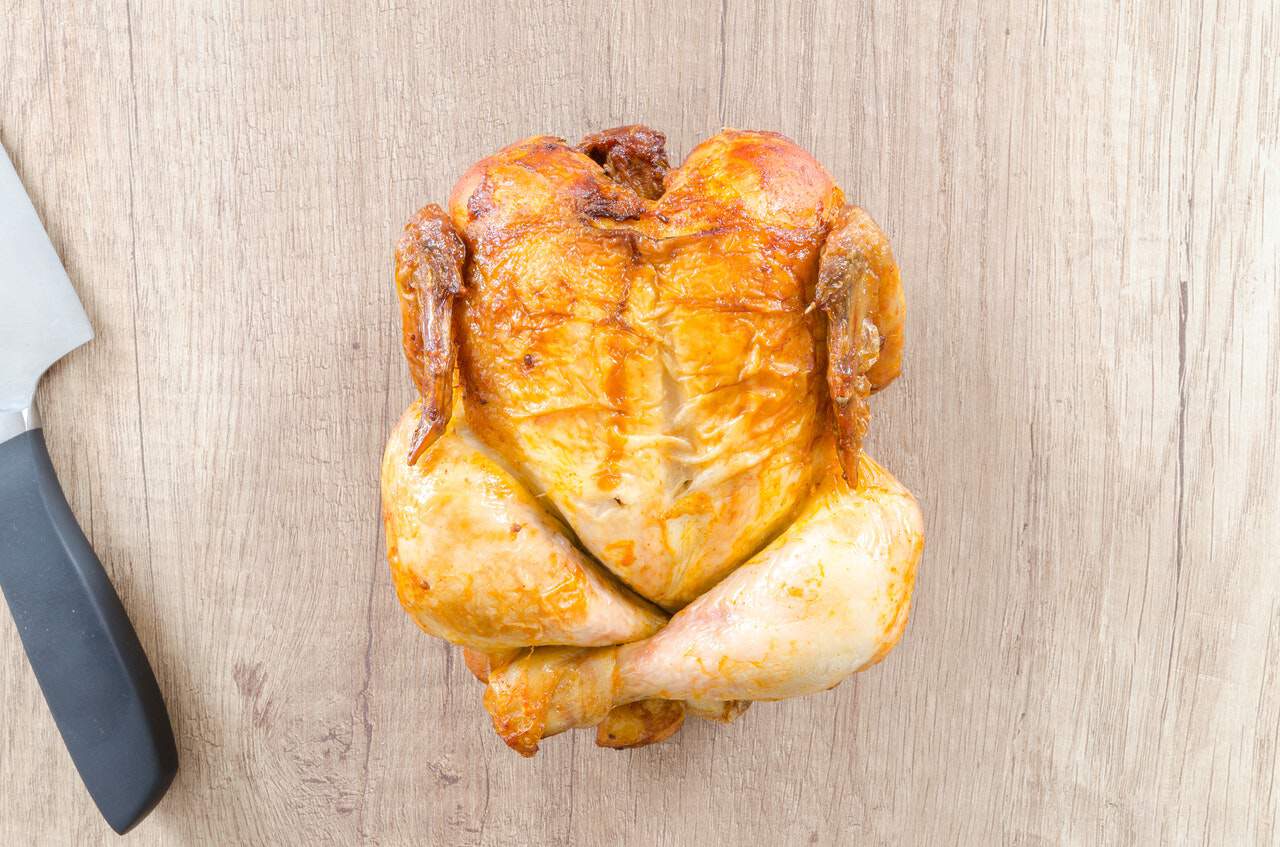 Low-Quality Ingredients
As we mentioned in the previous section, Wag makes extensive use of Pea Protein in its recipes. Pea Protein is a vegetable by-product and concentrated source of plant-based protein.
Pea Protein is not considered a high-quality ingredient or a beneficial addition to dog food. It is often used to inflate the overall protein level without adding higher cost meat or fish ingredients.
Find out more about Pea Protein and other Pea By-products in our article Peas, Pea Protein, Pea Flour, and Pea Fiber in Dog Food.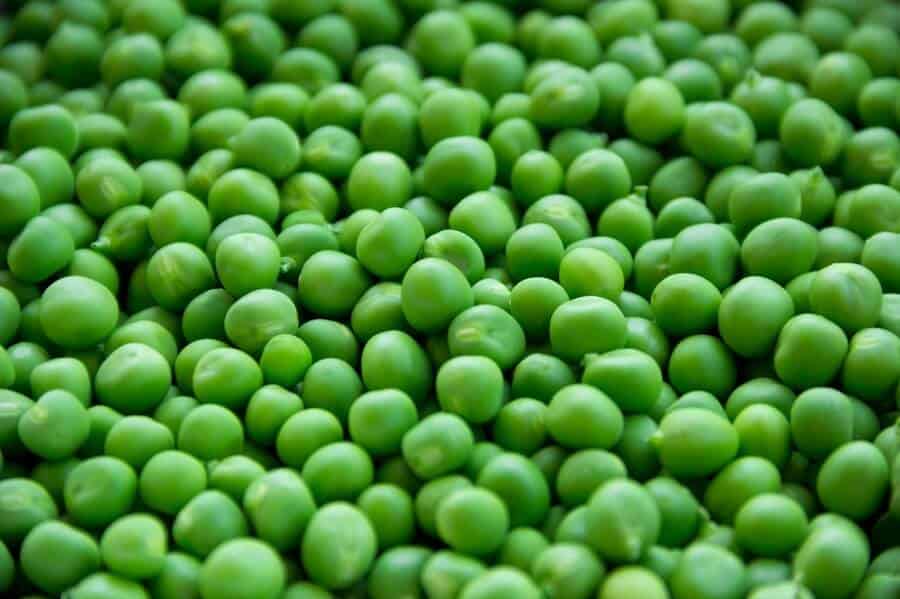 Other Notable Ingredients
Dried Beet Pulp is found in some Wag recipes. Dried Beet Pulp is used as a source of fiber, which can aid a dog's digestion. Other than fiber, Beet Pulp provides very little nutritional value. Find out more about Dried Beet Pulp in our article Dried Beet Pulp In Dog Food.
Brewers Yeast is a dietary supplement. Supporters of Brewers Yeast believe it can provide some beneficial vitamins and minerals as well as other potential health benefits. However, the evidence to support this is limited. Discover more about Brewers Yeast in our article Brewers Yeast In Dog Food.
Flaxseed is used by a number of dog food brands as a plant-based source of the Omega 3 Fatty Acids. These fatty acids can provide a range of health benefits, including improving the condition of a dog's skin and coat and improved cognitive function. Read more about Flaxseed in our article Flaxseed In Dog Food.
Carrageenan is an ingredient used in canned pet food. It is derived from seaweed and is used as a thickening agent. However, it is a controversial ingredient, and some believe it could be dangerous. Learn more about Carrageenan in our article Carrageenan In Dog Food.
Wag Animal Testing
We currently do not have any information on whether Wag or the manufacturing facility that they employ to produce their products, is involved in Animal Testing or Laboratory Animal Testing.
Laboratory testing on animals for the purposes of testing pet food is a cruel and outdated practice. It can be distressing for the animals involved, and we hope that it will be heavily reduced or eliminated in the near future.
We also have no information on whether Wag takes part in feeding trials in order to test its products. Feeding trials can be an important testing procedure to ensure pet food provides adequate nutrition.
Wag Recalls
At this time and based on our research (FDA, AVMA, DogFoodAdvisor), we have no evidence or reason to believe that Wag has ever been recalled.
Given that Wag is in its infancy, this is not quite as impressive as some of its competitors, but it is, without doubt, that Wag will attempt to keep their recall history non-existent.
Wag Featured Articles
Best Cheap Dog Food – Wag is extremely affordable, especially when any subscriptions or free delivery are taken into account. Therefore it will come as no surprise that Wag features in our article showcasing the best cheap dog food currently available.
Best of Wag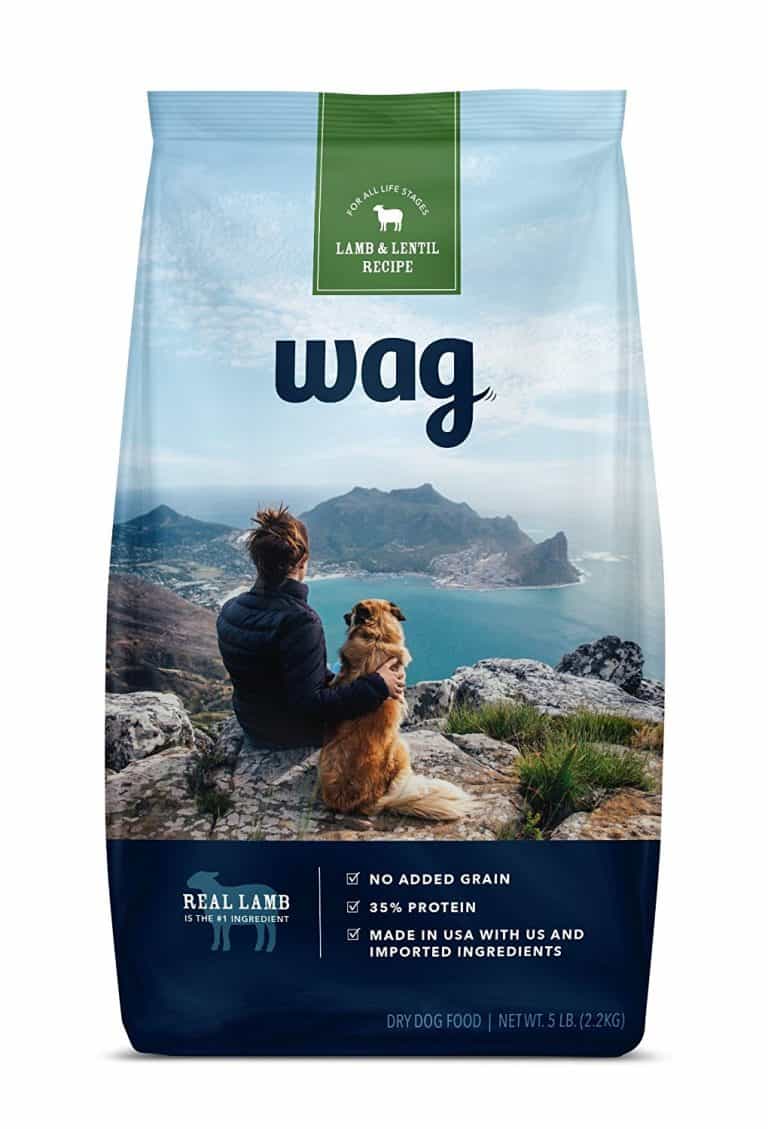 Wag dry dog food is a fantastic option for those on a tight budget as it is very affordably priced. There are four adult formulas in total, and all of these recipes provide very similar nutrition.
Our favorite example of one of their adult formulas is their Lamb formula. Lamb is a less common meat ingredient in dog food and is often neglected in favor of cheaper alternatives like Chicken. Despite this, Lamb can offer fantastic nutrition, high in protein and fat.
The formula also makes use of a small range of legumes, including Peas and Lentils. As always, these are reliable sources of carbohydrates and are preferred by many to grains.
Once again, we will note that this formula does contain Pea Protein and not just a small amount. This Pea Protein is almost certainly inflating the overall protein level of this formula. However, the protein level of this formula is already very high, so hopefully, this addition is not significant.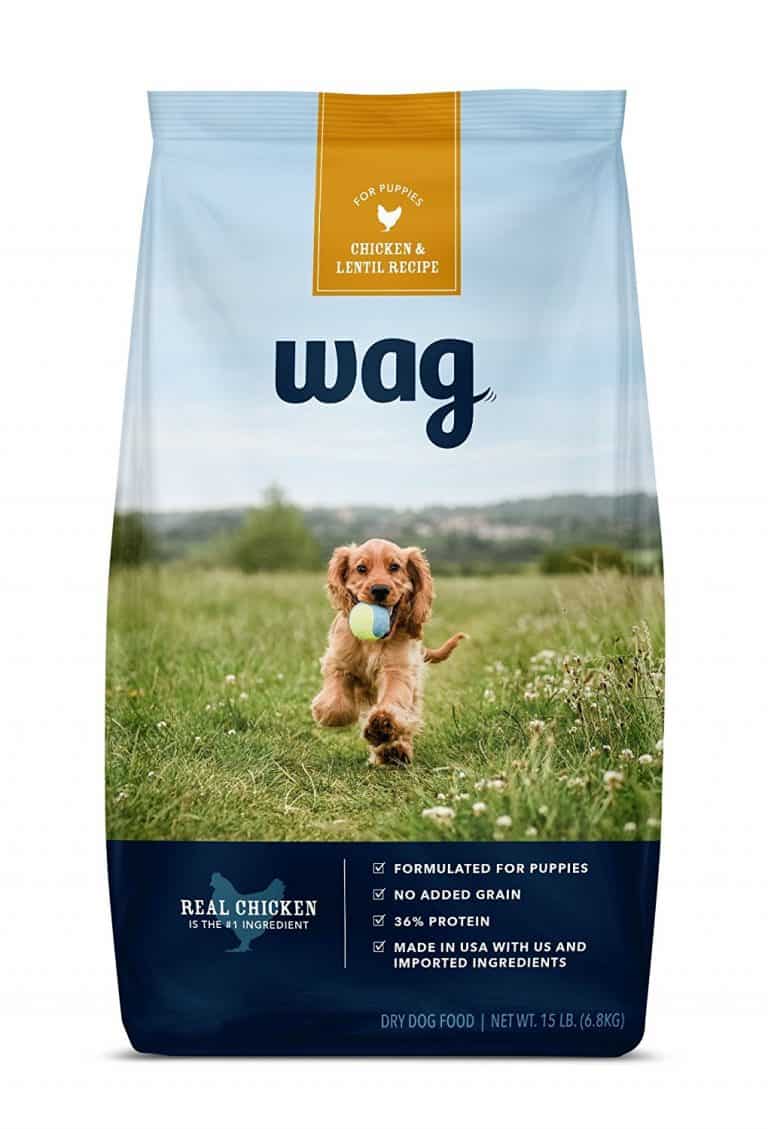 The puppy recipe from Wag is also worth mentioning and is the only other variety of dog food sold by Wag to date. Many dog owners like to transition their puppies from puppy to adult food from the same brand to avoid disruption.
The puppy formula is very similar to the adult recipes yet contains slightly superior nutrition, which could play well into this transition plan. Excellent nutrition is especially important for puppies as they are in the stage of their lives when they need the most protein to fuel their growth.
The formula has a relatively simple ingredient list with a strong focus on Chicken ingredients like Chicken and Chicken Meal. These provide the bulk of the protein and fat.
In addition to this, the formula makes use of Lentils and Peas as the ever reliant providers of carbohydrates. Sadly, just like their adult recipes, Wag does use Pea Protein in its puppy formula. However, given that the puppy formula has a higher proportion of protein, then this Pea Protein is likely to have less of an effect.
Beef & Chicken Pate Review

Of the two varieties of canned dog food that Wag produces, we prefer their pate recipes over the stew recipes. This is because of the superior nutrition that these recipes can provide.
A prime example of this is the Beef & Chicken Pate Recipe. Its proportion of protein and fat is extremely impressive. The proportion of carbohydrates is very low and is an accurate reflection of a dog's natural diet.
This excellent nutrition is thanks to a mix of Beef, Chicken, and Beef Liver. These three ingredients are high-quality sources and are highly digestible.
The only other ingredients present are some gums such as Guar Gum and Cassia Gum. These are included as thickening agents and are not used to provide nutrition.
Beef Pate Review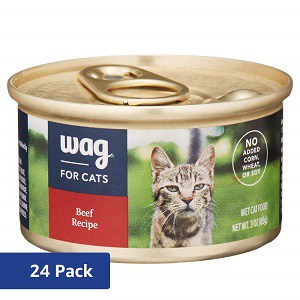 Wag's canned cat food shares many of the positive traits of their canned dog food. The recipe highlighted above is very similar to its dog equivalent and can provide a cat with excellent nutrition. This nutrition fairly reflects the dietary requirements of an obligate carnivore.
The balance of protein and fat is slightly different in comparison to the dog formula, but this is advantageous as cats need a higher proportion of protein.
The ingredient list is very similar, and the primary ingredients are Beef, Chicken, and Chicken Liver. These are all high-quality ingredients.
However, the formula also contains small portions of vegetables such as Carrots, Potatoes, and Peas. While these ingredients aren't ideal for a cat, their portion is small enough that they are not significant.
Wag Full Product Range
Dry Dog Food
Beef & Lentil With Wild Boar
Salmon & Lentil
Turkey & Lentil
Canned Dog Food
Lamb & Vegetable Stew Recipe
Beef & Vegetable Stew Recipe
Chicken & Vegetable Stew Recipe
Turkey & Chicken Recipe
Beef & Chicken Recipe
Chicken Recipe
Turkey & Sweet Potato Stew Recipe
Salmon & Potato Recipe
Canned Cat Food
Beef & Chicken Pate
Beef Pate
Chicken & Giblets Pate
Salmon & Chicken In Gravy
Salmon & Seafood In Gravy
Tuna & Giblets In Gravy
Turkey & Chicken In Gravy
Turkey & Giblets Pate