What Is Pumpkin?
Pumpkin is a variety of Squash that is large in size and orange colored. It is commonly grown during the fall season and used as decorations for Halloween or harvest festivals.
Pumpkins have been cultivated for human use for millennia. Pumpkin is commonly consumed within pies or soups, but there are a large variety of Pumpkin dishes in circulation.
In recent years, Pumpkin has seen increased use in dog food. The primary reason for this increase is that Pumpkin can aid and regulate digestion and relieve dogs who suffer from related issues. In addition to its digestive benefits, Pumpkin can offer some beneficial nutrition in the form of high-quality carbohydrates, vitamins, and minerals.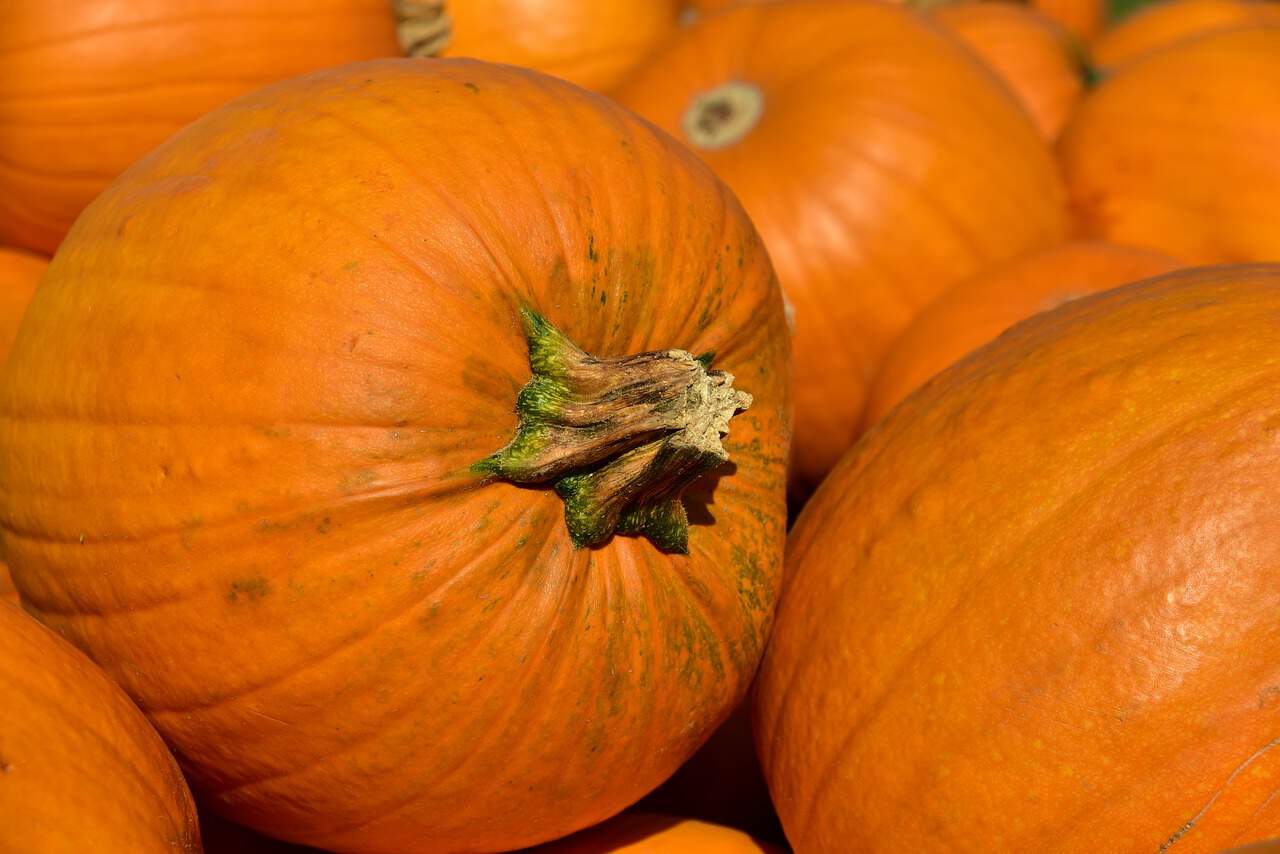 Pumpkin Nutrition
The bulk of Pumpkin's nutrition consists of carbohydrates and dietary fiber, but it does contain some vitamins and minerals.
While dogs do not require a large portion of carbohydrates in their diet, a modest sum can be beneficial and be used as an energy source.
Pumpkin does not contain a significant portion of protein. Many other vegetable ingredients used in dog food do contain a large portion of protein. While this protein can be used by a dogs body, it can inflate the overall proportion and mislead consumers about exactly how much meat is present in a recipe.
The best examples of ingredients that are used to inflate the overall proportion of protein are Pea Protein and Potato Protein.
Find out more about these ingredients in our articles Peas, Pea Protein, Pea Flour and Pea Fiber in Dog Food and Potatoes, Potato Protein & Potato Starch in Dog Food.
Pumpkin's lack of protein will ensure its presence will not inflate the overall proportion and give consumers an accurate picture of how much animal protein is present in the product.
Pumpkin is exceptionally high in Vitamin A and Beta Carotene. These micronutrients have a range of benefits including improving vision and eye health, strengthening the immune system, and reducing the risk of certain cancers.
There is also a moderate level of Vitamin C to be found in Pumpkin. Vitamin C can help maintain healthy blood pressure and prevent heart disease.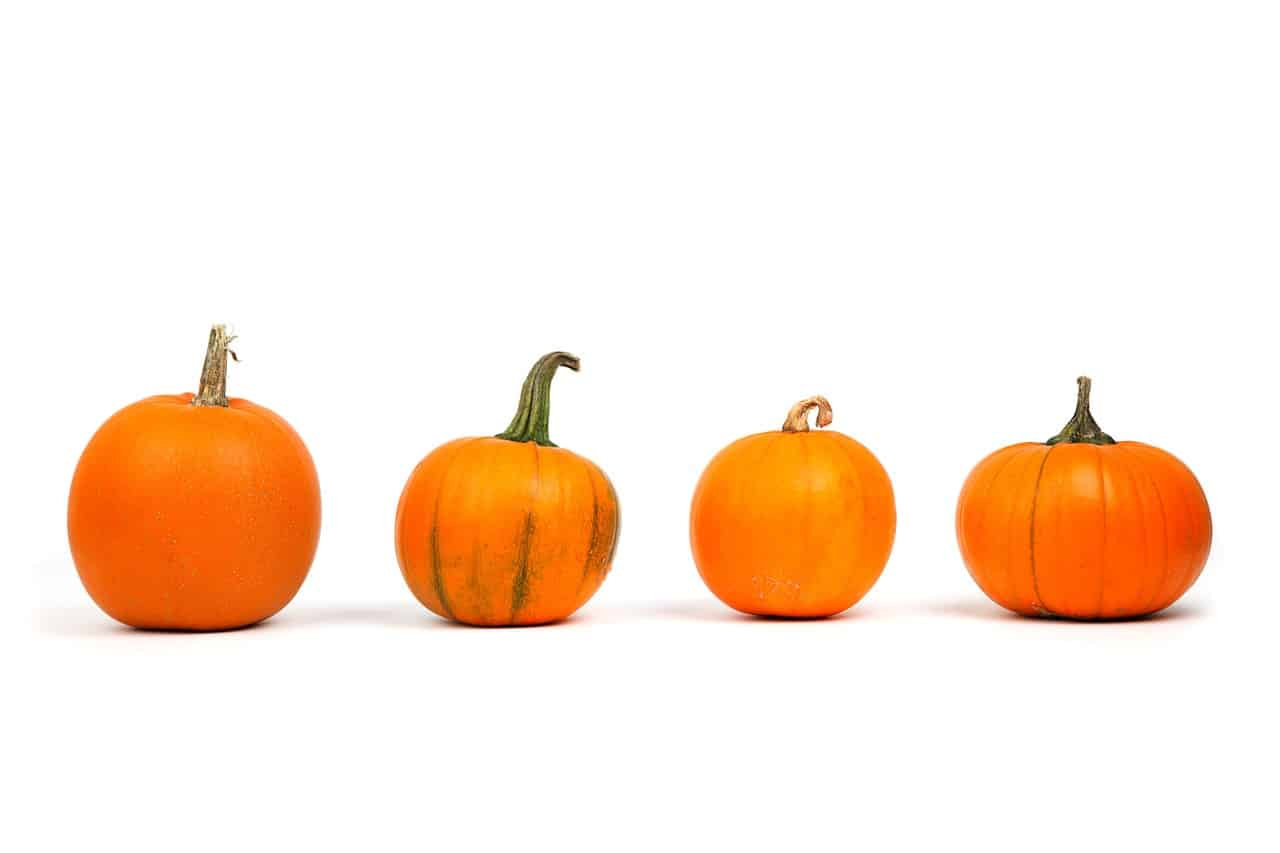 Pumpkin In Dog Food
As discussed earlier, the primary use Pumpkin has seen in dog food and as a dog supplement is as a source of dietary fiber to aid and regulate digestion.
Many dogs struggle to maintain regular digestion and Pumpkin is a cheap and straightforward way to help combat these issues.
However, the quantity of Pumpkin in a dogs diet needs to be carefully monitored or rationed. Too much Pumpkin in a dogs diet could cause diarrhea and too little could ensure there is little to no impact.
However, in fewer cases, Pumpkin is not just present to provide fiber and instead is used as a carbohydrate providing ingredient. This niche use of pumpkin is most common in hypoallergenic or limited ingredient dog food.
Pumpkin is advantageous here as it has a very different makeup from the traditional carbohydrate ingredients like legumes or starches. It is the hope of these hypoallergenic brands that dogs who struggle with these common ingredients will react well or better to pumpkin.
Find out more about Hypoallergenic dog food in our article Best Hypoallergenic Dog Foods Guide.
Best Dog Food With Pumpkin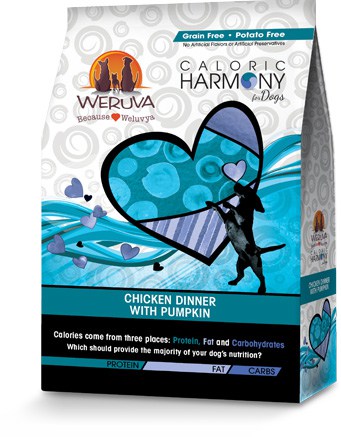 Caloric Harmony and Melody are Weruva's too sub-brands of dry dog food. There are only six formulas in total between the two sub-brands, but there is variety and some excellent nutrition. Not only do the recipes contain excellent nutrition but all three recipes in the Harmony range make use of Pumpkin.
Of the three recipes, we believe the Chicken Dinner With Pumpkin is the most appropriate to discuss in this article. We think that having a single source of meat, in chicken, will be complementary to the benefits of Pumpkin and unlikely to interfere.
These recipes use Chicken ingredients such as Chicken, Chicken Meal, and Chicken Fat as well as Whole Eggs to provide high-quality protein. As we have mentioned throughout this article meat and egg ingredients such as these are the ideal source of protein and are very easily digested and utilized.
The recipes also contain a range of whole legumes such as Peas, Chickpeas, and Lentils which are considered high-quality sources of carbohydrates. The portion is significant, but the protein they provide supplements already high levels and so is not worth being concerned about.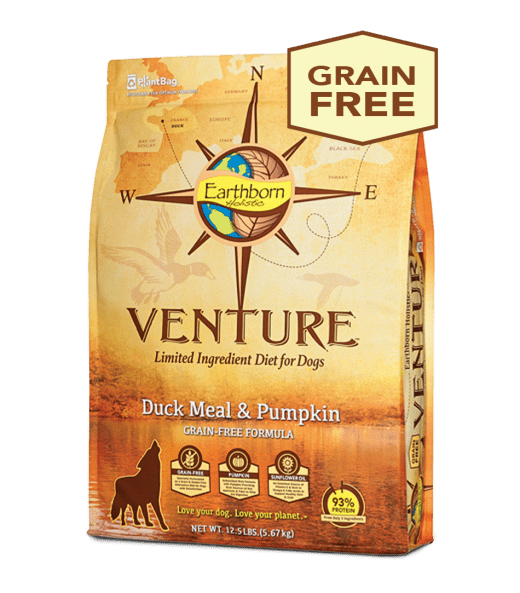 Venture by Earthborn Holistic is a high-quality Limited Ingredient range. No two formulas within this range are the same, and they utilize a variety of vegetable, meat and fish ingredients.
A key theme of the range is the use of non-traditional vegetable ingredients such as Pumpkin and Tapioca. In some of Venture's recipes, Pumpkin is the primary carbohydrate ingredient which is unprescedented in dry dog food.
Traditional ingredients like Peas and Chickpeas are still present in some of the formulas but in far smaller proportions than usual. The above-mentioned Duck Meal and Pumpkin recipe has the most substantial portion of Pumpkin present. However, if you are looking for one without any legumes be sure to check out Alaska Pollock Meal and Pumpkin.
All of the recipes in the venture range make use of high-quality meat and fish ingredients. Some of these are typical ingredients such as Turkey and Pork, but others are more unusual such as Rabbit or Pollock.
Venture formulas also include a significant portion of Flaxseed which can be a plant-based source of the Omega 3 Fatty Acids. This could be particularly advantageous in the recipes without any fish ingredients. As we discuss regularly, the Omega 3 Fatty Acids are proven to offer a range of health benefits such as preventing heart disease and helping to maintain healthy skin and coat.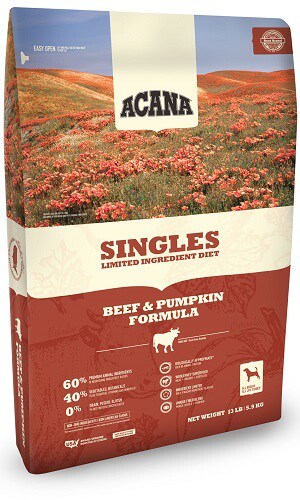 Acana is the sister brand of Orijen and shares its high-quality ingredients and excellent nutrition but does so at a more affordable price. Acana has a broad range of formulas that contain common and uncommon meat and fish ingredients. Acana produces a specific dog food range for dogs with dietary sensitivities and allergies which is known as their Singles range. Acana recently revamped this range and added two new formulas.
One of these new formulas is Beef & Pumpkin. While the portion of Pumpkin in this recipe is not enormous or as high as some of the other recipes discussed in this article, it is still notable. This portion would be perfect for a dog who is looking to improve and regulate their digestion.
The formula doesn't just use traditional Beef cuts but also contains Beef Meal, Beef Fat, Beef Liver, and Beef Tripe. This range could provide additional vitamins and minerals that standard Beef could not.
Aside from the Pumpkin, the formula also contains Lentils and Peas which are a staple of all Acana recipes. These provide the bulk of the carbohydrate content and some fiber.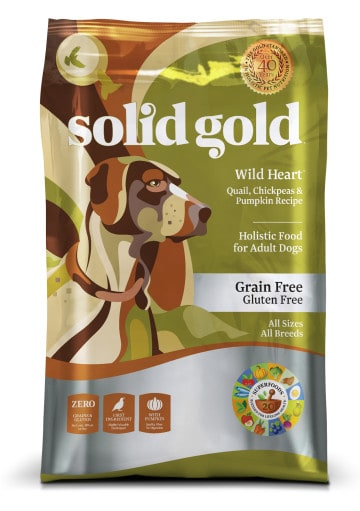 Solid Gold is a brand that doesn't feature as regularly in our articles as the others mentioned in this article. However, they do produce a select few formulas that we rate highly, including one that makes use of Pumpkin.
Solid Gold's naming conventions are often flamboyant and extravagant with some of them being difficult to decipher. However, the Wild Heart Quail recipe is quite straightforward and shouldn't cause too much confusion.
Quail is quite an unusual ingredient to be found in dog food, but it is very similar to Chicken and provides excellent nutrition. The formula also makes use of Turkey and Pork which when combined offer a satisfactory proportion of protein.
Aside from Pumpkin, the formula also makes use of some other vegetable and starch ingredients of varying quality. While some, such as Peas and Chickpeas, are considered high-quality others, such as vegetable by-products like Pea Protein, are unanimously considered to be of a lower quality.
Lucy Pet Products Formulas For Life Duck, Pumpkin & Quinoa Recipe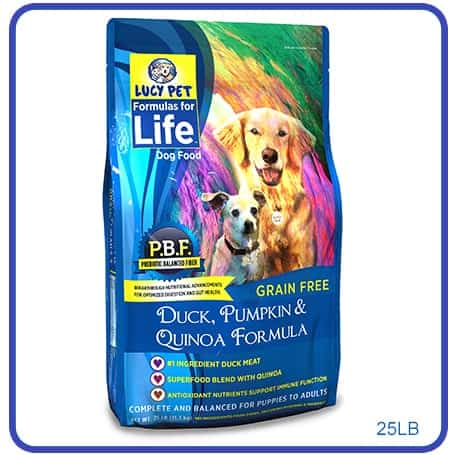 Lucy Pet Products is a smaller brand that many dog owners will not have encountered. However, it is available from stores and from online retailers like Chewy. They proudly state that their products do not include Duck, Chicken, or Salmon By-products or Wheat, Corn or Soy.
Their Duck, Pumpkin & Quinoa formula is worth mentioning in this article thanks to its portion of Pumpkin. The formula uses high-quality Duck ingredients including Duck, Duck Meal, and Duck Fat. This combination provides a satisfactory nutrition profile for the average dog.
There are two uncommon plant-based ingredients alongside a number of common ones. The usual suspects of Peas and Chickpeas are present but also Pumpkin and Quinoa. As we've learned in our discussion, the pumpkin can provide dietary fiber and crucial vitamins. Quinoa is even more uncommon in dog food than Pumpkin and Gluten-free and high in many micronutrients.
Sadly, the formula uses Pea Starch and Pea Flour which are both Pea By-products. These are not beneficial additions to the formula.
Farmina N&D Pumpkin Grain Free Canine Cod & Orange Adult Recipe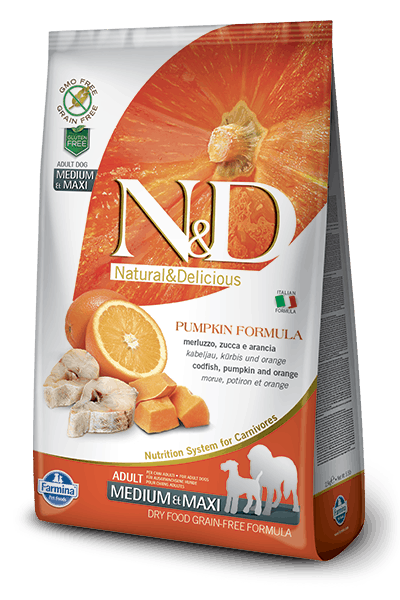 Farmina's N&D is a premium dog food range that provides excellent nutrition and uses higher-quality ingredients, fit for human consumption. For many dog owners, this formula may not be affordable, but for those willing to splash out, their dogs could reap the benefits.
Their Cod & Orange products are these that make the best use of Pumpkin. They contain a significant portion of Cod which is a Whitefish. This Cod will provide a very satisfactory proportion of protein and fat. Sadly, Whitefish, such as Cod, does not offer as much of the Omega 3 Fatty Acids as oily fish, but despite this, the level of these fatty acids present in this formula is outstanding and likely to provide dogs with many noticeable benefits.
The formula then uses Pea Starch and Pumpkin as Binding Agents and sources of carbohydrates and fiber. While Pea Starch isn't an ideal ingredient, it is somewhat acceptable in this situation and an improvement on other Pea By-products like Pea Protein and Pea Flour.
Finally, the recipe contains small amounts of some uncommon fruits and vegetables. This includes Orange, Spinach, Pomegranate, and Apple. These could provide some additional vitamins and minerals and give the formula a unique taste.