Zoic is a little-known brand of dog food, but that doesn't diminish the quality of its products. Currently, its range of formulas is minimal, but they do break the mold from the repetition of many dog food brands. Exotic meat ingredients and a more appropriate balance of carbohydrate ingredients are just some of Zoic's selling points. Zoic is also one of the most affordable dog food brands that do not sacrifice on nutrition or ingredient quality.
Best of Zoic
Magic Marsh with Alligator and Turkey Meal Review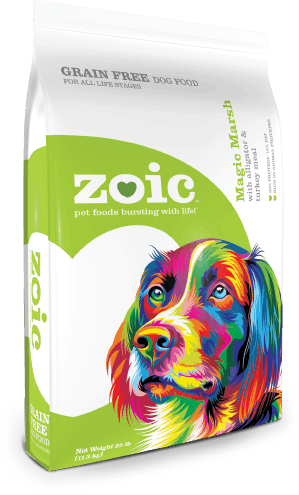 Zoic Nutrition
On average, Zoic dog food recipes provide above average nutrition consisting of a satisfactory protein proportion and a reasonable fat proportion. Despite this, the carbohydrate proportion present in their formulas is still somewhat above ideal and could be lower to reflect a dog's natural diet better.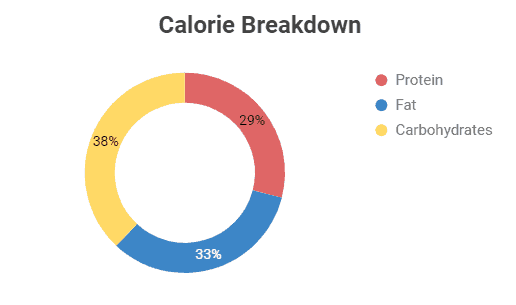 Zoic Ingredients
Zoic combines a mix of traditional dog food ingredients with some unique ones. For example, Chicken, Turkey, and Herring are common dog food ingredients and could be found in dog food produced by almost all major brands. However, Alligator is not a common ingredient and is one of the rarest ingredients to be found in dog food. Even more impressive is that Zoic manages to produce an Alligator dog food recipe at an extremely affordable price.
Also, Zoic is one of the few brands to recognize that excess portions of legumes can be problematic. As a consequence, they promise that none of their formulas contain more than 12% legumes. Zoic combat excessive legumes by including a mix of starch and vegetable ingredients such as Sweet Potatoes, Tapioca, and Pumpkin. All of these alternative carbohydrate providing ingredients are considered high-quality and can provide a range of beneficial minerals and vitamins.
Zoic Information
Zoid Dog Food is made by Wild Calling.
All of the Meat and Fish Ingredients used in Zoic Formulas are GMO-free, hormone free and antibiotic free.
Zoic does not produce any puppy or senior dog food formulas. However, they state that all of their recipes are designed for all life stages.
Zoic formulas do not use meat or fish by-products.
Zoic Animal Testing
Zoic and its parent brand Wild Calling are committed to never testing on animals. Instead, they feed their formulas to dogs in comfortable stress-free environments.
Zoic Recalls
As of May 2018, Zoic has no history of recalls. However, given that Zoic is a very young brand this is not surprising but nevertheless, it should be not be ignored. While the Zoic brand may be a newcomer, its parent brand: Wild Calling, is not. At this time Wild Calling also has a recall free history which is a great sign.
If Zoic can sustain the high-quality and safety conscious production needed to avoid recalls of their products then their reputation is sure to improve.
Zoic Full Product Range
Dry Dog Food
Magic Marsh with Alligator and Turkey Meal Review
Farm Fare with Turkey and Chicken Review
Seven Seas with Cod and Herring Meal Review